This cute Spooky Bat Photo Craft is a great keepsake art project of your child and is perfect to make at Halloween parties!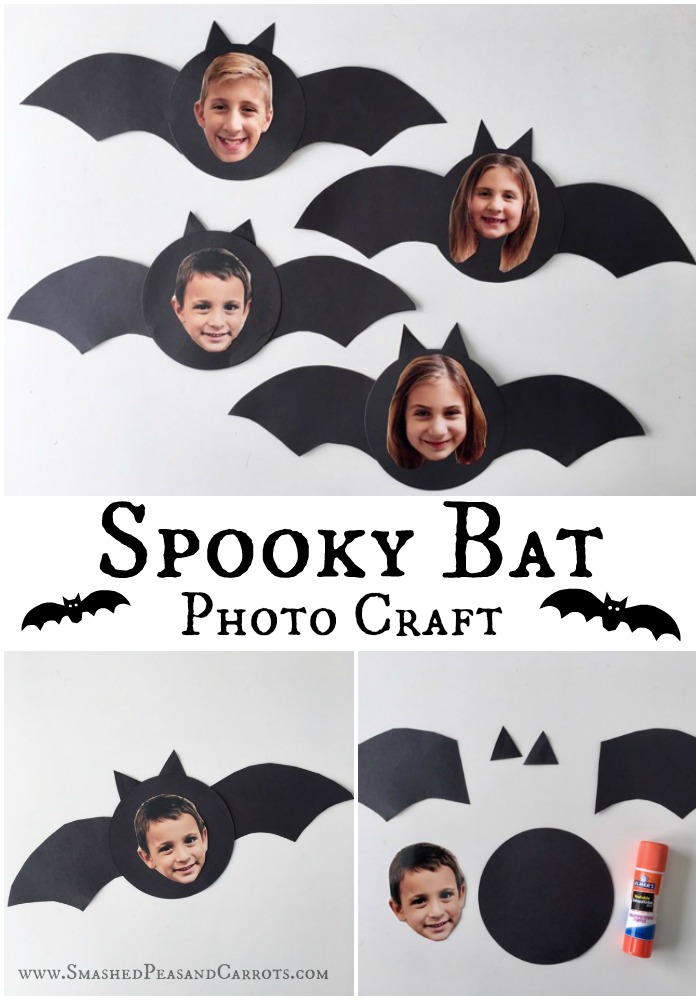 I know, I know! Halloween is only 2 days away! But I had to share this super cute project I am doing in my kindergartener's class for their Halloween Party! This year I am room mom for Oliver's class which means I get to organize and run the class parties! I always love when my kids bring home art project that include their smiling face, there is just something so precious about finding it all those years later and smiling at how little they were. I thought this craft would be fun for the kids to create and also cute for parents to have as well. Plus we are adding a magnet on the back which means it can be placed right on the fridge too until the next holiday rolls around!

Spooky Bat Photo Craft
To make this project an easier one for you to re-create I included a PDF below that you can use to make your own bats. You can use it as a drawing template to trace each bat onto dark paper or you can put it into a copy machine (if you have access to one) and print it on dark paper. The lines come through enough so that you can see it to cut apart the pieces, I swear!
Spooky Bat Photo Craft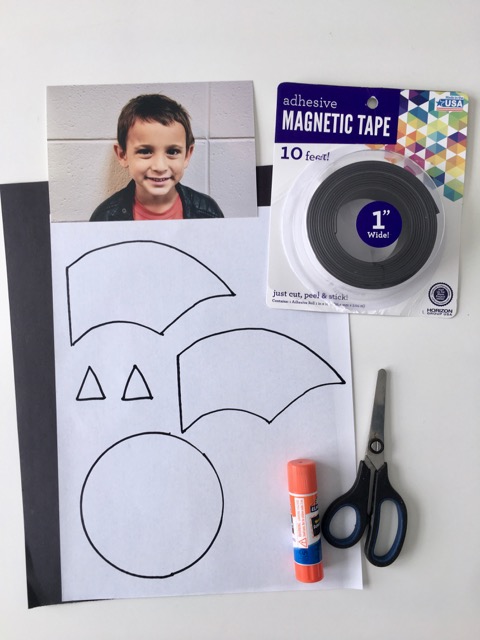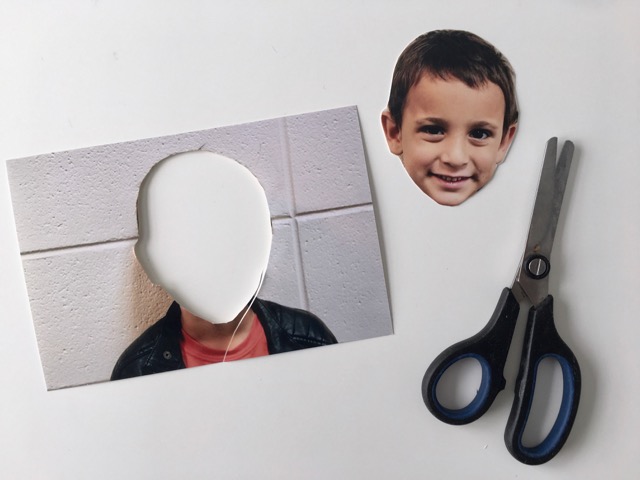 The first thing you will need to do is have your child (or children!) stand near a wall and take a picture of their face. Then go to your favorite store for prints and get them done.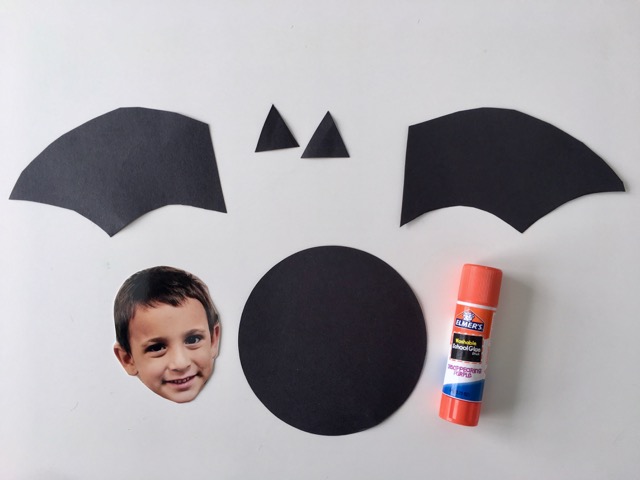 Now since this project is for little kindergarten fingers and we only have 45 minutes to party it up (and we also have to get in some Halloween games and other fun too), I cut apart all the bat pieces ahead of time as well as their sweet little face. Then I place all the pieces in a baggie so that it will be easy to hand them out to each child at the party. Since they have glue sticks at school already they will just use those to put the bat together.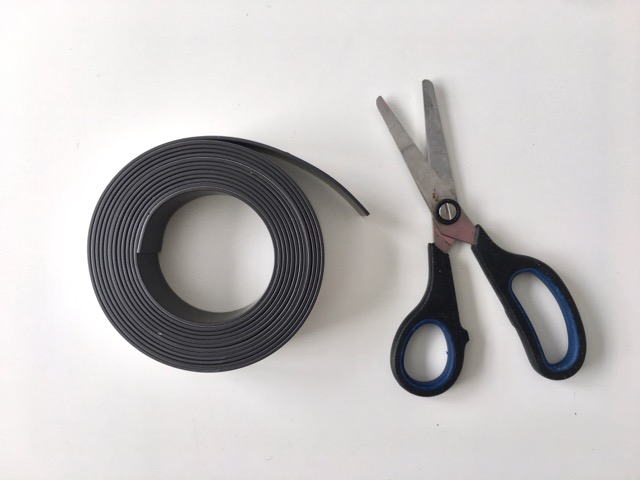 I also precut 1-inch pieces of adhesive-backed magnet so that each child has one in their baggie to add to the back of the bat once they are all put together.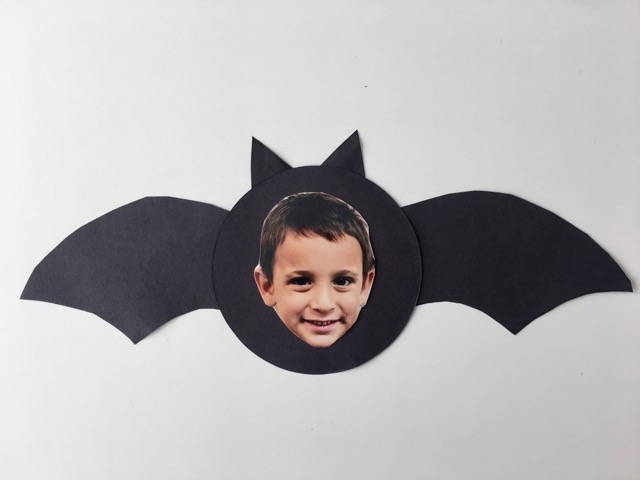 It's a pretty simple craft…glue bat wings and ears on one side of the circle  and the face on the other the add magnet to back. If the children are older you can have them cut all the pieces out themselves. With kindergarteners I figured the cutting might take them some time!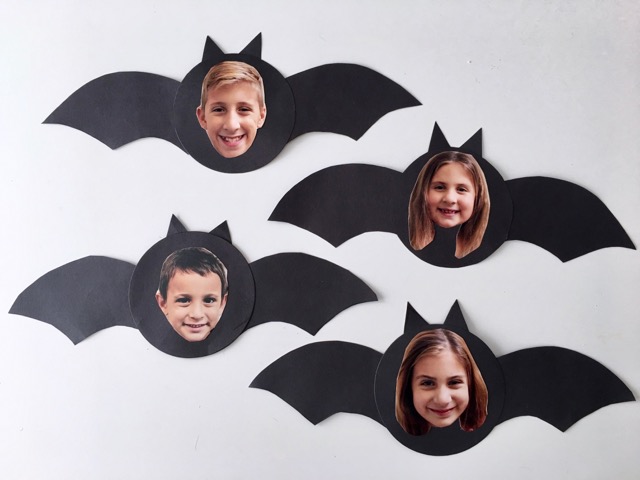 I love how they turned out! I made some bats with all my kids cute little faces and we have them decorating our refrigerator…so much cuteness!
Check out this video below if you want to watch me make one!
For more delicious and easy recipes and craft ideas please LIKE Smashed Peas and Carrots on Facebook or follow me on Instagram or Pinterest for more great ideas!
You can also find more great posts like this one here:
Thanks for stopping by today!
Love,
Maggie


SaveSave