This past weekend I bought some plain long-sleeved shirts off the clearance rack. What can I say, I can't pass up a deal! Since the belly is growing, I thought they would be a great cheap shirt to stretch out without feeling bad, PLUS they are super comfy and soft, me likey a lot!
The only downfall is that they are plain and rather boring. I needed to spice them up a bit. Don't get me wrong, I
love
myself some plain t-shirts but our winter here has been sooo long and drab I just needed to wear something fun! So, the
Square Flower Embellished Shirt
was born. Want to take a look-see?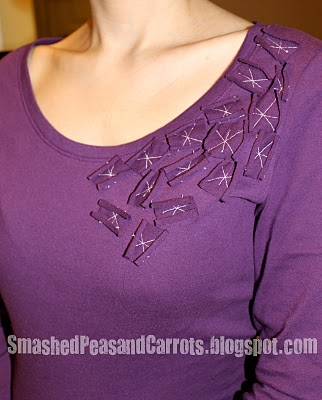 Pretty and no longer boring…
yay
for me!
You see
, what I did was cut up small squares of fabric and stitched a star pattern in it that makes it look all flower-y and pretty…and non-boring! Not your normal flower but whoever said I was normal
😉
It was so easy, I tell you…let me show you how I did it.
Square Flower Embellished Shirt
1 plain, boring shirt that you like but don't love
1 cheap-y t-shirt (or 1/4 yard of knit material) to cut up…may be similar color or not!
thread (
contrasting thread stands out and looks super pretty!
)
sewing machine
rotary cutter and mat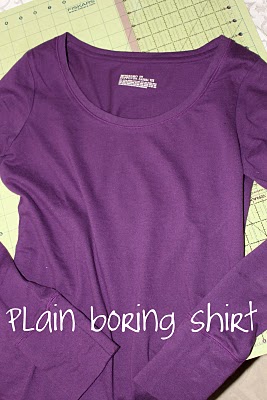 Here is my boring but comfy long-sleeve jersey shirt…it just needs some fun, doesn't it!?!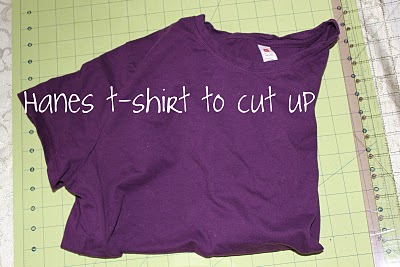 Here is the cheap-y Hanes shirt I used to make the square flowers.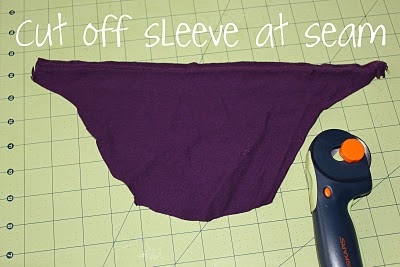 Cut one sleeve off your t-shirt on the sleeve seam (where it attaches to the rest of the shirt).
This way you can still repurpose the rest of the shirt for something else!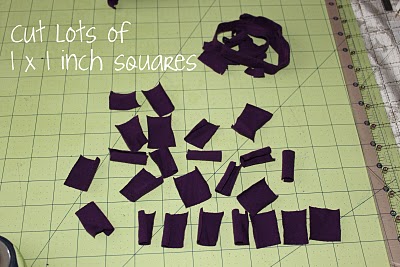 Cut your sleeve up into 1 inch x 1 inch squares.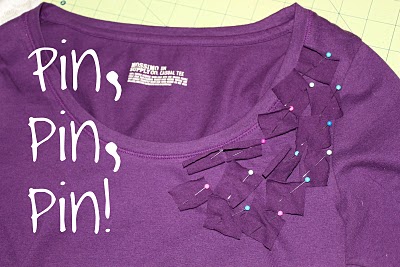 Pin all your squares in place so that you can see if you like the placement of them before you sew them down.
You may also want to try on your shirt to see how you like it too!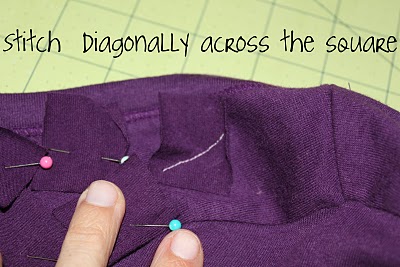 Now, take the pin out of one square at the top of the shoulder and stitch a line diagonally from corner to corner…don't forget to backstitch too!
You don't ever want to sew over a pin, that would be a
big ouchy
for your sewing machine!!!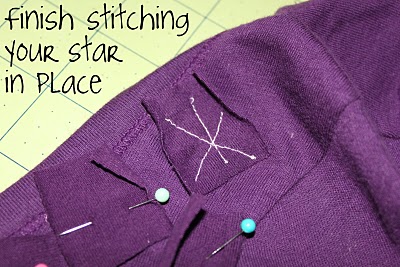 Then, stitch the other two remaining lines of your flower to make a criss cross pattern.
You are now down one flower, pat yourself on the back…
woot woot!
Keep doing this for each flower until they are all secure on your shirt.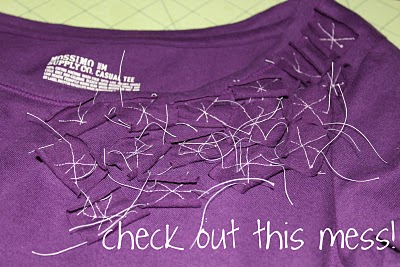 Then, just cut all your loose thread ends and clean this beauty up! Unless you weren't lazy like me and didn't wait until the end to do this 🙂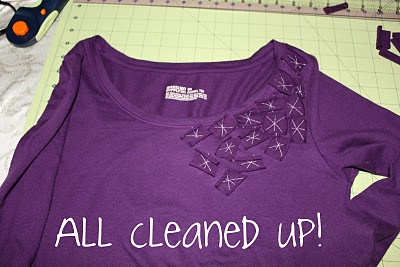 All finished
…an easy shirt embellishment done in no time!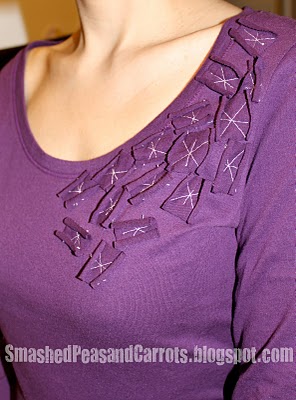 Ahhh, so pretty!