Ahhh! So earlier this week I received my second Stitch Fix box. I was a wee bit excited to say the least! It is always so fun to get packages in the mail and when said packages contain new clothing to try on in the comfort of your own home, well, that just can't be beat. I never showed you what was in my first box I received last fall (oops!) but I can tell you that I kept it all. I thought my stylist did a great job the first time around and now that we are in a new season I was really pumped to try them out again.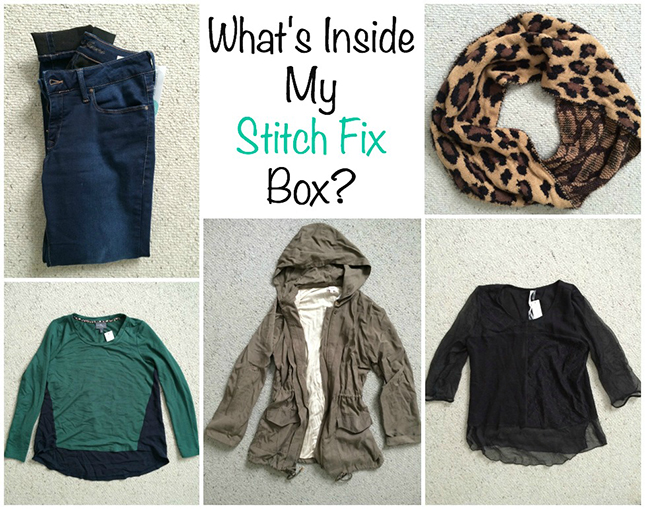 For those of you that do not know, Stitch Fix is an online clothing site that uses their own stylists to pick out 5 fashion items (tops, bottoms, dresses, jewelry, or accessories) based on a thorough set of questions that you fill out (the questions ask you things like: do you want to see jewelry in this box? more business outfits? dresses? clothing for date nights, etc). There is also a place for you to comment to your stylist so they can get to know you better. You can write them particular things you would like to see in your box. You can even set up a Pinterest board and give them the link so they can get a better idea of your style.
It is a great site for people who hate shopping but would like to find fun, new, different outfits. Or for people like me who have four little kids and zero time to look for nice clothing that isn't at Target or Old Navy where I am already at getting groceries or clothes for my kids. I liken it to shopping at TJ Maxx or Marshalls without the headache of combing through the racks. There are lots of hidden gems, one of a kind pieces, and cute trendy outfits found in those stores if you have the time to dig for them…which I don't.
How Stitch Fix works:
1. You first need to sign up for an account.
2. Then you get to fill out your Style Profile. This is my favorite part!!! This is where you give all the details about how you wear your clothing and how you like it fit. Do you like to show your back or shoulders? Do you have a short torso? Long legs? You also give detailed body measurements and you look at pictures of different trends sharing how much you do or do not like each one. Here is where you also choose a price range for the items you want in your fix. These questions help your stylist to get an idea of what your fashion style is so be as honest as you can be with your profile. There is a place for you to add a Pinterest board in this section as well (you can see mine here!) which I think was super helpful in this particular box I just received.
3. Pick a Date to receive your Fix, Checkout and pay Styling Fee. The styling fee is credited back to you if you choose to buy any of the items in your Fix. If you choose not to keep any of them then you lose your $20. This is where I just had to bite the bullet to try it, I know some of you may think that $20 is not worth it because what if you hate everything in your box…but I just had to give it a whirl and try, call me a risk taker!
Then you wait!!! The hardest part! While you are waiting a stylist will look at your Style Profile, Pinterest board, and any comments you left and try to find pieces you will love. Then they will mail your box out to you so you receive it on the very day you chose, yippee! You then have 3 days to try on all your pieces and decide what, if any, you want to keep. If you choose to keep all 5 items you will receive a 25% discount on your items and don't forget that even if you choose to only keep one item you still get credited your $20 Styling Fee toward your purchase! If you choose to send anything back, you just pack them up in the postage paid mailer included in your box…easy peasy lemon squeezy!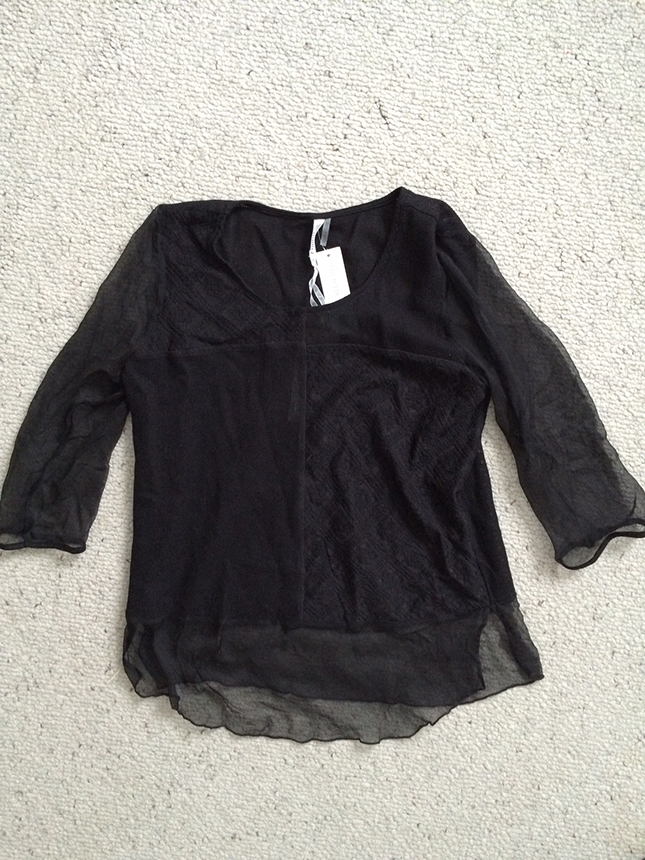 So here is what I received in my latest (2nd) box…
Felton Mixed Media Top ($54)
At first glance I didn't really like this top at all, it just didn't seem me. Now I will tell you right off the bat that I felt this way upon first opening up both of my Stitch Fix boxes. The items right out of the box never seem like things I'd remotely bat an eye at if I were shopping in a store but this is where Stitch Fix gets me because usually once I try the clothing on I like it waaaay better. It's weird but true. Anyway, back to the top. Upon trying it on I really like it on me. I had written my stylist that I wanted a something to wear on a date night and she wrote back saying she thought this would be great as it was feminine and slightly sexy with the sheer slightly billowy sleeves. It totally would too. But the more I thought about it, it only really went with a pair of dark washed jeans…or black pants…but then I would look like I was going to a funeral. I ended up returning this one because it just didn't have enough user life for me. But I did really like the sheer sleeves and the mixed media body of the shirt. -RETURNED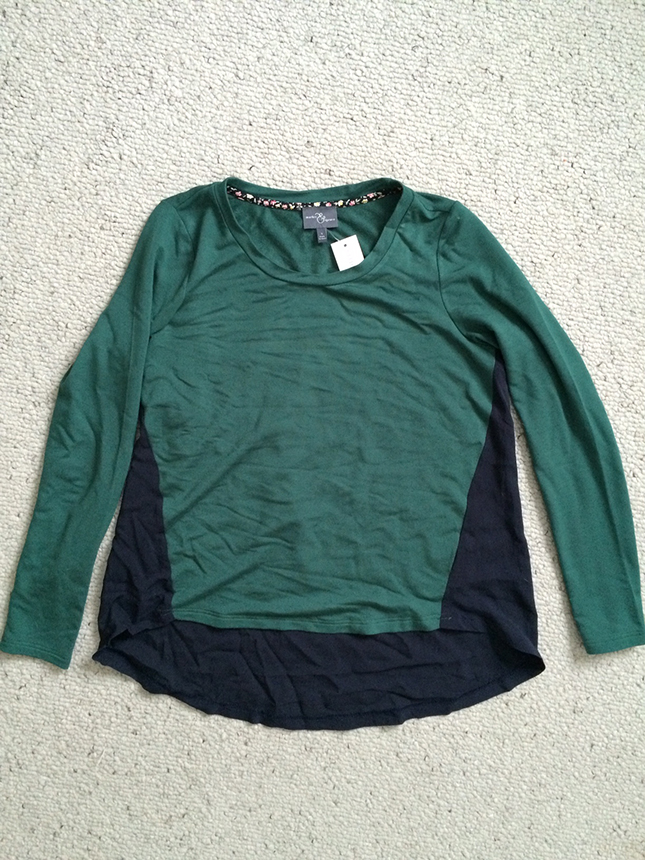 Paul Colorblock Mixed Material Top ($64)
This shirt was the first time I've ever been like, ummm, no thank you Stitch Fix. It is a jersey material high low top. The back is the green material at the shoulders and black the rest of the way down which swoops toward the front of the shirt at the bottom. I so want to like color blocking but I just think it ends up looking weird on me. The shirt was also a bit to high in the front so it hit my legs at an awkward place. -RETURNED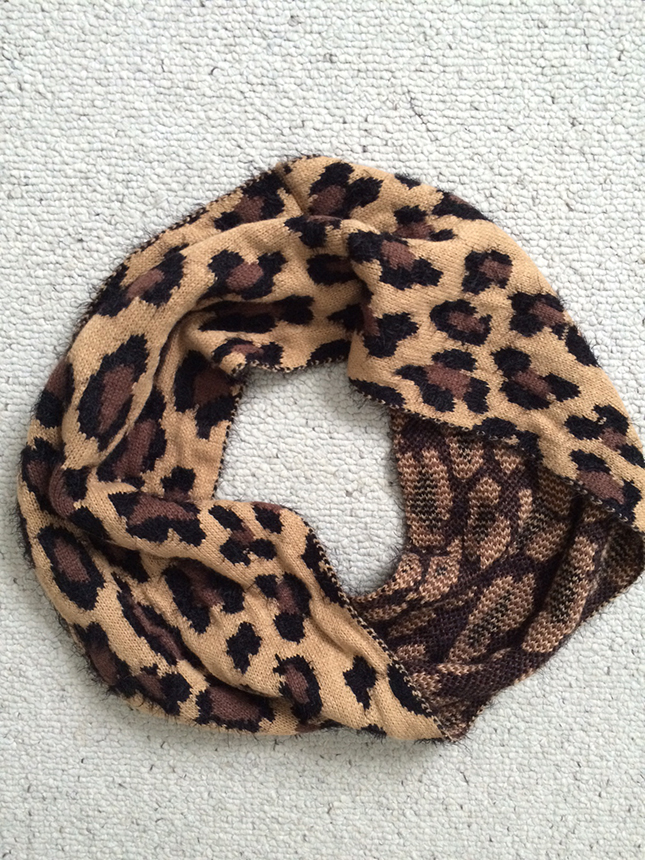 Alena Fuzzy Leopard Print Scarf ($34)
This was the first thing I saw at the very top of my box, and at first I was like, "what the heck is this thing?" Although I did say animal prints were okay to send in my profile, lol! I am pretty impartial to scarves, I know they are a huge trend right now but I just don't accessorize that much so I forget about wearing them. This scarf though. It is thick and really pretty. I like that it can be worn the long way or doubled up and it looks cute either way. Since I am really trying to wear statement necklaces and scarves more this year I debated on this one a lot. In the end I kept it because it just looked really nice with a few different outfits I tried on (from my own closet) -MINE!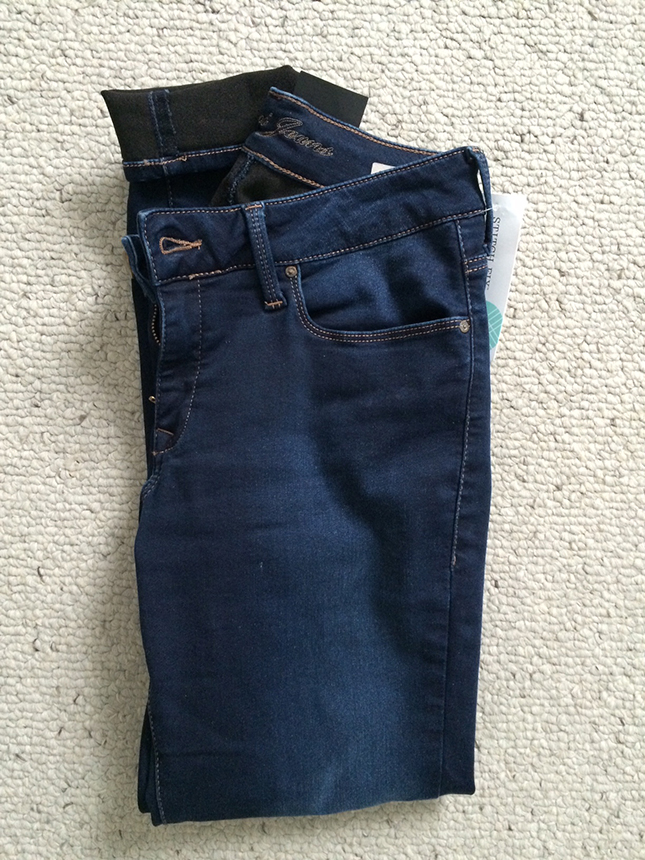 Freida Ankle Length Skinny Jeans ($98)
These jeans. Oh these jeans!!! I asked my stylist to find me a pair of every day jeans that I could wear with flats and boots. I told her I have little kids that still need to carry from time to time and that I can't stand having to pull my jeans up every time I bend over. I have THE worst time finding jeans that fit. I hate low rise jeans, I cannot stand feeling like I have a plumber's crack, they can't be too tight or loose, it's just rough people. The struggle is real! But these jeans. Oh they fit like a dream. Like no other jean I have ever met. They are almost like I'm wearing leggings. So freakin' comfy. I want to get five more pairs like them. If you know me in real life be prepared to always be seeing my in these jeans. That's how much I love them. The one downfall is that these jeans are $98….that's a lot of money for a pair of jeans!!!! But I look at it this way. I will probably get a ton of use out of these jeans (since I will be wearing them every day) and I never buy jeans (because I can never find a pair that fit well) so there's that. I decided it was worth it to me. -MINE!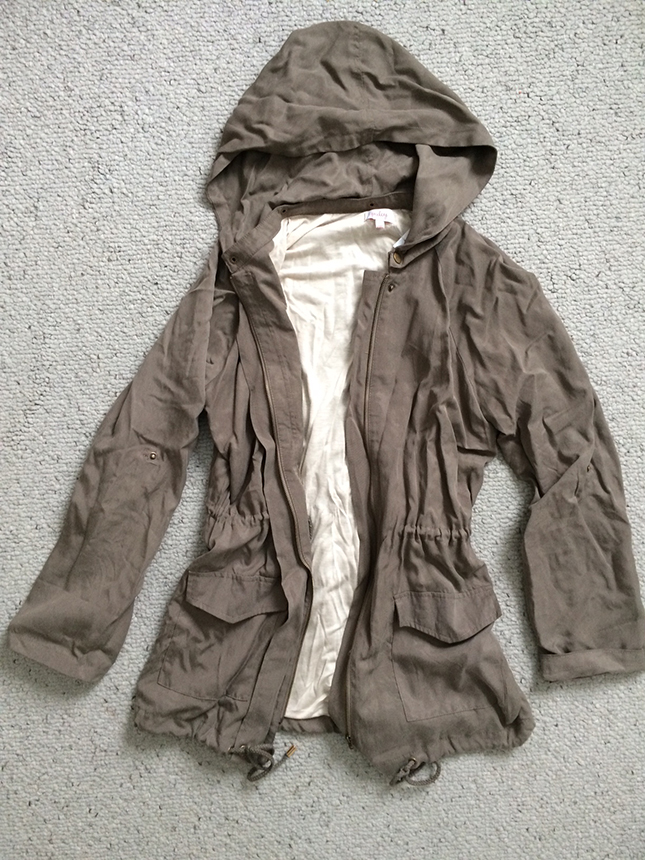 Analisse Anorak Jacket ($88)
In my Style Profile I told my stylist that I would love to see a lightweight jacket in my Fix as I love the layered looks you can do with them and I was kinda thinking ahead to our cool Spring weather (yes, that is probably a millennium away as I live in Chicago but a girl can dream, can't she?) I even found some pictures and pinned them to my Pinterest board for ideas. She found me this little number and I love it soooo much. I had tried on other jackets like this at Gap and Old Navy but they always fit me weird. This one hits me just right in the waist and hip and is adjustable in both those places via a cinch cord so it can show off my silhouette instead of making me look like I'm wearing a contractor's garbage bag. Plus it looks uber awesome with my super awesome new jeans and new scarf…total win!!!! -MINE!
My thoughts on Stitch Fix:
-I have really enjoyed each box I have received. It is always fun to get a surprise in the mail and clothing that I can try on and return with FREE shipping is a huge win in my book!
-I love that each box comes with Style Cards for each item in your Fix. These cards help you to figure out other ways you can wear the piece…to dress it up or down, shoe options, etc.
-I really like that the clothing in the box isn't always what I would have ever picked out shopping. It is fun to "shop outside the box" if you know what I mean, and try on something different from what you may normally see yourself picking up off the rack.
-I love, love, love that my stylist took all my comments and suggestions to heart. She wrote a little paragraph on top of my Style Card explaining why she chose certain items based off of what I had mentioned. I was definitely a fan of that!
-The prices are more, how should I say this, pricey? Definitely more expensive than shopping the clearance rack. To me, part of the fun of Stitch Fix is the adventurous part of not knowing what you will get and if you might actually love it. Trying to find new pieces of clothing that you wouldn't find in a store at the mall. I would say Stitch Fix isn't for everyone but for people who want to dress a bit more fashion forward without the hassle of shopping in a store.
Have you ever tried Stitch Fix?
You can sign up HERE and start you Style Profile now…it is seriously my favorite part. I never thought about some of the questions before and it really made me ponder what my fashion style really is!
Love,
Maggie