Get your summer off to a great start by creating this fun Summer Bucket List!!!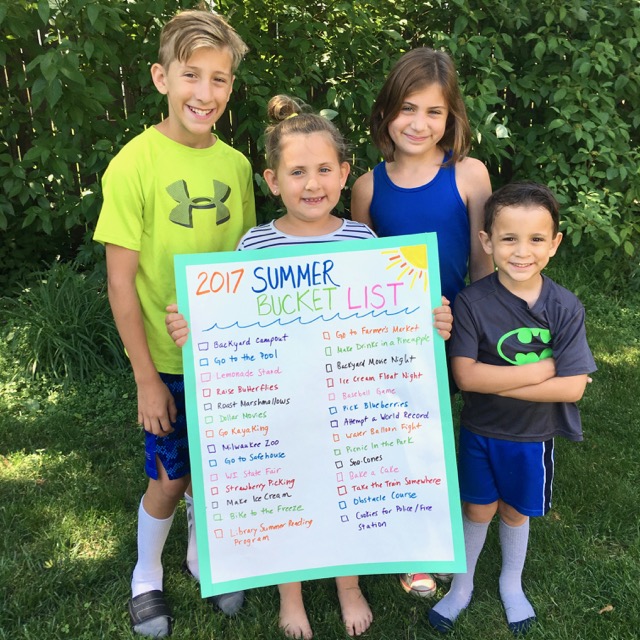 You guys!! We are officially on Summer Break!!! Can you here my excitement from here!!! Long live as many carefree summer days as possible! Bring on the warm weather, less to-do lists, and more swimsuit tan lines! My big three's last day of school was this past Friday. And can I tell you we have been on enjoying every bit of it. Also. Thank goodness we have had some beautiful weather to welcome us to summer…you never quite know how that will go here in the midwest. And I know, I know, I might be singing a different tune come August…but for now the decrease in our crazy schedules and the increase in spontaneity is what makes me get so excited for the busy school year to end! (affiliate links present)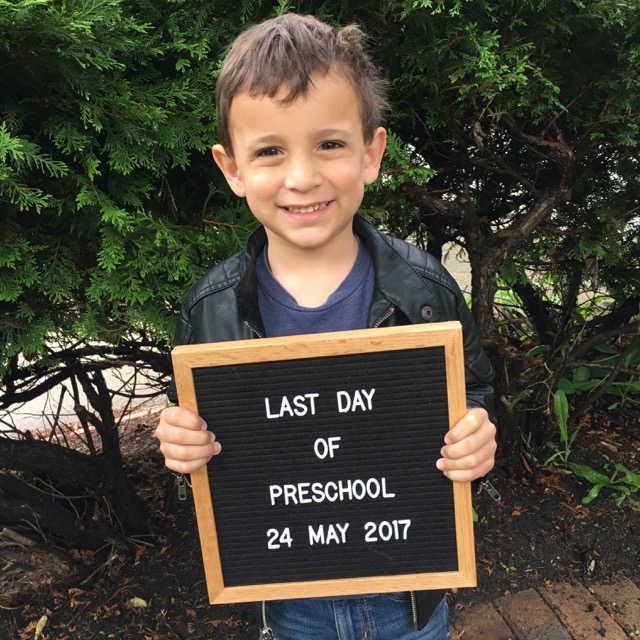 Real quick, can I just share a few pictures of my littles…who are becoming not so little anymore!
Can you believe that my sweet little peanut, Oliver, is now done with Preschool? Forever and ever, no more. Seriously, where has the time gone? He will be doing full day kinder come August which means for the first time in 10 years I will have no one at home with me!!! Whatever will I do with myself? 😉 Aaaand to top it off, in just a few weeks he is going to be 5…waaaahhh!!
And for reference…here is what he looked like just 9 short months ago…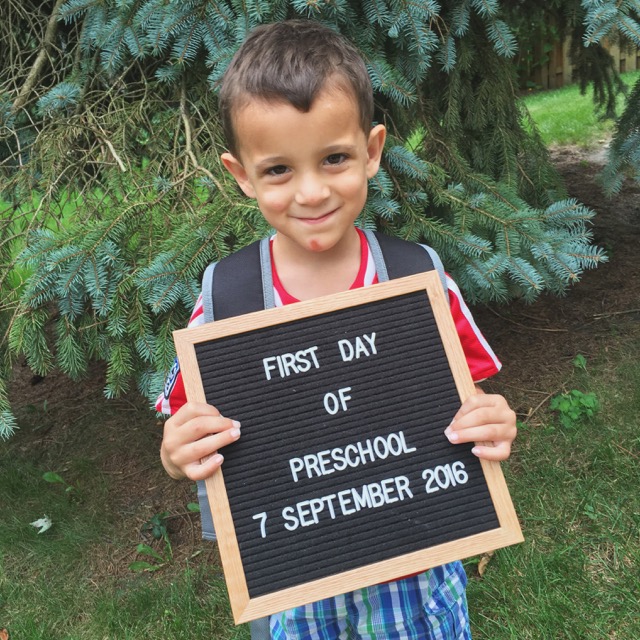 Awwww!!! Such a little guy!!!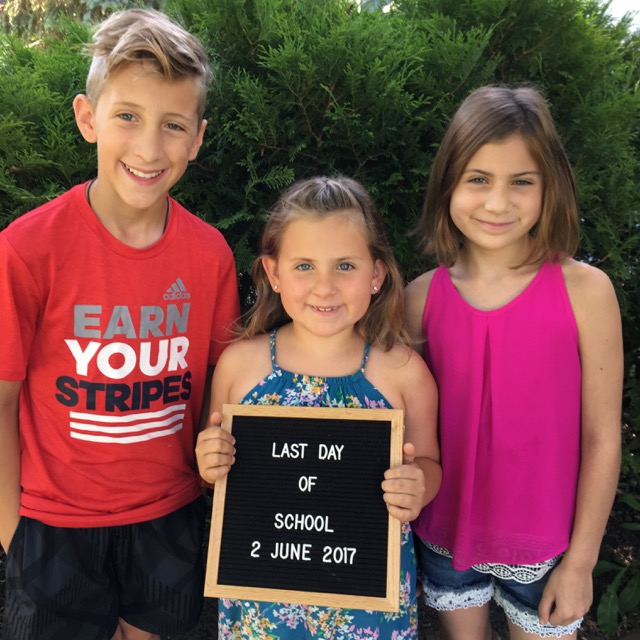 And if you can believe it my Noah is officially done with 4th grade…Eloise is done with 1st grade…and Penelope is finished with 3rd grade!!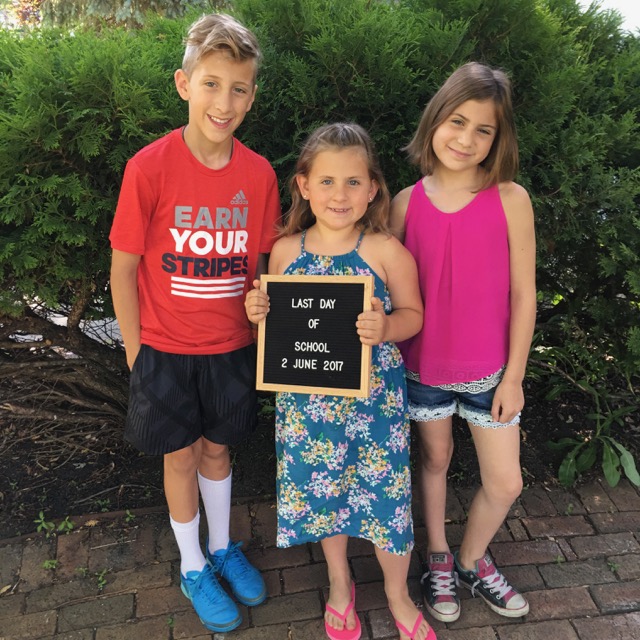 Just look how old they look now?!!!
And for reference…here is what they looked like 9 months ago…
It's crazy how much you don't notice how much they grow and change until you see pictures like this.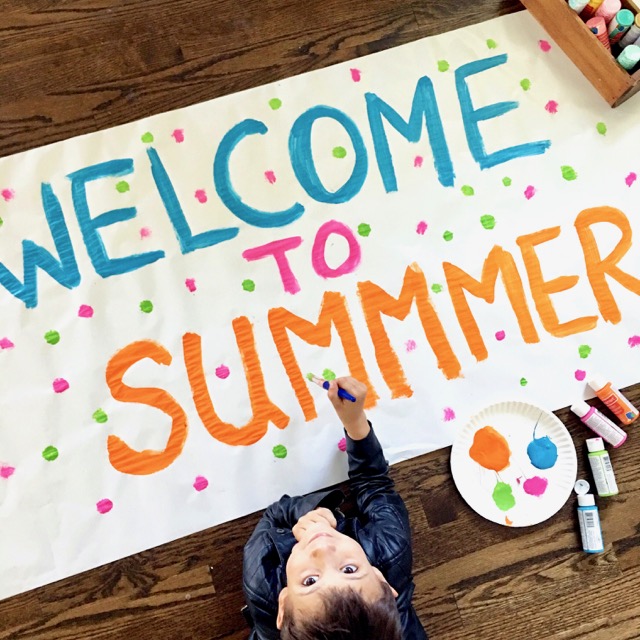 Summer Bucket List
Our end of school tradition is always to make a big banner for the kids to run through when they get off the bus. They are met with silly string and sometimes even water guns! Oliver helped me make his big siblings' banner just before they came home…can you spot what letter he wanted me to add for the 3rd time, lol!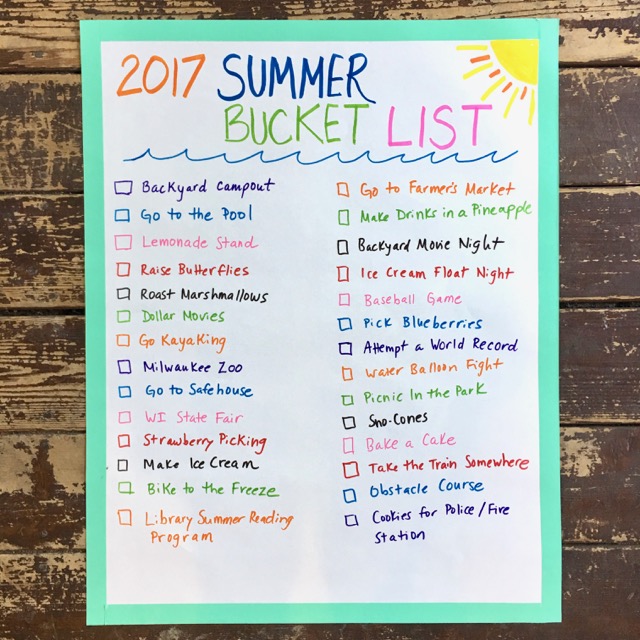 And of course, our biggest most fun tradition once summer starts is to make our yearly Summer Bucket List!!! I have been loving using this set of color markers to write it out, because you know I love fun color choices. The little boxes make checking it off that much more fun! This year, I also used this washi tape to create a pretty border…it literally took 2 minutes to do and is totally unnecessary but since we have it up all summer I wanted to make it just a little bit prettier on our wall.
Here are some of my favorite things my kids voted on doing this summer…
Backyard Movie Night (one of our favorites from last summer!)
Make Drinks in a Pineapple (cannot wait for this one!)
Wisconsin State Fair…the best state fair ever!!
Attempt a World Record (cannot wait to see what they choose to try!)
If you like this idea, you may also like to see some of our other fun summer ideas here:
And for more delicious and easy recipes and craft ideas please LIKE Smashed Peas and Carrots on Facebook or follow me on Instagram or Pinterest for more great ideas!
Thanks for stopping by today!
Love,
Maggie