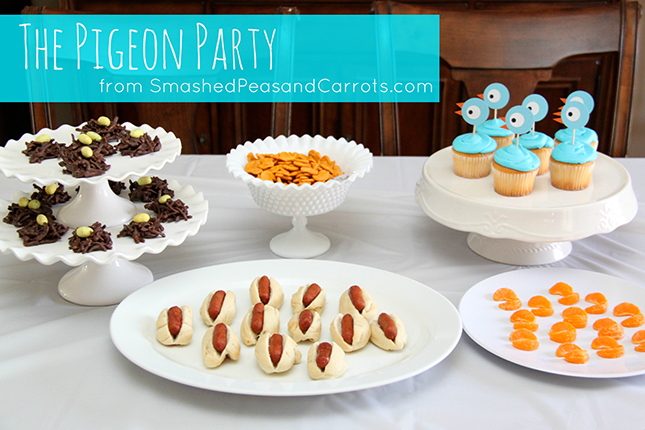 Over here in the Smashed Peas household we just love every book that Mo Willems writes. He has a lifetime fan in all of us through and through. I think the most loved books of all are his Pigeon books. There is just something that my littles (and me, me, me!) just love about that silly little Pigeon and his Duckling friend. So much so that we had to have a little get together with friends to celebrate the newest addition in this book series, The Pigeon Needs a Bath!…which is now on sale as of April 1, 2014!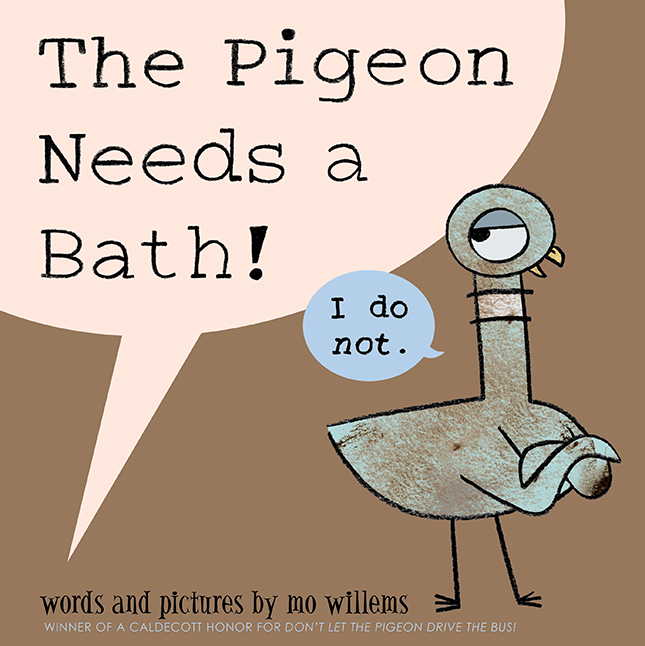 We were so excited when we found out that a new book was being released earlier this April and since we received it, it has seen much play in our bedtime reading routine lineup. My littles will not even consider going to bed unless we read it at minimum 3 times! Thank goodness I love it too. Eloise loves to shout out when her last bath was when the Pigeon asks…you know, he is pretty uninterested in taking a bath and puts up quite the fight which might be a scene that hits close to home in some families (I'm not looking at you, I swear!)
We thought it would be fun to throw a Pigeon Party to celebrate the newest book as well as to celebrate the 10th birthday of Mo Willems' first book in this series, Don't Let Pigeon Drive the Bus. So I put together a fun Pigeon-themed party because….well…who doesn't love a themed party!? We had a really great time eating, laughing, playing, making crafts and it made me realize I really need to do things like this more often!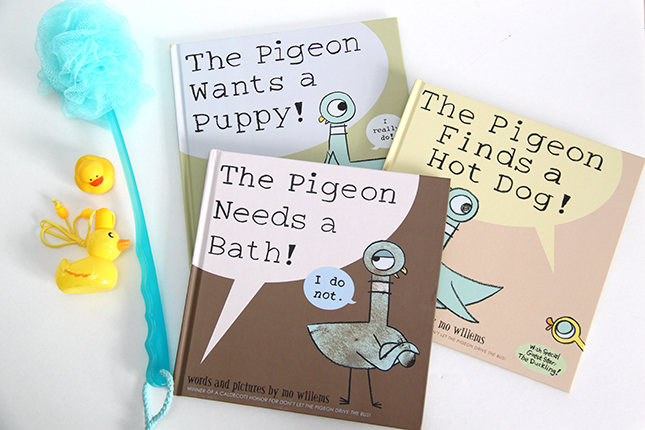 I put together a fun goody bag for each guest which included hardback copies of The Pigeon Needs a Bath!, The Pigeon Wants a Puppy!, and The Pigeon Finds a Hotdog! Then I also included a super fun bath scrubby, a miniature rubber ducky, Duckling-style bubbles, and a plastic shower cap (which is not in the picture!) to go with The Pigeon Needs a Bath! book theme.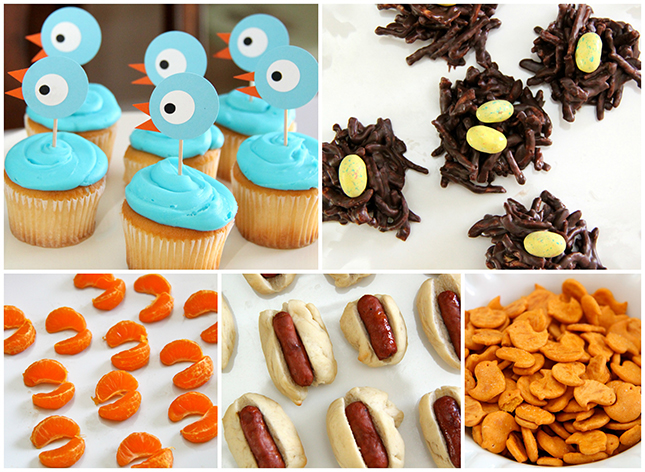 The food for any get together is always one of my favorite things to plan! For this party I offered vanilla cupcakes with pigeon-blue icing, chocolate pigeon nests with a sweet little egg, clementine segments in the shape of pigeon beaks, miniature hot dogs in miniature buns, and duckling crackers.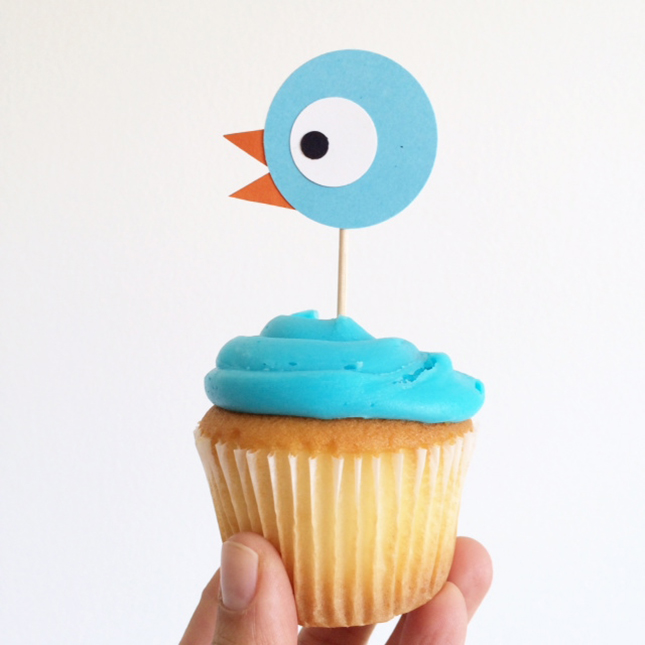 I think one of my most favorite decorations for this party was the Pigeon cupcake toppers I made. You may have seen them on Instagram (you can follow me here if you like!) These were super easy to make. I just used two different sized circular paper punches and punched out the blue pigeon head and the white of the eye. I used a small hand held punch to make the little black pupil. And I cut out triangle for the beak. Then I used a glue stick to put it all together and hot glued them to a toothpick!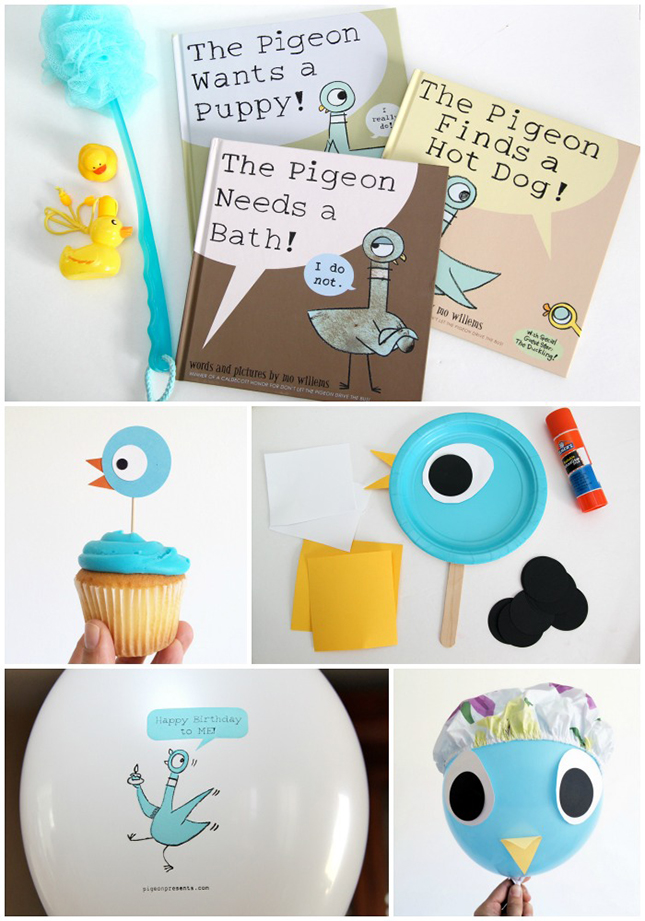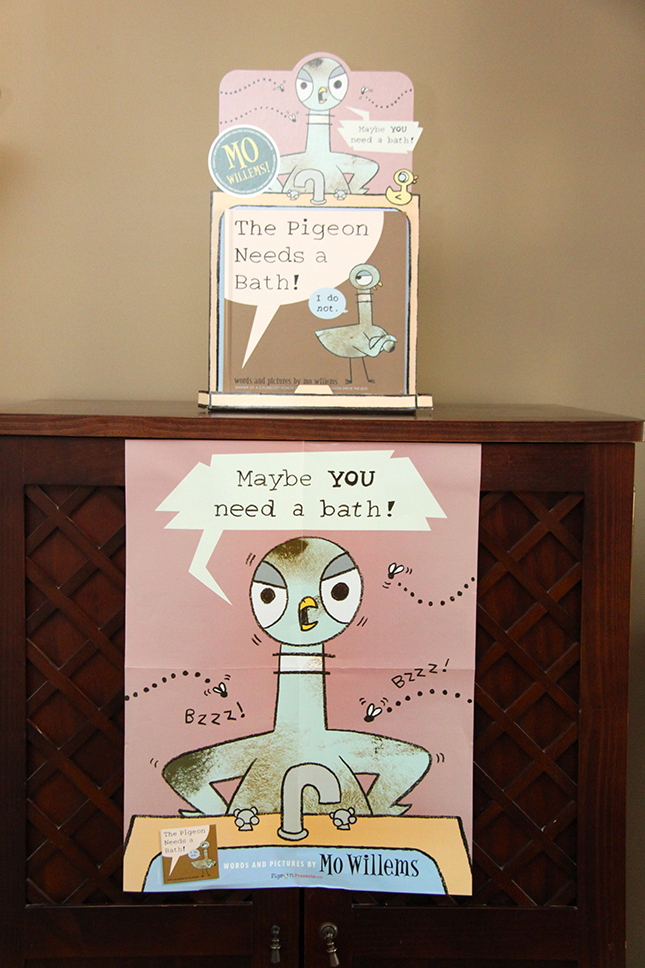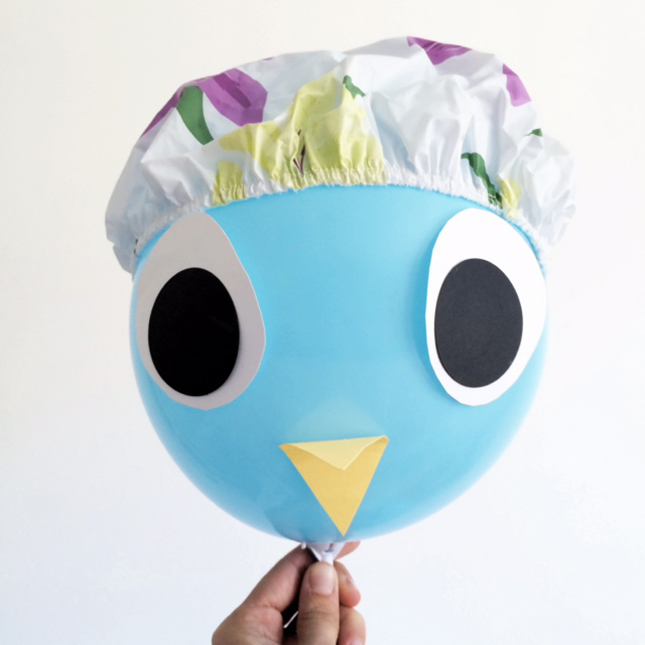 I came up with two fun and easy crafts for little hands. The first was using a simple blue balloon. I offered white, black, and yellow card stock for the littles to cut out the parts of the circular parts of the eyes and the triangular beak. Then using a glue stick they could easily glue on each piece to the balloon. Just add a shower cap and Pigeon is ready for his bath!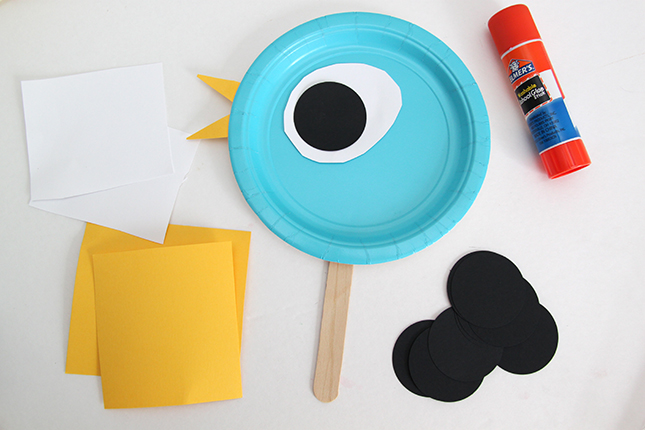 The second craft used the same colors of card stock but also included a small blue paper plate and a wooden tongue depressor. The kids could cut out all the pieces of Pigeon's face and glue them onto the plate to make a Pigeon hand puppet…so easy and cute!
We had such a great time hanging out with good friends and carving out a small part of our busy day to chat and laugh while eating some fun treats and crafting up some Pigeon-style fun. We must definitely do it again! Maybe every time Mo Willems releases a new book we could evolve the theme even more?
For more information on Pigeon and his new book you can:
Visit the Official Site
Follow @The_Pigeon on Twitter
Interested in purchasing the book? You can do so here!
Thanks for stopping by today!
Love,
Maggie
*Thank you to the publishers of Mo Williams' books for sending us copies of his hilarious books as well as a few of our party supplies!