::  ::  ::
A few years ago I had a few of these reusable sandwich mats for wrapping up your sandwiches or pretzels and such on picnics but I just majorly disliked the fact that they were made with this plastic-y vinyl type material.  I have been getting rid of all my plastic food containers and these mats just didn't sit well with me cause you were essentially storing your food right on the plastic side of the mat…ummm, yeah no.   So I came up with an all-fabric cozy that you can wash and reuse and as a bonus you get to use up some of those precious fabric scraps, holla! 
Each cozy is generously sized to fit a nice thick sandwich full of yummy toppings or a generous portion of snacky foods…pretzels, crackers, or even cookies perhaps?
They are perfect for summer picnics, school lunches or taking to work.  The velcro closure is just right for little hands too 🙂  I think you should make one or two for each member of your family and put a dent into that growing pile of scraps!!
Fabric scraps in all sizes
Piece of coordinating fabric measuring 15″ x 15″
Piece of fusible interfacing measuring 15″ x 15″
2 inch piece of velcro
ruler
rotary cutter and mat
sewing machine and thread
iron
When you are ready to start sewing them together, place the first piece of fabric right-side up and then place the piece of fabric that will be next to it right-side down directly on top of the first piece.  Sew together using a 1/ 4 inch seam allowance. 
Continue doing this for each additional piece until you have something resembling 15 inch by 15 inch square or larger.  Don't worry if you are using scraps of fabric that are longer than 15 inches.  We will cut them down to size soon!
Once all your pieces are sewn together, flip your fabric wrong-side up and press your seam flat, see picture above.  This will help to reduce bulkiness once the cozy is assembled.
Now you can go ahead and cut your pieced fabric (this will be your inner fabric) so that it measures 15 inches by 15 inches.
Next grab your interfacing.  This is what mine looked like.  
Cut a piece of interfacing as well as a piece of coordinating fabric (which will be your outside fabric) to measure 15 by 15 inches.   Iron on the fusible interfacing to the wrong-side of the outside fabric following the package directions.
Next, measure 3 inches in from each corner and draw a line between the two points.  Cut a triangular piece from each of the four corners from both your inner fabric (pieced fabric) and your outside fabric (with interfacing attached) using your ruler and rotary cutter plus mat.
Then take the rough section of the velcro and center it about 2.5 inches from one side of the outside fabric.  Sew in place.  
Now this part is tricky to explain so bear with me here.  Place the inner and outside fabrics right-sides together keeping the outer fabric on the top (like the picture above).  You are going to sandwich the softer side of the velcro inbetween these two layers with the soft side facing down.  Do this on the exact opposite side of the cozy from where you had sewn the rough side of your velcro.  So if you are looking at this picture, the velcro needs to be shoved into the sandwich so that it is aligned with the raw edge.  Make sense…or clear as mud?
Okay, if you totally understood that last step pat yourself on the back!  Next you are going to sew around the cozy with a 1/4 inch seam allowance leaving one side unsewn so that you have an opening for turning the cozy right side out.  
Clip every single corner and then turn that baby right side out…almost done!!
Press the cozy flat and then top stitch around the entire cozy with a 1/8 inch seam allowance.  This will neaten up the cozy as well as it will close that darn opening.  
Done!  
Isn't it so cute!
Now, fold up your cozy and get ready to do some summer picnikin'!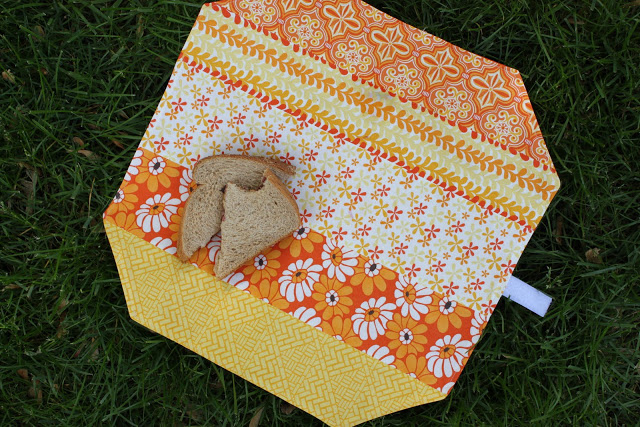 Ahh, summer…lush green grass and a little bit of shade equals the perfect picnic ambiance 🙂
PB & J anyone?
XOXO,