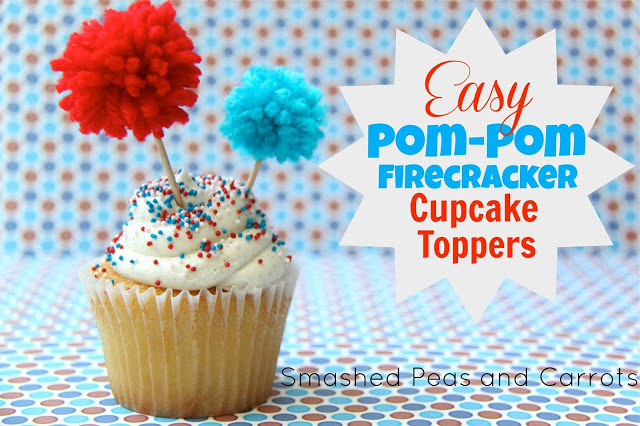 Today I thought I would bring back a guest post I shared over at I Heat Naptime earlier this summer for Jamielyn's Hello Summer Event!
This tutorial makes a super easy and festive way to jazz up your cupcakes and although especially fun for the  4th of July, my Easy Pom-Pom Firecracker Cupcake Toppers would be great for any celebration by changing the pom-pom colors to coordinate with your theme and colors! So happy cupcake decorating for you all!
Easy Pom-Pom Firecracker Cupcake Toppers
Pom-Pom Maker (I used the Clover 1 3/4 inch and 1 5/8 inch)
Yarn
Scissors
Toothpicks

To make the pom-poms, I used the Clover brand pom-pom makers that you can buy at your local Jo-Anns store.  You can always check out the video I made HERE if you need help with your pom-pom makers.  They are pretty easy to work although I totally get that sometimes the first time using them can be tricky!
You will also need a pair of scissors, some fun yarn colors, and toothpicks!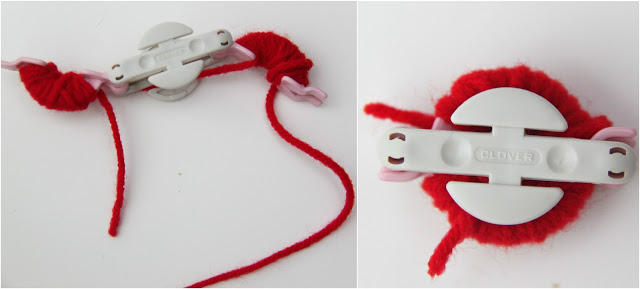 1. Open up the Pom-Pom maker and wrap the yarn around both "rainbow" sections.
2. Close up the Pom-Pom maker so it is back to it's original look except now you will have yarn wrapped around the outer circle.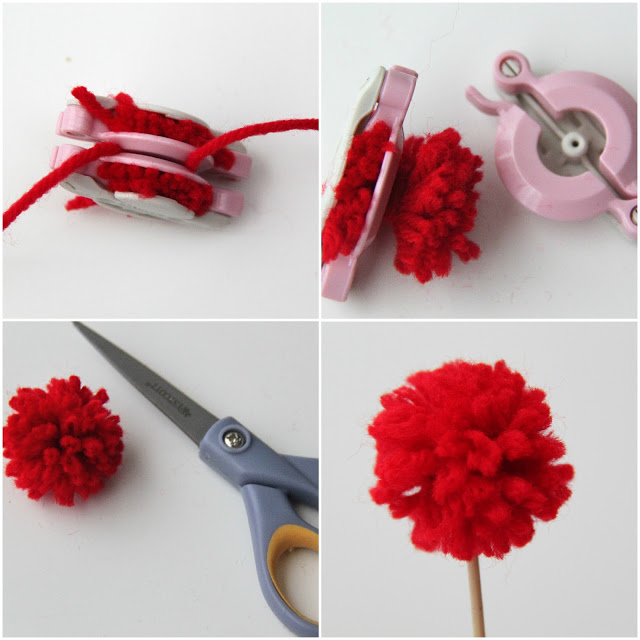 3. Take your scissors and cut along the middle of each wrapped section.  Then clip a small piece of yarn (about 6 inches or so) and slide it in between the groove in the middle of the Pom-Pom maker.  Pull it tight and tie it into a knot.
4. Pull the Pom-Pom maker apart.
5. Take out the Pom-Pom and use your scissors to shape it so it is nice and fluffy.
6. Push a toothpick into the center of the Pom-Pom.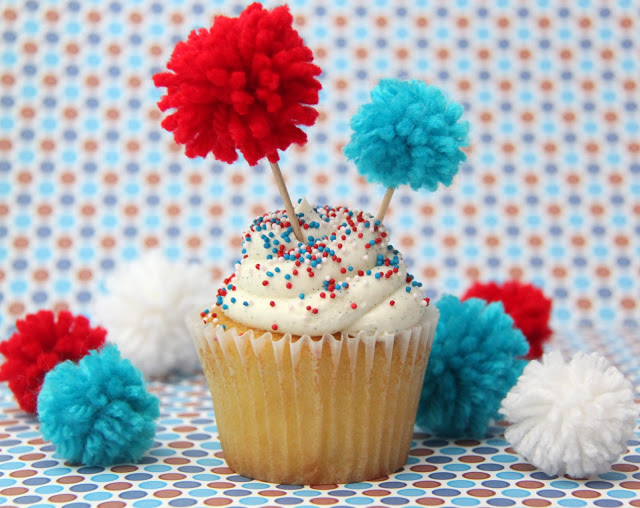 Now decorate your cupcakes or cakes with these sweet little Pom-Pom Firecracker Cupcake Toppers. The perfect decorations for any party!!
XOXO,