This homemade Instant Pot Chicken Noodle Soup is the best chicken noodle soup you'll ever have and it couldn't be easier to make. It is loaded with big chunks of chicken, lots of veggies, and a rich flavorful broth.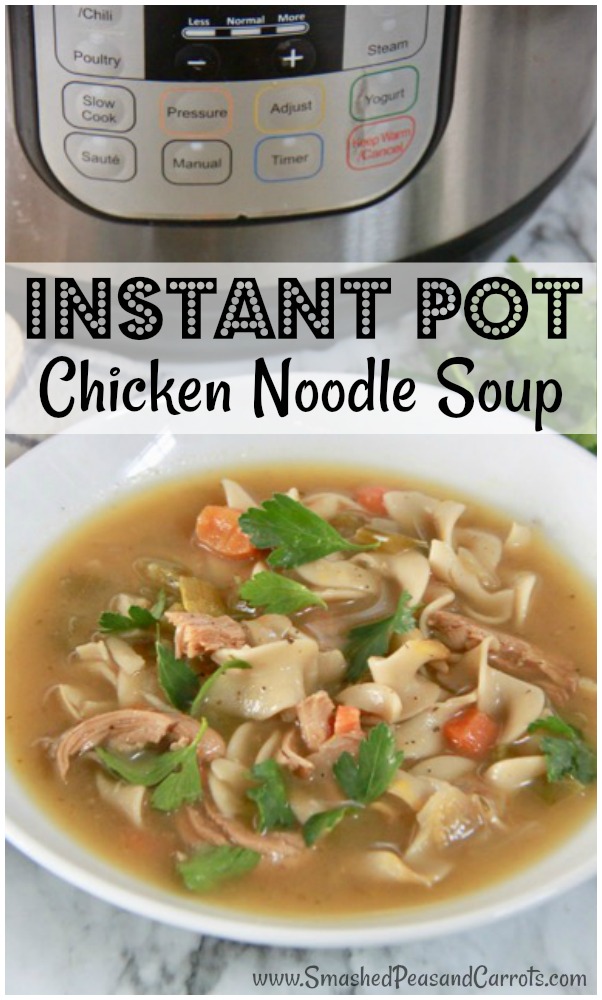 If you love Chicken Noodle Soup, you are going to love it even more in your Instant Pot. Instead of simmering it for hours on the stovetop, you can now make it in less than 30 minutes! You get all the flavor and richness in a lot less time, woohoo! This is one of my go to Instant Pot Recipes during the winter months, which if you live in the midwest, can last at least 6 months of the year! (affiliate links present)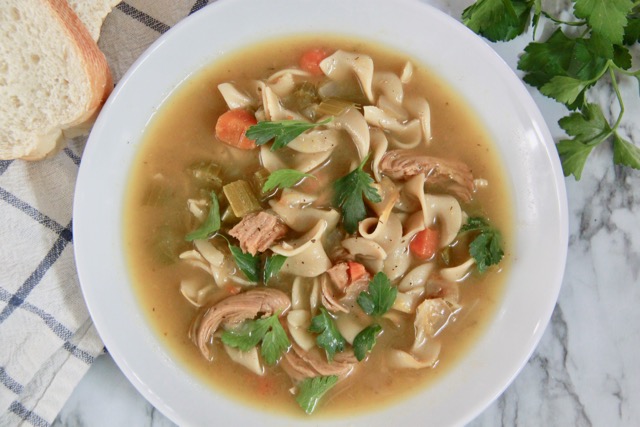 To make this deliciously filling soup you will first need an Instant Pot or other pressure type cooker. Because we have a larger family, I typically buy a whole organic chicken and cook it in my Instant Pot for dinner one night (using my Instant Pot Rotisserie Chicken recipe) and then on the second night I will use the leftover chicken and all the bones to make this soup. I love doing it this way because the bones give the broth an even richer flavor…but you can totally make it with frozen or cooked chicken breasts too…I can attest to it's deliciousness on those nights when you are in hurry for some good 'ol chicken soup!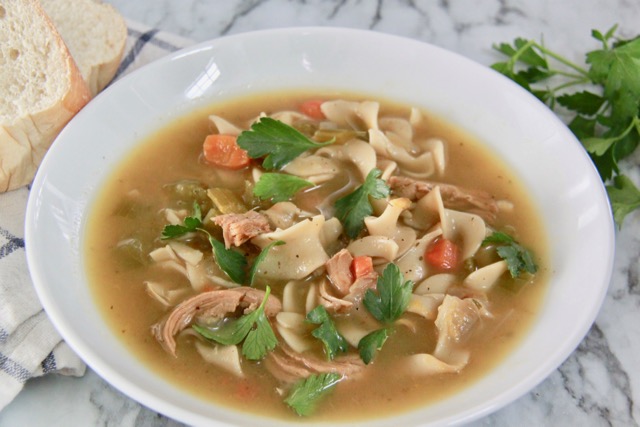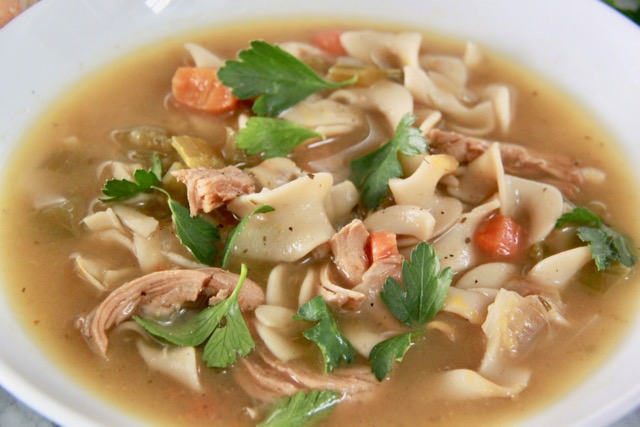 Instant Pot Chicken Noodle Soup
Instant Pot Chicken Noodle Soup
Ingredients
2 tbsp unsalted butter
1 onion, chopped
4 stalks of celery, chopped
3 large carrots, chopped
1 tsp dried oregano
1 tsp dried thyme
1 tsp salt
1 tsp pepper
2 bay leaves
4 cups chicken broth
4 cups water
One large *chicken breast OR chicken carcass meat and bones(cooked) equalling to one large chicken breast (may use thighs, drumsticks, wings, etc.)
2 cups dried egg noodles, uncooked
*may use frozen, directions below
Instructions
*If using a frozen chicken breast, you will want to cook it in your Instant Pot first.
Place the frozen breast in your Instant Pot with 1 cup of water, lock the lid, and seal the valve.
Press the MANUAL button and adjust the time to 10 minutes.
Once done, you can let the pressure release naturally or open the valve to let the steam out for a quick pressure release.
Take the breast out, let cool, and then chopped. Set aside.
To Make the Soup:
Press the SAUTE button on your Instant Pot and add the butter to the pot.
Let the butter melt.
Then add the onions, celery, and carrots and saute until the onion is translucent...about 5 minutes.
Add in all seasonings and stir.
Add in the cooked chicken breast meat OR the bones and meat remaining from a chicken carcass, and stir.
Pour in chicken broth and water.
Add the two bay leaves.
Lock the lid, close the steam valve, and press SOUP, adjust time to 8 minutes.
Once the timer goes off, either let the pressure release naturally (will take up to 10 minutes) or open the valve to let the steam out for a quick pressure release.
If you used a chicken carcass, scoop out the bones and separate them from the chicken meat.
Add the chicken meat back into the Instant Pot.
Add in the noodles and press the SAUTE button. Cooking the noodles uncovered for an additional 6 minutes.
Turn off the Instant Pot by pressing the CANCEL button.
Pull out the bay leaves and discard.
Taste the soup to season more if desired.
Enjoy!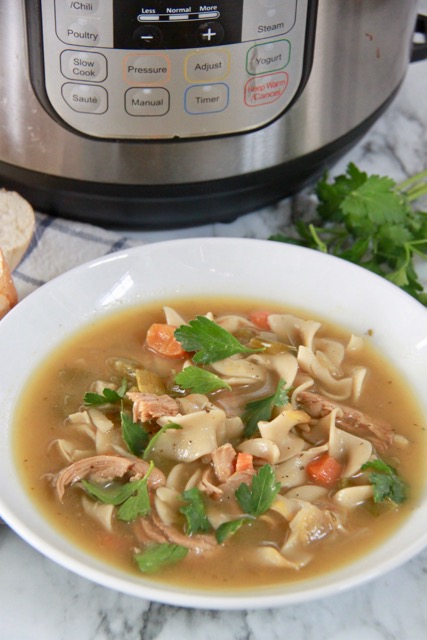 If you are using frozen chicken breasts, you can cook them first in your Instant Pot in no time flat!
I add my frozen chicken to my Instant Pot, add one cup of water, lock the lid, close the steam valve, and press MANUAL. I adjust the time for 10 minutes and when my Instant Pot beeps that it is done, I do a quick release by carefully opening the steam valve and releasing the pressure. Voila, you chicken is now cooked!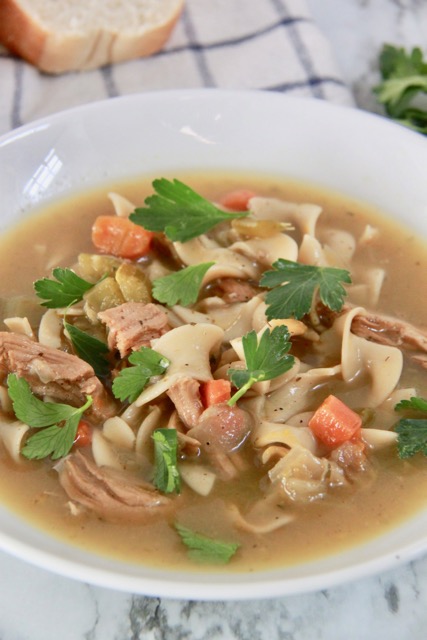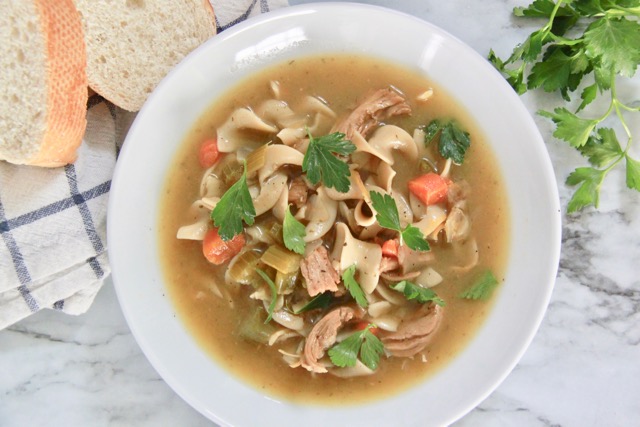 My daughter, Penelope, absolutely looooves Chicken Noodle Soup and my Instant Pot recipe has saved my bum numerous times when she has asked me to make it literally right before I drop her off for swim team practice…thank goodness it can be ready to eat by the time she gets home!!!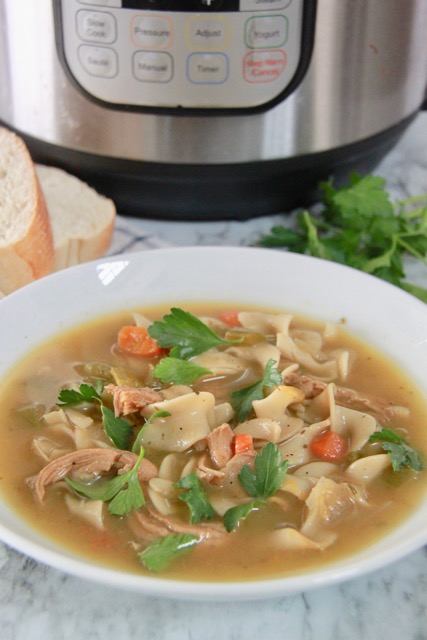 For more delicious and easy recipes please LIKE Smashed Peas and Carrots on Facebook or follow me on Instagram or Pinterest for more great ideas like these…
Thanks for stopping by today!
Love,
Maggie
SaveSaveSaveSaveSaveSaveSaveSave