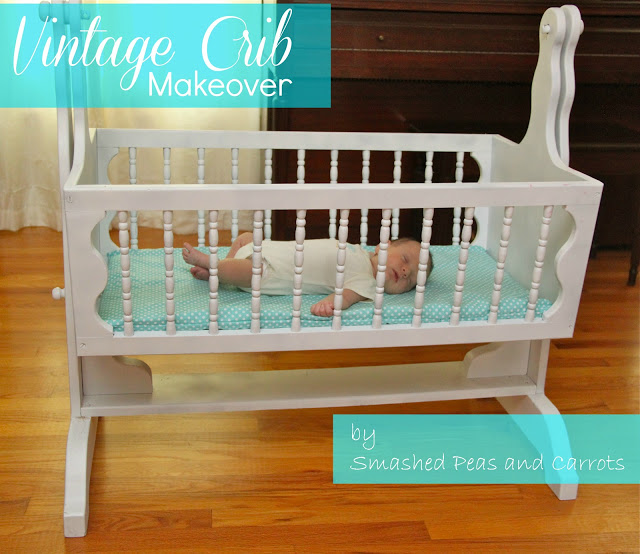 So I finally went through all the pictures of the vintage crib makeover I did right before Oliver was born.  Yup, he's almost 4 months old so I'm just a leetle late.  He's been a fun, little, smiley pudge to snuggle these last few months though which makes the late posting of it all okay, right? Riiight.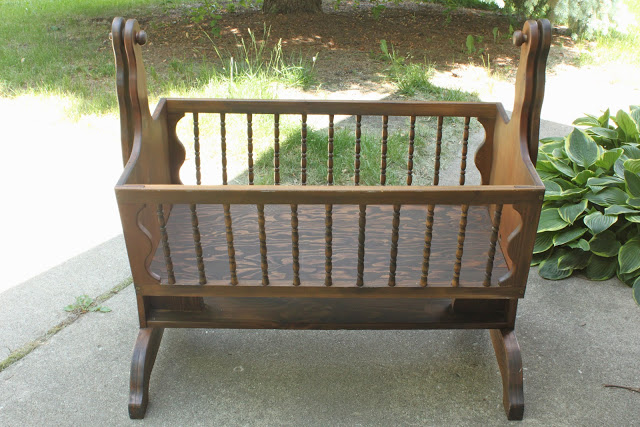 Here is the before of the crib.  Isn't is so cool? I had been eyeing, and I mean down-right staring at this sweet thing for several months at a local thrift store but there were a number of factors getting in the way of my ownership of this vintage treasure.  One being that it was being used as a display piece for as long as I can remember going there.  Nards!  Don't you hate when thrift stores use awesome vintage furniture or crates as display pieces with those big honking signs sayin, 'NOT FOR SALE For Display Only!'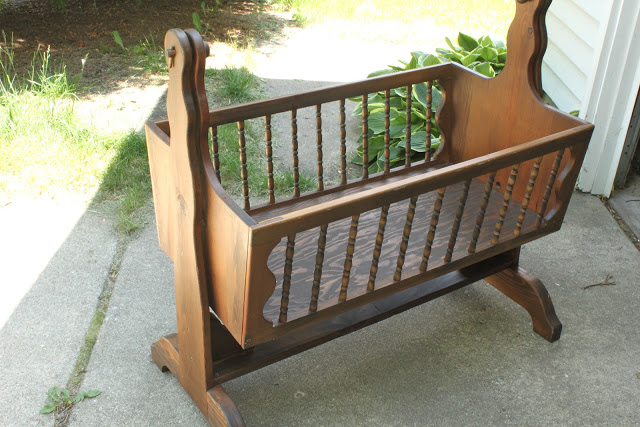 Then one day, several months back of course, I walk into the store and magically see a very tiny for sale price tag on it…but at over 100 dollars that was not about to happen.  Oh well.  I could only hope in the fact that everyone else felt the same way…or that the pricetag on it was uber tiny that you really had to be checkin' it out to see it, hah.
Then, of all things, Mr. Smashed Peas and I have the day to ourselves.  Crazy I know. We had a wedding to attend to so we had a babysitter for the entire day…whaaaat!?!?  Woot Woot!  That never happens.  Well, after the wedding we were driving up to the reception locale and on the way passed by this particular thrift store.  I asked (ok, begged…Mr. Smashed Peas is in no way fond of thrift stores…at all.) if I could just pop in real quick to peek around.  He said I could only if I dropped him off at a store of his choice first and went back to pick him up in half an hour.  Umm, yeah, I'll totally do that.  And guess, what!  That leetle tiny price tag had a big red slash on it and the new price said….wait for it…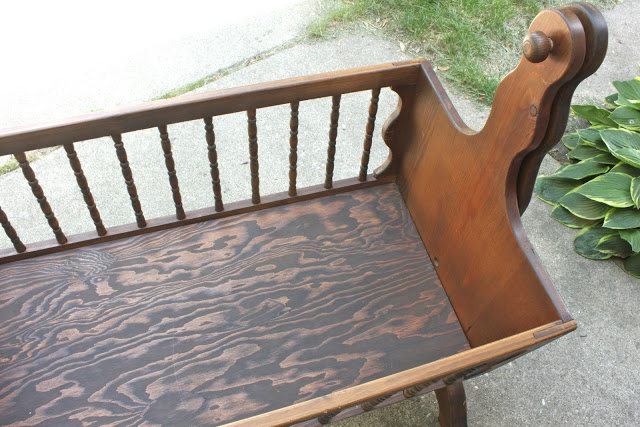 $30
Yes!!  Totally True!!
$30 freakin' dollars!  I swear that never, ever happens to me!
I was so excited I bought it on the spot.  
Then I had to somehow figure out how 8 months pregnant me was going to get it into my car.  Thank goodness for the two very gentlemanly teenage volunteers who offered to carry it out to my car aaaand even loaded it in all in the nick of time to pick up Mr. Smashed Peas.  Wooo Hooo for perfect timing 🙂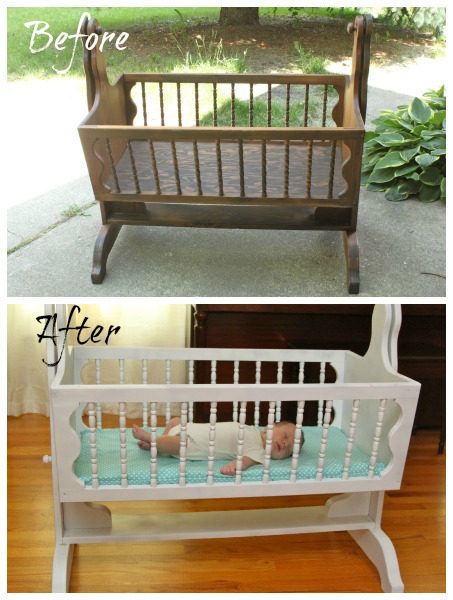 So here is the before and after, again.  The original crib is made of a really dark wood and then had some sort of icky half on/half off varnish on it.  I didn't love the dark color but saw potential in it for a more updated version for our home.   Since I didn't know if Oliver was an Oliver or an Olivia (just kidding, Olivia was not on our girl name list…that's our dog's name silly!) I wanted to paint it a neutral yet vintage-y white since it was going to find it's new home in my sewing studio.  I figured I could make fun gender-oriented sheets for a little mattress once we knew boy or girl.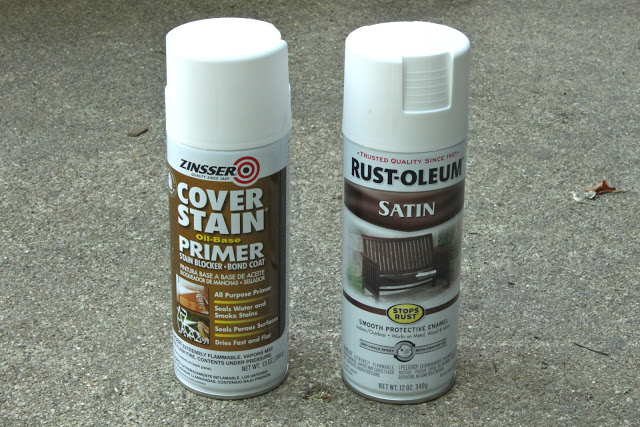 Like I mentioned in this post here.  I LOVE, LOVE, LOVE the Zinsser Cover Stain Primer spray paint.  This stuff is sooo awesome.  And no, they don't pay me to say that.  I just love it so I could eat it up.  I used two cans to cover the entire crib inside and out (the flat board took the most primer, it was a lot more surface area than I originally thought).  And then I used less than one can of the Rustoleum White in a Satin finish as a lovely top coat.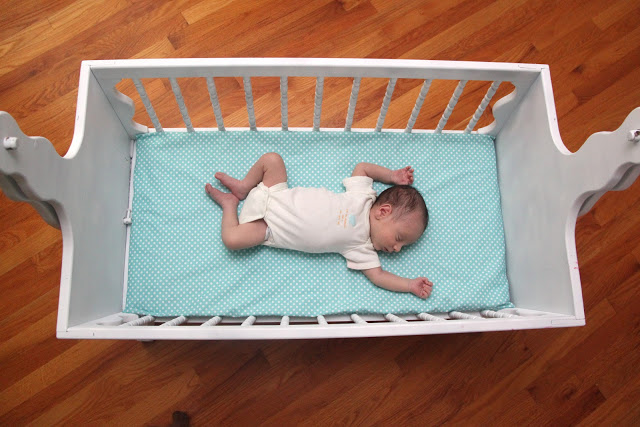 It turned out beautifully, don't you think!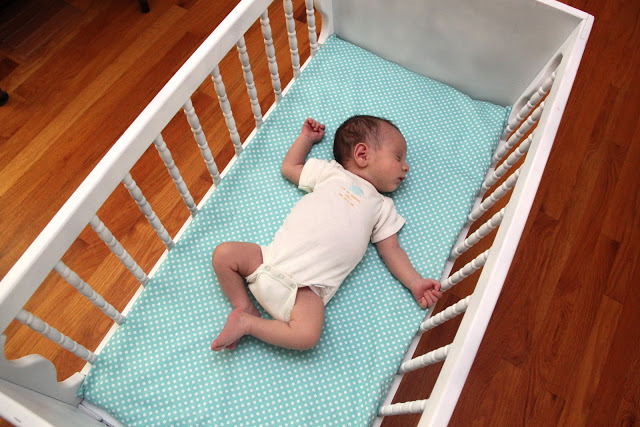 Oliver is about 2 weeks old in these pictures.  Can you believe it?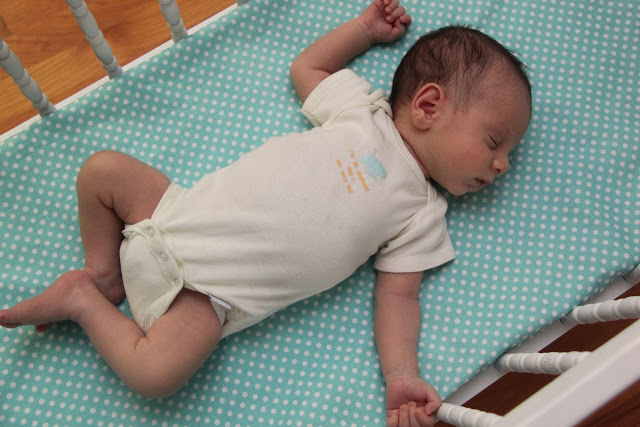 What a plump little babe he has turned into!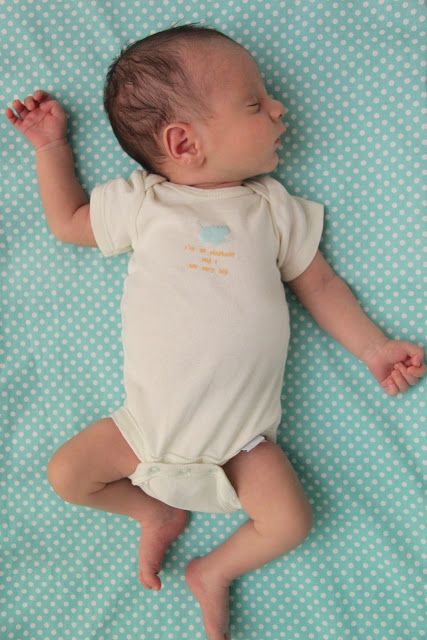 I love the froggy-leg sleeping positions babies sleep in, ahhh.  Sigh.
Thanks for stopping by today!
XOXO,