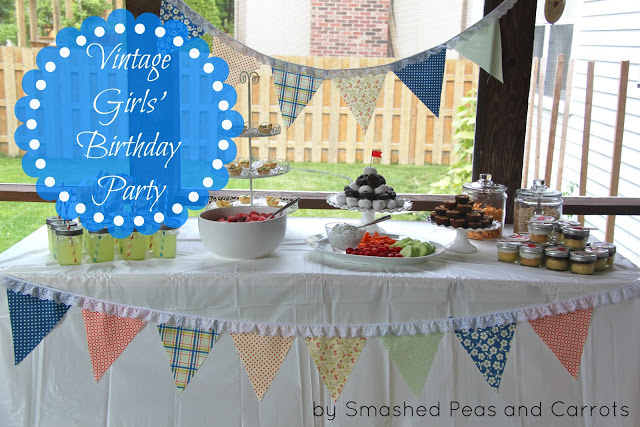 So last week my little Penelope turned 4…and last month my little Eloise turned 2…and if you can believe it last week Oliver turned 2 months too!  Everybody is getting bigger and older, sigh.  
Well, to celebrate my two little girlies we decided to throw a joint party for the both of them since 1) their birthdays are exactly one month apart 2) they are 23 months apart in age which makes them hang in the same circle of friends which is so fun and 3) their love of dresses, jewelry and nail polish pretty much makes them BFFs and they want to do everything 'like twins'.  
Penelope was so excited about the party decor, she brought it up every day, well that and what kind of dress I was going to make her…she is just too cute for words, that girl.  She couldn't wait for me to make decorations and help me pick out fabric for
her dress
.  She just loves my fabric stash and is always begging for scraps to use on her dolls, lol.  She browsed fabric online with me to find the perfect fabric for her dress and then we used those colors as our jumping off point for our party decor.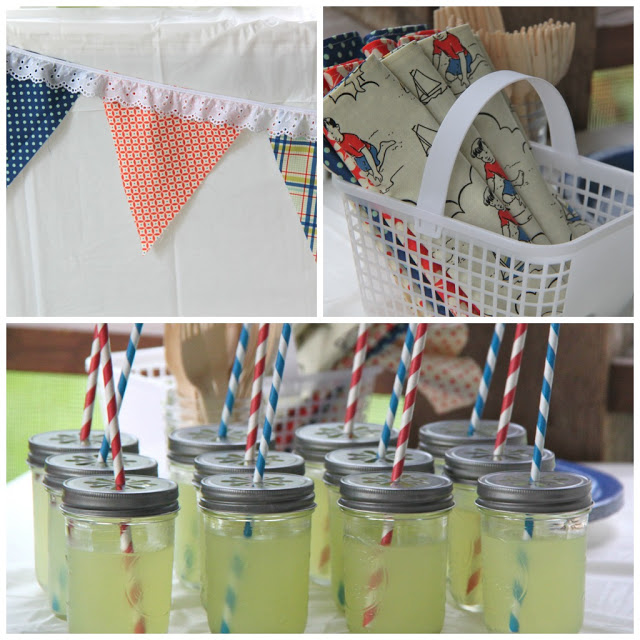 We decided on
Riley Blake's Seaside
, it is just so sweet and has such a great vintage feel to it.  The line is so whimsical with it's reds and blues and the florals, small polka dots, and plaids worked perfectly into our girly vintage theme.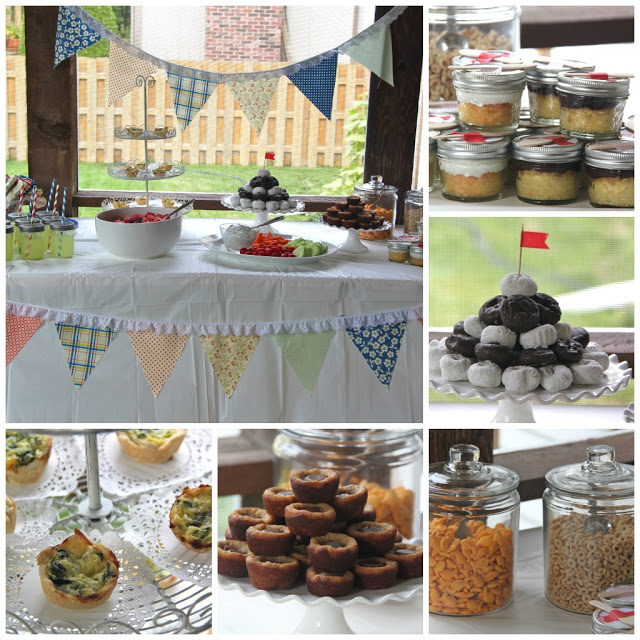 We had the party during the week in the late morning as a play date-type party so the foods we offered our guests were more brunch-based.  You know, a little breakfast-y and a little lunch-y…and perfect for small hands to snack on while playing.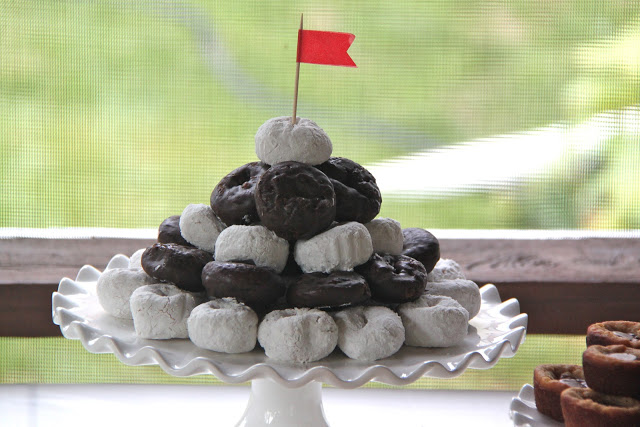 We made a mountain our of mini donuts.  Chocolate frosted and powdered to win everyone over!

We had pretty glass containers full of goldfish and cheerios, every kid's favorite snack for anytime of day 🙂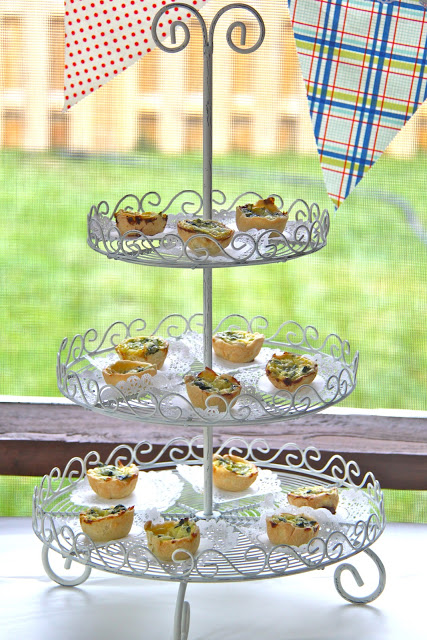 For the mommas, I offered mini spinach quiches all pretty and dainty.  As well as an herb dip with veggies and a nice, big fruit salad.  Hey we gotta keep it a little healthy for the wee ones!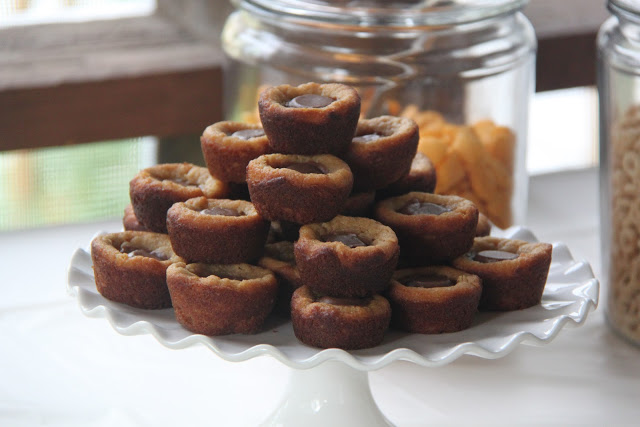 Since it was a morning party, I didn't want to go too wild on the sweets which was so hard for me since I LOVE sweets.  So I compromised with myself and made these bite-sized peanut butter thumbprints.  I figured since they were itty bitty it was ok to have a big platter of them, hahaha.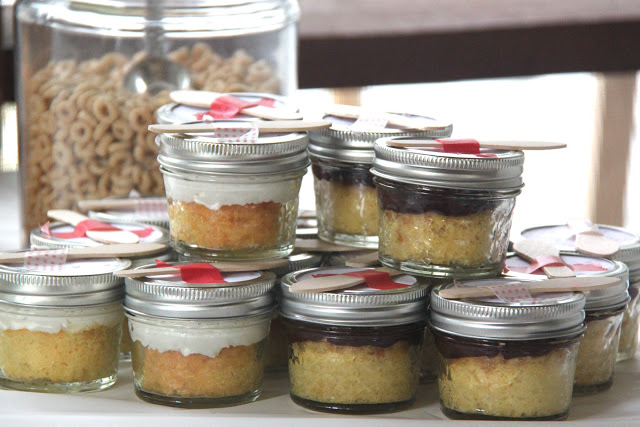 And then as a party favor we gave all of our guests these cute little cupcakes-in-a-jar that I made and frosted and then added some fun sprinkles chosen by the birthday girls.  Ok, yeah it's sugar to the max but at least it was to eat at home later in the day and not at 10 in the morning.  We are still friends, friends?  right? 🙂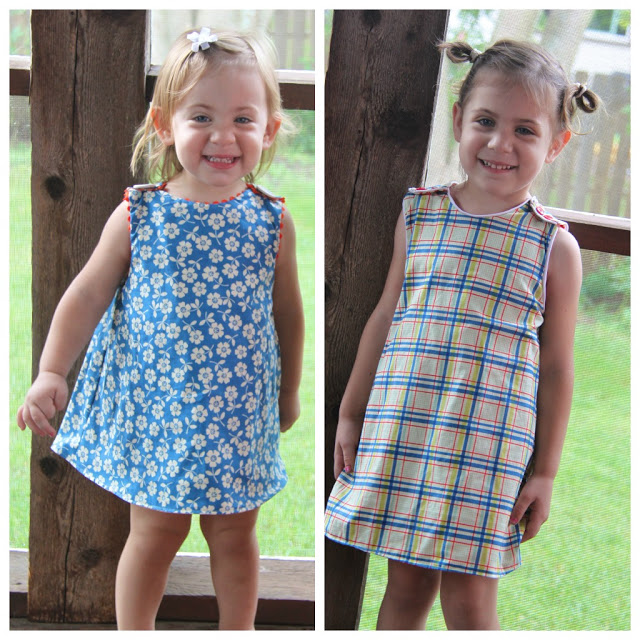 I made both girls dresses from Seaside, which I talked more about here.  They were both in heaven and ask to wear them every day since.  I just love that they enjoy wearing clothing I make for them 🙂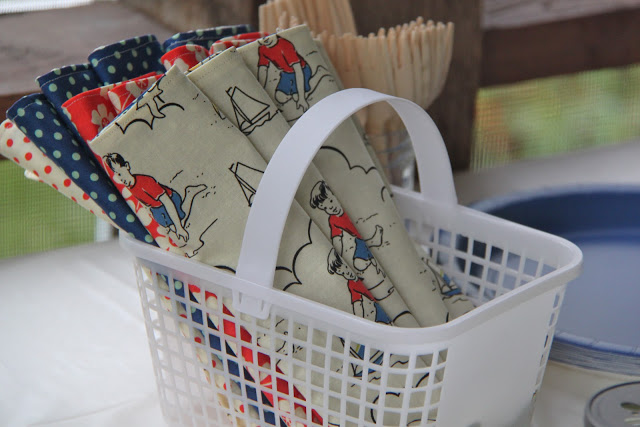 Being the ultimate party decor nerd, I made a whole bunch of cloth napkins from Seaside as well.  How fun will these be to take on a picnic later?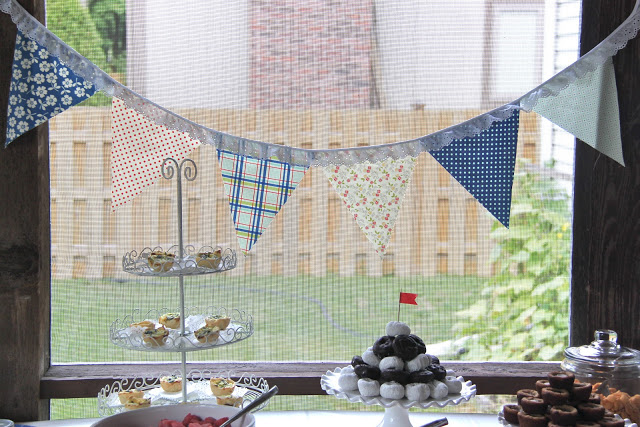 I made a few fabric pennants to give that sweet vintage feel.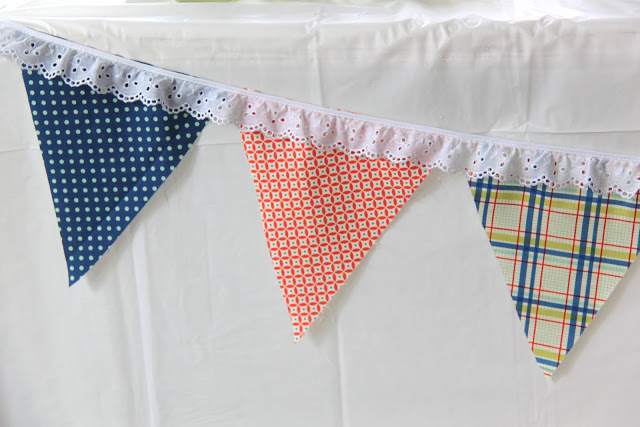 And used some pretty ruffly lace trim to hang them with.  This was probably one of my favorite ways to add a little vintage fun to the decor.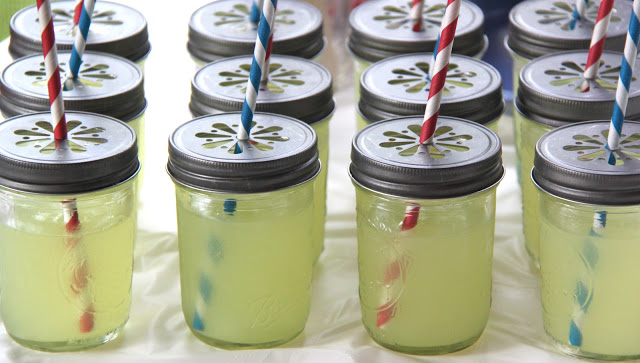 Of course, every party needs drinks.  We served up lemonade with fun red and blue stripey straws to all our little guests.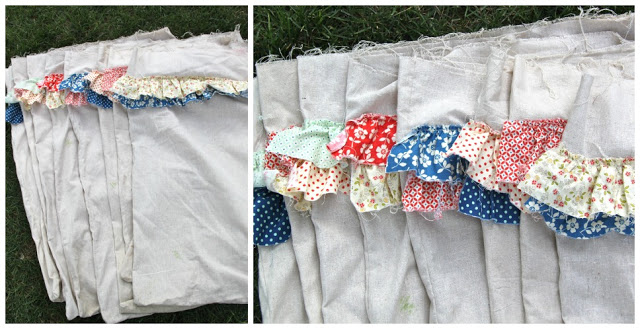 And if you know me, you know I don't think a kid's party is complete without some kid-friendly fun.  So thanks to my friend Denise's brilliant idea, I made a few potato sacks and decorated them with some ruffle-y fun in different fabrics from the Seaside line for the kids to run races in the back yard.  It was the perfect day to sit outside and watch a few potato sack races 🙂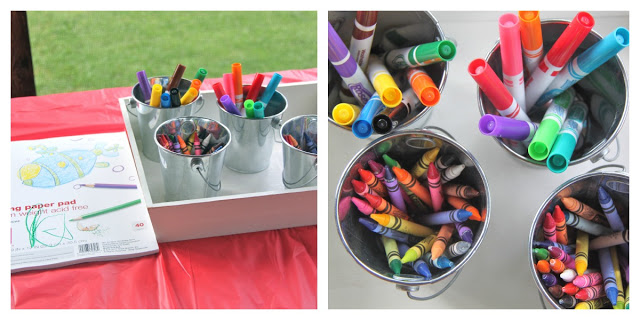 I also set up at table with plain paper and a whole bunch of markers and crayons for the kids to decorate.  It seems that anytime we have kids over this is what they want to do.  I love to see all the creativity in their artwork at this age. 
Now being a momma to 3 little ones of the pen-wielding age, it was a must to make sure they were all of the washable type!  Whether you have school-aged children or younger, now is the time to stock up on crayons, markers, paints, and glue at great prices with all the back-to-school sales going on.  You will for sure use them eventually so buy a bunch now and save them for later, you will be so happy you did.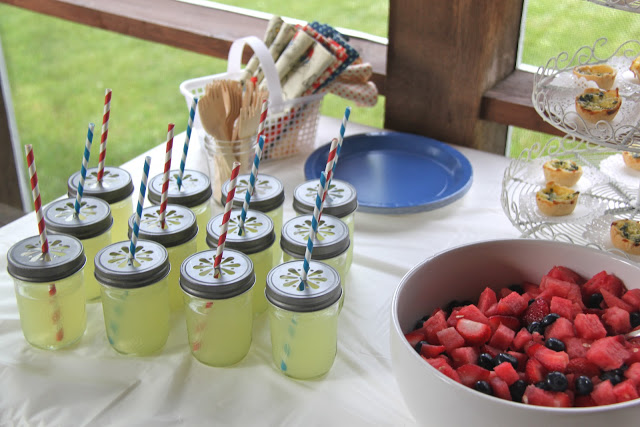 We honestly couldn't have asked for a better day to have this party.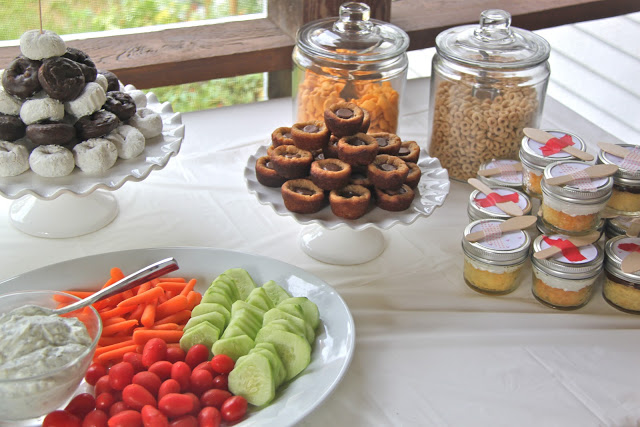 The weather was absolutely perfect and we were able to enjoy blue skies and sunshine along with all our wonderful friends.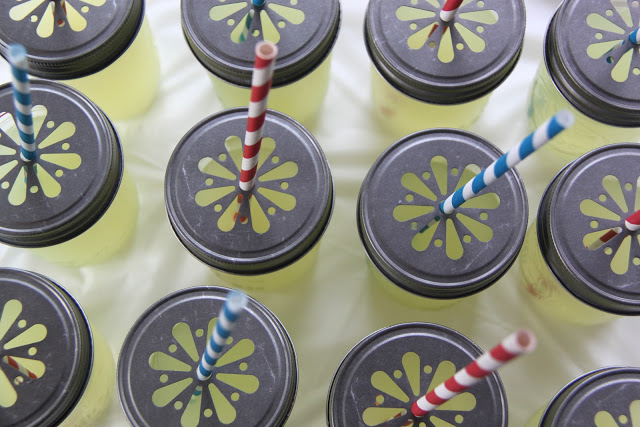 Three cheers for growing another year older and doing so in the company of some good friends!
Thanks for stopping by today!  I'll be back later this week with a few recipes 🙂
XOXO,