Ok, so it's not a baby or a puppy or a kitten…but it is just as precious to me…it's my new sewing station! Yup, you heard me right, I finally have a place to put all of my sewing and crafting supplies, can I get a woot, woot! Now, I no longer need to be jealous of Martha Stewart, well, hmm…maybe just a little, a girl can dream, right?!
I have been looking for a piece like this for a while now and a few days ago it seemed as if all the stars aligned for me. You see, finding a cabinet like this with the perfect dimensions and all was about to cost me an arm and a leg which I just could not bear to spend. Then, on a whim, I decided to check out
craigslist
…have you ever looked on here? I do once in while and boy am I so glad I looked a few days ago. This was posted the day I decided to 'craigslist browse'
and
was actually in a city not too far from me! I know, I couldn't believe it either. The dimensions were perfect and the style was close to the furniture we already have and to put the icing on the cake, the most important thing, the price, was just right. It was meant to be! So now all my goodies can be tucked inside all safe and snug and hidden from the kidlets! What momma could ask for more?!
Go ahead,
check out my newest addition…
am I making you jealous yet?! 🙂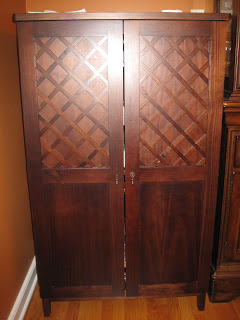 Front view, it's glorious I know!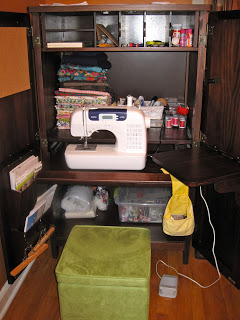 Behold, the most amazing sewing space…now all my stuff can be closed up and concealed from those little hands that just seem to be able to get into everything!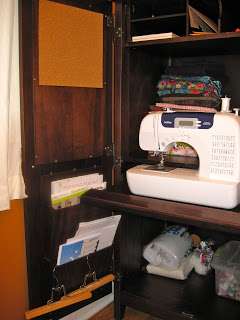 A view of the inside of the door…ahhhh storage…need I say more?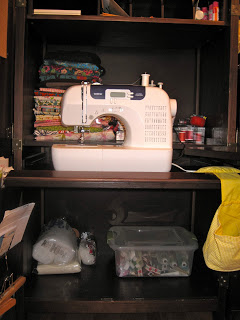 Even storage below,
WooHoo!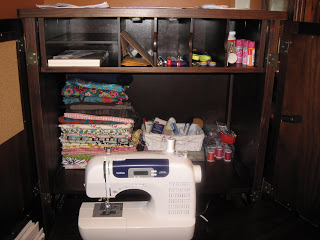 Ok, so my fabric stash is really sick, I know…and this isn't even all of it, I have more stored away in our basement (said cringing in disbelief)…I know, I know, I have a problem…'hello, my name is Maggie and I have a fabric addiction!' YIKES! The thing is I really do have ideas for most of it, and then there is just some of it that was so darn fabulous that I just had to get a yard (or two!) Ok then, it's official, I need to get myself to the nearest Sewer's Anonymous meeting ASAP!
And,
before I forget…here is my
dressform
…the other newest addition to our household! I actually remembered to put it together after the littles went to bed
(and after I remembered where I hid it since Noah loves to jump on boxes).
It was
super easy
to put together and took me all of 5 minutes,
seriously,
I'm not lying, it's true…and I thought it would be so very complicated,
ha,
definitely one of the easiest things I have ever put together
(thank you Ikea, grrr)
! I think it looks great and can't wait to use it! What do you think?