Winter is coming…no, scratch that, winter is here! And that means it's time to for another installment of 'What's Inside My Stitch Fix Box' where I tell you all about the goodies I received in my latest Stitch Fix box.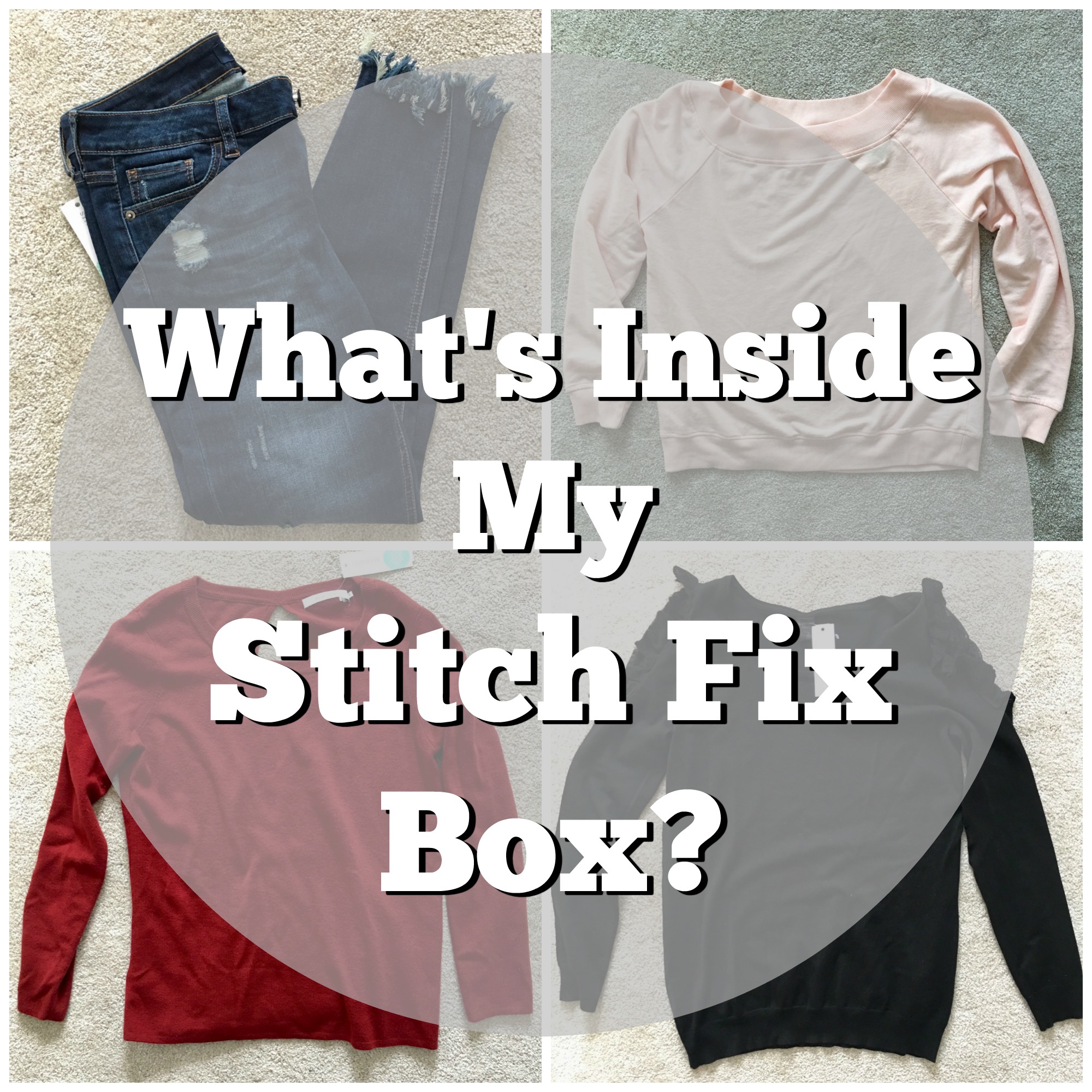 Another cold winter means…a new fix!!! Amiright?!! For some reason January always seems like the perfect time to get some happy mail. You know how it goes, the holidays are over, it's cold and drab outside, and some new clothes are needed to get through it all. And as a bonus, since I live in the midwest and we all know winter is only half way done, I can wear my new clothes until May, lol. (affiliate links present)
What's Inside My Stitch Fix Box?
For those of you who don't know, Stitch Fix is an online clothing site (for men too!) that uses your own personal stylist to pick out 5 fashion items (tops, bottoms, dresses, jewelry, accessories, and now shoes!) based on a thorough set of questions that you fill out (the questions ask you things like: do you want to see jewelry in this box? what color do you not like? would you like more business outfits? dresses? clothing for date nights, etc). You can read more of my review of how the site works in this post here.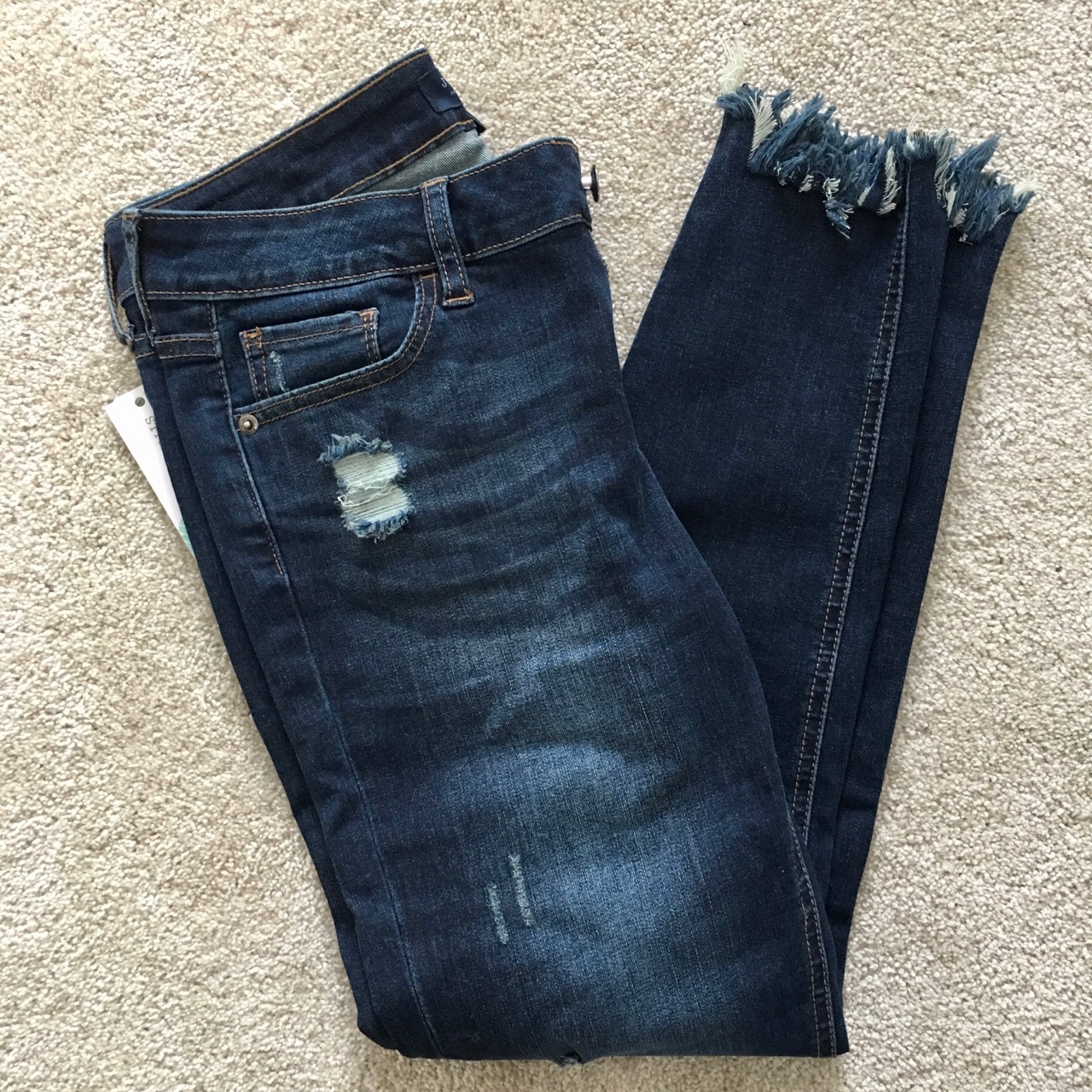 So without further ado, here is what I received in my latest Stitch Fix box:
Just USA Martine Distressed Frayed Hem Skinny Jean ($58)
In my notes section for this Fix, I specifically asked for a pair of dark distressed jeans. I always feel like my stylist sends me the best jeans and I crossed my fingers that they would knock it out of the park again. I even found a few picture of some jeans I liked and added them to my Pinterest board for my stylist to really get an idea about what I was talking about.
So when I opened my box and saw these, I about died. They were exactly the color and distressed look I was hoping to get! Unfortunately, there were a few flaws 🙁 #1. The hem was NOT my style. I think if it were summer, I may have liked the frayed edge more but honestly this winter I have been mainly wearing boots and lately they have been my Sorel lace up snow boots so the point of this trendy hem being there just didn't make sense. #2. The hem is so unique that I don't think I could pull off wearing them often without feeling like everyone is thinking I only have one pair of jeans because THE HEM! #3. They were too big! Whaaat?! The waist was too large which was a total bummer because typically that size fits me fine…it just must be this brand. Now if it weren't for the hem I would have exchanged them for a smaller size because, guess what? You can do that now!!! –RETURNED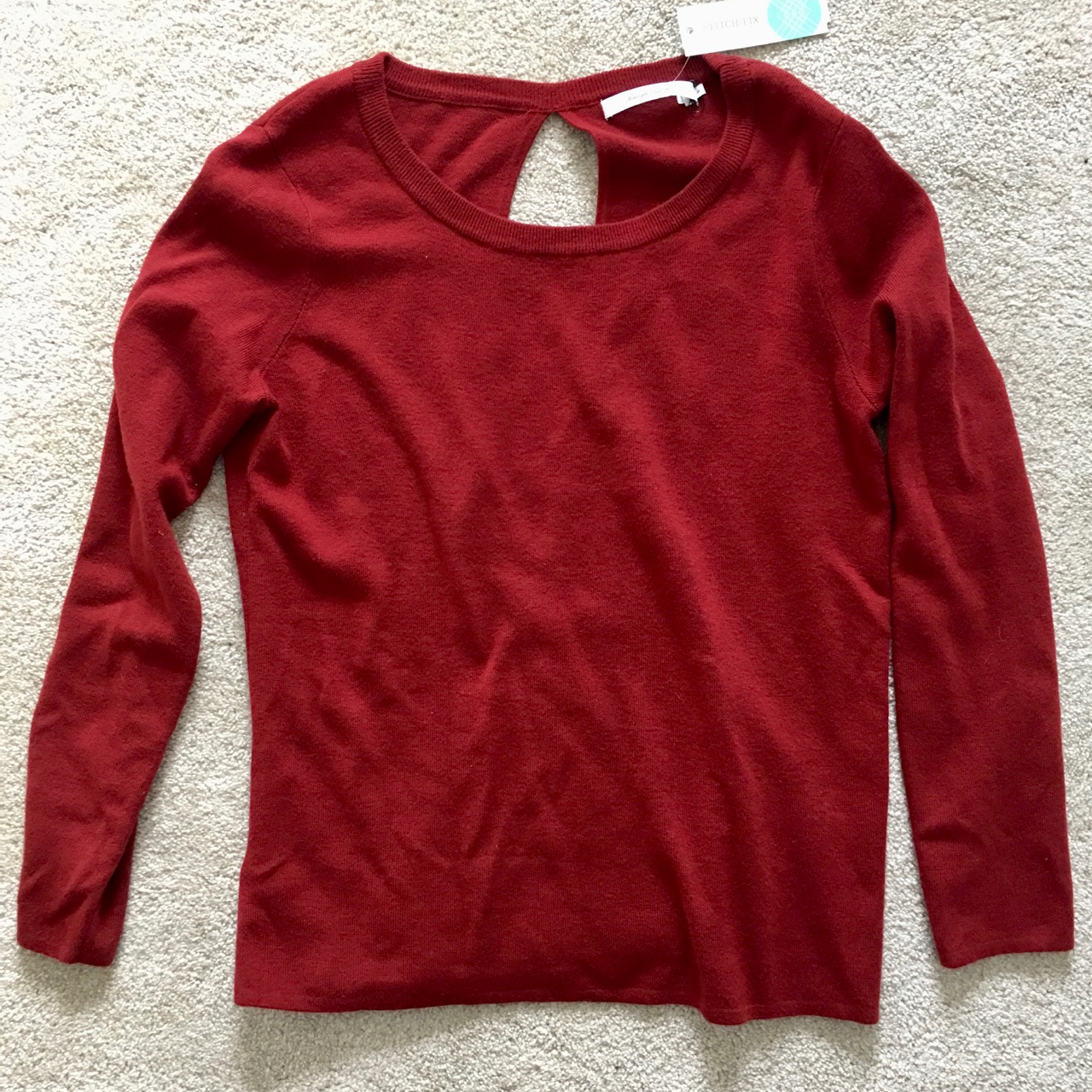 Harper Lane Alin Crossback Pullover ($64)
Another thing I asked my stylist in the notes section was to try to add a fun shirt that showed off my back or shoulders. I love wearing shirts like this with a pair of jeans and booties for a date night or girls night out. I received this cross back pullover and let me tell you, I LOVE IT!!! I know you can't really tell from this picture, but it actually narrows a bit at the waist so it gives you a nice silhouette. And the back…OMG! The best…let me show you…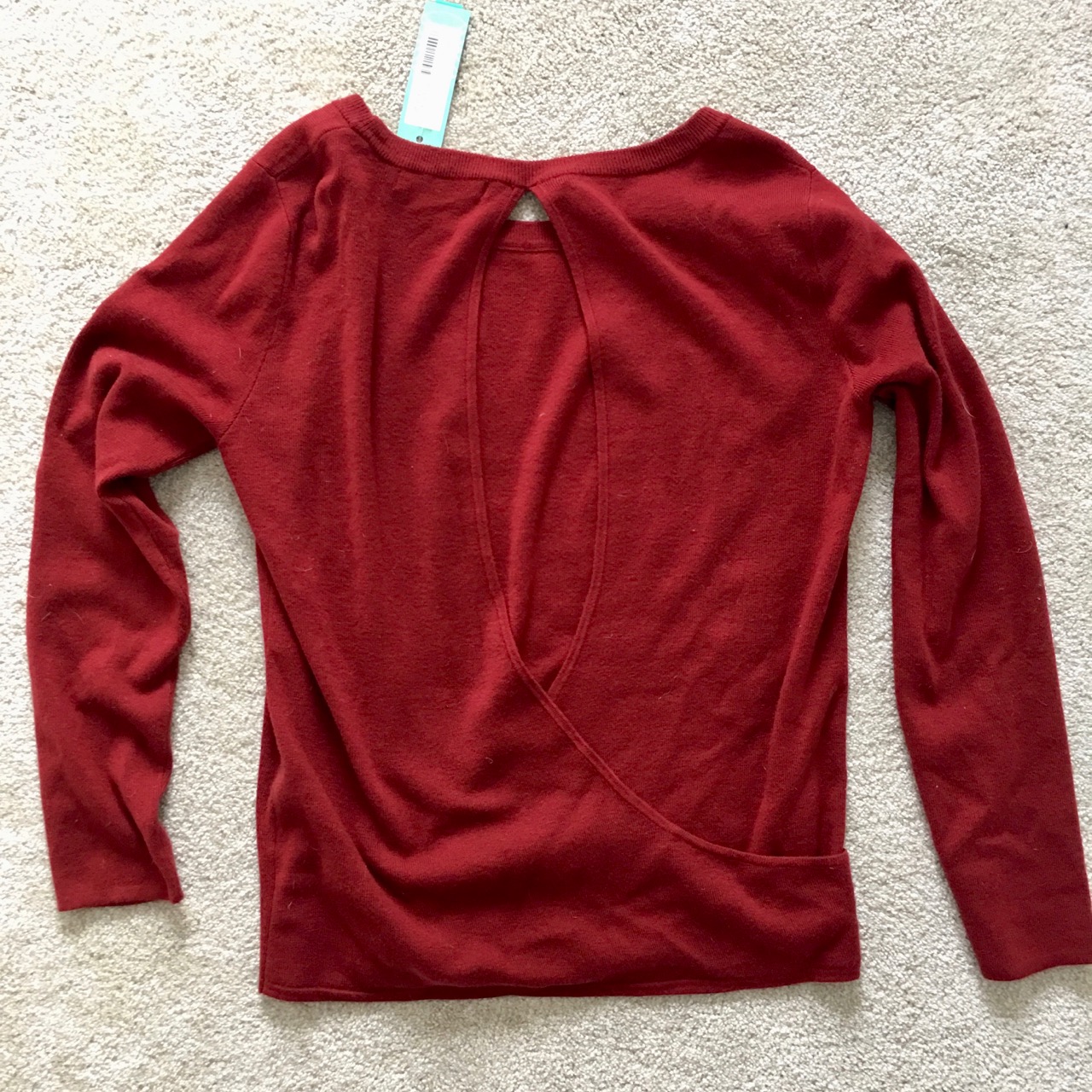 You can see in the picture above how there is an opening to show off your back. And it looks awesome. I have a bunch of fun bras with criss cross straps and fun lines on the backside that look so good in these kind of shirts. I wish I had my husband home during the day so he could have taken a picture of me wearing it so you could really see what it looks like. It was too hard to do by myself! Two thumbs up for my stylist on this one! -MINE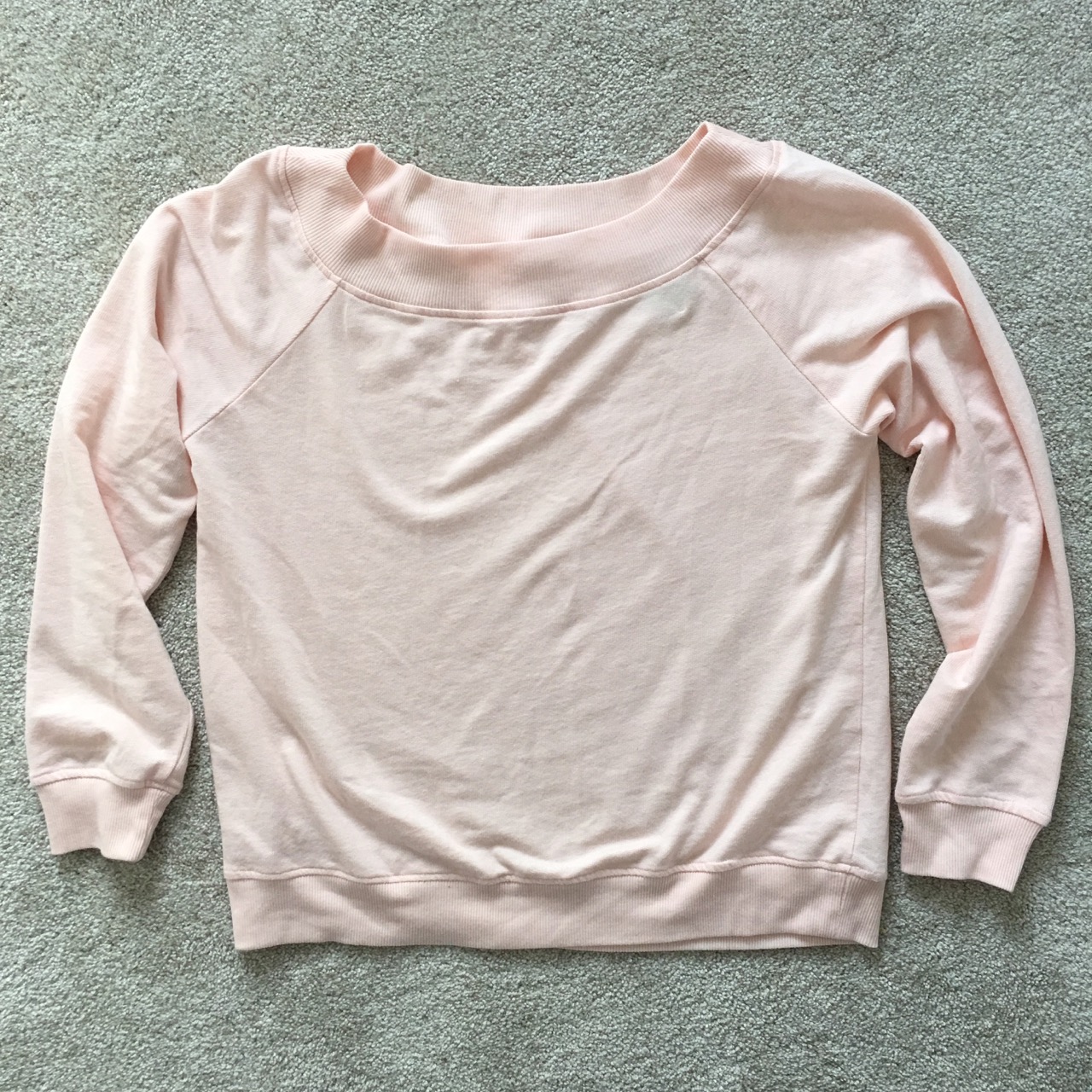 Nine Britton Kody Knit Top ($44)
This shirt was a fun find in my box. It is a nice cozy sweatshirt. The neck is wider than normal so it hangs off your shoulder a bit…which is a look I love and am totally going to bring back from the 80's! I love that my stylist sent this to me because I asked for shoulder/back shirts. I really liked that it wasn't too big or boxy or bulky, it was one of those good thin-type sweatshirts. The downfall, and what ultimately made me say no, was that it really light pink. Like almost white. And if you know me at all, you know I have the worst luck with light colored clothing…come to think of it, I should check this on my Style Questionaire (mental note: no white!)…I cannot wear colors that light due to children and our crazy dog, thankyouverymuch. I swear they ruin all my white clothes. If this would have come to me in a darker color I would have totally kept it. I think it would be fun to wear around the house and even to the gym! -RETURNED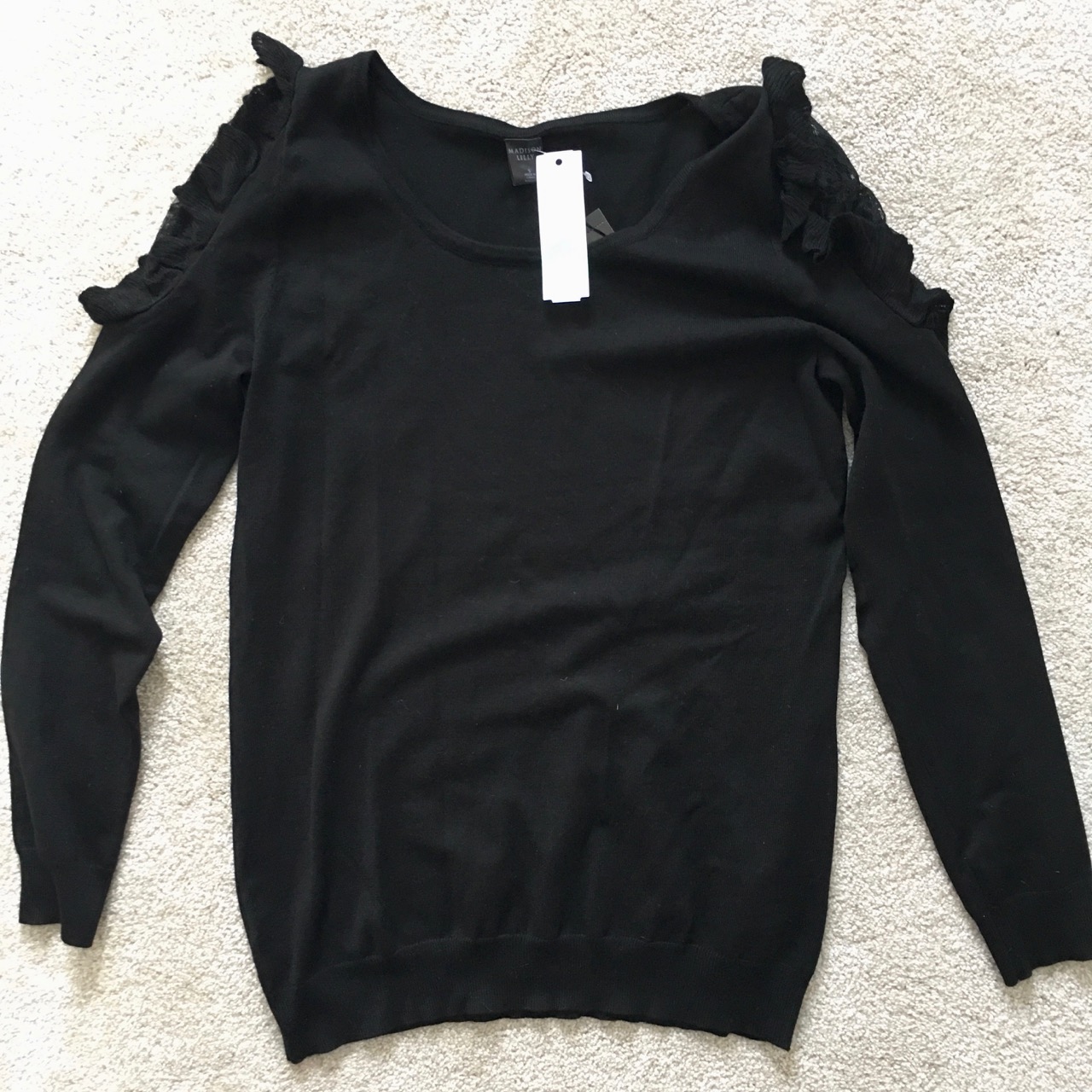 Madison Lily Deborah Lace Shoulder Pullover ($46)
This sweater I had high hopes for liking. Right off the bat, I did not like the ruffles on the upper sleeves. I just don't think that looks good on anyone (sorry!) I tried it on anyways because, like I said so many times before, sometimes I'm wrong, and it really does look better than expected. But this one…nope! I felt like the ruffles made me look like a football player with shoulder pads. And then at the shoulders there was this weird lace over the cut out (think cold shoulder type cut out) see below: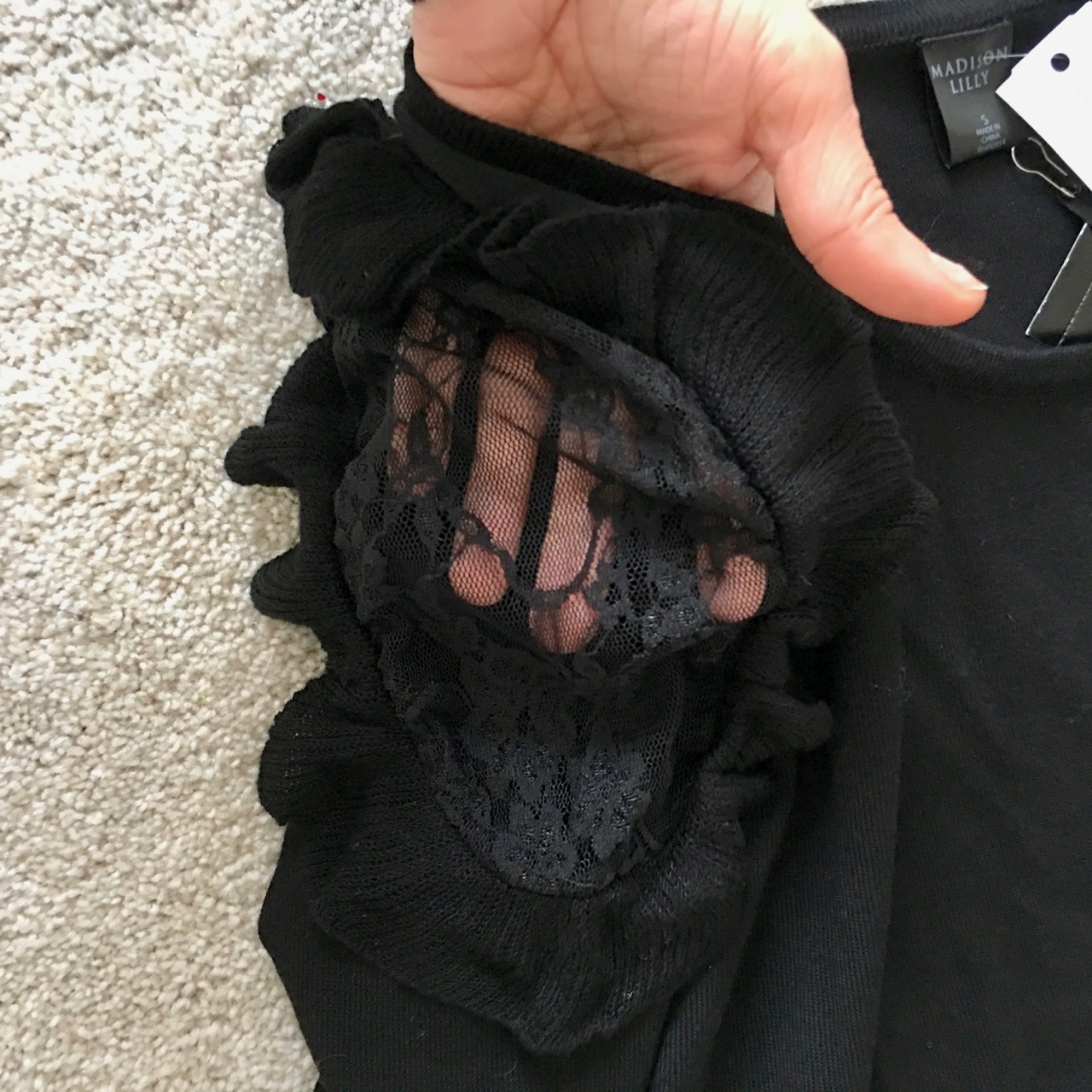 It was just all sorts of wrong. I felt like I should be in Michael Jackson's Thriller video. It was awful. Thing I did love though were the cut of the sweater and the fit. It really was a great length on me and it was super soft and comfy. -RETURNED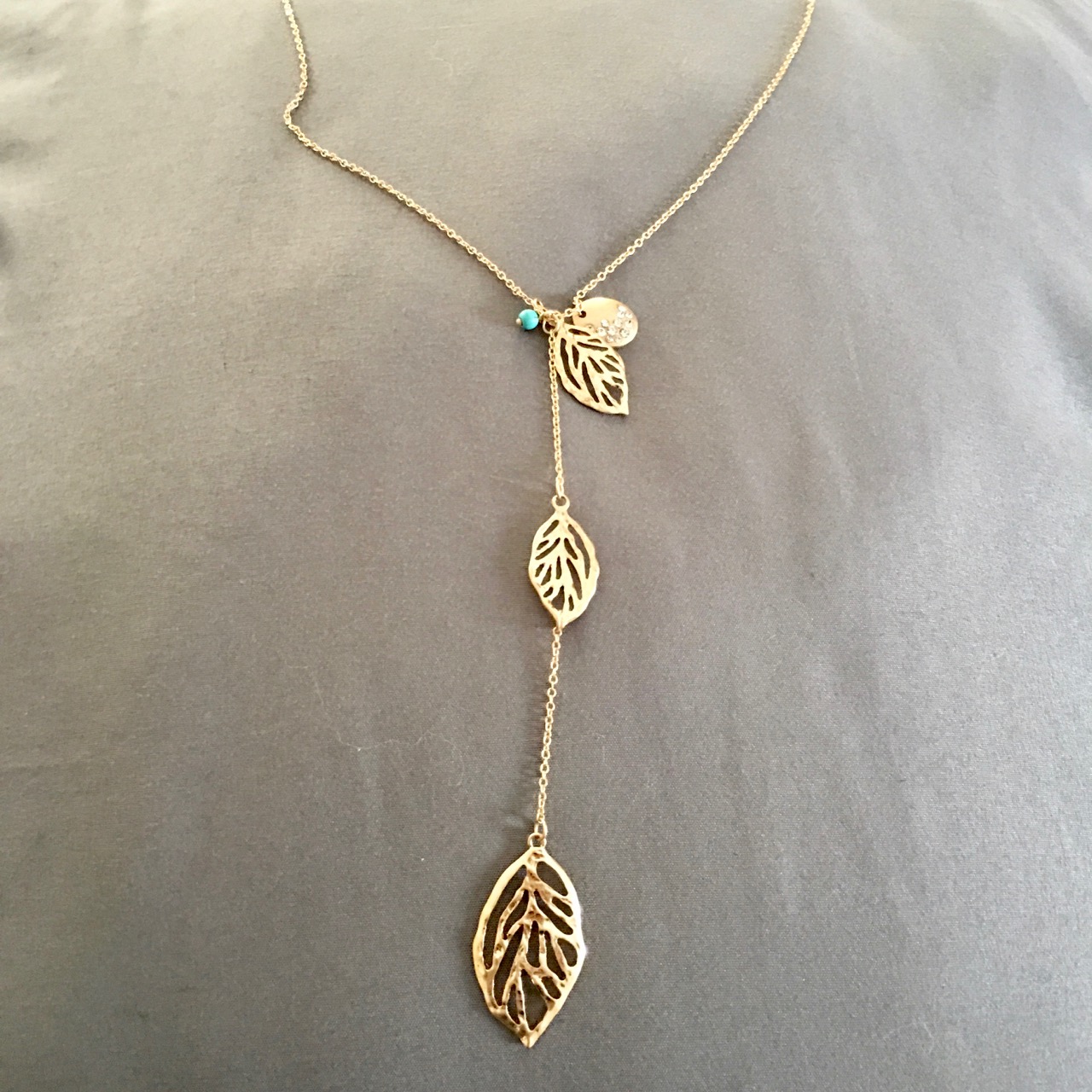 Romolo Dayton Leaf Charm Necklace ($28)
This necklace ended up looking quite cute but let me tell you, it came to me all jumbled up in one hot mess that took me waaaay too long to undo. Then once I finally undid the giant knot it was in and put it back in the box to look at later, it was already starting to get into another big jumbled up knot. No matter how much I could ever like this necklace I just couldn't ever deal with having to constantly unravel it. It had to go back…immediately. -RETURNED
:: :: :: ::
So my overall thoughts on this Fix were good. I like how my stylist really listened to what I asked for…she sent me the exact color and distress of the jeans I wanted and really tried to send me some fun shirts that would show off my back and shoulders. I think next time I will say that I do not want any jewelry as I just personally think it's more fun to get another piece of clothing or a jacket or dress instead. I still love Stitch Fix for the element of surprise and I like trying on things that I normally would't have picked out at a store to even try on. You just never know what you will like or what will look good on you!
Want to try Stitch Fix for free? You can use my link here and Stitch Fix will waive your $20 styling fee on your first box!!!
You can sign up HERE and start your Style Profile now…it is seriously my favorite part. I never thought about some of the questions before and it really made me think about what my fashion style is and how daring or trendy I want to be!
For more easy recipes, crafts, and fun ideas please LIKE Smashed Peas and Carrots on Facebook or follow me on Instagram or Pinterest for more great ideas!
Love,
Maggie