Hello friends! It's been a while. Maybe some of you haven't noticed the quiet around this blog but for those that did let me tell you it wasn't on account that I was vacationing in Hawaii or anything fun like that. I've been struck with a horrible head cold and a crazy killer cough, blah!  I rarely ever get sick…hello, I'm a mom, mom's don't get sick…right? WRONG!! And when us momma's do get sick we get it good unfortunately 🙁  It super stinks because I am usually fending for myself most of the time since my husband is running our office 6 days a week and we don't have any family nearby.  Sigh.  Being sick and having to nurse a baby is not high on my list of fun things to do lately, especially when he is wanting to teeth on me while he eats.  You can paint that picture yourself.  Oh, well. Let's think of happier things shall we?  There is no reason I can't spread some happiness even if I'm tired and groggy!  Here we go…some winners shall we!
The winner of the $25 gift certificate to Southern Fabric is…

The TWO winners of their choice of THREE ePatterns each from Seamingly Smitten are…

The THREE winners of Dana's FLIP vest ePattern are…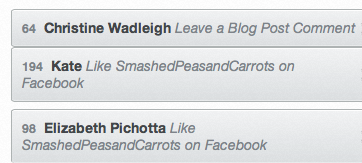 Hooray for all of you!!  Please email me at SmashedPeasandCarrots@gmail.com with your preferred email address to receive your winnings or for those that won a choice of patterns please email me your choice of patterns, duh! 🙂
Have a great day, friends!
XOXO,