This is a sponsored post written by me on behalf of The Hershey Company. All opinions are 100% mine.
Ooh! I always get so excited when the aisles at my favorite stores start getting switched over to the Halloween goodies. I love seeing all the new decorating ideas, the costumes, the party supplies, and of course all the new fun candies, isn't Fall the best! I found these new Hershey's Candy Corn bars the other day and thought it would be so fun to make White Chocolate Candy Corn Blondies in preparation for Halloween and all the parties in the coming weeks! Who doesn't love a good gooey dessert bar at the buffet table!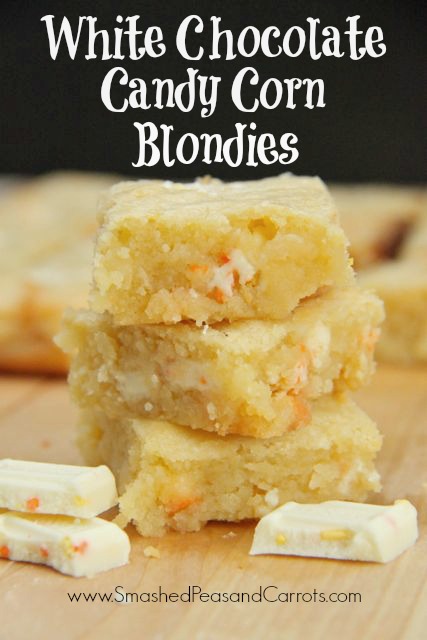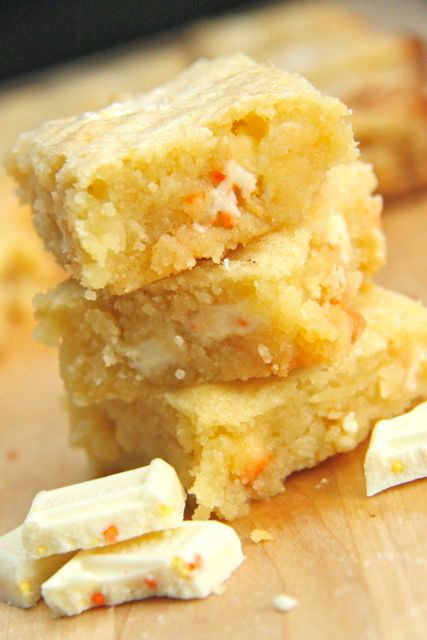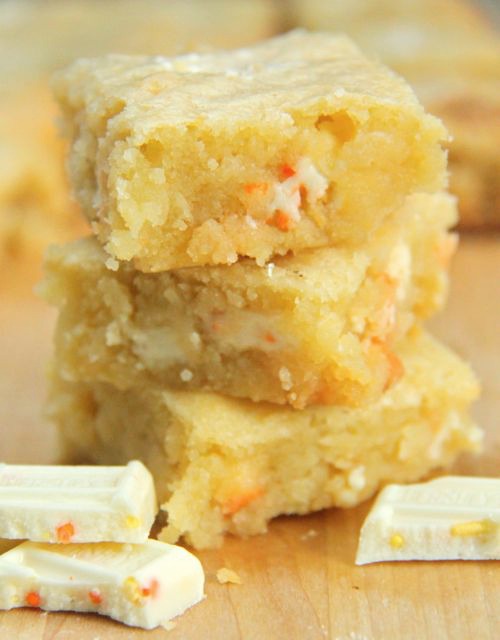 These White Chocolate Candy Corn Blondies are the perfect sweet Halloween treat and for little hands to eat! You just need one snack size bag of Hershey's Candy Corn Bars (you will even have leftovers for yourself to eat, holla!)
White Chocolate Candy Corn Blondies Recipe
Ingredients
1¼ cup white chocolate chips
½ cup butter
1¼ cup all-purpose flour
⅓ cup sugar
2 eggs
1 tbsp vanilla
½ tsp salt
1 cup chopped Hershey's Candy Corn Bars (about 12 snack size bars)
Instructions
In a microwave safe bowl, place the white chocolate chips and the butter inside and melt on high for 1 minute.
Stir until chocolate and butter are melted into a ganache type mixture (you may need to heat an additional 30 seconds or so). Set aside.
In a large bowl, mix together the flour, sugar, eggs, vanilla, and salt until well combined.
Add in the white chocolate mixture and stir well.
Lastly, fold in the chopped Hershey's Candy Corn Bars.
Pour mixture into a greased 9 x 9 inch pan and bake at 375 degrees for about 25 minutes or until the edges are golden brown.
Let cool, slice into squares, and enjoy!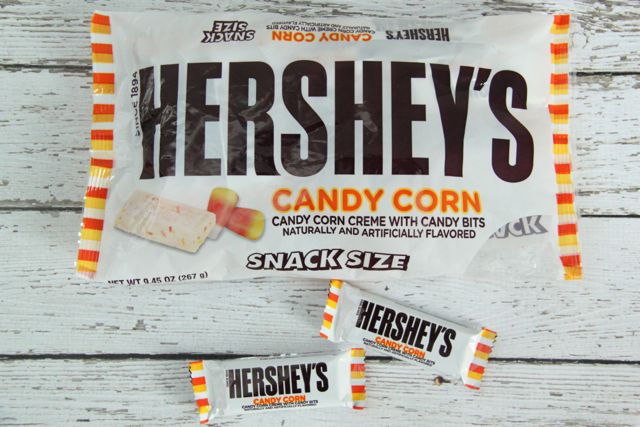 These are the Candy Corn bars I am talking about…yum!!!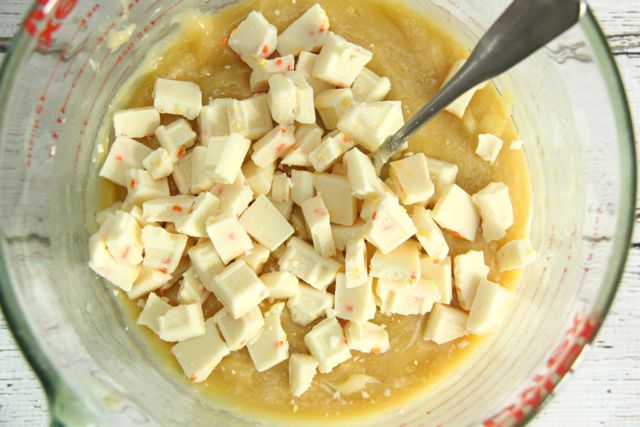 Make sure that you add the chopped Hershey's Candy Corn Bars last and fold them in gently so that they lay nicely in the batter and don't sink to the bottom of the bars.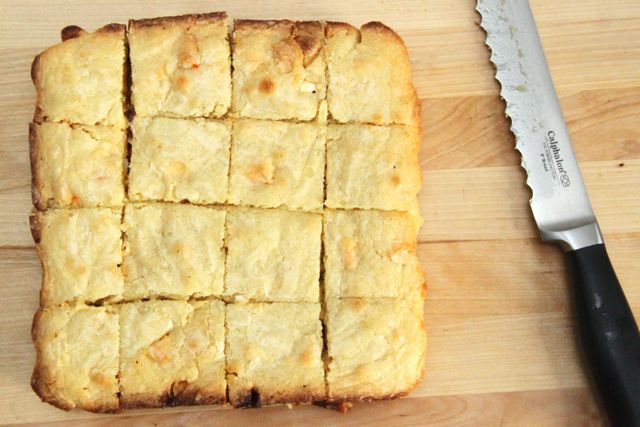 Bake at 375 degrees for about 25 minutes. Let cool…and slice!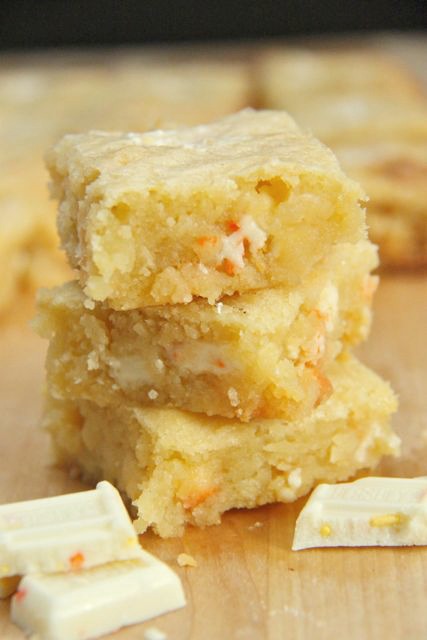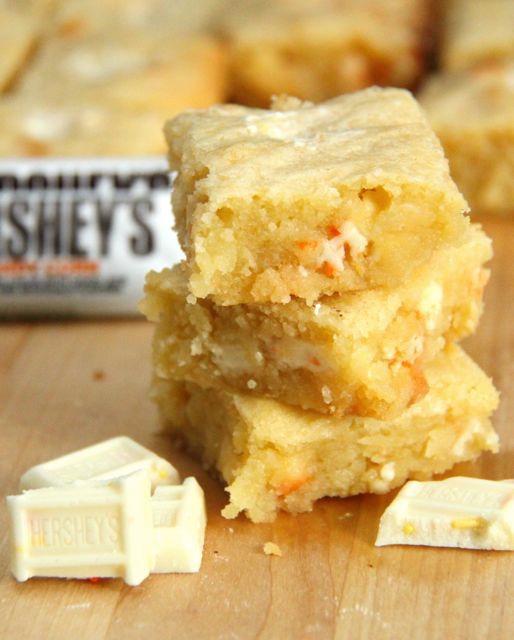 Seriously. So good!! And perfect for all your upcoming Halloween parties!!!
And how about a little Halloween trivia…
Americans of all ages celebrate the paranormal activity and mystery of Halloween – in fact, 34 percent of people attend or throw Halloween parties.
Hershey helps families harness the magic of Halloween by sharing new and classic treats that help transform any Halloween party from normal to paranormal.
Seasonal favorites from Hershey include chocolate assortment variety bags with a little something for everyone, Reese's Peanut Butter Pumpkins, Kit Katbars and Cadbury Scrème Eggs.
Check out what Hershey's has to offer for more Halloween party ideas, for more costumes & crafts and for more Halloween recipes for your upcoming Halloween party!
Thanks for stopping by today!
Love,
Maggie