One of my most favorite things to do with my little ones in the summer is to pack up a picnic and head out on an adventure. The adventure can really be anywhere…it might be a visit to a local park, a trip to a zoo, or even a surprise set up in our own backyard. Now, I know that picnics, or really anything you do with kids, can often contain a bit of drama or even, dare I say, tantrums (kids will be kids, right, lol!) but today I'm here to share with you 5 Tips for a Kid-Friendly Picnic that I have learned to do over the years that will make your picnics this summer so much more fun for the kids (and the adults!)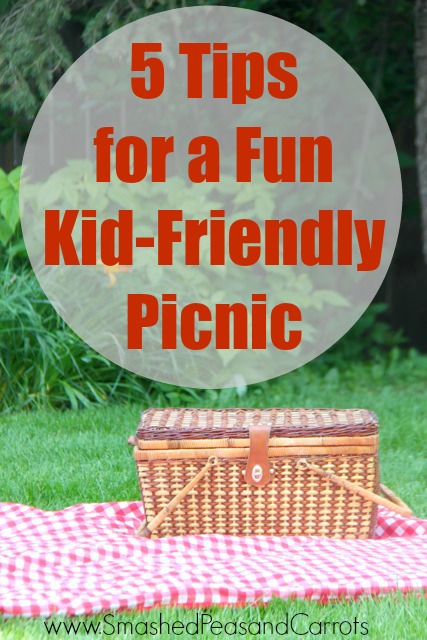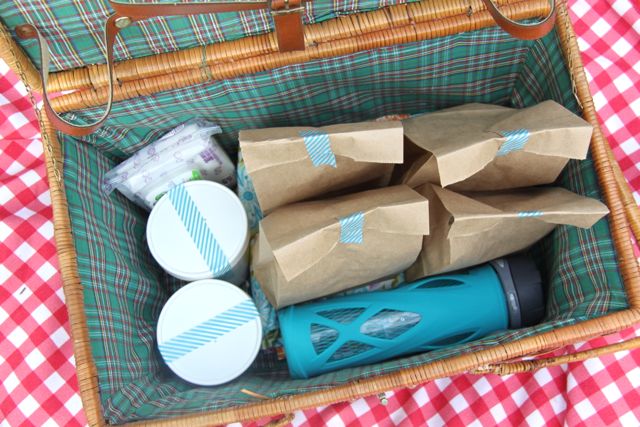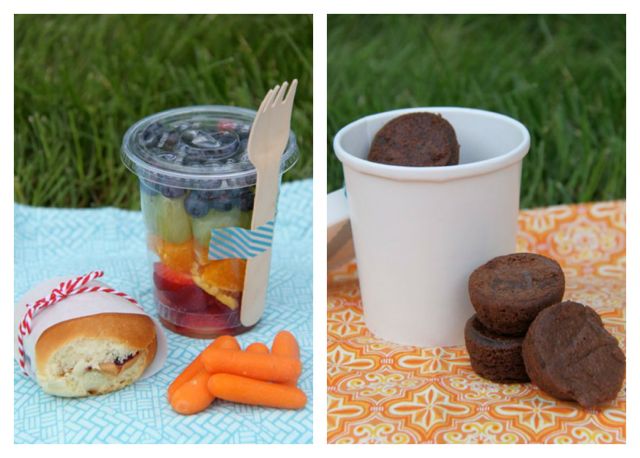 1. Food! The first thing we need to talk about is the food. Kid-friendly picnic food should be fun! And that fun can start with the packaging. We often use our reusable bento lunch containers when we are eating food outside of our home and the kids love them because the small compartments allow for small portions of lots of different foods. I often use cookie cutters on our sandwiches or little bento picks in the fruits or veggies to add some excitement inside. But I also like to change things up a bit and sometimes I might package up our meals in simple brown paper lunch bags but I will add some washi tape or a little tag with their name on it just to make it different and fun. I also love using ice cream containers (you can buy them here) to pack up dry fruits and veggies or desserts.
I always think smaller portions of more items are the way to go so we often have tiny sandwiches, baby veggies like carrots or peppers, and bite-sized easy to eat fruits. And don't forget dessert! Small cookies, brownies, and these energy bites are always a big hit with my kids!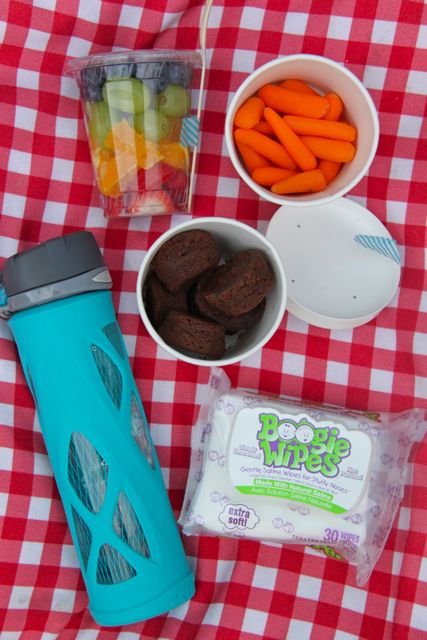 2. Clean up! If your children are anything like mine, once they are done eating they are basically one giant mess! I always bring a package of wipes with us to clean up sticky hands and faces (sometimes two!) I really love Boogie Wipes because they are so darn soft. Really. My kids don't mind at all that I'm coming at 'em with a wipe ready to pounce all over their dirty little faces. They have saline in them which is a bonus for when you need to wipe a nose too!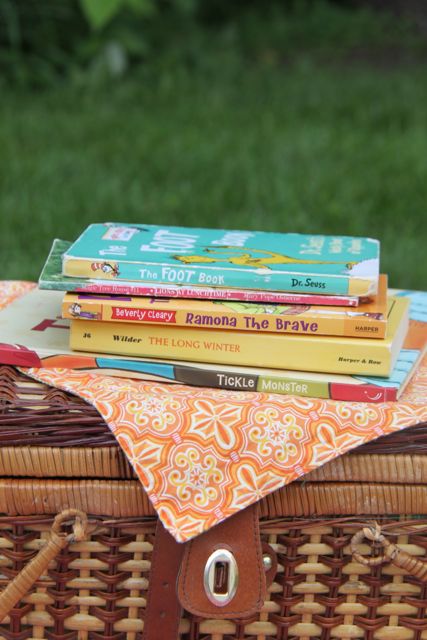 3. Books! Yes, I said books! If you can pack a few books in your picnic basket or bag you will be so happy. Especially if you have a fast eater and a slow eater! Or a baby or toddler who is always looking for the next thing to do. I always bring a few simple books like picture books (for the younger kids) and easy reader books (for those that are learning to read on their own) and then one or two read-aloud books that I can read to them while they eat or do an activity (see below!) Books always seem to catch the attention of at least one kid if not all so it's a good bet to bring a few on your next picnic!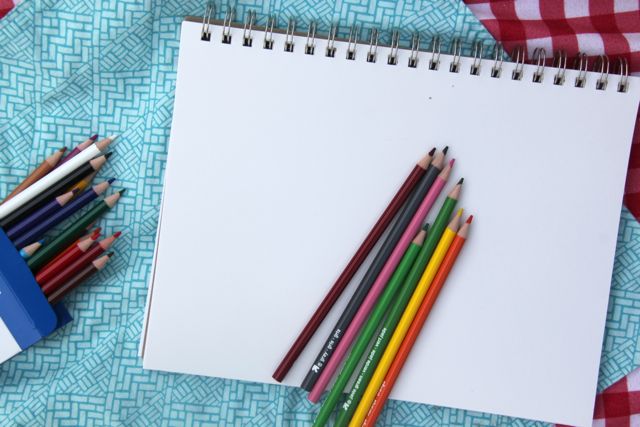 4. Paper and Coloring Utensils! If you found that you have yourself a pretty nice day for your picnic and you are wanting to really be outside and enjoy the weather may I highly suggest bringing a small pad of paper and some crayons, markers, pens, or colored pencils. My kids love to color and draw while relaxing on a blanket, the grass, or a picnic table while I read them a story. Honestly, I like it too. No one tends to fight or whine. Their hands and minds are busy while their ears are listening, win-win!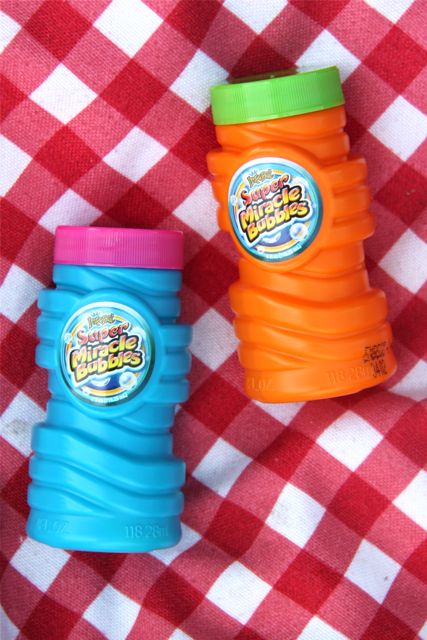 5. Activities to Burn Energy! Part of picnic fun is being outside on a beautiful day. And if you are not picnicking at a park or other area that has a playground or splash pad you may want to bring along some fun easy-to-travel activities for them to play with when they are finished eating. I love bringing small bottles of bubbles, jump ropes, frisbees, and nerf balls to throw. They are easy to fit in a basket or bag and aren't too much trouble to carry with their minimal weights. There are endless games to create with toys like these and lots of ways to get your kids moving their feet!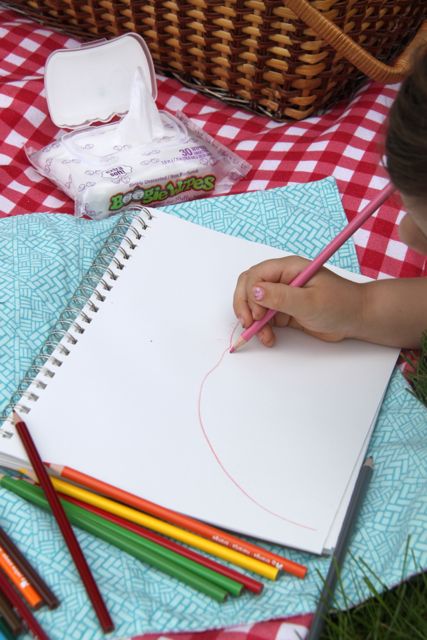 I hope these tips inspire you to get outside with your kids and enjoy a beautiful summer day together! If you have any tips you would like to share, please add them to the comments section below!
And if you'd like to try out Boogie Wipes for yourself, you can download a coupon here.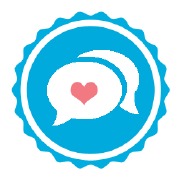 This post is a part of the Mom to Mom Advice Campaign with KSW Media. Thanks to Boogie Wipes for sponsoring this project and today's conversation. All content and opinions as always, are my own
Love,
Maggie