Okay
, so here is that little project I made for my hubby…FINALLY! It was just sitting in my camera begging for me to download and get it on the blog for you 🙂 Little Eloise is napping like a champ (she's ONE week old as of this morning!!!) and was sweet enough to nap with the rest of her siblings so I could put this together for you…let's just give her a little baby round of applause 🙂
So, the hubs was for once on the receiving end of a sewing project and right before Eloise was born I was actually getting around to the pile of other projects he has been wanting me to get done for a long time, mainly repairing clothing for him from a pile that has been sitting and growing for, dare I say, more than a few months…yikes! See, even he benefitted from all that nesting energy! I think the pile of shirt and pants is down to two now, woot woot! He is one happy guy.
Anyways, I digress…here's that long-awaited project: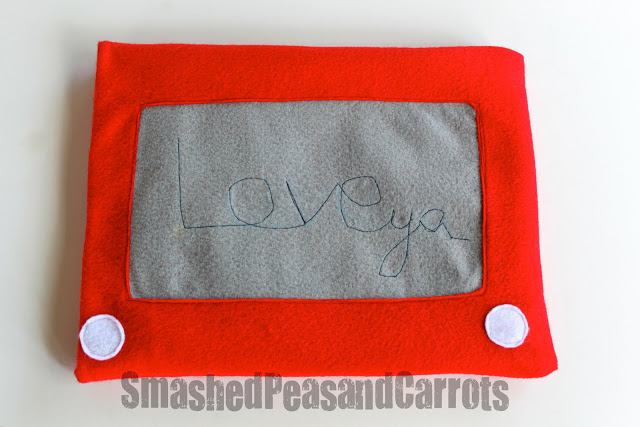 Isn't it cute?
It holds one of these babies: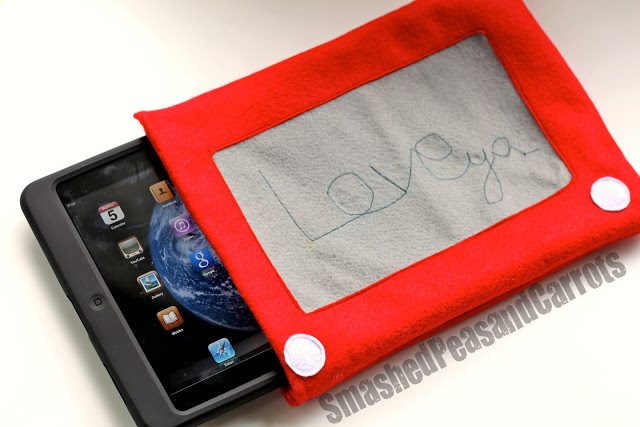 Yup
, that's an
ipad
. It was one of his Father's Day presents that took me the longest while to justify buying. I mean, it's not a phone and it's not a computer…I just didn't get all the rage. I do have to say though, after playing with it for awhile, it is pretty cool. now. after having it awhile. It is especially nice to have for the kidlets, now they can play with their games and watch their shows and NOT be calling anyone by accident. That was always no fun.
So, I made him this cute little cozy to protect his ipad when he has it out and about. It's made from felt and was oh-so-easy to make. We also have a silicone jacket on the ipad (protection is key as the kiddies play with it too) so the dimensions for the cozy will also fit an ipad with a little extra something on it…just so ya know.
Etch-a-Sketch ipad Cozy
2 pieces of red fleece measuring 24″ x 10″
1 piece of gray fleece measuring 9.5″ x 6″
2 small circles of white fleece
1 7.5 inch piece of velcro (
mine was red to match
)
red thread
white thread
black thread (
for any words you want to stitch
)
disappearing ink pen
sewing machine
rotary cutter and mat
**I apologize in advance for the lack of pictures to this tutorial…we were (and still are) crazily working on taking a wall out of our kitchen before Eloise came so my crafting and photographing were really done in the little spurts of time I had in between all the chaos.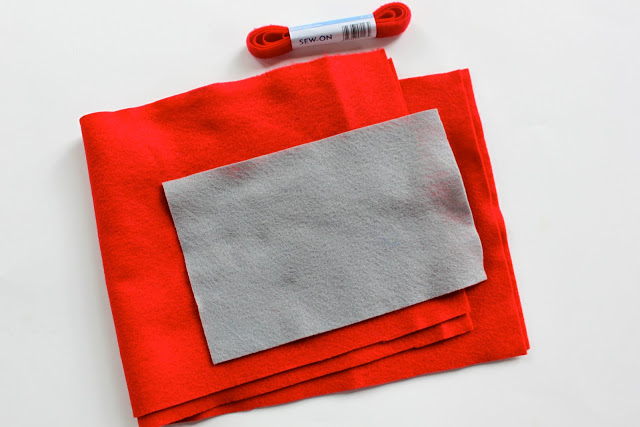 The basics you'll need for this project.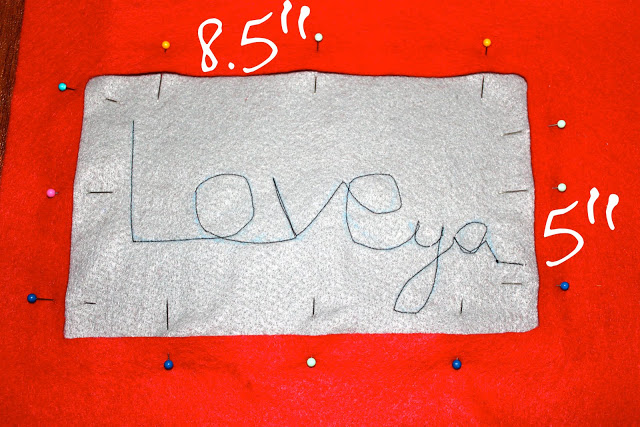 Ok, so first write whatever wording you want to have on the gray fleece part of your Etch-a-Sketch with a disappearing ink pen. Then using a basic straight stitch on your machine, sew over your wording. I made sure to keep my letters all connected just like they would be on a real life Etch-a-Sketch.
Then
, on one of your red fleece pieces, cut a window 8.5″ x 5″ near one end. Center your gray fleece under it and pin in place. Sew together with a straight stitch, I did this twice around the window.
Next
, sew on your two white circles at each bottom corner for the little white roll-y handles that Etch-a-Sketches have on them.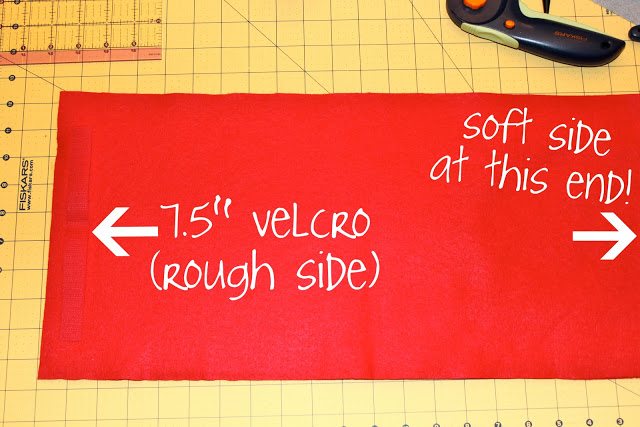 Then
, with your other piece of red fleece, place your velcro pieces one on each short end about 1/2 inch from each edge. This is going to be your inner lining fleece.
Once
you sew your velcro on, place this piece of fleece (with velcro facing in) against the piece of fleece with the window…so essentially right sides are together. Sew only the short ends of the fleece together. Flip right side out when you are done. Sorry, I didn't take any pictures of this!! At this point you will have the right side of the window facing out and the velcro side facing out as well.
So
, next just fold the long rectangle of fleece you have now in half so that the two velcro pieces are facing outside from one another and the window is in the inside. Sew down both long sides and then flip out. That's it. Does this make sense? I am a complete mush brain right now and really wish I would have taken some pictures of the last few steps since I know how helpful pictures can be. Really, if you have questions please let me know!!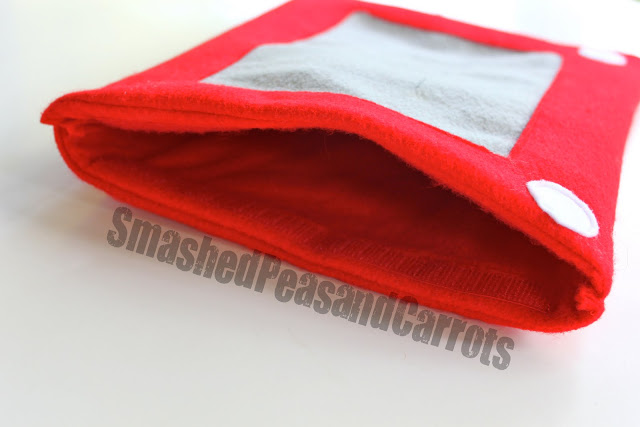 A peek at the inside, you can see the velcro right there at the edge.
Don't you just want to snuggle up right in there too 🙂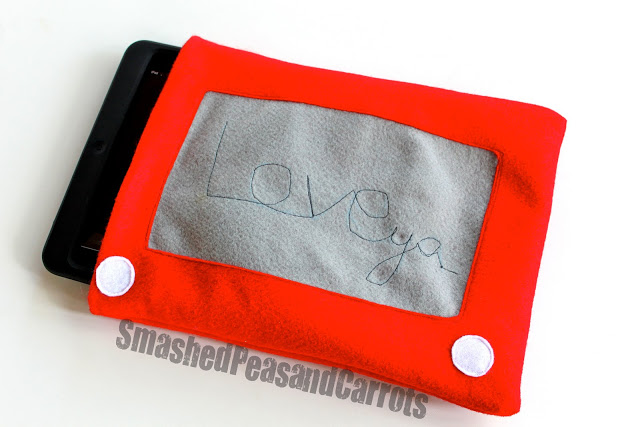 Getting stuffed with the ipad…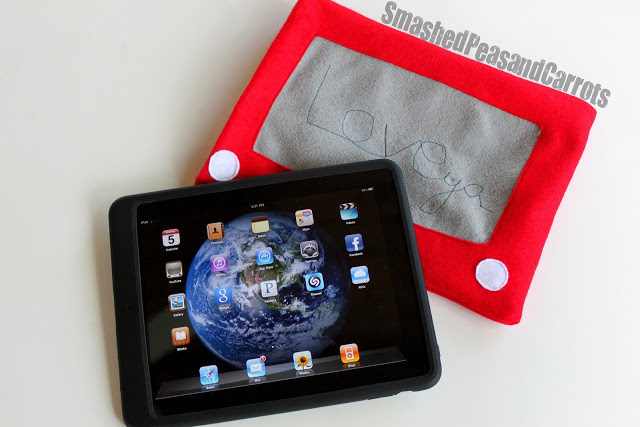 Yup, I think it'll keep that ipad nice and cozy!
What do you think?
Just the way it should be 😀