Start the school year off on the right foot by making nutritious and delicious school lunches with these easy Back to School Lunch Box Packing Tips!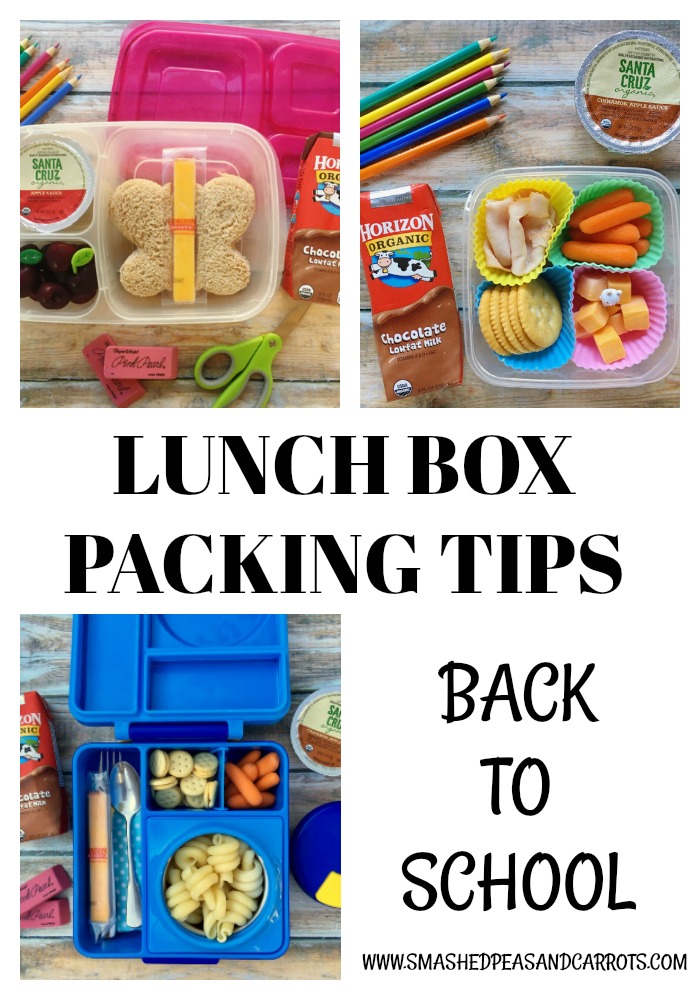 Can you believe it is August already? That means school is right around the corner, truly, just a few more weeks of summer and we will be back in the land of schedules and school routines. Oy! I already bought all my kids' school supplies (can I get a high five!) and now I think it's high time I get out my lunch box supplies and start organizing them so that we create nutritious lunches without all the fuss. Because, let's face it, the worst part of making school lunches is being unprepared and then throwing things into lunch bags at the last minute!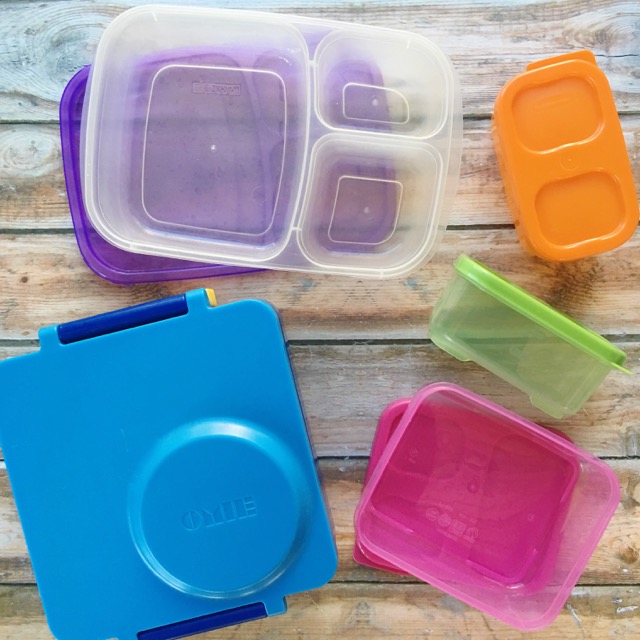 Back to School Lunch Box Packing Tips
Reusable Lunch Containers are a must! Not only do they keep your lunch from getting squished, they also save the environment! We have quite the variety depending on what foods my kids want in their lunches. Our favorites are Easy Lunchboxes, Rubbermaid LunchBlox, and the OmieBox. These are also great for keeping different foods in separate compartments or containers of various sizes for those that don't like their foods mixing before lunchtime or their bread getting soggy!
Silicon molds, paper cups or little plastic containers work great as dividers in larger container like the Easy LunchBox or the Rubbermaid containers. They also add color and style (you can buy silicon cupcake liners in so many shapes like these cute Heart Shaped Cupcake Liners!) which make anything you put in to them more appealing.
Use Cookie cutters to create fun shapes in bread, cheese, meat, fresh fruit, and veggies! Think stars, flowers or hearts…they can make simple snacks like sliced cucumber and apple much more interesting.
Add a little note. It could be something as simple as a piece of paper with a hand written "I love you", "I miss you", "I am proud of you" that will make your kid smile when they open their lunch box.
Get help from your kids! Allowing your kids to choose what goes into their lunch boxes and help pack it makes them more likely to eat it which is a win-win for both parents and kids!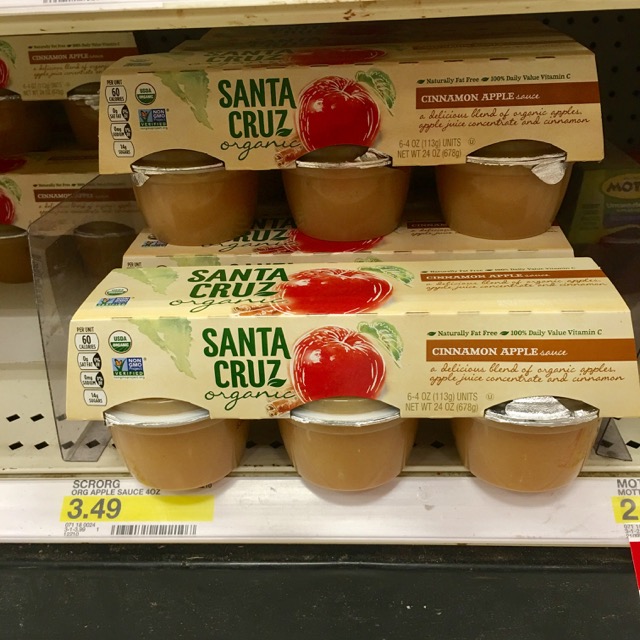 You can find some great brands at your local Target store that are organic and delicious like Horizon and Santa Cruz Organic.  Organic means: No Antibiotics, No Growth Hormones, No Persistent Pesticides, Non GMO. Both of these lines have an amazing array of choices that make filling a lunch box container a breeze!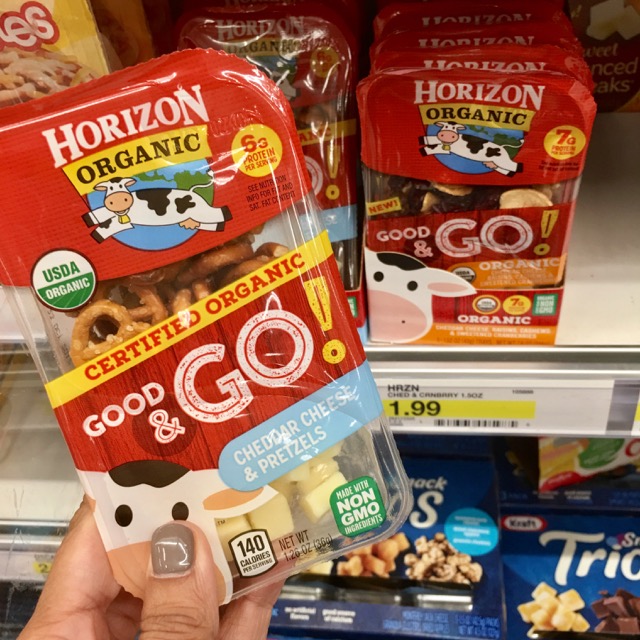 I even saw that Horizon now carries these new Good & Go! Snack Combos which would be a great addition to a lunch box or a school snack if your school is anything like ours!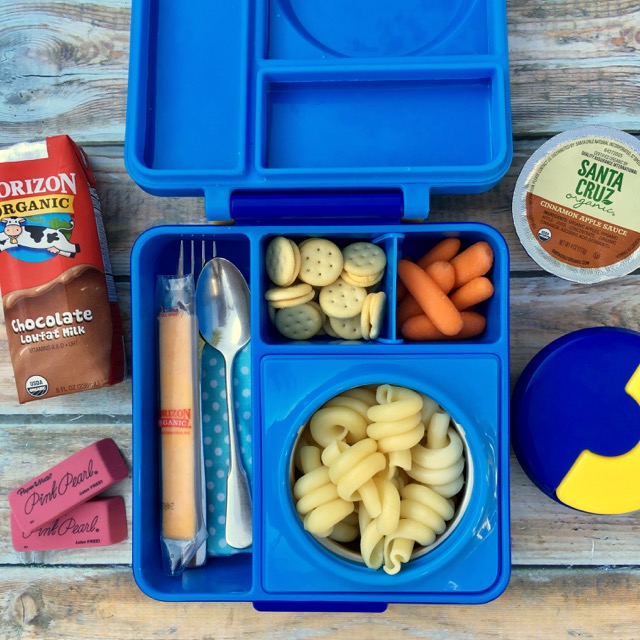 Here is an Omie Box lunch…Santa Cruz Organic applesauce cup, Horizon Organic cheese stick, Horizon Organic cheese sandwich crackers, Organic baby carrots, and Organic noodles (my kids like it plain!), and a Horizon Organic Chocolate Lowfat Milk.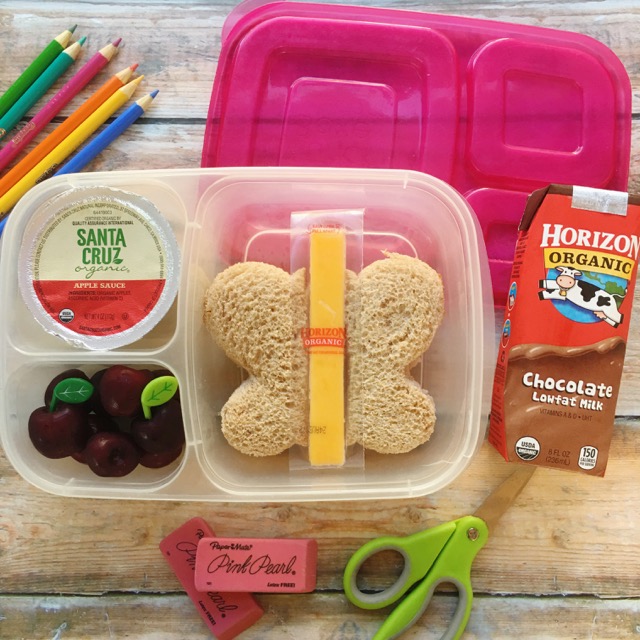 Here is an Easy Lunchbox Lunch…Santa Cruz Organic apple sauces container, Cherries, Butterly-shaped turkey sandwich, Horizon Organic cheese stick, and a Horizon Organic Chocolate Lowfat Milk.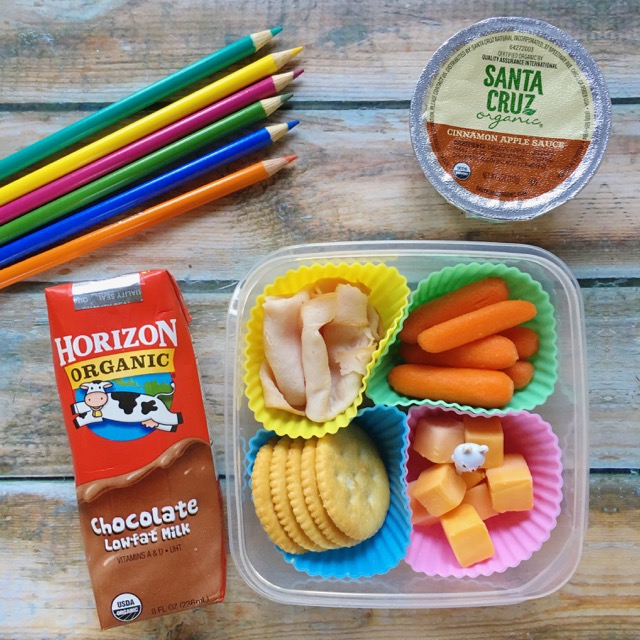 And another (very popular) lunch for my kids using the Rubbermaid Lunch Blox…Homemade Lunchable: Organic deli meat, Star-shaped cheese slices, Organic crackers and baby carrots, and a Horizon Organic Chocolate Lowfat Milk.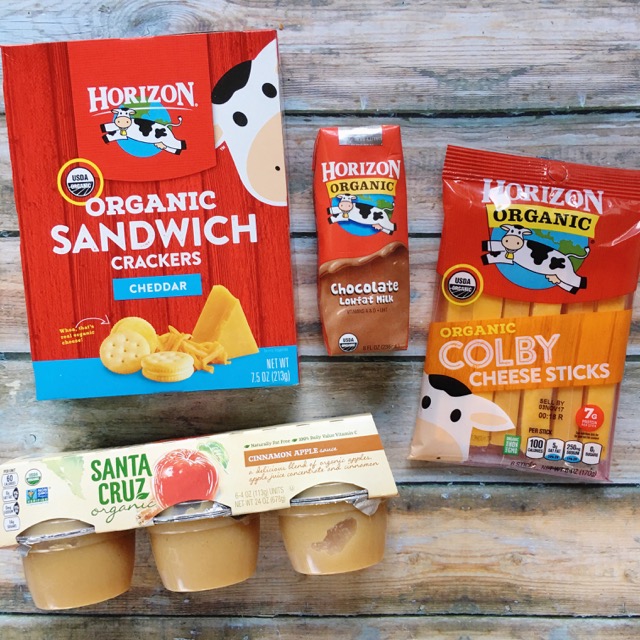 So many great nutritious and Organic choices to be found!
You can also save 20% on Horizon with Cartwheel and go in-store for savings on Santa Cruz Organic.
 And because my girls were so excited to pick out some lunchbox food (for their poms camp this week, of course!) We made a couple of gifs to show just how excited they are about it, lol!! Enjoy!
And for more delicious and easy recipes and craft ideas please LIKE Smashed Peas and Carrots on Facebook or follow me on Instagram or Pinterest for more great ideas!
You can also find more great posts like this one here:
Thanks for stopping by today!
Love,
Maggie
This is a sponsored conversation written by me on behalf of Horizon and Santa Cruz. The opinions and text are all mine.