This Teacher Appreciation Wine Gift is the perfect last day of school gift idea for all the wonderful teachers in your life!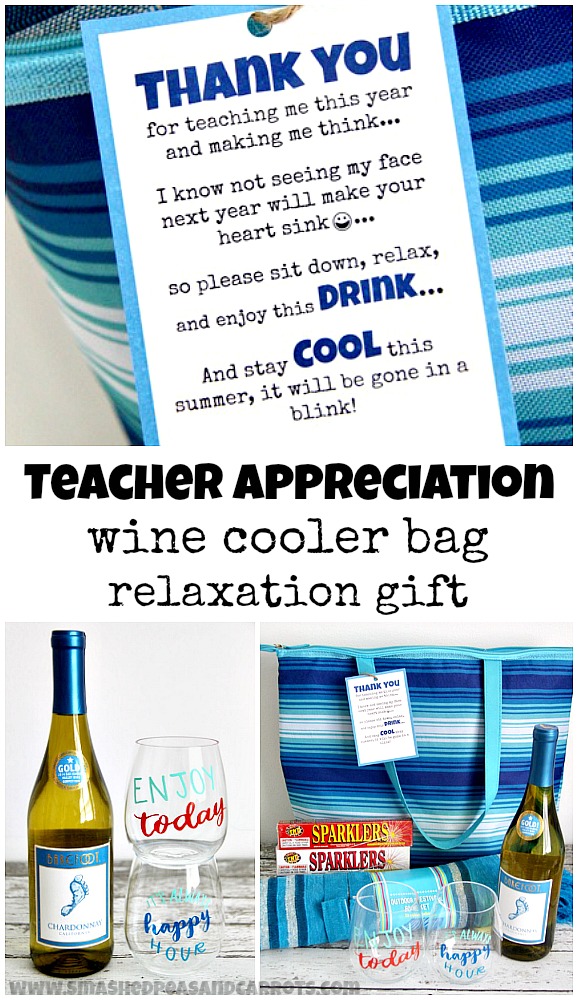 Last week was Oliver's very last week of preschool…I officially have a kindergartner on my hands, whaaat!? All four of my kids have gone to our preschool…so at two years a piece, we have had a child there continuously for since 2010!!! We have loved all the teachers we have had over the years as well as the amazing director of the school, they truly put so much love into everything they do each and every day. So I felt I needed to really go big on our end of school year gift, to say a huge Thank You for teaching our kids for the last 7 years straight. This Teacher Appreciation Wine Gift is a thank you and a celebration to the beginning of summer, hooray!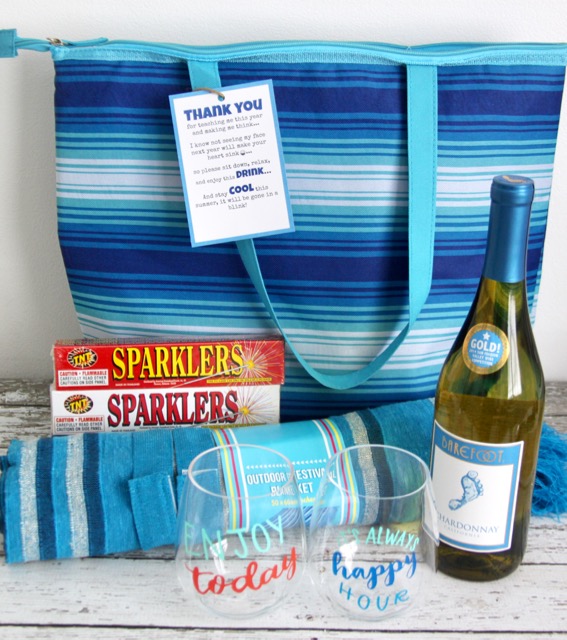 Teacher Appreciation Wine Gift
My thoughts with this gift were so many things…
I am just a little blue to be leaving this milestone of our life behind. You mean I won't be in the pick up line next year? Or the next? Whatever will I do with myself at noon on a Monday, Wednesday, or Friday? 😉 So I tried to coordinate this gift with blue things…makes sense?!
I wanted to gift some wine so our teacher could celebrate the beginning of summer as well as (possibly?) celebrate the end of having our kids in class, lol! <–why I included sparklers!
I also wanted to give them relaxation gifts…so they could enjoy the beginning of summer…blanket, cooler bag, gift card to Panera for a picnic lunch…I hope they can rest and relax on a nice summer day!
(affiliate links below)

I found this super cute blue cooler bag and festival blanket at 5 below…they also had a pink/red combo!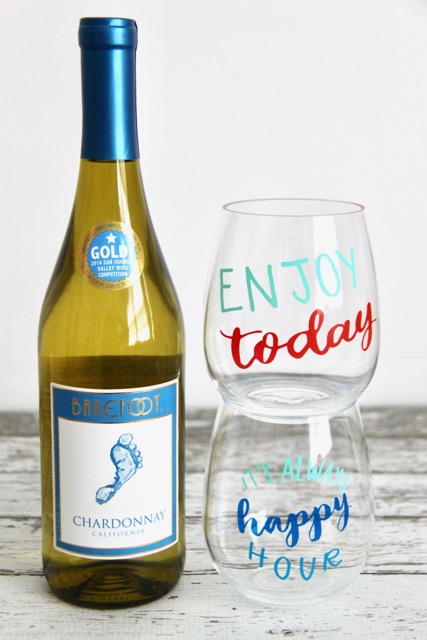 I picked out this chardonnay because the label was blue and matched my theme…I hope it's a good one! I also found these plastic wine tumblers at Target but if you are an amazon shopper and have prime, I found these colored wine tumblers and this cool lidded tumbler with a straw that would also be cool to gift too!!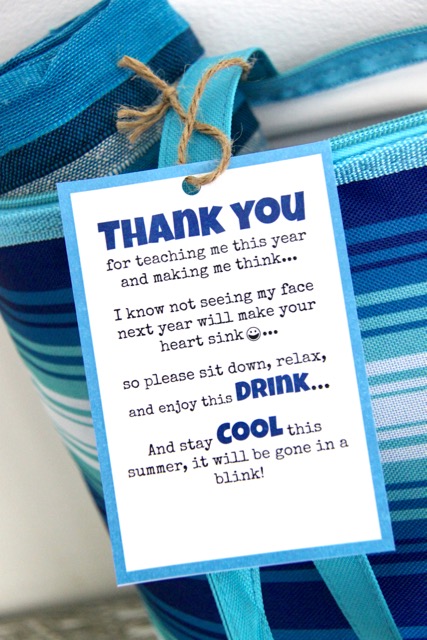 Here is the printable I created. Rhyming with 'DRINK' worked out to be a great generic word to use in case you wanted to gift another kind of drink…a gift card for iced coffees perhaps? 🙂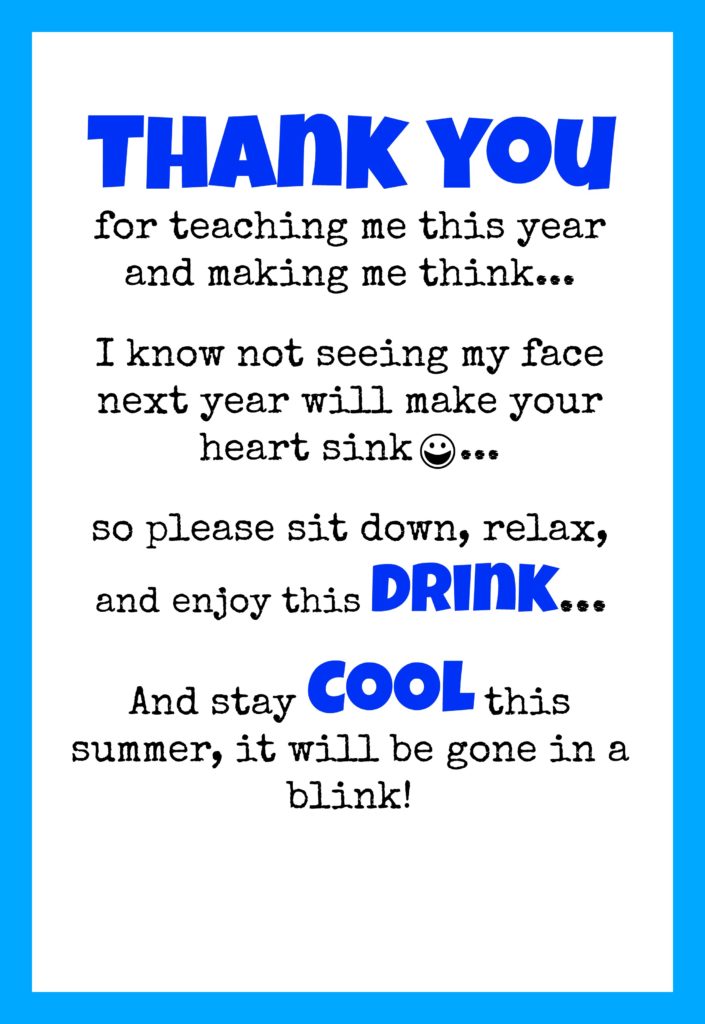 You can click on the image above and save it to your computer to play with the size or you can click the link below to get the printable I created with 4 cards on it. I printed these out on 110 lb white card stock, punch a hole on top, and tied to the cooler bag with twine.
Teacher Appreciation Wine Gift Printable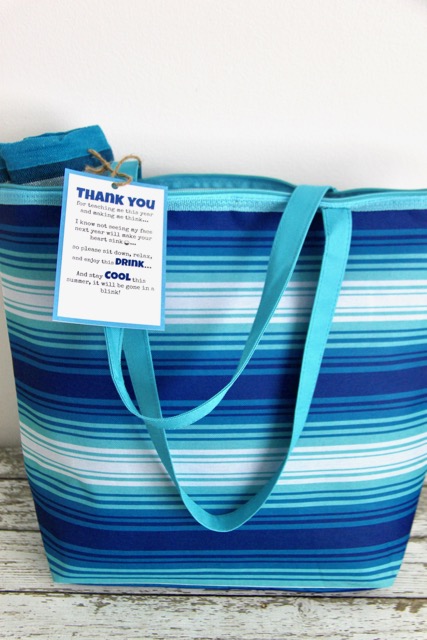 And there you go…all ready to gift!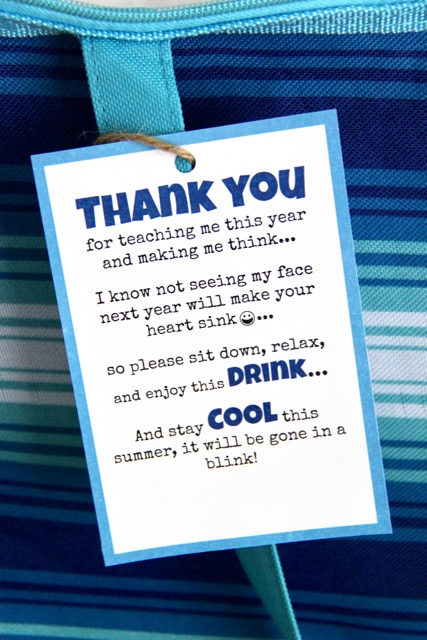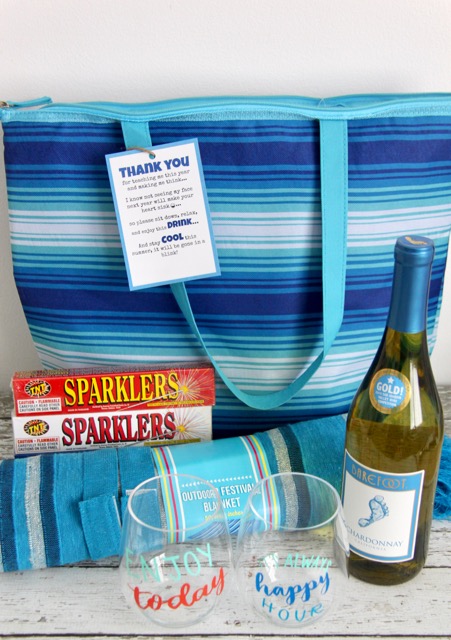 If you like this idea, you can might also like these teacher gift ideas…
For more easy recipes and craft ideas, please LIKE Smashed Peas and Carrots on Facebook or follow me on Instagram or Pinterest for more great ideas!
Thanks for stopping by today!
Love,
Maggie