Ok
, so I am on a roll with the chalkcloth projects right now…hope you don't mind!?! This is another super easy one and very practical too! It's a chalkcloth/oil cloth placemat…another genius idea,
right?
It's perfect to entertain the kiddies while you prep dinner or are out at a restaurant and are waiting and man, sometimes you are WAITING for your food for a VERY long time! This placemat will appease the crowd 🙂
Let's take a look-sie at what I'm a-talking about:
It's oil cloth on one side…the pretty side…or the side that you can leave on your table all day long, looking nice and adult-like. Then, the other side is chalkcloth…with a pocket for chalk! So you just flip it over while the little ones are waiting for dinner and they can color to their hearts content! Heavenly, isn't it!
Ok
, so here is what you need to make one of your own…or many…I'd make many if I were you!
ChalkCloth/Oil Cloth Placemats (

this is what you need to make

one

placemat

)
1 piece of 12 inch x 17 inch oil cloth
1 piece of 12 inch by 17 inch chalkcloth
1 small scrap of oil cloth measuring 4 inches x 7 inches
1 package of Extra Wide Double Fold bias tape (in coordinating color)
chalk
thread, sewing machine
*I used a microtex 80/12 needle in my sewing machine to sew through the oil and chalkcloth with absolutley no problems.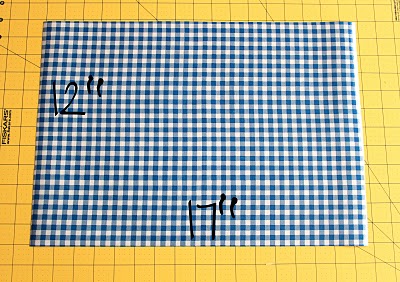 First
, cut a piece of oil cloth to 12 inch x 17 inch dimensions. I made two placemats so I did this twice!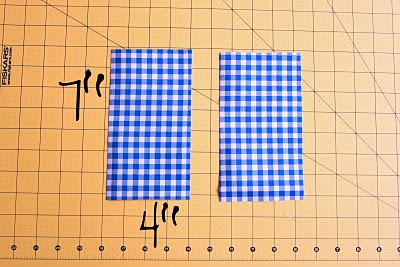 Then
, cut two smaller (for two placemats) pieces of oil cloth measuring 4 inches x 7 inches. This will become your chalk pocket!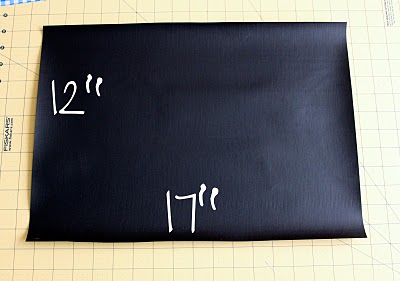 Then
, cut 2 pieces of chalkcloth measuring 12 inches by 17 inches…again, I did two cause I made two placemats!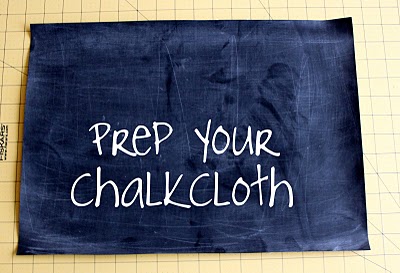 Then
, prep your chalkcloth by rubbing a piece of chalk on it's side left to right and up and down. Wipe off and do it one more time!
Next
, get your chalk pocket piece(s) and fold the bottom (shorter edge) up two inches. Straight stitch both sides together with a 1/4 inch seam allowance.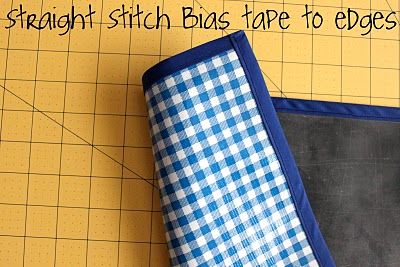 Then
, grab your bias tape and open it so you can see the two fold edges facing inward. Place the center crease so that it's flush with the edge of the chalk/oilcloth edge. You should now have one fold on the chalkcloth side and the other fold on the oil cloth side.
*I cut the bias tape for each edge separately and stitched it into place, this way I avoided having to bend the bias tape around the corners of the placemat 🙂
Do this to the two long edges and then one of the short edges…leaving one side undone!
Straight stitch with a 3/8 inch seam allowance, basically make sure you catch both sides of your bias tape when sewing it in place!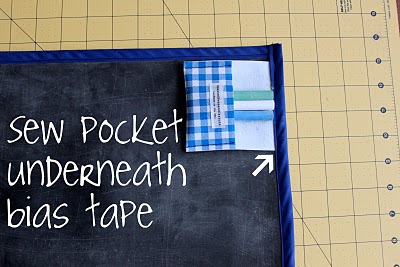 OK
, so now with the edge we left undone, place your chalk pocket so that it is flush with the short edge of the chalkcloth/oil cloth edge. Then place your bias tape on top of this and sew into place (see pic above).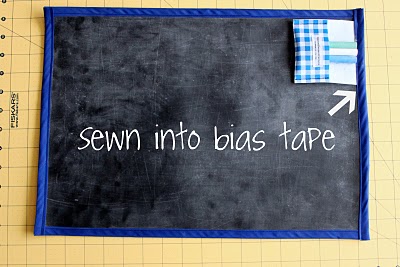 Another look at the chalk pocket sewn underneath the right edge's bias tape.
And that's it folks…
Placemat complete!
Super easy, right!!
Now go make a bunch more 🙂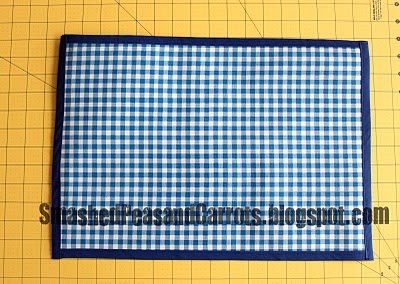 Here's the pretty backside of the placemat.
You would never know it was a kids' chalkcloth placemat on the reverse side…
so sneaky!!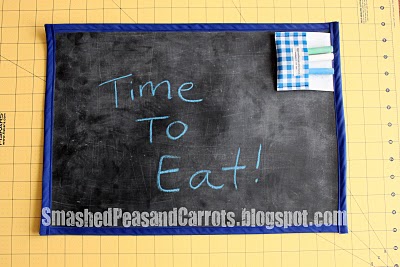 Flip it over and Voila!
Dinner prep has never been
so
easy!