Need a great pasta salad to star as a main course for your next lunch or dinner get-together or as a side dish for a party?  Well then, I have the perfect recipe for you!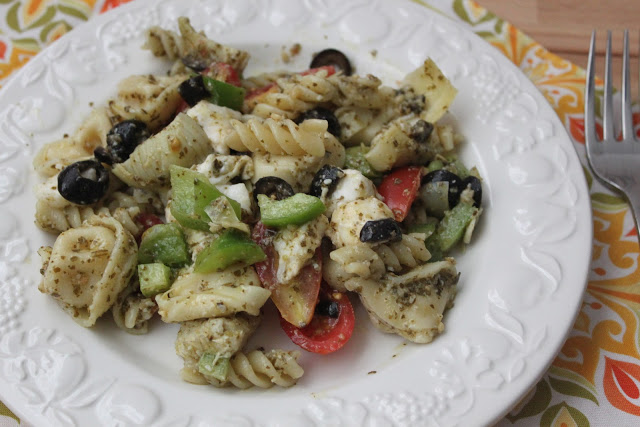 I recently made one of my favorite pasta salads for a get together with some friends and it was loved by all.  Plates. Licked. Clean.  Cheesy Pesto Pasta Salad is full of colorful veggies and cheesy goodness was the perfect light lunch before a rich and chocolatey dessert.  The full recipe for this salad makes a huge amount.  I usually make a full batch if we are including this salad on the menu when we are hosting a large party.  If you are making it for a smaller crowd, or maybe dinner one night, you most definitely want to halve it which is super easy to do.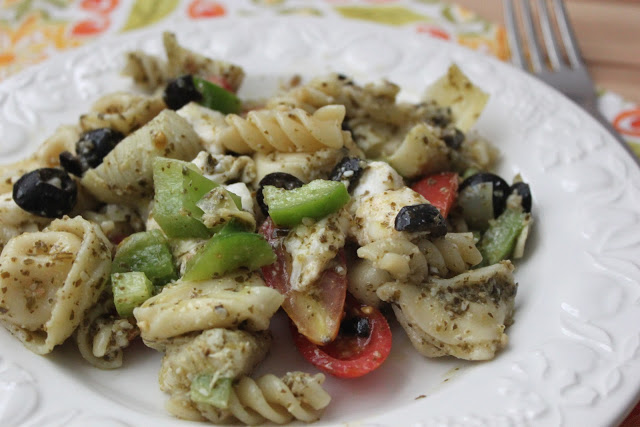 Cheesy Pesto Pasta Salad
Ingredients
1 (20 ounce) package of cheese tortellini, cooked and drained
8 oz of rotini pasta, cooked and drained
1 container of grape or cherry tomatoes, halved
1 green bell pepper, diced
1 (14 oz) can artichoke hearts, drained and quartered
1 (6 oz) can black olives, drained and sliced
12 oz of mozzarella cheese, cubed
⅓ cup parmesan cheese
⅓ cup olive oil
1 (8oz) jar basil pesto
2 tsp minced garlic
salt to taste
Instructions
Cook pastas, drain and set aside to cool.
In a large bowl add together the rest of the ingredients, mixing everything well.
Gently add in the pastas.
Add salt to taste.
**If you make this ahead of time you may need to add more olive oil, salt and parmesan to lighten it up again.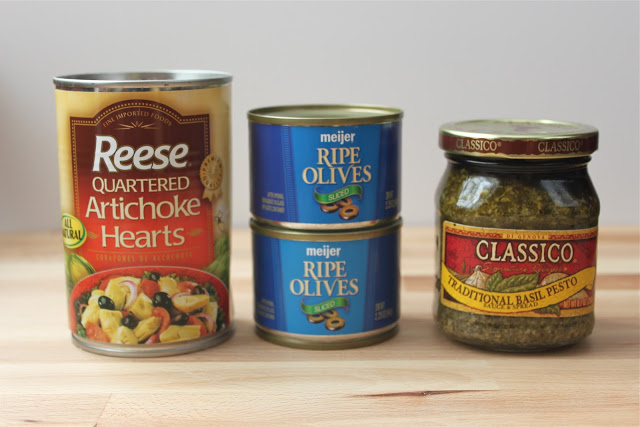 Grab a can of artichoke hearts, a jar of basil pesto and a couple of cans of sliced black olives.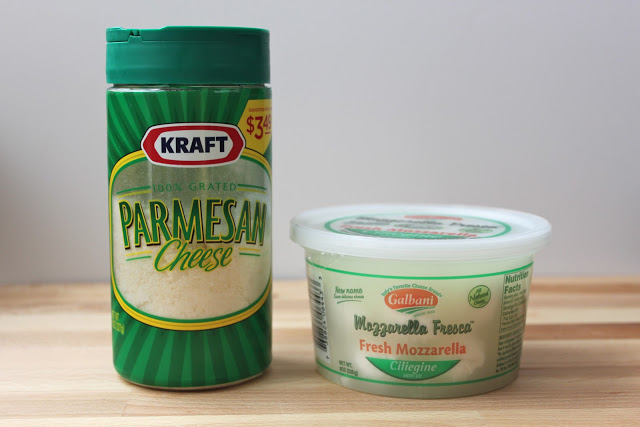 I like to use the parmesan cheese from the can, I think it mixes better than the freshly shaved variety.  I also like to buy those leetle cherry-sized balls of mozzarella so i just need to cut them in half.  I believe they are called Ciliegine…oh, now I sound so Italiano!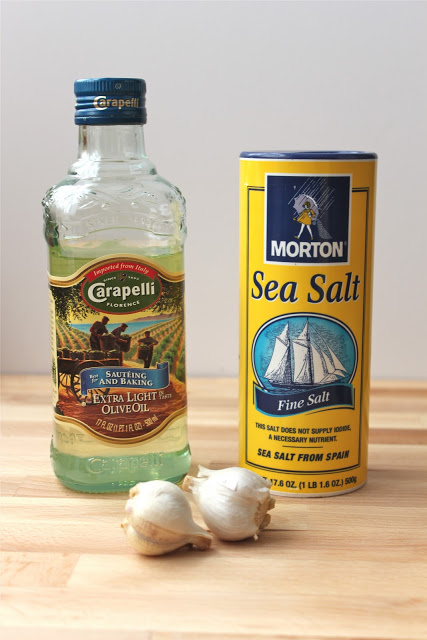 Olive olive oil, garlic and some salt round out the ingredients list.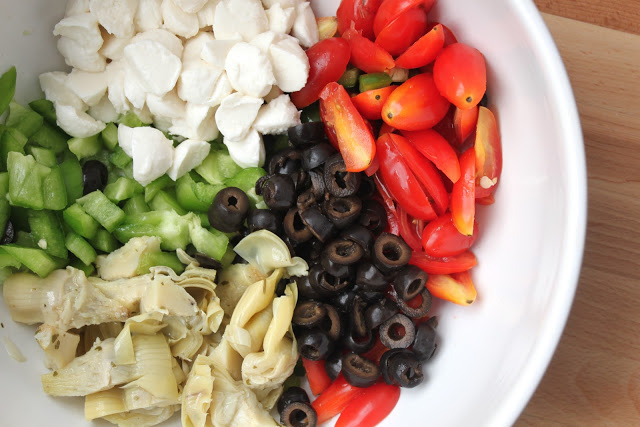 Dice, halve and chop up all those ingredients and place them in a large bowl…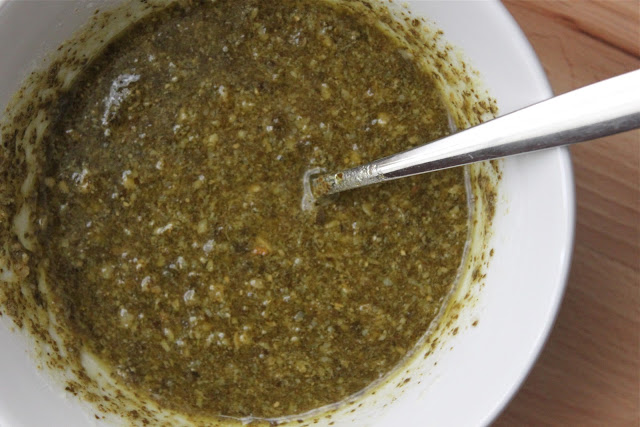 I like to mix the olive oil, pesto, minced garlic and parmesan cheese together in a smaller bowl separately.  Just to make sure the sauce is mixed thoroughly.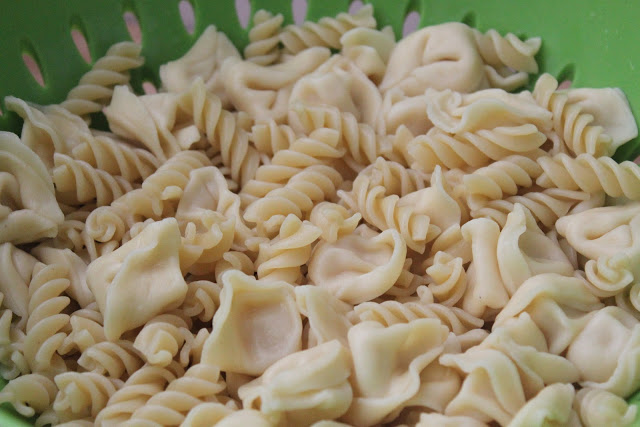 Cook and drain your tortellini pasta and rotini pasta, let cool and then add it to your large bowl with the rest of the pasta salad ingredients.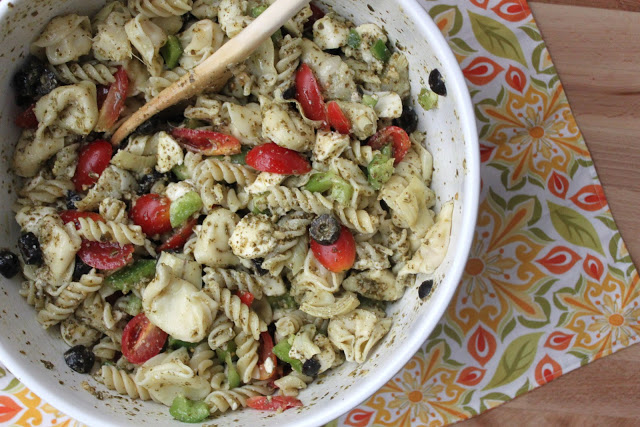 Mix everything together well and you have yourself the most amazing Cheesy Pesto Pasta Salad!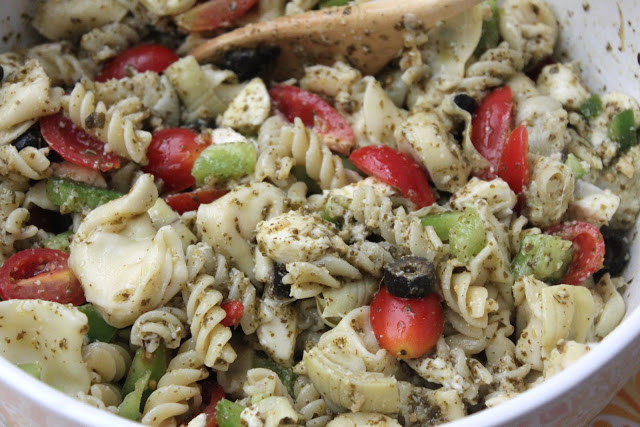 Oh so good!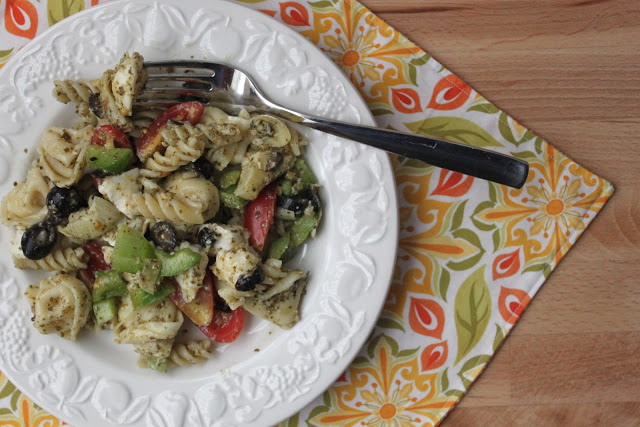 Perfect for an easy weekend lunch or dinner!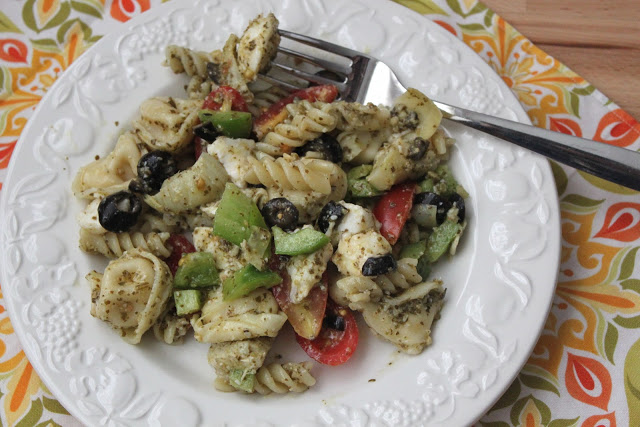 XOXO,