This weekend I was in the kitchen busting out a few of our traditional family Christmas cookies!  Yum, yet another reason to love the holidays…SUGAR!!  I made these Melted Snowman Sugar Cookies as a special surprise for Noah and Penny after they came in from a cold afternoon of playing in the snow with their Daddy.  They are the perfect snack to have with a nice cup of hot chocolate 🙂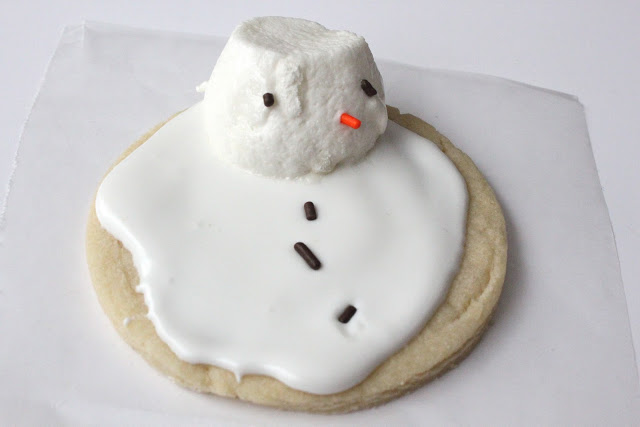 Aren't they just too cute for words?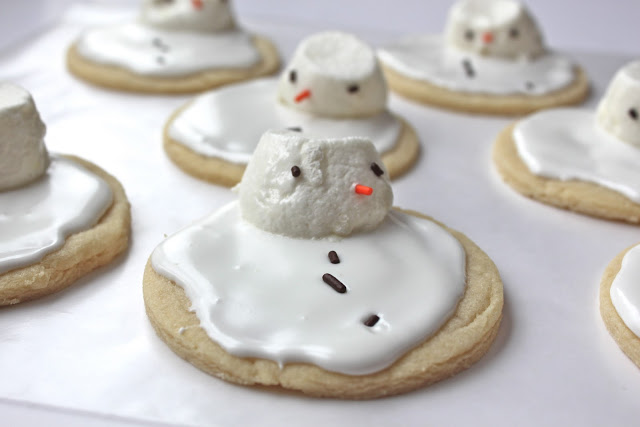 Even my husband couldn't get over their cuteness!  I love a cookie that can make a grown man say 'awww!'
Here is a quick rundown of how to make them.  Unfortunately I only have pictures of the final product since I was trying to get them all done while Ellie napped and the other two were outside in the snow.  My window was small so it was definitely go time for me!
To make these cookies you first need to make a batch of sugar cookies.  You could just buy pre-made dough but I highly recommend making your own, there is nothing like it in the world!!  This is my go to sugar cookie recipe, these cookies always come out perfect and get rave reviews from everyone.  I've never had a bad batch yet (crossing my fingers and knocking on wood now!)
Sugar Cookies
Ingredients
⅓ cup cold butter
⅓ cup shortening
¾ cup sugar
1 tsp baking powder
1 egg
1 tsp vanilla
2 cups all purpose flour
Instructions
Beat butter and shortening with an electric mixer for about 30 seconds on high speed.
Add in sugar, baking powder and a dash of salt.
Beat until combined.
Add in egg and vanilla and continue mixing.
Add in the flour ½ cup at a time, you may need to hand stir the remaining ½ cup.
Lightly flour your rolling surface and place half your dough on top.
Flip your dough a few times to get it nicely coated with flour.
Flour your rolling pin and then roll out your dough ⅛ to ¼ inch in thickness and cut your shapes.
Place on a greased cookie sheet and bake at 375 for 7-8 minutes or just until the cookies edge is firm and the bottom of the cookie is a very light golden brown.
Cool on a rack and ice.
**Edit**
  To see my Sugar Cookie Icing Recipe click
HERE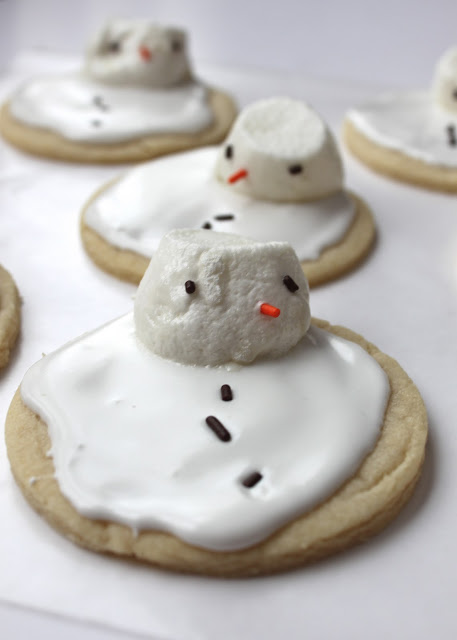 I cut my dough with a large circle cookie/biscuit cutter.  This gives you a nice sized area to decorate your melted snowmen.  Then just haphazardly ice your cookies, the more imperfect the better cause it gives the lovely effect of melting snow, kinda drippy and oozing.
While you are icing your cookies, place a few large marshmallows on a plate and microwave them on high for about 25 seconds.  They should puff up a some but they will shrink back down if you let them sit for a bit!  Before you pick up your marshmallows to place on your cookies grease you fingers with some cooking spray first.  This will reduce the sticky factor of those puffy marshmallows as well as help to not ruin their shape and therefore reduce any bad swear words you might want to utter!
Then since I was short on time, I just grabbed a bottle of colored Jimmies from my cupboard and picked out the brown and orange ones to decorate the snowmen's faces and little melted bodies.  If you had more time on your hands you could color your icing orange and black and decorate them with a small circular piping tip.  Or…you could use a few of those handy dandy food-safe markers but you'd want to wait until the cookies are completely set and hard before drawing on them!!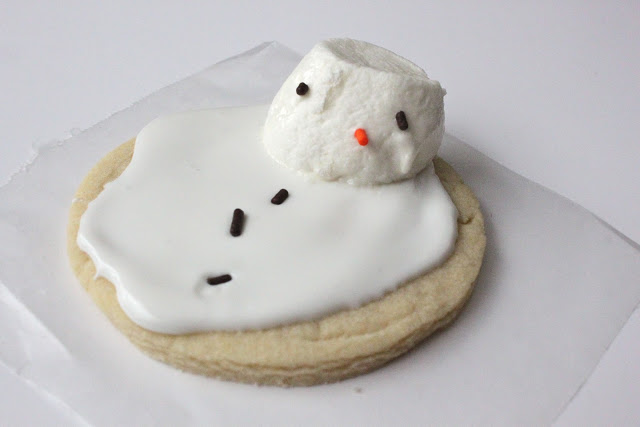 This one is my favorite little guy!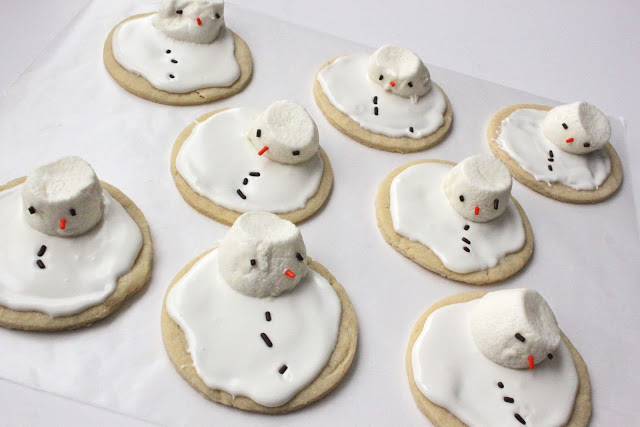 Rows of melted snowman…cute, cute and cute!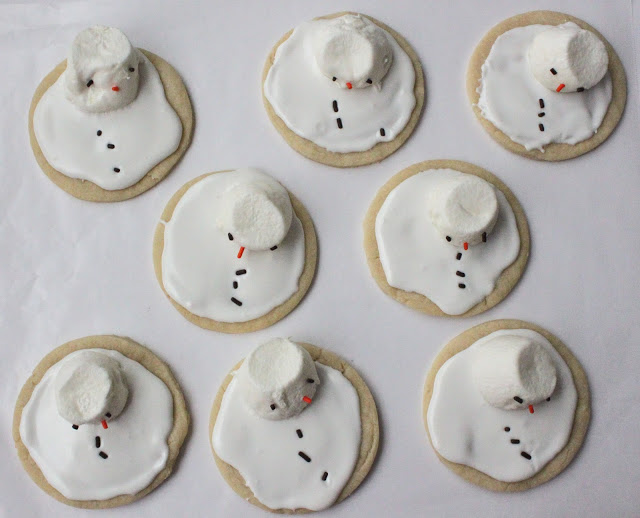 Well, the kids came in and saw these guys and just fell in love!
Don't you love watching kids during the holidays?  Everything is just magical to them.  We decorate a gingerbread house and do a few other family traditions every year and it always amazes me how new and exciting it is for the kids each and every year we do them!!
SO FUN!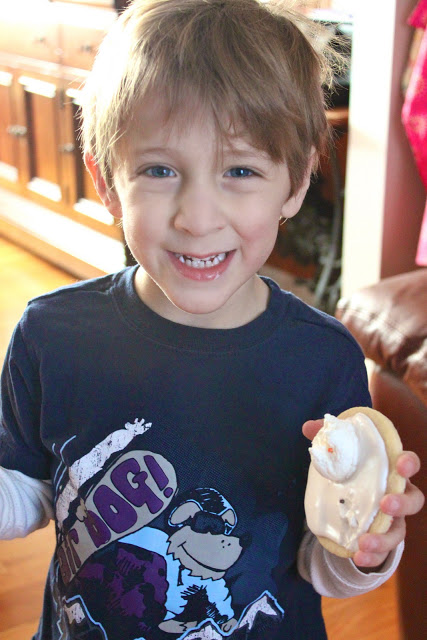 Yup, these cookies were definitely approved by Noah!
Ya gotta love that!