So
, this weekend I realized that I needed to come up with some new decor for my front door as Valentine's day was Sunday. I love the
Fabric Rose Wreath
I made to celebrate Valentine's day (found
here
) but I've decided it's just too pretty to be hanging on my front door for so long. I thought I'd bring it indoors for some love-ly home decor, I think my living room could use it! That being said, I needed something fun for the door cause at this point a bare front door just doesn't cut it for me.
I'm no where near Irish but as St. Patrick's Day is the next holiday on the calendar I thought why not make a St. Patrick's themed wreath. Not a crazy bright green shamrock wreath but something simple that I could change up in the future.
I found some clothesline at Home Depot and it totally reminded me of that nice thick fisherman's yarn used for those great cable knit sweaters which then reminded me of Ireland for some reason…
Hmm
, maybe I had too much chocolate yesterday!?! Well, I added some green plaid fabric to hang the wreath and it totally spoke 'Irish' to me…
yup
, too much chocolate for sure but those chocolate covered strawberries were freakin' delish!
But
seriously
, the greatest thing about making such a simple wreath is that you can change out the hanging fabric to something more colorful and Spring-y once all the snow melts 🙂
And
, you can jazz up the clothesline wrapped part once there is actually some color outside to inspire you (insert jazz hands here).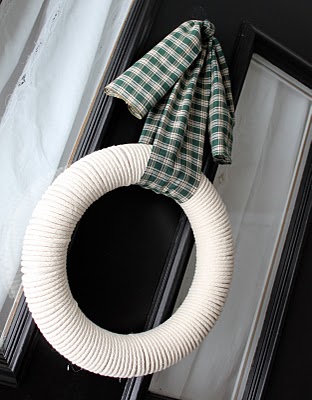 (and Irish-looking, right!?! I wasn't really all sugar-high crazy when I made this was I?)
Ok, so let's get to making one for you!
Clothesline Wreath
1 foam circle (
found mine at Joann's
)
1 skein of clothesline (
bought mine at Home Depot, it's about 100 feet..you'll have some leftover to hang your clothes to dry too…if you live in a warm climate that is, there's no way I'm drying clothes outside when it's 20 degrees here!
)
hot glue and gun
1/4 yard of fabric (
I used green plaid for some St Patrick's Day fun!
)
rotary cutter and mat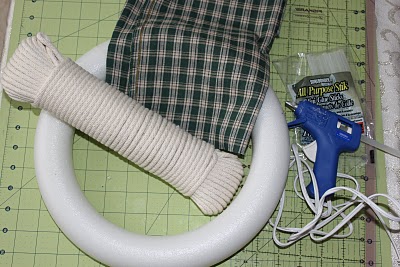 The goods just waiting to be used! Can you feel the fun we're about to have!?!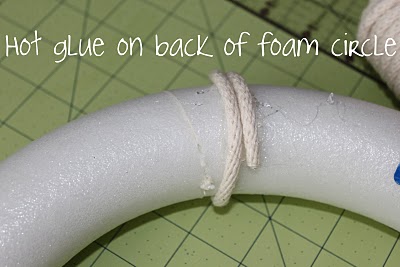 First,
squirt hot glue on the backside of your foam circle
only!
This will allow you to be able to move the clothesline around the wreath so that it covers it nicely. Plus, it will help you get burned less…anyone else constantly burning their hands with hot glue??
Crikeys
that hurts like a swear word!
Continue hot glueing your clothesline until you get back to your starting point…got any good tunes on your ipod? You might want it for this!