This Coffee Makes Everything Possible printable wall art will be the perfect addition to the coffee addict's home decor!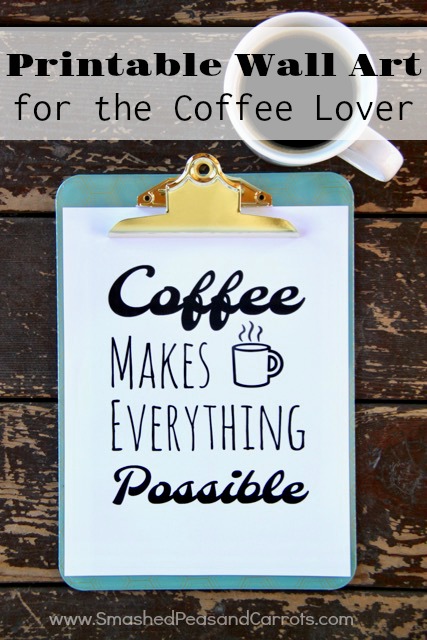 I feel like the universal drink of moms everywhere is coffee. It's our lifeline, what has kept us alive and moving since that first little babe was brought home. It's no secret that I love me some coffee. I'll take it hot, iced, with cream and sugar, or black. It's why I felt the need to create this fun Coffee Makes Everything Possible printable wall art for my three season porch. I love sitting out there with a good cup of coffee on summer morning.  The coffee is vital. It helps me maximize my morning routine and gets me focused on the day's schedule before the crazy starts. If I'm lucky I can even hear a few birds chirp before someone yells, "moooooommmm!"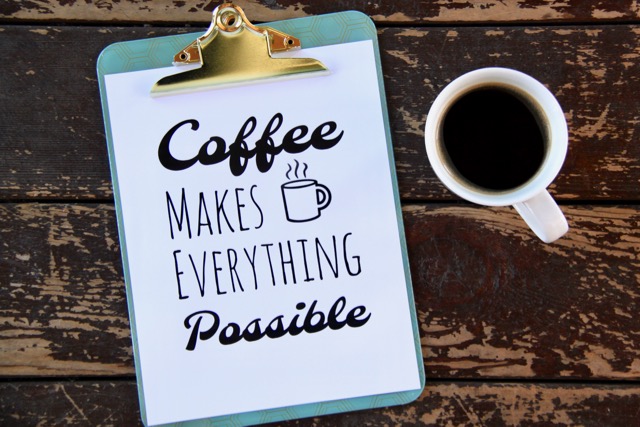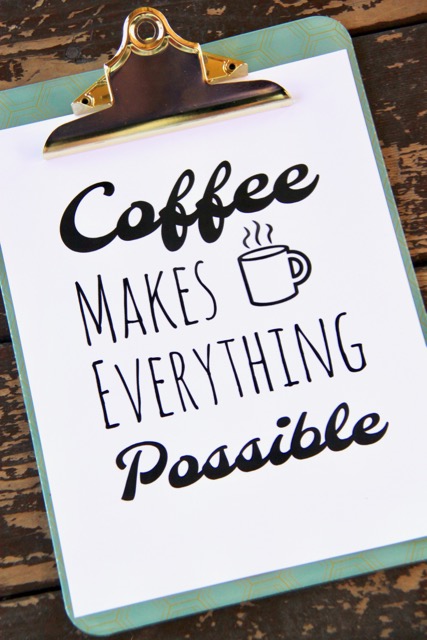 Coffee Makes Everything Possible
Being a momma to four kids ages 10, 8, 6, and 4 most of my days are spent running around with them or for them. You know how it goes. It seems we are always running somewhere…even in the summer. There are summer camps, vacation bible school, swim team practice, piano lessons, pool days, playdates, sleep overs, and of course checking off our Summer Bucket List! My busy mom life intertwined with my busy work life are why maximizing my morning routine with a cup of coffee is key to getting the day started off right! Coffee Lovers Unite, amiright?!!!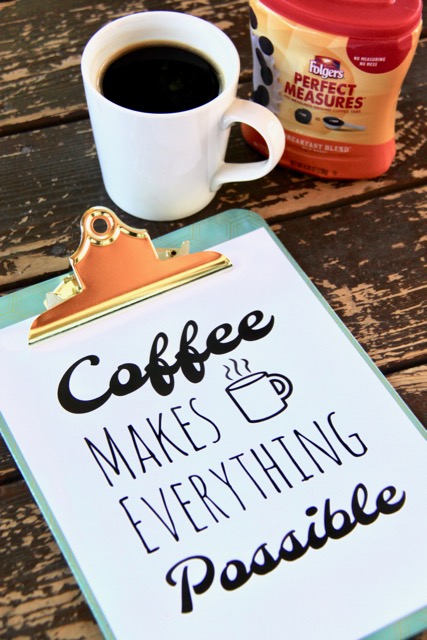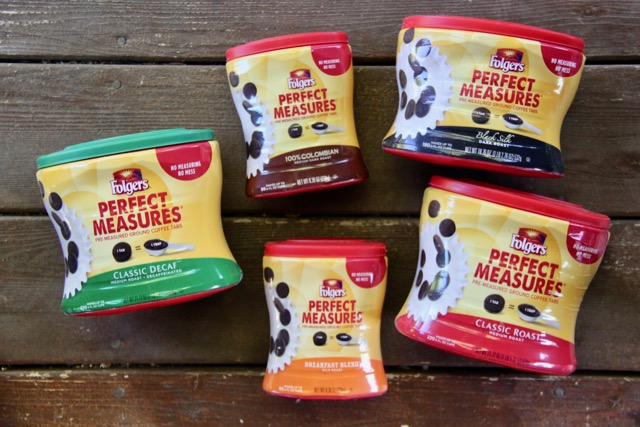 And if you are a coffee fanatic like me, you are going to want to try the new Folgers® Perfect Measures™ coffee tabs. They will redefine your morning coffee routine because they take the guesswork out of brewing a consistent, great-tasting pot of coffee every morning…you can't beat that!
To learn more, you can go to Folger's Facebook page or you can visit www.folgerscoffee.com for a special offer.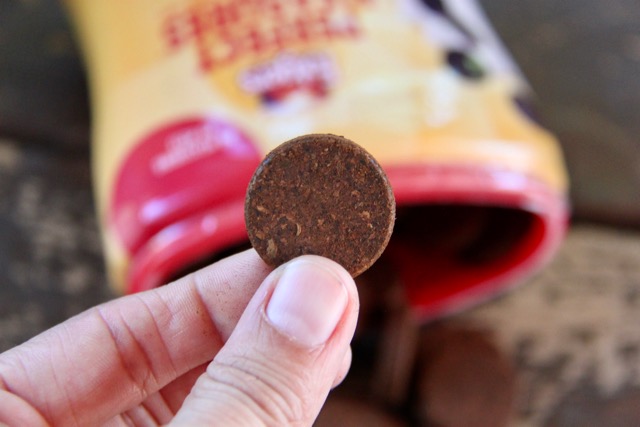 As you can see, with Folgers® Perfect Measures™, there are no more spilled grounds, no more losing track of scoops and no more morning fuss when it comes to brewing the Folgers® coffee you know and love. You just use 4 of these perfect measure tablets to make the perfect pot of coffee every morning, noon, or night!
Folgers Perfect Measures coffee tabs are nothing but 100% pure coffee. The tableting process uses extreme force to compress the tablets together without the use of additives.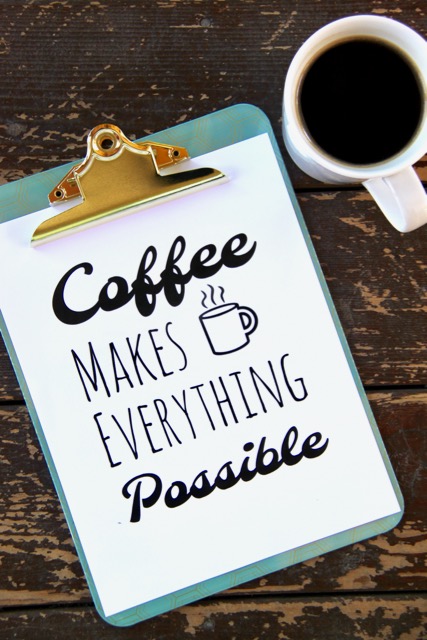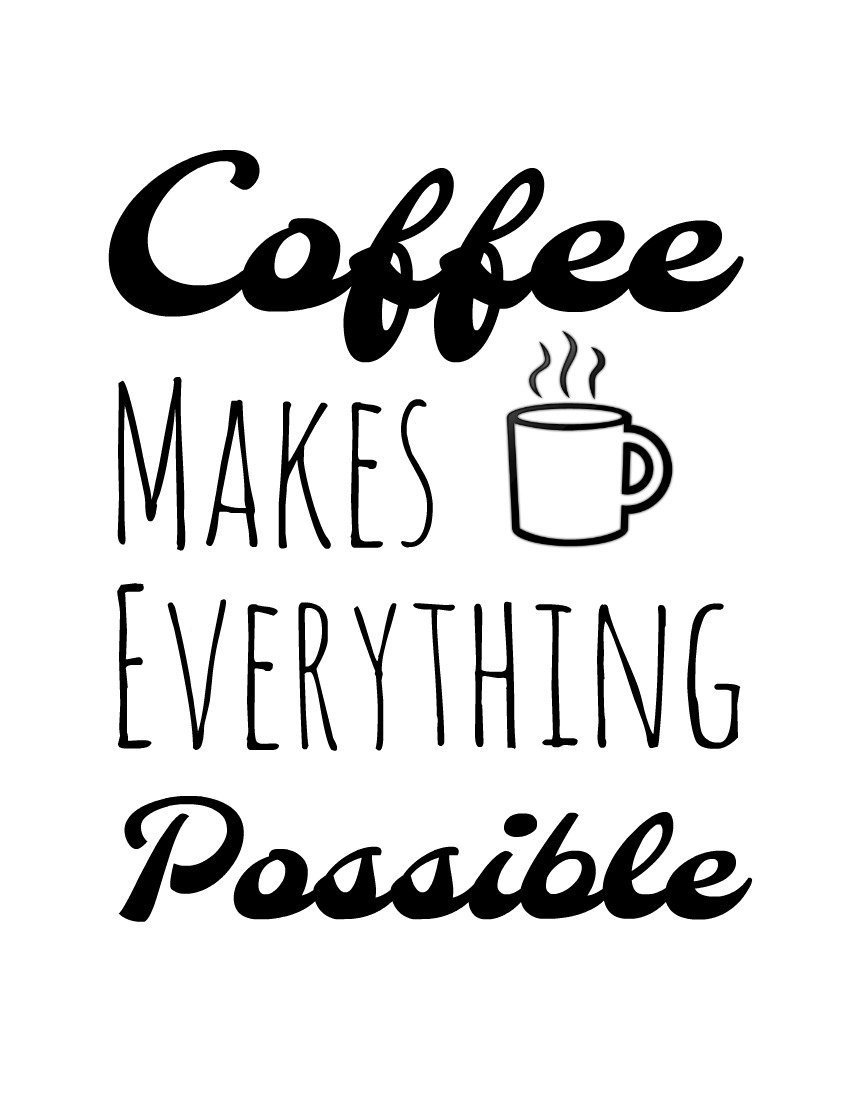 If you would like to download this printable 8.5×11″ wall art just click the link below. Or if you'd like you can also click on the image above and save it to your computer to resize it to a different size. I printed mine on heavy 110 lb white card stock. And used a cute clipboard to hang it on instead of a picture frame.
Coffee Makes Everything Possible
And I thought it would be fun to add in some Coffee Survey results that Folger's did from cities around the country including my little nook of the U.S., Chicago! Because from Memorial Day through Labor Day, many people experience a "productivity slump." So while we head into summer with big plans like repainting the bedrooms or working in the yard, the summer season often passes us by without our to-do lists checked. How do you maximize your mornings?
Chicago Coffee Survey Results
How much do Chicagoans love coffee? 
Chicagoans have consumed the most cups of coffee in one day. 
Chicagoans say, on average, the most coffee they have consumed in one day is 5.2 cups—more than any other city in the study.
While coffee drinkers in Chicago make and drink coffee at home about 7 times a week, they buy coffee and drink free coffee away from home more frequently than coffee drinkers in other cities, about 3 times a week.
Coffee-drinkers in Chicago spend more time with a cup of coffee than most other activities (13.4 minutes).
Why do Chicagoans drink coffee? 
Coffee makes Chicagoans more productive. 
Four-in-five (78%) Chicago coffee drinkers agree that drinking coffee makes them more productive, and a similar number (80%) feel that coffee keeps them going throughout the day.
While winter is the least productive time of year for Chicagoans, those who are less productive in the summer (20%) use coffee to beat the productivity slump (78%).
In the summer, coffee drinkers in Chicago are most likely to drink coffee when going on a road trip (71%) or camping (54%).
And for more delicious and easy recipes and craft ideas please LIKE Smashed Peas and Carrots on Facebook or follow me on Instagram or Pinterest for more great ideas!
You can also find more great posts like this one here:
Thanks for stopping by today!
Love,
Maggie
SaveSave
SaveSaveSaveSave
This is a sponsored conversation written by me on behalf of Folgers® . The opinions and text are all mine.
SaveSave
SaveSave