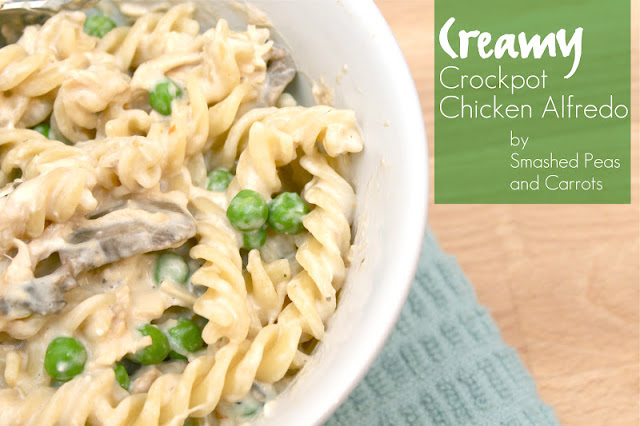 How about today I share another easy peasy and delicious dinner recipe to add to your dinner menu rotation?  My family loves this one a lot, it's a super filling Creamy Chicken Alfredo that you make in your crockpot.  Well, the sauce that is.  The noodles you boil up on the stove right before you are ready to eat and then you pour that creamy alfredo sauce over top for a hearty meal your whole family will enjoy!  Serve it up with some garlic breadsticks and a nice green salad and you are set for the perfect well-balanced meal, nom nom!  🙂
Creamy Crockpot Chicken Alfredo
Ingredients
2 large or 4 medium chicken breasts (can be frozen!)
1 can cream of chicken (or mushroom) soup
½ cup Italian dressing
2 cloves of garlic, minced
1 small can sliced mushrooms, drained
1 8 oz block of cream cheese
½ to 1 bag of frozen peas or broccoli
1 lb spaghetti or other noodles
Instructions
Place chicken breasts in crockpot and add in the cream of chicken soup, Italian dressing, minced garlic, and mushrooms.
Cover and cook on high for 3-4 hours or on low for 6-8 hours.
About 20 minutes before serving, pull chicken out and shred or cut into cubes and return to the crockpot.
Add in the block of cream cheese and stir until combined.
Boil water and cook your noodles.
minutes before noodles are done, mix in frozen peas or broccoli into the boiling water with noodles and stir.
Drain noodles (and veggies) and pour alfredo sauce over top...Enjoy!
Grab your chicken breasts…and yes, the can be frozen or refrigerated!…and place them in the bottom of your crockpot.  Add in the cream of chicken (or mushroom!) soup, can of drained mushrooms, Italian dressing and minced garlic.  Cover and cook on high for 3-4 hours or low for 6-8 hours.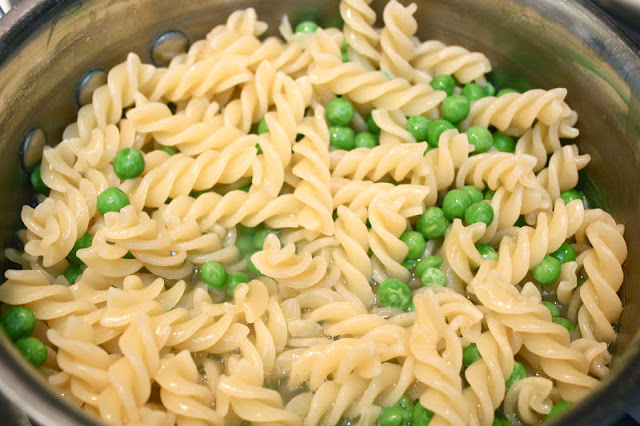 20 minutes before you are ready to eat you are going to do a few things…first, start boiling water for your noodles of choice.  Next, pull out the chicken breasts and shred them or cut them into chunks.  Place the chicken back in the crockpot and mix into the sauce.  Add in a block of cream cheese too, stir until it is nice and combined.  Once your water is boiling, add in your noodles and about 5 minutes or so before they are ready pour in a bag of frozen peas or broccoli or any other veggie you'd like.  The hot water will cook them and once your noodles are done just drain everything and you are good to go!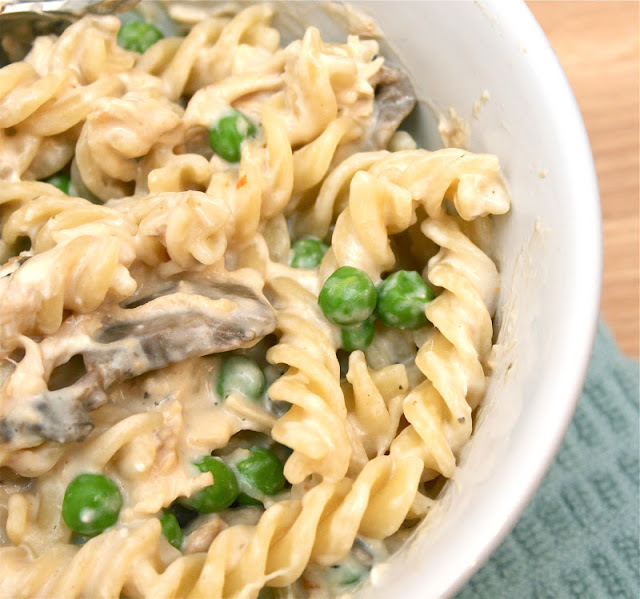 Now, either pour all your noodles into one huge bowl and pour the sauce over top and mix everything together or do each person's bowl separately…your choice.
Either way it is delicious!  YUM squared!
Enjoy!
XOXO,