Here
is an awesome 5 star recipe for blackened fish tacos that I made a few nights ago. I
love
me some fish tacos, if you've never tried them you must. They aren't as weird as you might think, they are actually super tasty and have lots of yummy flavor.
I have tried lots of recipes to make my own but so many just weren't right. Lots of recipes fry the fish and I just find that frying makes a huge oil splatter mess and that's just annoying. Others use tons of cilantro which I absolutely can't stand cause I think it tastes like soap! A fish taco recipe also needs to have some type of dressing on it that adds texture and flavor.
Yeah
, I set the bar high but all in the name of an amazing dinner!!
You'll love this recipe cause the spice is just right, the slaw mix is heavenly and the overall taco product is so good you'll be wishing you had leftovers for the next day.
See what I'm talking about…doesn't this just look freakin' good!?!
Alright
, so here is the recipe.
I think you need to make it tomorrow, seriously…the
best
I ever had!
Blackened Fish Tacos (and seasoning mix)
Ingredients
4 filets of fish (cod or tilapia work the best, you want a nice mild fish!)B
Blackening seasoning ( I couldn't find this in the store, although I admit I didn't look too long, making your own is pretty darn easy though...see recipe below!)
To make blackening seasoning:
1 tbsp paprika
1 tsp white sugar
4 tsp dried thyme
2 tsp onion powder
2 tsp garlic powder
2 tsp salt
1½ tsp black pepper
¾ tsp cumin
½ tsp ground nutmeg
½ tsp cayenne pepper (more if you like spicy, less if you don't!)
Instructions
Mix everything above together and apply liberally to your fish filets.
If you make this blackening seasoning recipe you will have plenty leftover for something else...just so you know!
Place on a baking pan and bake in the oven at 425 degrees for 15-20 minutes or until fish is flaky and tender.
Once your filets are done, cut them up into nice, taco-sized chunks.
Place on a soft tortilla shell, add slaw and whatever other toppings you'd like.
Blackened Fish Taco Slaw
Ingredients
1 package shredded cole slaw (or you can shred your own cabbage and carrots!)
½ cup plain yogurt
½ cup mayonnaise
1 tbsp lime juice
½ tsp ground cumin
½ tsp garlic powder
½ tsp dried dill weed
½ tsp cayenne pepper (add less if you are not a spicy person or add more if you like the heat!)
Instructions
Place the shredded cole slaw in a large bowl.
Mix the yogurt , mayonnaise, lime juice and all the spices together; add to the cole slaw and mix well.
If you can make this ahead and refrigerate for at least 1 hour then all the flavors can blend and it's even tastier!!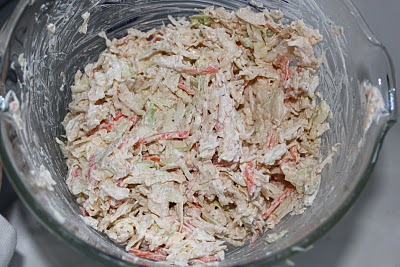 YUM!
…here is the slaw all mixed and ready to go!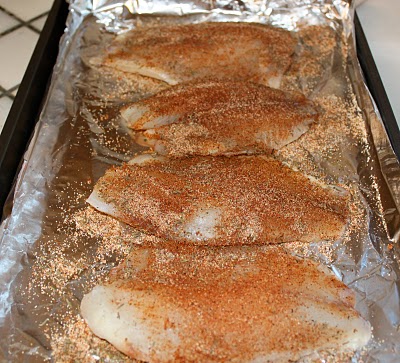 Season your fish well and bake for 15-20 minutes or until nice and flaky and white.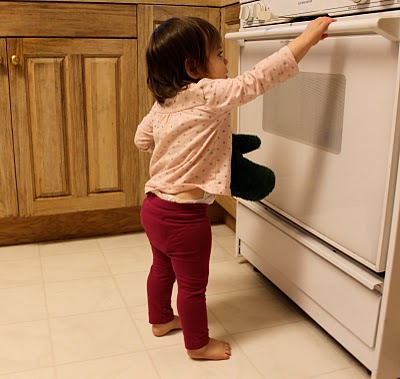 Then, watch as your little helper tries to open the oven door cause now she is a
'big'
girl and thinks she can do what you do!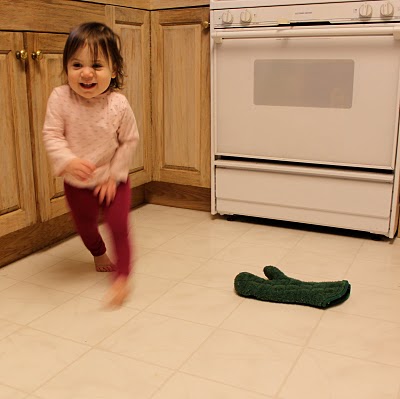 Then, watch her throw down her oven mitt and run away giggling cause you told her she couldn't do it! Yup, we are in that lovely stage right now…you try to discipline and she laughs in your face…good times!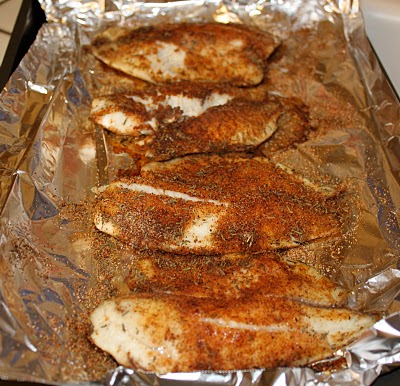 15 minutes is up…all done!
Looks good…now just break up into pieces and place on a soft tortilla shell. Add your slaw and any toppings you desire: avocados, shredded cheese, shredded lettuce, a squirt of lime… whatev-ah you like!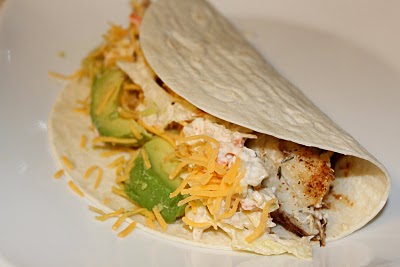 Time to dig into the madness!!!