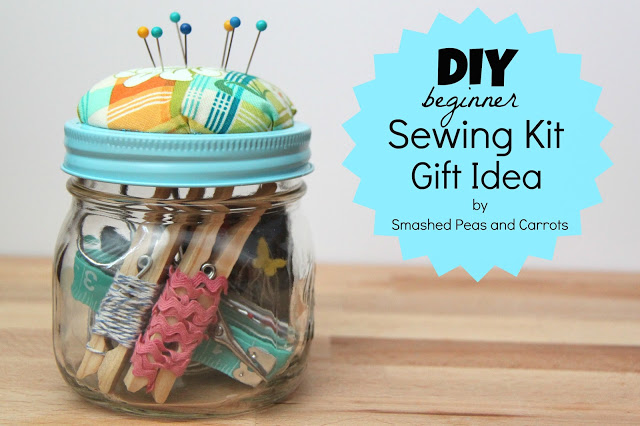 This weekend I had the privilege of helping one of my amazing neighbors learn how to sew (insert happy face).  Does anybody else get giddy at the idea of turning another person on to the awesomely wide world of sewing and DIY?  Ya'll know I love to teach, so I jumped at the chance to get my teacher on and show her how to wind her bobbin, thread her machine, and take that (kinda scary) first stitch into learning how to sew!  You Can Do It!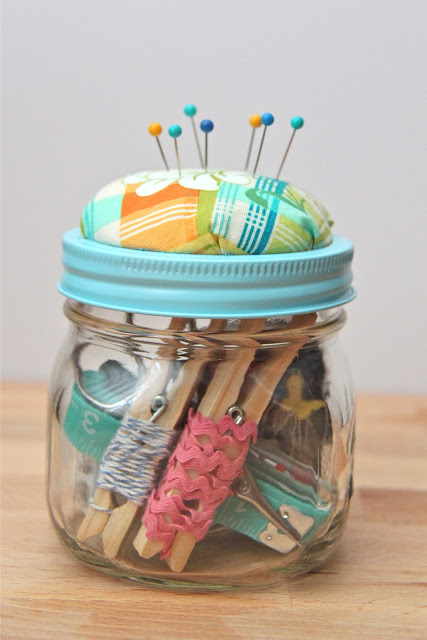 For her first foray into sewing I brought along a Beginner's Sewing Kit that I made for her thinking that if you are new to sewing there may be a few essentials that you might not have around.  My "must have" sewing items if you will.
Want to make a kit for a beginner sewist in your life?  How about a college-bound freshman?  Or maybe you just want to make a few fun, personalized gifts for friends and family before the holidays arrive.  I hear ya loud clear.  Let's get started then, shall we?
DIY Beginner Sewing Kits
small mason jar
spray paint
piece of cardboard
x-acto knife
scrap of fabric
small portion of fiberfil, cotton batting, or cotton balls
hot glue gun
pen/pencil for tracing
scissors
sewing necessities (see below for my list!)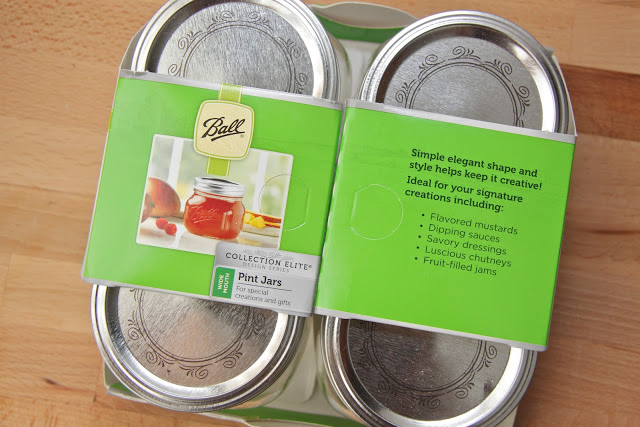 I love me some mason jars so of course that is what I used to make this gift.  Specifically, I used the Ball Elite collection pint jars…so cute, plump and square!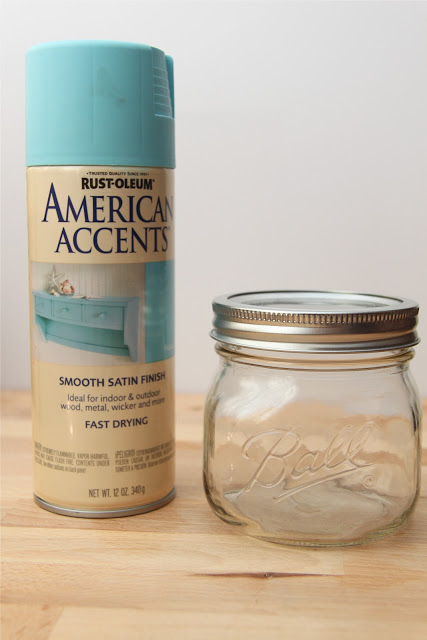 This step is optional but I think it is totally what makes this sewing kit so dang cute!  Take the ring off the mason jar and spray paint just the outside and top of it with the color of your choice.  If you can coordinate the paint with your fabric, it makes for a super cute gift!  PS. Try your hardest not to paint the inside of the ring as it will make it a bit more difficult to twist back on the mason jar.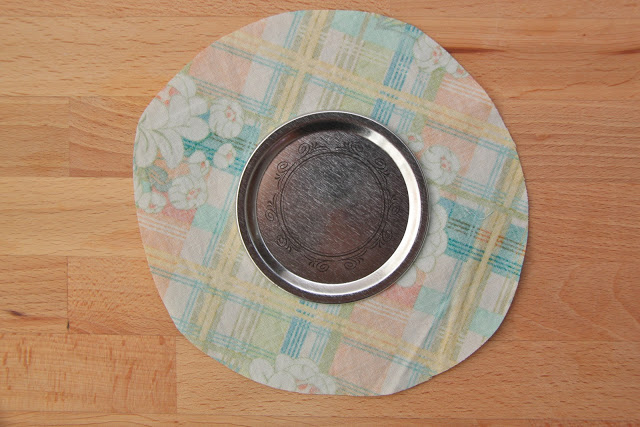 Next grab your scrap of fabric and place the lid of the mason jar on top of it.  Cut so that 1 inch of fabric remains around the lid like the picture above.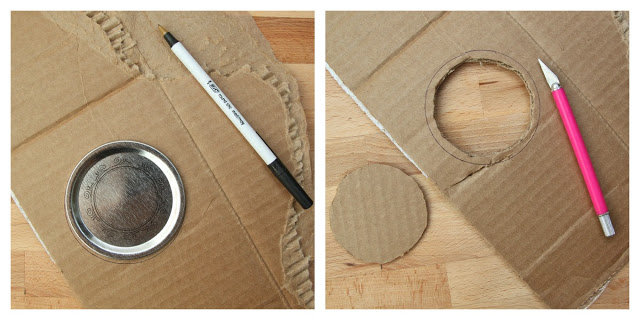 Then grab your piece of cardboard and trace around it with your pen or pencil.  Using your x-acto knife, cut 1/4 to 1/2 inch inside this circle so that your circle of cardboard is slightly smaller than the mason jar lid.  Doing this will help the pincushion lid sit more tightly on top of the jar once you twist the ring on.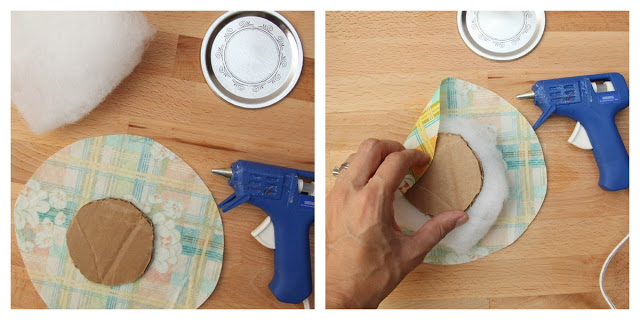 Now we are going to make a sandwich of sorts.  Place your fabric right side down, then place a handful of fiberfil or other puffy material on top and lastly the cardboard circle on top of that.  Get your hot glue gun out and run a strip of glue around the cardboard circle pressing the edges of the fabric over it as you go.  You want to make the fabric pretty tight over top the fiberfil so you get a nice puffy pincushion.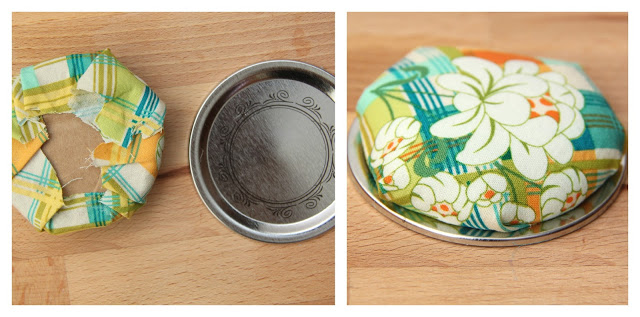 It should look like this now (picture on the left!).  Then just hot glue all over the top (metal part) of the lid and press your pin cushion (cardboard side down) on it.  Let it cool to dry.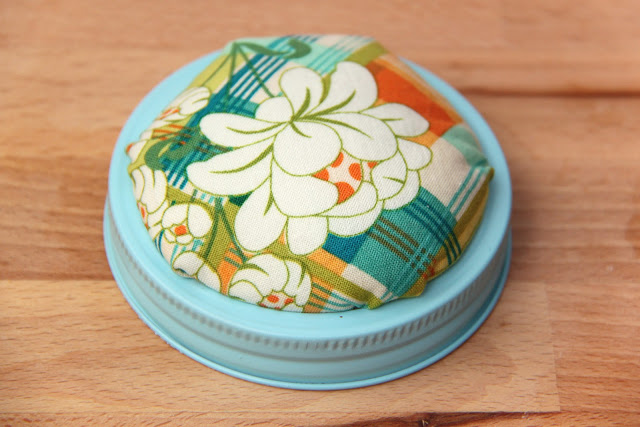 Then just slide the pincushion into the painted ring and twist it back on to your mason jar!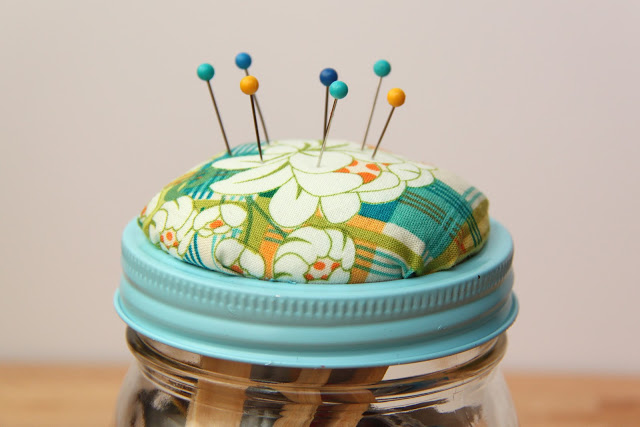 Find some pretty pins to pin on it…color coordinating them if you are nerdy like me 😉
And now you are ready to fill'er up…want to see my list of sewing essentials?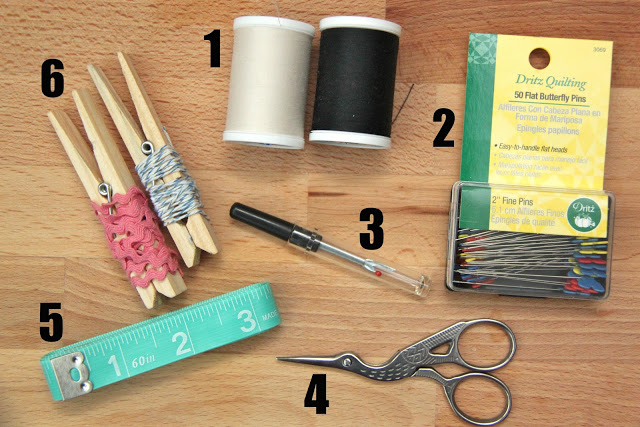 Thread.  I LOVE cream colored thread and so much more so than white.  I use it in so many projects and probably buy it 10x more than any other color.  I also gave a spool of black thread as it is handy to have color opposites!
Straight Pins.  Every sewist needs straight pins to help keep layers of fabric in place while sewing to help you achieve a nice straight line.  These also work wonders as visual markers for when you need to remember where an opening is in a project so that you don't sew it shut!
Seam Ripper.  Need I say more?  No matter how much you sew or how good you are, you will always need a seam ripper for the oopsies we all make.  This may just be a seamstress's best friend.
Scissors.  So important!  You will need a small pair of scissors to trim fabric, for cutting threads at the beginning and ends of your stitches as well as to cut those pesky stray threads that always seem to pop up everywhere.
Tape Measure.  Super handy to help you figure out where on your machine certain seam allowances are located.  Also good to have on hand to measure fabric widths and lengths.  A flexible tape measure is great to get body measurements!
Trim, Twine or Buttons.  Colorful ric rac, vintage trim, buttons, or twine are always good bets to add to beginner sewists kit for a touch of color and fun.  These are not only useful as decoration on some sewing projects but are also nice to have on hand to use as ties or tags on gifts.  I wrapped mine around clothespins as they are handy to have as well!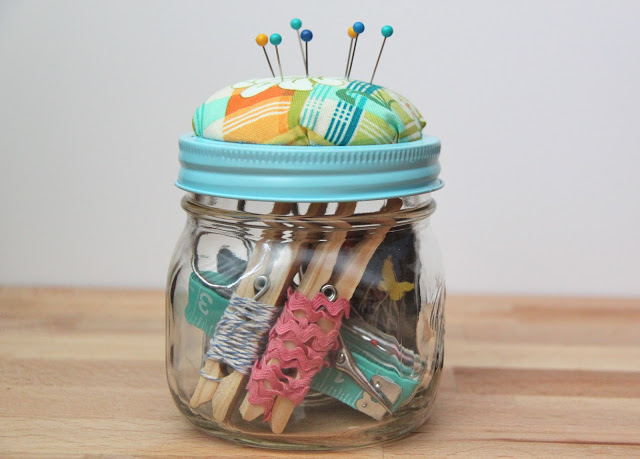 So now you should have your sewing kit all filled up and ready to give…HOORAY!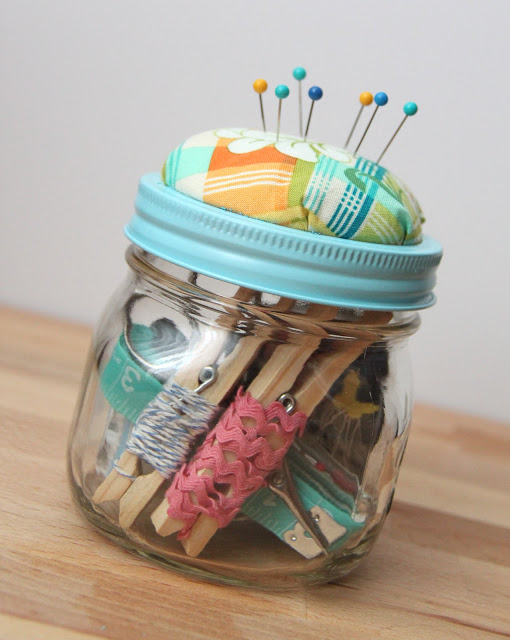 So tell me, what is on your list of sewing essentials?  I'd love to hear!
Thanks for stopping by and reading today!!
XOXO,