So
, here it is. Just like I promised! My super easy cookie recipe that will surely be a hit at all your Holiday parties or Christmas Cookie Exchanges. It's an
incredibly awesome
version of the Girl Scout Tagalong Cookie that I have in my recipe box courtesy of my sister-in-law, otherwise known as Aunt Gigi to the kidlets! We just call them 'The World's Best Chocolate Peanut Butter Sandwich Cookie You'll Ever Eat' at our house, but a Tagalong is what they remind me of and is much easier and shorter to say! Go figure.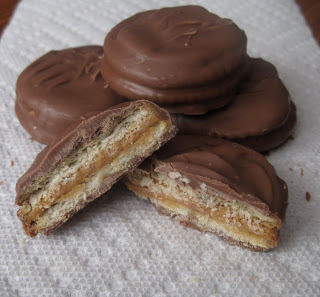 Don't they look
ridiculously good?
Well, they are…I can't lie to you, they are the 'gone-in-one-day' type of cookies, the type of cookies that all your friends ask the recipe for when you bring them over for your annual Cookie Exchange! Want to make some and become the star of your next Holiday Affair?
Ok
, then here is what you need:
Homemade Girl Scout Tagalong Cookie Recipes
Ingredients
Peanut Butter (I like to use natural, but any kind will do!)
1 roll Ritz crackers
½ bar chocolate bark
1 Tbsp shortening
Waxed paper
**If you have a peanut allergy, you probably could substitute with another type of "butter" product and get equally amazing results. I've never tried though, it's just a thought.
Instructions
Spread peanut butter on Ritz crackers making them into sandwiches.
Heat up the chocolate bark and shortening together until melted (via the chocolate bark package directions).
Dip each Ritz sandwich into the melted chocolate and set onto waxed paper to cool.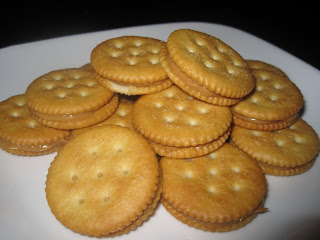 Use the whole roll of Ritz crackers and make a boat load of peanut butter sandwiches. Then, put your 1/2 block of chocolate bark in microwaveable bowl along with the shortening and melt via the package instructions. Then, all you do is dip and cover all the sandwiches in the gooey chocolate and place on a sheet of waxed paper to dry. That's it,
instant gratification
in the cookie-making world!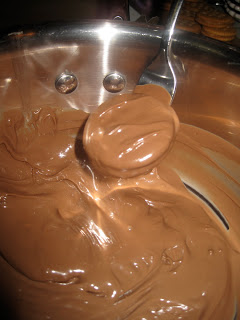 **Side Note** When you dip your sandwiches in the chocolate use a fork. That way it's easier to let all the excess chocolate drip off the side of the pan before you place them on your waxed paper!