One of our favorite family activities to do in the fall is to take a few hours out of our busy week and pick apples together. We are blessed with a large number of great apple orchards here in Chicago and we try to hit up at least one each weekend! Our favorites are the smaller mom and pop orchards because you get lots of lovely heirloom and not super-popular grocery store varieties along with a beautiful country setting…love x one million!!! With a family of 6, we go through a half a bushel of apples like it's nothing, making all sorts of apple goodies like homemade applesauce (recipe found here), caramel apple ice cream sundaes (recipe found here), apple cake, apple crumble, and one of most favorite desserts, Easy Gluten Free Apple Crisp! It whips up in no time and has good for you ingredients so you won't feel so bad having seconds or thirds!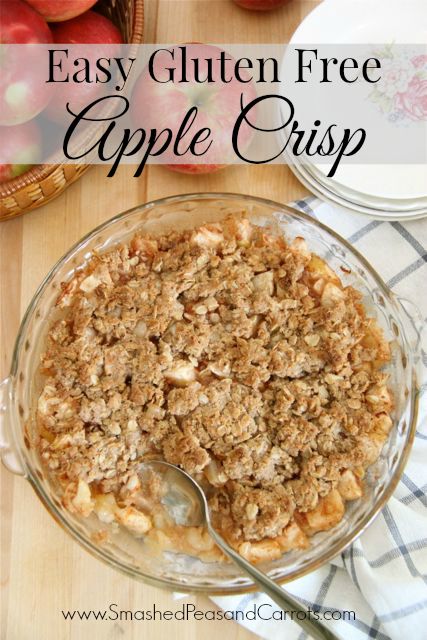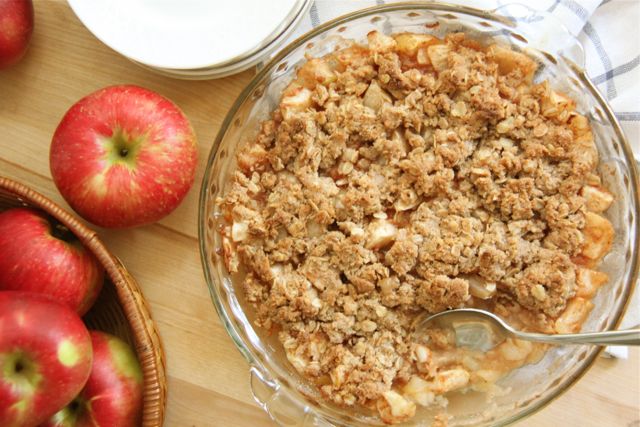 This recipe is gluten and dairy free and tastes like a million bucks. You can also use regular flour and oats if you aren't concerned with gluten and it shouldn't affect the taste one bit! I like to use a variety of apples to make our crisps so really, anything you have on hand will do…MacIntosh, Gala, Jonagold, Golden Delicious, etc…we've used them all and they all taste great in this crisp! If you really like the "crisp" part of the crisp, may I suggest doubling it? We fight over that part in our house so I always seem to make twice the amount!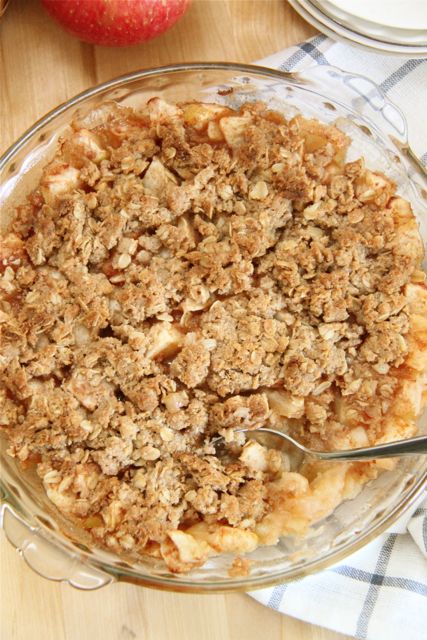 Easy Gluten Free Apple Crisp Recipe
Ingredients
For the Crisp:
1 cup gluten free oats
½ cup gluten free flour or almond meal
¼ cup maple syrup
¼ cup coconut oil in solid state
½ tsp cinnamon
½ tsp vanilla
⅛ tsp salt
For the Apple Filling:
3-4 large apples (or 5-6 small apples), peeled and chopped
2 Tbsp coconut oil in solid state
2 Tbsp gluten free flour
1 tbsp lemon juice
½ tsp cinnamon
Instructions
In a medium size bowl, mix all the apple filling ingredients together and stir until well combined.
Place apple filling mixture into an ungreased 8 x 8 inch pan or a pie plate.
Next, in another medium size bowl, mix together the ingredients for the crisp and stir until well combined. The mixture will be clumpy!
Place the crisp mixture over top the apples, making sure to cover as much of the apple filling as possible.
Bake at 375 degrees for 30-35 minutes or until crisp is golden brown and filling bubbles.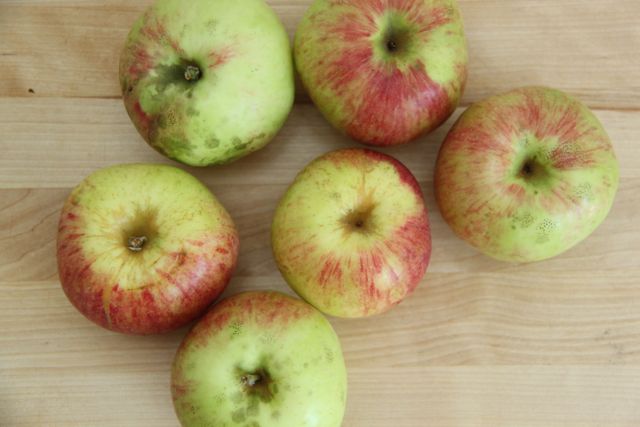 I love the imperfections of apples picked straight from the tree…all pretty in their own way!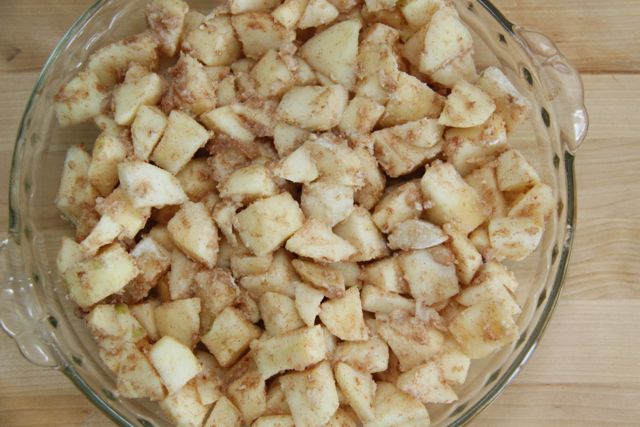 First things first, peel and chop your apples and mix them with some cinnamon, gluten free flour, lemon juice, and coconut oil. Add the mixture to a pie plate and set aside while you make the crisp's topping.

To make the crisp, mix together some gluten free flour, gluten free oats, coconut oil, cinnamon, maple syrup, vanilla, and a dash of salt. Crumble on top of the apples and bake at 375 degrees for about 30 minutes.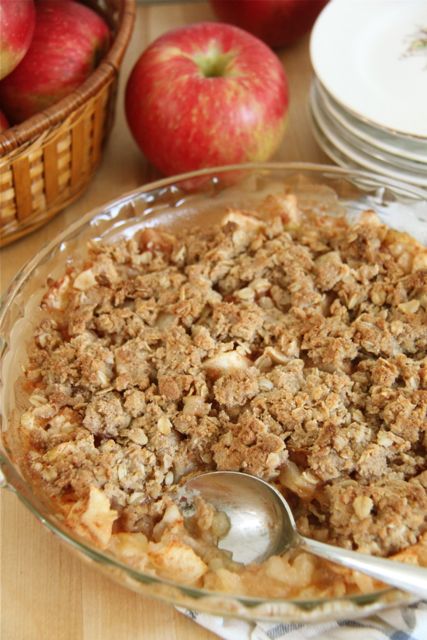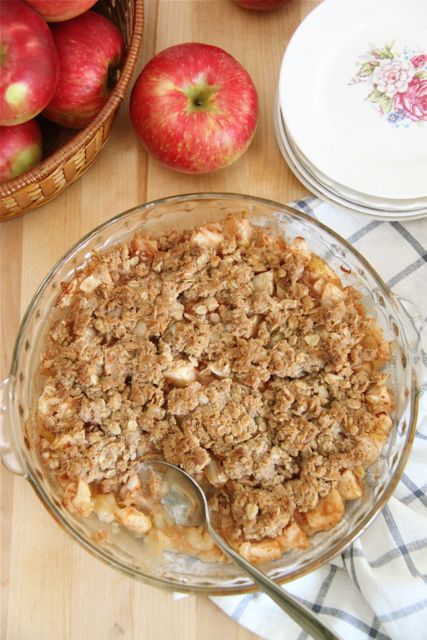 Then soon enough you will have this deliciously smelling and fabulously tasting dessert to share!! Try it topped with some plain vanilla or coconut vanilla bean ice cream…soooo good!!
Thanks for stopping by today!!
Love,
Maggie