OMGosh you guys! When Amazon had their Prime Day a few weeks ago I finally took it upon myself to order the Instant Pot that EVERYONE has been raving about! Have you heard about this neat little appliance? It is a slow cooker, a rice cooker, and a pressure cooker and more all-in-one. What had me at hello was all the people telling me you can make a last minute meal (think pot roast, ribs, chicken) and even from frozen meat…in less than 30 minutes! Whaaaat??? Right, I was like "no way!" too!!! You can even make Bone Broth in it in half the time! I have been non-stop making things in it, and let me tell you everything comes out great (and fast!) Today I thought I'd share one of our super easy and quick summer dinners, Easy Instant Pot BBQ Ribs, it's one of our favorite Instant Pot recipes!!! (affiliate links present)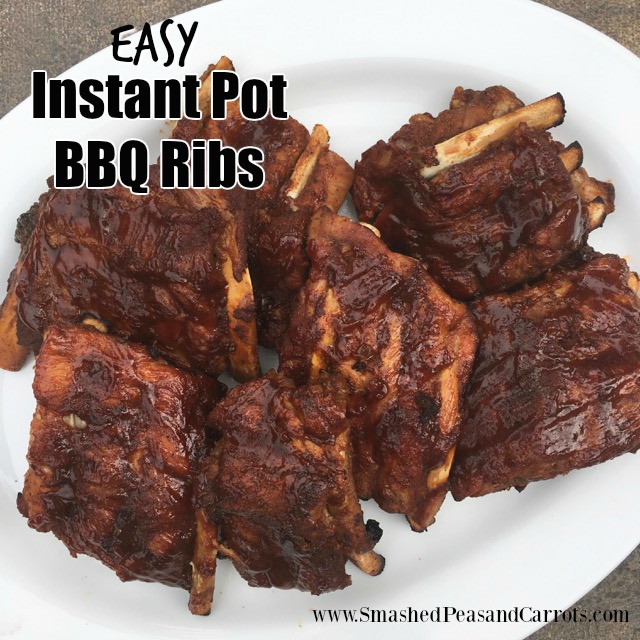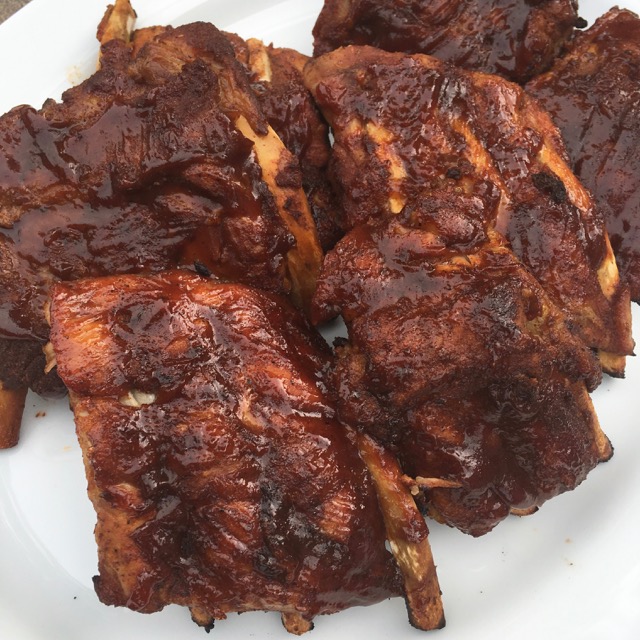 I super love this ribs recipe because there is really nothing bad in it, it is a pretty clean meal…just make sure if you want it paleo you use a Paleo BBQ sauce that is void of all the extra junk! I typically make two slabs of ribs for our family int the Instant Pot but might have to start getting a third…my oldest is eating like a horse these days!!!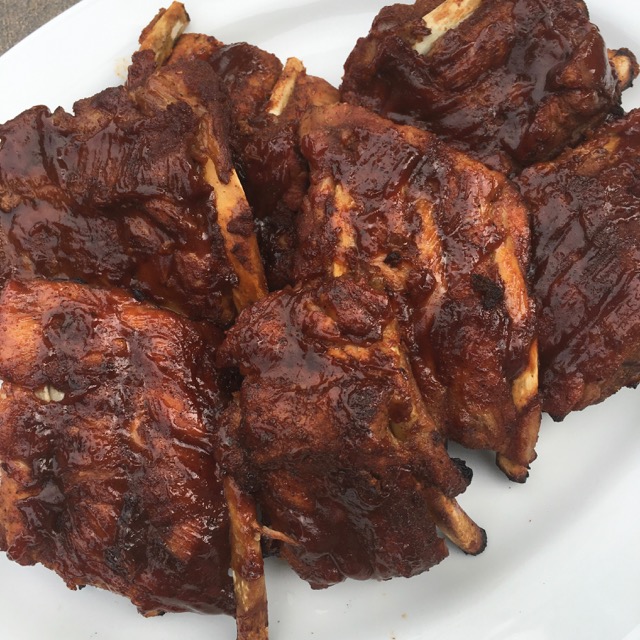 Hope you enjoy this recipe!! And if you are looking for more Instant Pot Recipes check out our Instant Pot Shredded Beef Tacos or our Hard Boiled Eggs.
Easy Instant Pot BBQ Ribs
Easy Instant Pot BBQ Ribs
Ingredients
2 slabs of ribs
½ cup water
½ cup chili powder
salt and pepper to taste
1 cup BBQ sauce, divided
Instructions
On a foil wrapped baking sheet, cut your rib slabs into pieces and cover generously with chili powder.
Salt and pepper lightly to taste.
Next, add the water to the base of the Instant Pot.
Add your ribs to the Instant Pot and pour ½ cup BBQ sauce over top of them.
Lock the lid, and make sure the vent is sealed.
Press the Manual button and increase cooking time to 30 minutes.
After the Instant Pot is done cooking, release the steam valve and let all the steam out.
Unlock the Instant Pot and take your ribs out carefully (things are very hot!)
If you like, you can place the ribs on a hot grill (400 degrees), adding the additional BBQ sauce over top the ribs, and cook for an additional 5 minutes per side to crisp them up.
*You can thicken the remaining sauce in the Instant Pot by keeping the lid off and pressing the Saute button. I occasionally stir the mixture and in about 20-30 minutes the sauce is thick and ready to use on your ribs!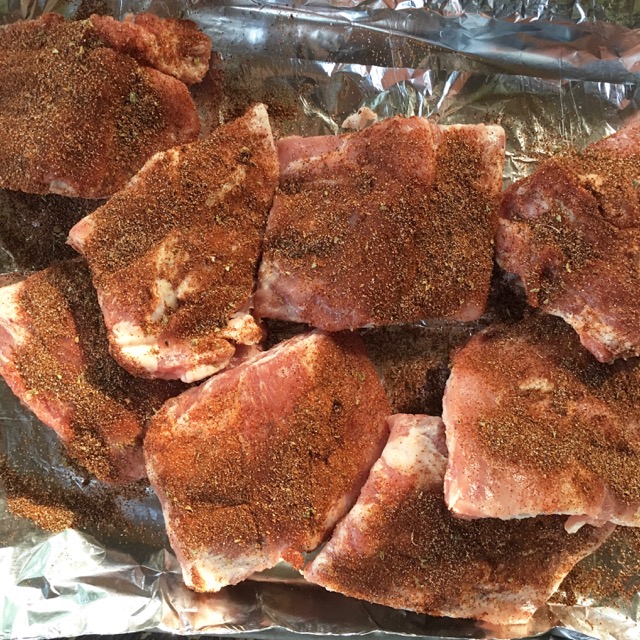 I love me some ribs!! I always coat ours with lots of chili powder and a sprinkling of salt and pepper!
They go into the Instant Pot with 1/2 cup water. Then I add a 1/2 cup of BBQ sauce on top of the ribs, lock the Instant Pot lid, close the vent, and cook on the Manual Setting for 30 minutes.
Once the
Instant Pot
is done, I carefully release the steam, unlock the lid, and place the ribs on our grill for about 5 minute per side. I always coat the ribs with the remaining BBQ sauce too!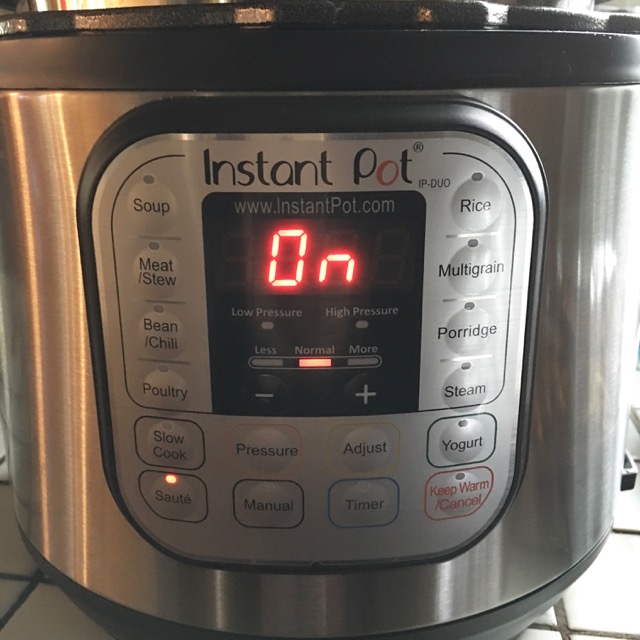 I thicken the left over sauce that is in the Instant Pot by pressing the Saute Button and leaving the lid off. It takes 20-30 minutes to thicken the sauce up (and I occasionally stir it!) Then you can eat it with you ribs or save it in your refrigerator for another meal!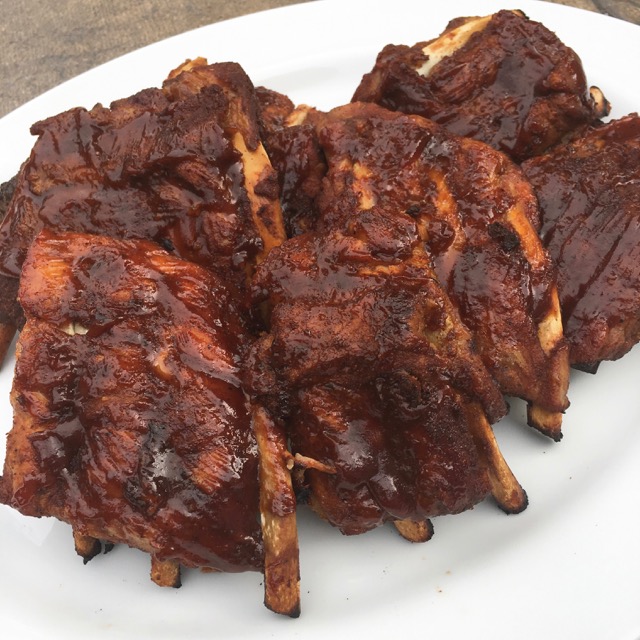 Easy Instant Pot BBQ Ribs…really! I love they it doesn't take two plus hours to make ribs now!!!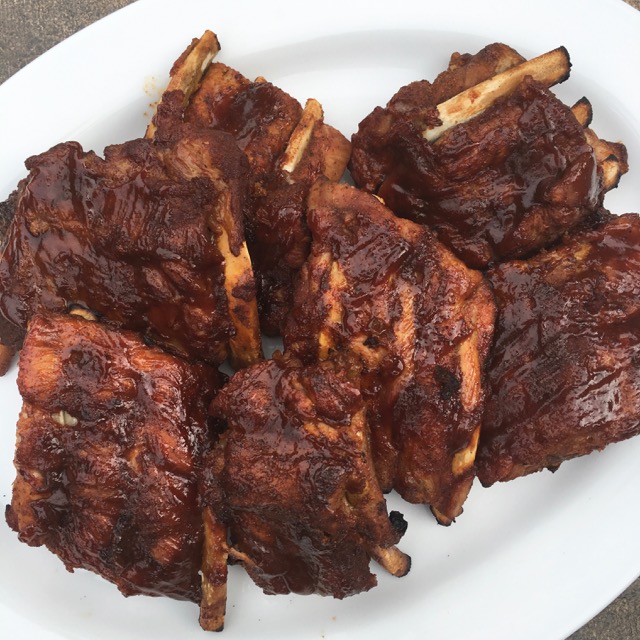 If you have an
Instant Pot
(or another pressure cooker) I hope you enjoy this quick meal! And if you don't have one, I highly suggest getting one! Well worth the time saved in making a meal…I wish I would have bought one sooner!!
For more easy recipes, crafts, tips and tricks please LIKE Smashed Peas and Carrots on Facebook or follow me on Instagram or Pinterest for more great ideas!
Thanks for stopping by today!
Love,
Maggie