So
, I had a lovely reader email me last week with a question on how to do 3-D decor letters. I can't remember exactly who it was but I do remember that she was from England,
so cool.
I just read the email in my head using my English accent that only sounds good in my head…it sounds so good until I say it out loud, why is that!?!
Well, I tried my hand at making some and this is what I came up with: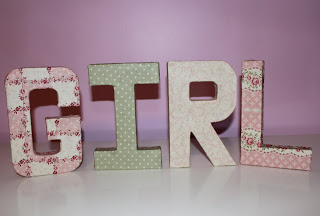 I hope this is something close to what she had in mind!
Oh
, and by the way, I just want to tell you all how I
love
all the emails you send me! It's so nice to open my inbox and see piles and piles of email from all over the country and the world. Some of you just want to say "
hi
" while others of you have questions about crafts of sewing projects or just want to send me some pictures of what you made from my tutorials!! Oh, how I
love
it!! Sometimes, I can't get back to you right away and I'm sorry about that, but I really do try to get back to all of you! And for all the comments I get, I also wanted to say a big
thank you
too. I love all your comments because it let's me know who is reading my blog and what you all like to see more of. It's also how I get to find out about all your awesome blogs too!!!
Thank you
from the bottom of my
heart!!!
Ok, so on with this craft…
Here is your list of items you will need to make some for yourself:
Fabric Block Letters
Cardboard or Paper Mache letters (I saw them called both. I bought mine at the Hob Lob but I realize this store may not exist in England, hopefully these two names will help you find them!)
1/4 yard of fabric for each letter
rotary cutter and mat
x-acto knife
modge podge
foam brush
freezer paper
**My letters were 50% off at Hobby Lobby so they ended up being $1 each and the fabric was $1 per 1/4 yard. So this total project was $8…not bad for all that CUTENESS!!!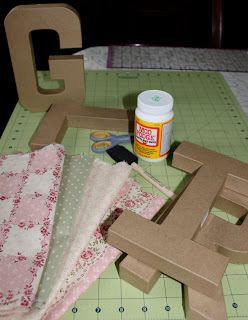 Your accomplices for this project.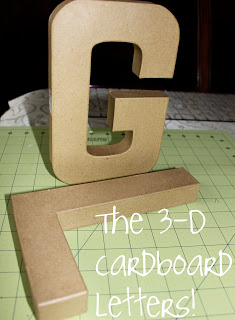 Here is what the cardboard letter look like close up. If you have letters like a "P" that are top heavy you can cut into the base with an x-acto knife and fill the bottom with some rice or plastic pellets to keep it stable!