Well, it's getting to be about that time…time for the First Day of School, eeep! We still have a week of summer vacation left and we are savoring every last minute of it. I swear summer goes by faster and faster every year…sigh. Have you kids gone back yet? If not, let me share with you a fun idea for those super cute Back To School photos that everyone loves taking on that very first day. If you are looking for a new tradition for first day of school pictures or just want to do something different or shake things up a bit, you will love this super easy First Day of School Balloon Arch with number balloons they can hold up for their specific grade!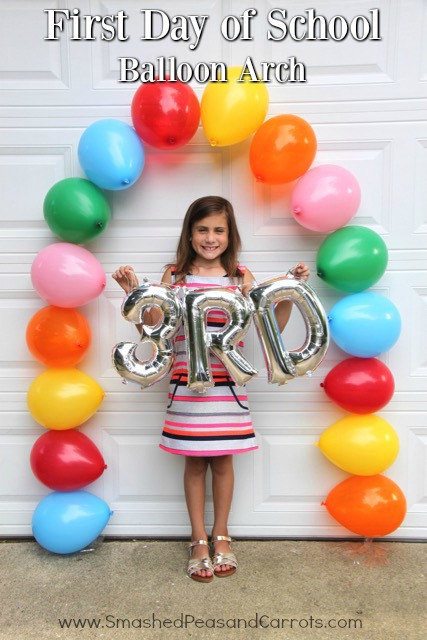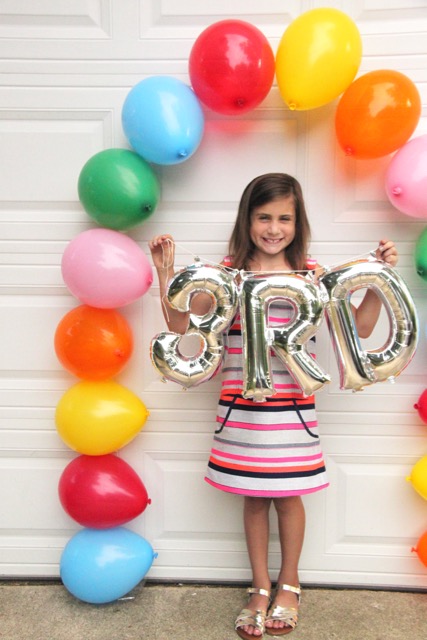 I'm telling you, this balloon arch take 30 minutes to one hour at most to put together, it is so fast! Especially if you are using a Balloon Time Helium Tank which I love and always have on hand for all my random kid/craft things! Gotta love some good balloon decor! 🙂 You seriously only need a few basic things to get this arch up and running and I've got a secret easy way for you to get your arch just perfect without getting all tangled up…you will never believe what works so darn perfectly for this!!!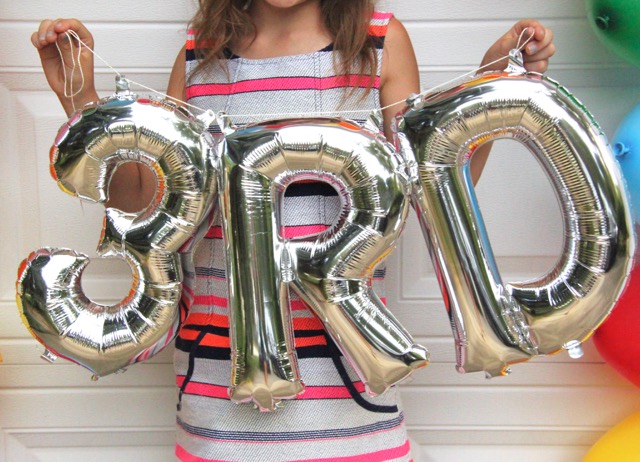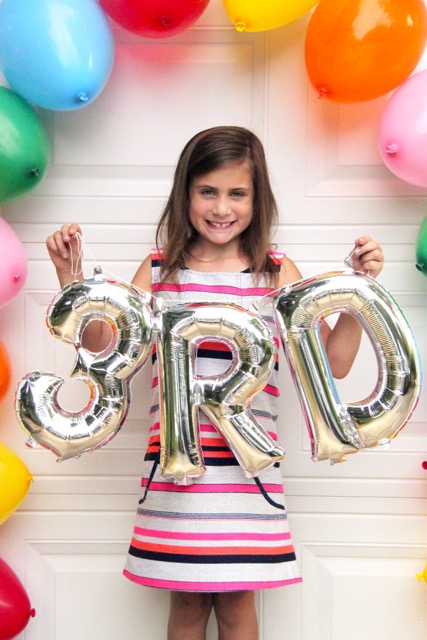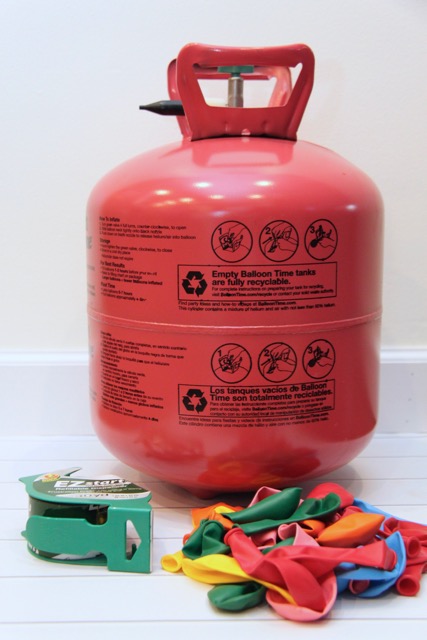 Here's what you'll need:
One roll of packing tape (my secret supply!)
About 20 Balloons
That's it? You're asking…right? I'm telling you, it's a fast and easy project that looks oh so good!!!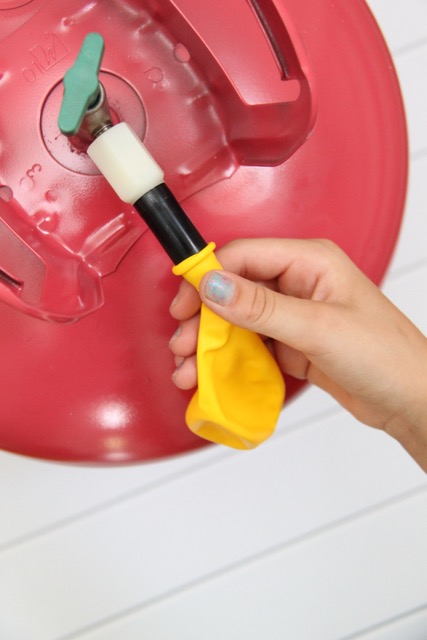 First things first, if you aren't super tall and can't grab your balloon easily after they float off to the ceiling like me, you will want to blow one balloon up at a time. It's okay, it still goes quick once you have the first balloon done!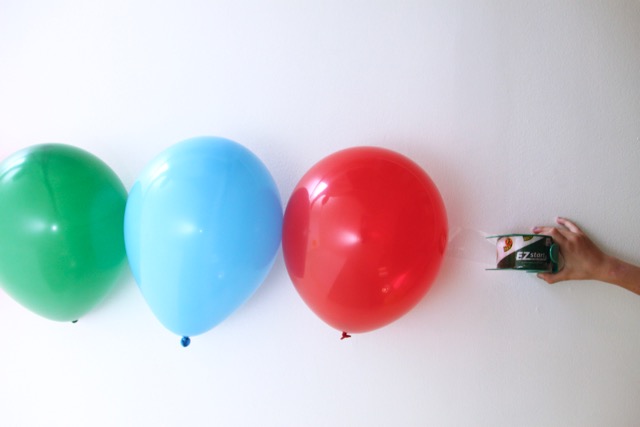 Grab your roll of packing tape and pull about 2 feet of it out…do not cut the tape! Fold the tape over onto itself (sticky sides together) so that it can act like a tail. This will be one end of your arch and you will use this section to tape it to the ground.
Next, pull a 8-10 inch section of tape out the folded out section and lay it on your table or floor. Blow up your first balloon, tie it, and carefully press the middle section onto the sticky side of the packing tape. See where we are going with this now?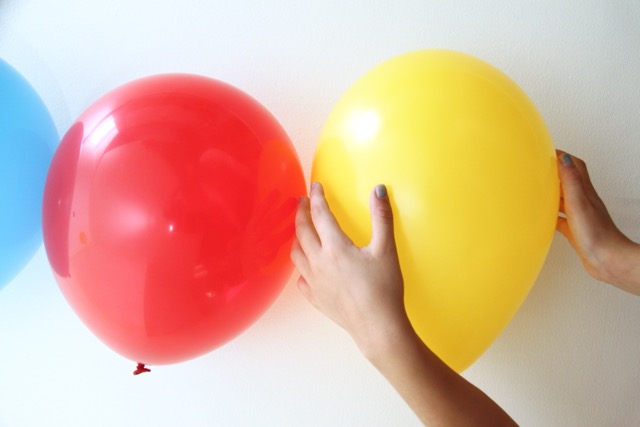 Now just keep pulling new sections of tape, blowing up and tying your balloons, and pressing them to the tape. Soon enough you will have a perfectly connected line of balloons floating to your ceiling!!! I used about 16 balloons for my arch which nicely fit my new 4th, 3rd, 1st, and preschooler. You may need more for a taller or older child.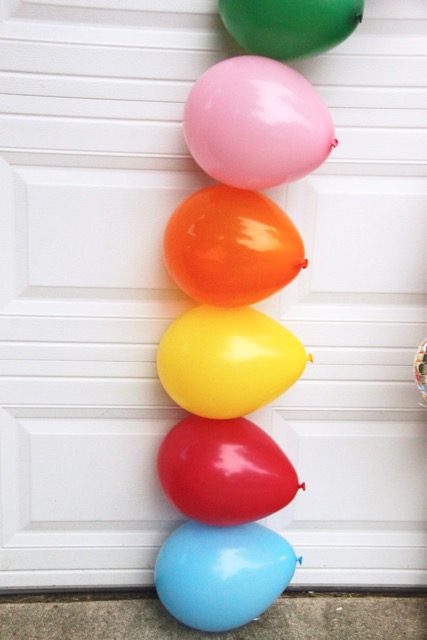 Once you are done attaching your balloons, pull out another 2 foot section of packing tape and fold it over onto itself again so that you have another tail to attach it to the ground.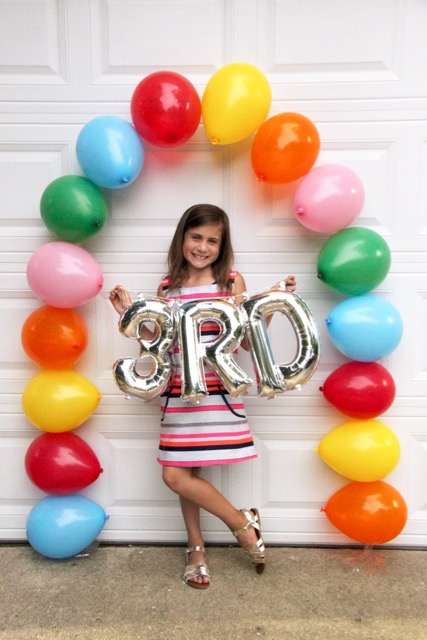 I attached one end of the arch to the ground first and the helium filled balloon floated into the perfect arch, then all I needed to do was attach the second tail to the ground with more packing tape.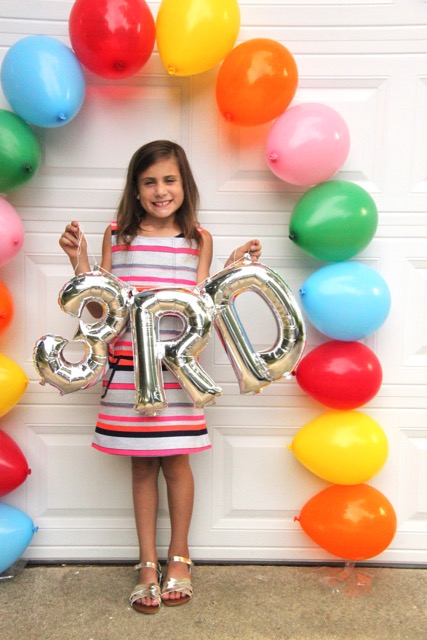 For each child, you could have them hold a chalkboard, a printable, or these fun number/letter balloons so that you will always remember what grade they were going into that year.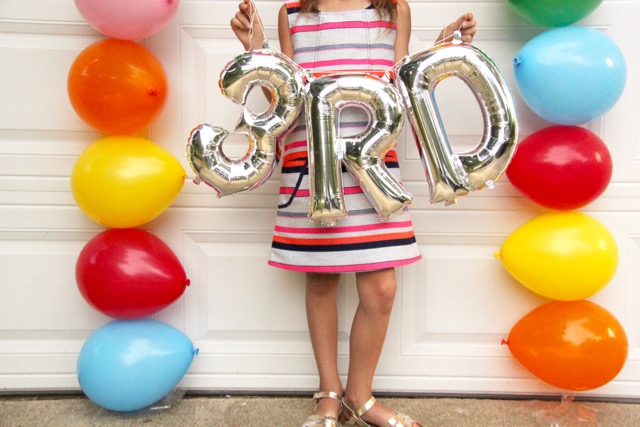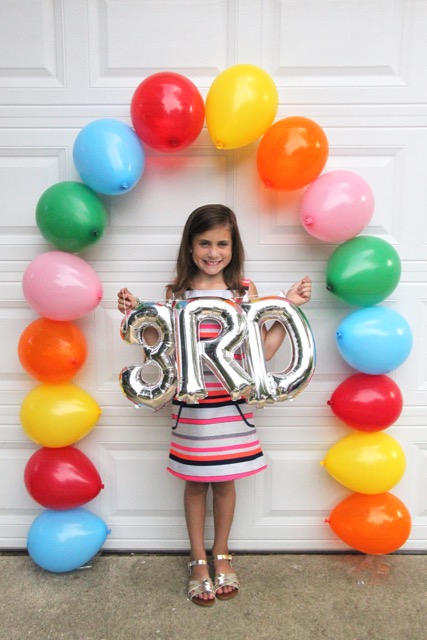 Super cute and colorful…and perfect for that First Day of School photo shoot!! 🙂
Thanks for stopping by today!
Love,
Maggie
This is a sponsored conversation written by me on behalf of Balloon Time. The opinions and text are all mine.