Here
is a super easy crockpot meal that is great for a super fast weeknight dinner or a weekend get-together with a house full of good friends.
We like to make this when we have company over, we start it in the morning and by the time nap time is done and everyone has gathered at your place you have an easy meal that didn't keep you in the kitchen all day…
Hip Hip Hooray!
It's also great for football season, since it's carnivore-friendly and the men-folk can load up their sandwiches with piles of meat during the shortest of commercial breaks!!
Make it soon, you'll be soooo glad you did 🙂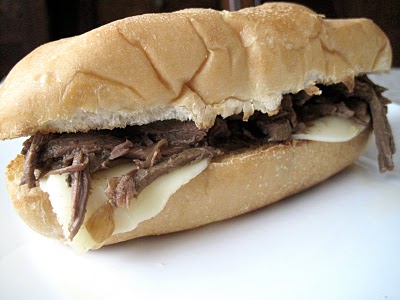 Oh yummy, yum, yummerson!
Kids aren't the
only
ones who love to dip their food 🙂
Crockpot French Dip
Ingredients
4 pounds of some type of roast meat (rump roast, chuck roast, etc!)
1 can (10.5 oz) beef broth
1 can (10.5 oz) french onion soup
1 bottle or can (12 oz) beer (or equal amount of water or broth)
french rolls or other crusty rolls
sliced cheese (we love Swiss or Provolone with these!)
Instructions
Place your roast in the crockpot and pour the broth, french onion soup and beer on top.
Cover and cook on low heat for 7-8 hours.
About 30 minutes before eating, take out the meat and shred.
Place meat back into the juices and stir to flavor all the meat.
Split your rolls and top with sliced cheese.
Bake at 200 degrees for about 10 minutes or until rolls are nice and toasty.
Top rolls with shredded meat and add a cup of the au jus (yummy meat juices) on the side to dip your sandwich into.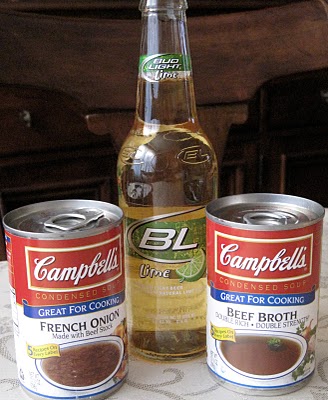 Place your roast in the crockpot along with one can of French Onion Soup, Beef Broth and a Bottle of Beer…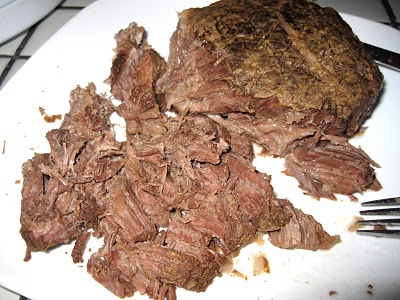 Take out your meat about a half hour before eating and shred it up into nice sandwich-sized pieces.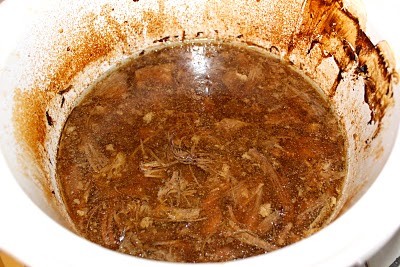 Put the meat back in the juices and let simmer until you are ready to eat…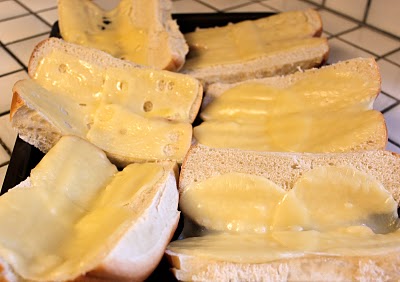 W
h
en you're ready to eat, split your rolls and toast in the oven at 200 degrees for 10 minutes or until your cheese is good and melt-y!