Need an easy appetizer? Looking for something healthy and yummy to make for an afternoon snack? Want something fun to make for a play date that even the kiddies will L-O-V-E? How about something pretty and tasty to make for mom on Mother's Day this year? Then you need to make this recipe…stat.
This Fruit Salsa recipe is ridiculously easy and will be gone in the blink of an eye, seriously. It's one of those laid back recipes I have in my little 'ol recipe box that can accommodate lots of different seasonal fruit making it perfect for serving most of the year. The Cinnamon Chips that you dish it up with, uhhh, what can I really say, I think the name says it all…Cinnamon. Chips. Yeah, basically awesome!
What did I tell you? Looks good, doesn't it!!
Fruit Salsa and Cinnamon Chips
Ingredients
1 apple (granny smith are great but really any variety will do!)
2 bananas
2 kiwi
1-2 cups strawberries, blackberries, raspberries, blueberries, grapes, mandarin oranges (frozen will even do!)
1 tbsp lime juice
2 tbsp sugar
½ teaspoon cinnamon
½ teaspoon nutmeg
Cinnamon Chips:
1 package of flour tortillas
½ cup butter, melted or softened
¼ cup cinnamon
¾ cup sugar
Instructions
Peel and dice your apple, bananas, kiwi and any other fruits that need to be cut into salsa-sized pieces and place in a medium size bowl.
Add in any additional smaller fruits and berries and lightly mix together.
In a small bowl, mix together the lime juice, sugar, cinnamon, and nutmeg.
Pour over fruit mixture and mix gently until well incorporated, refrigerate for 15 minutes to let the juices mix.
Cinnamon Chips:
Mix cinnamon and sugar together in a small bowl and set aside.
Cut your tortillas into chip-sized triangular pieces and place onto a greased cookie sheet.
Brush melted or softened butter over the tortilla pieces.
Sprinkle each tortilla chip generously with the cinnamon-sugar mixture.
Bake at 350 degrees for 5-10 minutes.
Cool and serve with fruit salsa.
*A little side note from me to you...I sometimes don't have any butter and instead just spray my tortillas with a butter-flavored cooking spray and then sprinkle the cinnamon-sugar mixture over them. They come out just as tasty and with a bit less fat per chip too!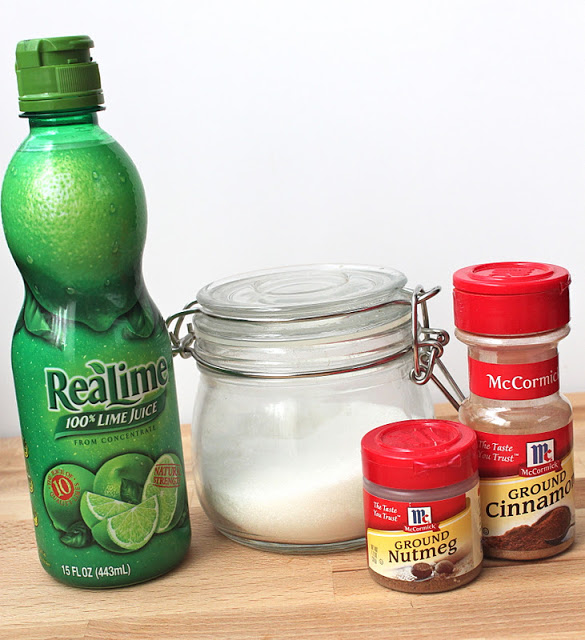 The goods to make the salsa's secret sauce!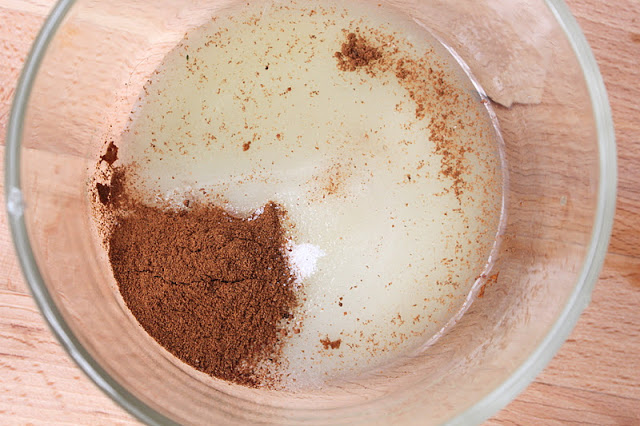 To make the Fruit Salsa:  first peel, dice, and chop up any fruit of your choice…whatever is in season or that you have on hand.  Then make the salsa's sauce by mixing together 1 tablespoon lime juice, 2 tablespoons of sugar, and 1/2 teaspoon each of cinnamon and nutmeg.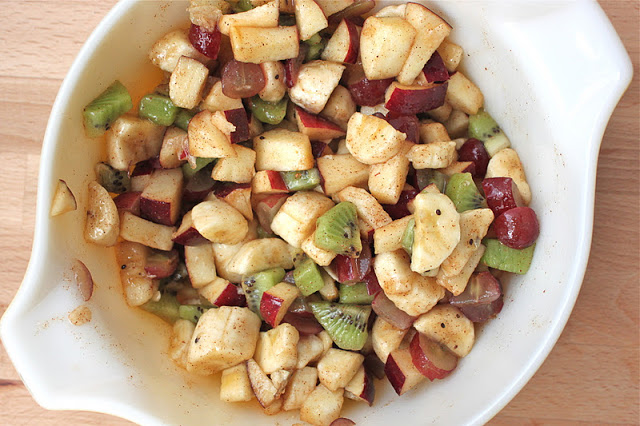 Pour over top of the chopped fruit and mix until well incorporated.  Let sit in your refrigerator for 10-15 minutes so the flavors mix together nicely.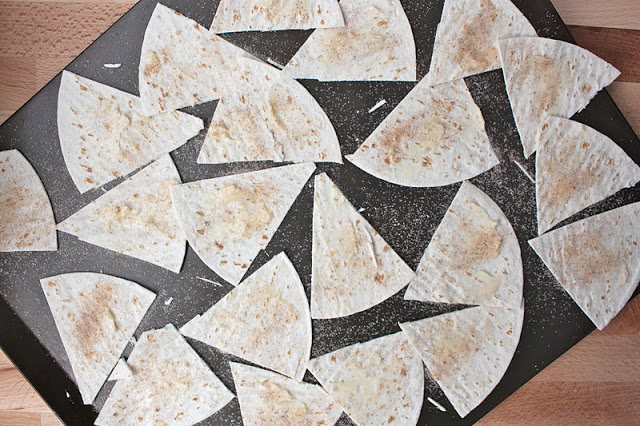 To make the Cinnamon Chips:  cut your tortillas into chip-sized pieces, brush with melted or softened butter (or even spray with a butter-flavored cooking spray), and sprinkle with the cinnamon-sugar mixture.  Then bake these little lovelies at 350 degrees for 5-10 minutes!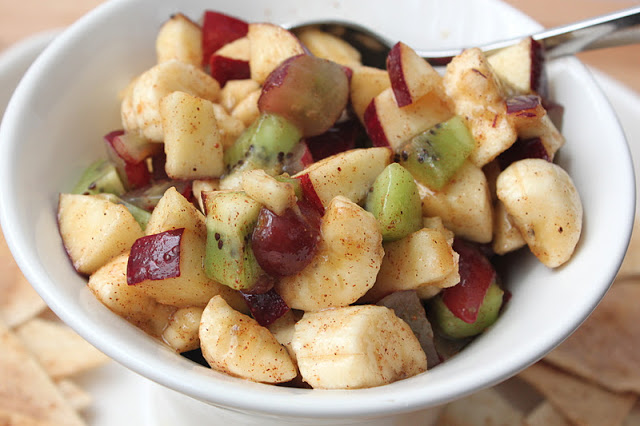 Delicious AND nutritious…no?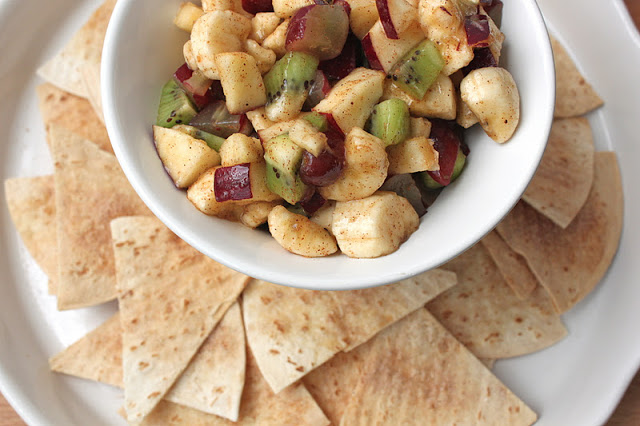 Let the party begin!