These soft and chewy Gluten Free Vegan Oatmeal Raisin Cookies make a great on-the-go breakfast option and an even better healthy snack or dessert that has just the right amount of sweetness to satisfy your sweet tooth!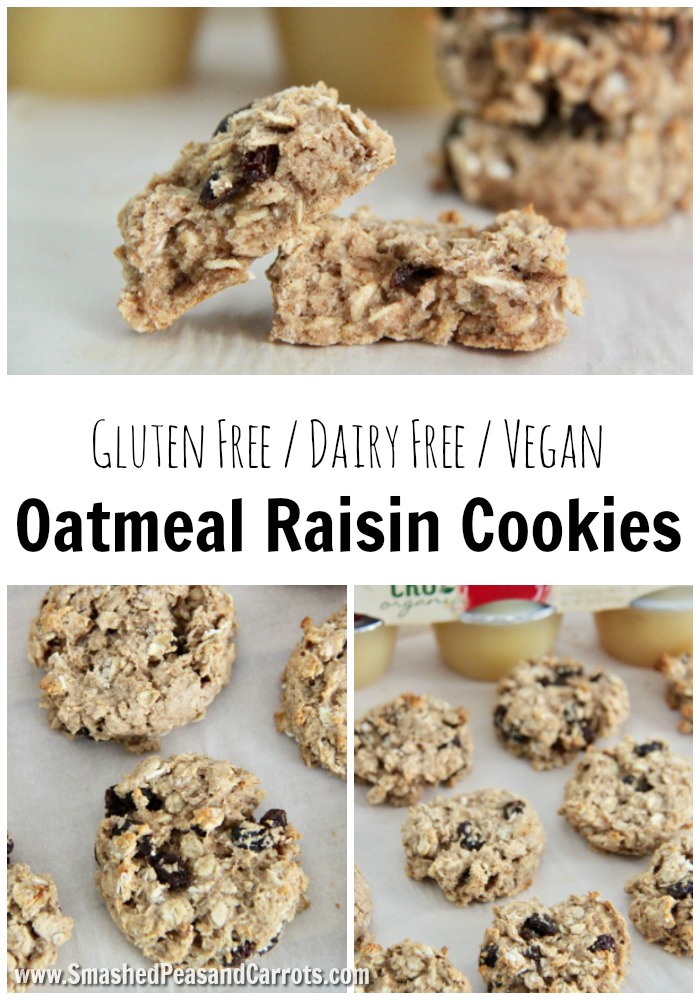 I love a good oatmeal raisin cookie but sadly enough, most of them are just too sickeningly sweet for me…and I love my sweets! So what's a girl to do? Well, create her own oatmeal raisin cookie sounds about right to me! These Gluten Free Vegan Oatmeal Raisin Cookies are just perfect in my opinion. They are soft and chewy and sweet but not too sweet because instead of using white and brown sugars, I used local organic honey and Santa Cruz Organic Applesauce as my sweeteners. Aaaaand because I used applesauce I was able to not use any egg as a binder which makes these babies vegan too!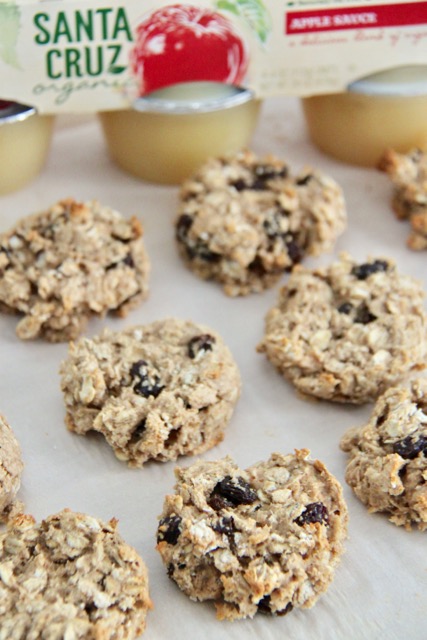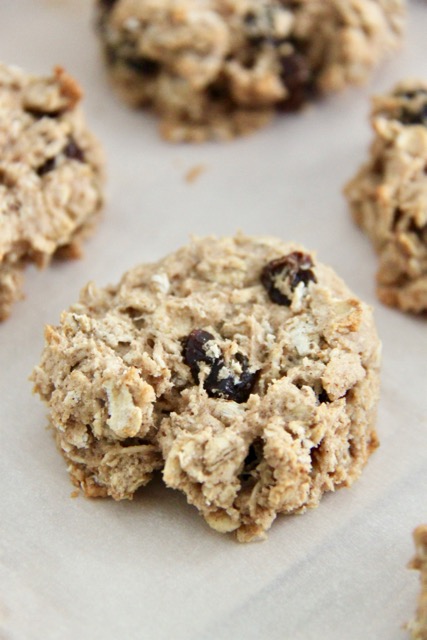 A few things about making these cookies:
Definitely chill the dough for about 30 minutes before baking, this will stiffen up the batter and make it easier to handle…and drop the cookies onto your baking sheet.
Use parchment to line your baking sheet for easy clean up baking!
These cookies will not spread. So if you would like them flatter instead of a mound, wet the bottom of a glass and press it on top of each cookie before baking.
Using cinnamon flavored applesauce makes these even more delicious…give it a try!
Gluten Free Vegan Oatmeal Raisin Cookies
Gluten Free Vegan Oatmeal Raisin Cookies
Ingredients
1 cup organic gluten free oats
¾ cup organic gluten free flour
1½ tsp organic cinnamon
1½ tsp organic baking powder
¼ tsp organic himalayan salt
4 oz snack container Santa Cruz Organic Applesauce
¼ cup organic honey or maple syrup
2 tbsp organic coconut oil (in liquid state)
1 tsp organic vanilla
¼ cup organic raisins
Instructions
In a medium sized bowl, mix the dry ingredients together until well blended.
Add in the wet ingredients and mix until well combined.
Add in the raisins last, mixing until well incorporated.
Drop by the scoop onto a parchment lined baking sheet.
Flatten by wetting the bottom of a glass and pressing on top of each cookie mound.
Bake at 350 degrees for 15 minutes or until golden brown.
Cool for 5 minutes and ENJOY!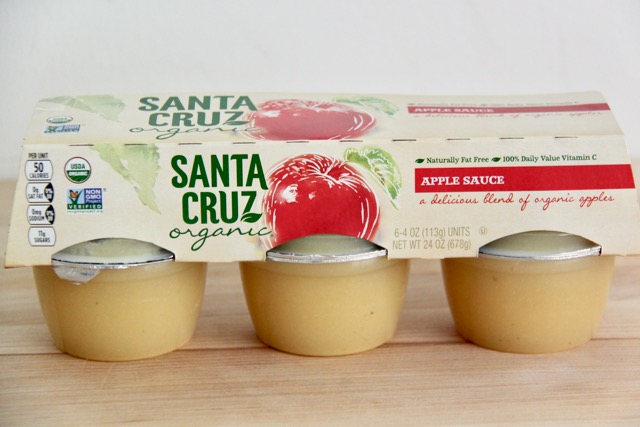 Did you know that Santa Cruz Organic blends USDA certified organic apples with spices and pureed organic fruit to create fun and flavorful Fruit Sauces with no added sugar. For a nutritious snack on-the-go that the whole family will enjoy, pack Santa Cruz Organic Fruit Sauce Cups, available in Apple, Apple Apricot, Apple Peach and Cinnamon Apple varieties.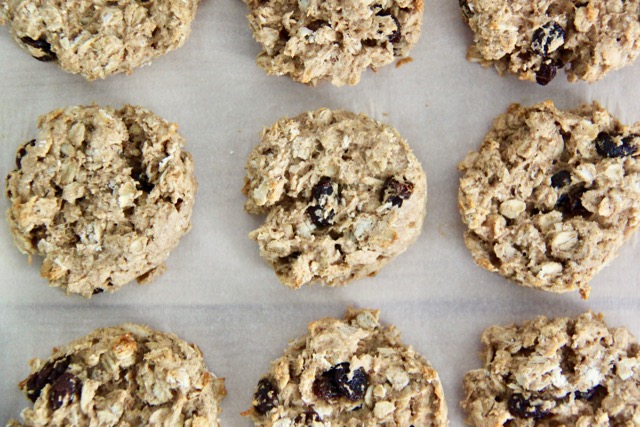 I like to incorporate organic foods and try to live a sustainable life as much as I possibly can because with a family of six I definitely see the carbon footprint we leave with the amount of things we go through on a weekly basis. A few things that you we do, that you can do too, to live life more sustainably are:
Grocery shop with your own reusable grocery bags to cut down on the amount of plastic you family brings home.
Use reusable containers instead of plastic bags that end up in the garbage for lunches and on-the-go snacks.
When you buy individual containers (like the ones that applesauce is packaged in) reuse them as much as possible! They make great cups for painting projects, containers to hold erasers or other items in a homework station, or even snack cups to give your kids to eat in around the house!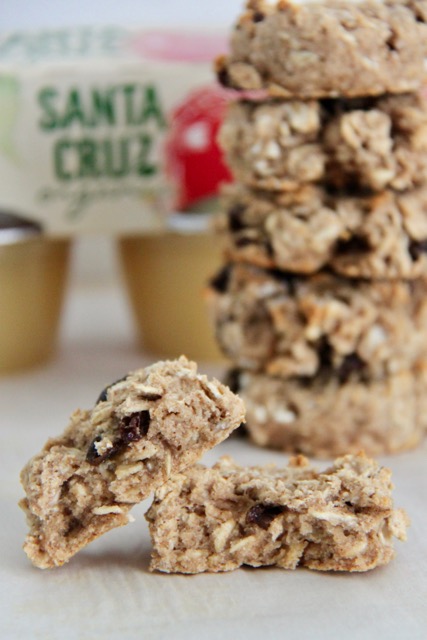 Learn more about the brand's commitment to sustainability. Everyone associated with Santa Cruz Organic – from manufacturers to growers – is dedicated to making environmentally sound choices. Sustainability for Santa Cruz Organic means supporting its resources, from the farms and suppliers to the energy used to produce the brand's certified organic products.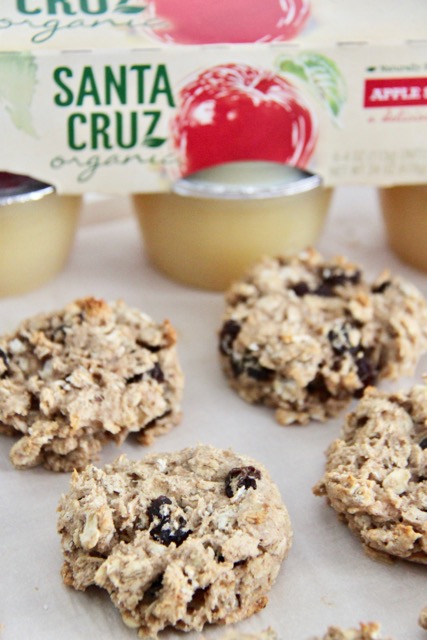 If you like this recipe, here are some of our favorite gluten free recipes you are sure to love too!
For more easy recipes, crafts, tips and tricks please LIKE Smashed Peas and Carrots on Facebook or follow me on Instagram or Pinterest for more great ideas!
Thanks for stopping by today!
Love,
Maggie
As a pioneer organic brand, Santa Cruz Organic® was the first to have a wide range of organic, 100 percent juices and blends and the first juice processor to use all organic fruit sourced from growers certified by an independent, third-party certification organization.  With a history of developing innovative products, Santa Cruz Organic currently offers more than 60 organic items ranging from organic fruit juices and lemonades to organic fruit sauces, chocolate syrups, peanut butters and fruit spreads. Visit www.santacruzorganic.com for more information
This is a sponsored conversation written by me on behalf of Santa Cruz Organic. The opinions and text are all mine.