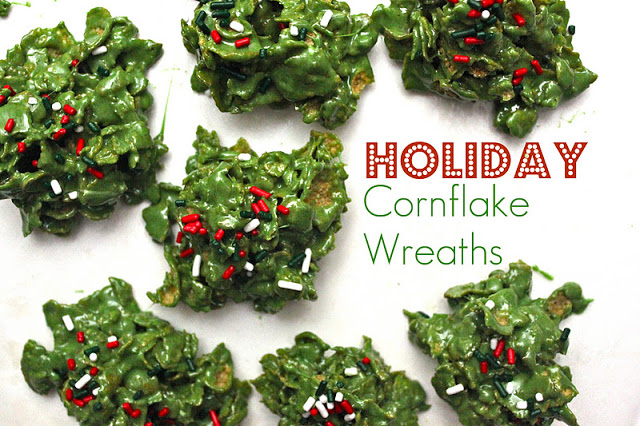 One of my favorite holiday treats to make (and eat!) this time of year are Holiday Cornflake Wreaths.  Maybe you make them too?  Oh man, they are so good.  We made these every Christmas when I was little and now I make them with my littles 🙂  Making them is a great activity for the preschool set too as they can help you pour the cereal, count out the marshmallows and of course lick the spoon and bowl when you are done…every kids favorite part, am I right!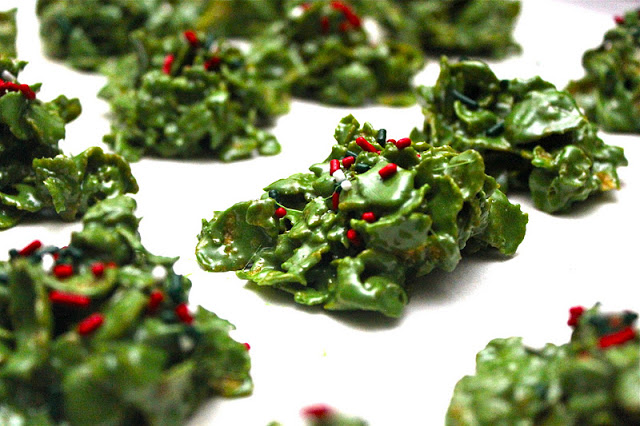 I always drop mine by the spoonful into individual mini wreaths because they are easier to add to our cookie trays we hand out every year but my momma always made one giant circular cornflake wreath for our family to enjoy.
Holiday Cornflake Wreaths
Ingredients
30 large marshmallows
¼ cup butter
1 tsp vanilla
2 tsp green food coloring
4 cups cornflake cereal
red decorating sprinkles or sanding sugar
Instructions
Place the marshmallows and butter in a large microwavable-safe bowl and heat for 1 minute in the microwave.
Stir until butter and marshmallows are completely melted.
Add in vanilla and green food coloring and stir until the color is mixed throughout.
Add in 4 cups of cornflakes and stir until completely coated.
Drop by spoonfuls onto a greased sheet of wax paper.
While still warm, add red sprinkles or sanding sugar for the holly berries.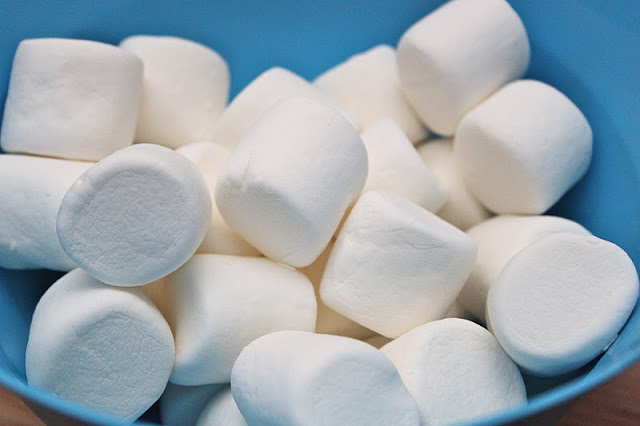 Grab yourself a bag of large marshmallows and count out 30 little puffs of happiness.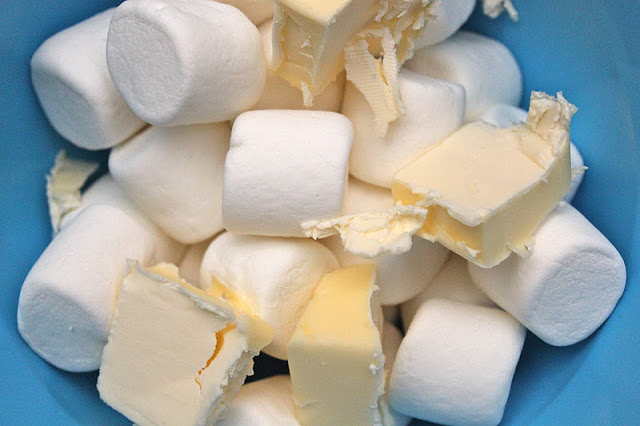 Place them in a microwave-safe bowl with 1/4 cup butter and microwave on high for 1 minute.  The marshmallows should puff up pretty big when done.  Grab a spoon and stir them until the marshmallows and butter are nice and melted.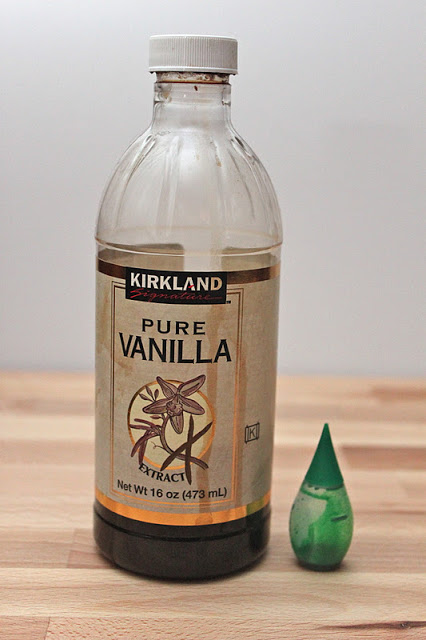 Then add in 1 teaspoon of vanilla and 2 tsp of green food coloring and stir until the food coloring is nicely incorporated.  Yup, as you can see I ran out of green coloring, hrmph!  I ended up using 1 teaspoon of yellow food coloring and 1 teaspoon of blue food coloring for this batch instead…yeah, we've been making these a lot this week 🙂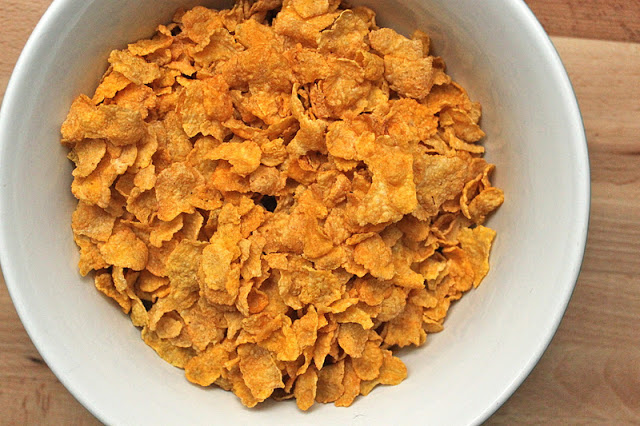 Then add in four cups of cornflake cereal.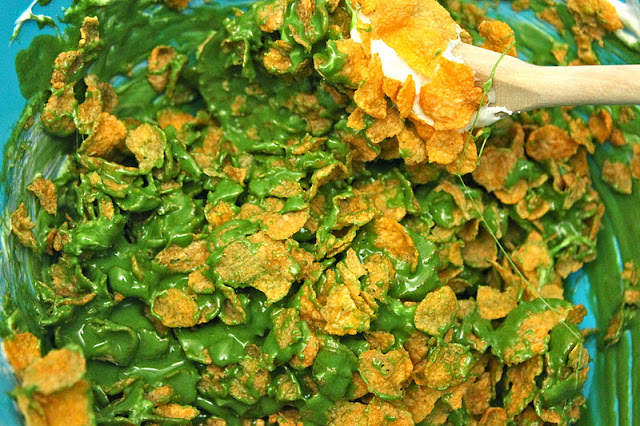 Stir it up until the cornflakes are well coated…nice and GREEN!  Then drop by spoonfuls onto a greased piece of waxed paper…Mmmm!  Now just to warn your this is only slightly a sticky mess, well okay, it's a huge sticky mess but a good one none-the-less.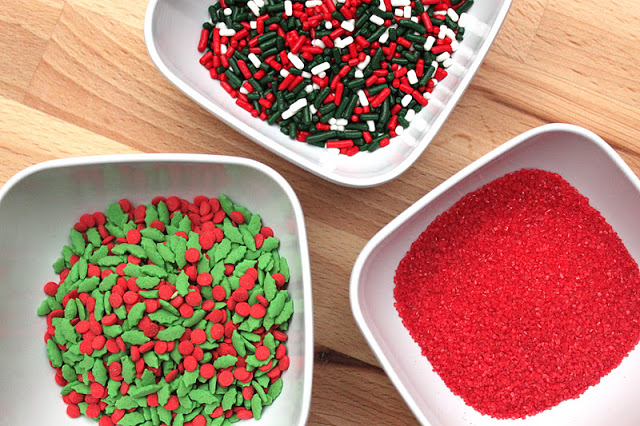 Then grab some festive red (and/or green) jimmies, holly bits or sanding sugar and lightly sprinkle them over top of each wreath.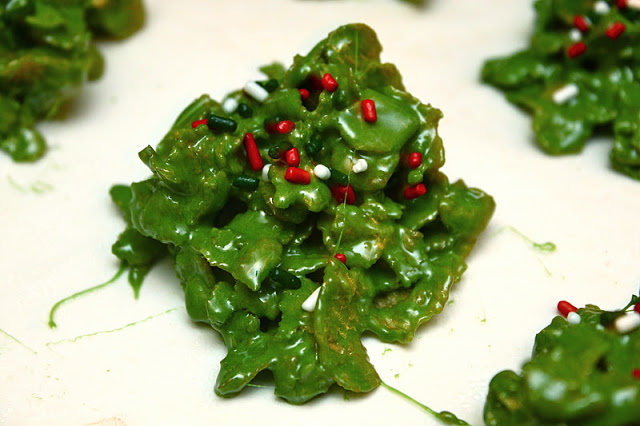 Just perfect, I say!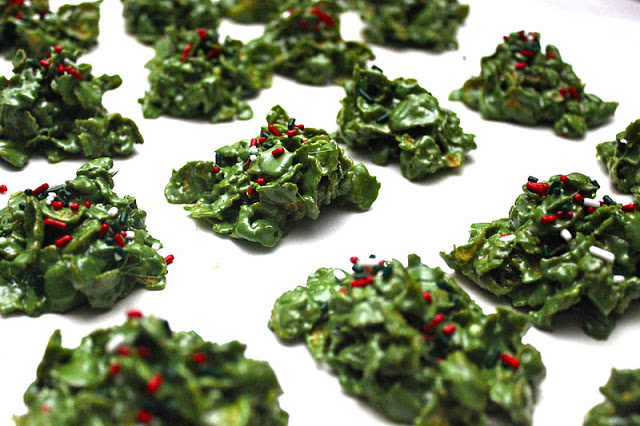 Make yourself a whole bunch of them and then have at those babies if your being naughty.
Or share if you're begin nice!
Merry Christmas to all!
XOXO,