Today, I wanted to share how we make Kombucha in our home. This has to be one of our most favorite drinks, we were buying it so much in stores (and that can get pricey with the 6 of us drinking it!) that we decided the best bet for our money would be to start making it at home. If you have never heard of Kombucha it is a fermented tea drink that has been around for a couple thousand of years that acts as a probiotic for your digestive system. The goal of any probiotic is to support and bolster the healthy bacteria (or as we tell the kids, "bugs") that resides in your gut (small and large intestine). Kombucha is made from a probiotic culture of bacteria and yeast contained in a "scoby" (which stands for Symbiotic Culture of Bacteria and Yeast). It is made from sweetened organic tea that is fermented from the scoby or the "mother". It often called a mother because it reproduces a second baby scoby with each fermentation. If drinking a fermented tea drink made of bacteria and yeast sounds weird, it's not!!! Bacteria actually outnumber our human cells 10 to 1. Thats's right! We are only 10% human when it comes right down to it. 😉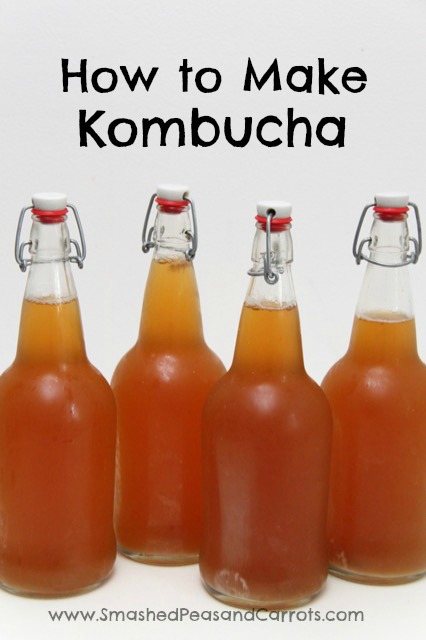 Here's a quick review about our digestive system for you that helps explain why probiotics are so important! 🙂
When we sit down to eat, food enters our stomach for some initial breakdown from churning in a nice acid bath. A few hours later, the food then enters our small intestine. This is where most of the protein, fats, and carbs are absorbed via microvilli. Not many of our bacteria (bugs) live here. Eventually the food is passed into the large intestine where we absorb a lot of the water which is filtered through the kidneys. The crazy thing about the large intestine is that this is where the majority of your bacteria / bugs / gut flora / microbiota live. We tell the kids to eat a variety of veggies because that food is for the bugs in your gut so they don't get hungry.  Sure, as you eat your vegetables, we are absorbing wonderful nutrients way back in the small intestine, but the fiber that we can't absorb will make its way to the large intestine. And guess who eats the stuff that we couldn't absorb earlier?! The Bugs!!! So when you eat processed, non-vegetable, non-fibrous types of food, you are only eating for yourself. BUT when you eat a variety of vegetables especially if you can eat the colors of the rainbow, you are eating for you and your bugs! And the amazing thing is that different veggies feed different bugs and "fill up their bellies" too. If your only veggies are the same two or three types… days in and day out, add some new ones in PRONTO! The variety of veggies will feed more that just you; they will feed a variety of bugs. And that will help you out in the long run.
You may wonder whats so important about the large intestine and these bugs that make up the gut flora and hence 90% of "our" cells. Inflammation is the key or actually keeping inflammation in check is the key. The intestinal wall acts as a barrier between what we eat and enters our blood. The bacteria that make up our gut flora maintain the tight junctions within the intestinal wall and coordinate our immune response. Believe it or not, the majority of our immune function and response to invading attacks begins in the gut. If the intestinal wall is maintained, bad things don't enter our blood, an immune response is not triggered, and inflammation remains low. Keeping the microbiota happy allows them to maintain an environment that is low in inflammation which can also reduce the likelihood of auto-immune disorders. As more and more research comes flooding in, we are now learning about the great importance that our own personal microbiome plays in our everyday physiology, immune function, digestive disorders, vitamin synthesis and even mental health. Our bodies need bacteria to help us deal with our everyday environment. Consuming fermented foods like kombucha, sauerkraut, kefir, kimchi, etc. helps to re-colonize the bacteria in our gut that are destroyed by eating unhealthy foods or taking antibiotics. There are several informative books on the importance of our microbiome here and here and finally here!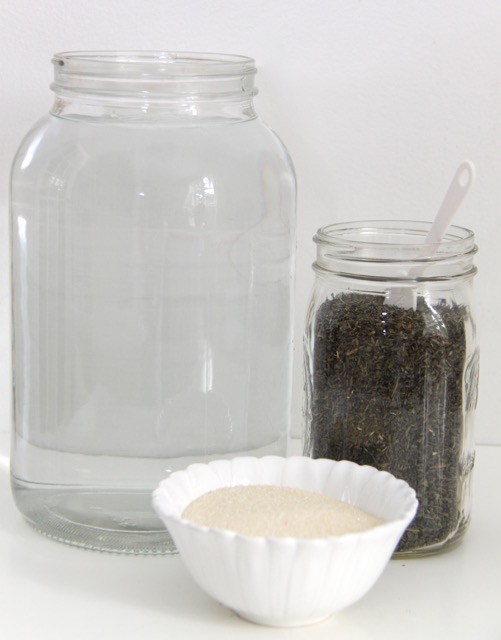 To make Kombucha you will need:
1 Gallon of filtered or distilled Water (Tap Water with Choline will damage the scoby)
4 Reusable 32 oz Glass Bottles
Pint Size Wide Mouth Mason Jar
Wooden spoon
Rubberbands
Plain Organic Black Fair Trade Loose Leaf Tea is best and most nutritious for you and your scoby.
1 Cup Organic Evaporated Cane Sugar
Scoby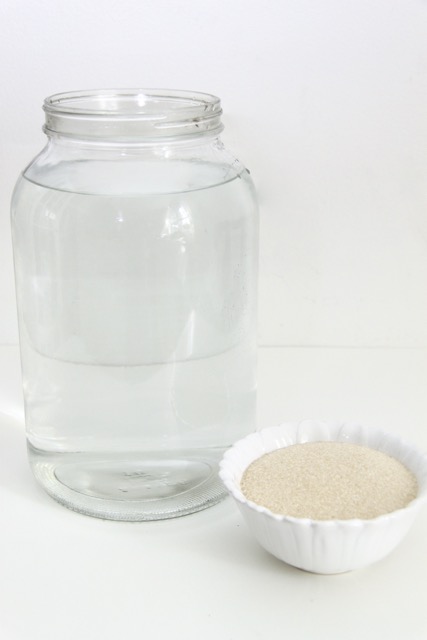 To start making our Kombucha, we fill our gallon size glass jar full with water and set aside one cup of organic evaporated cane sugar. We bought our glass jars here and this is the cane sugar we use.
*It is worth mentioning right now that the scoby will die if it touches metal. So you want to make sure you are working with glass containers and wooden utensils!!!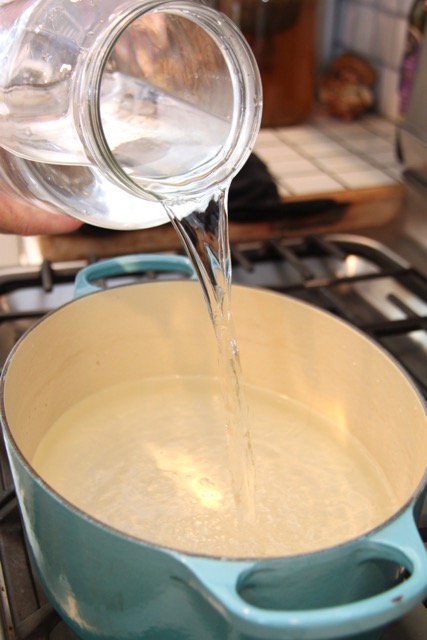 Pour your water into a large pot and bring the water to a boil.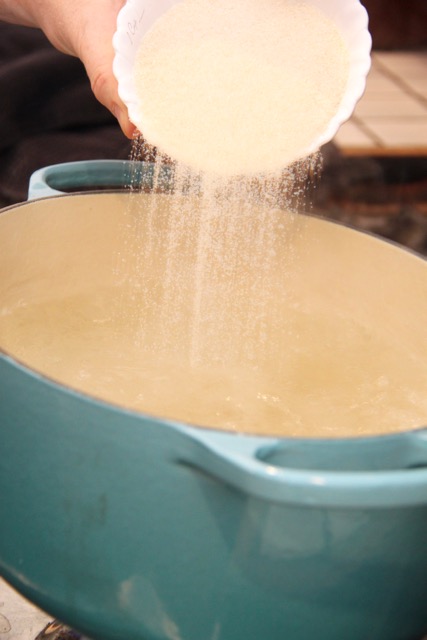 Once the water is boiling, pour the organic evaporate cane sugar in…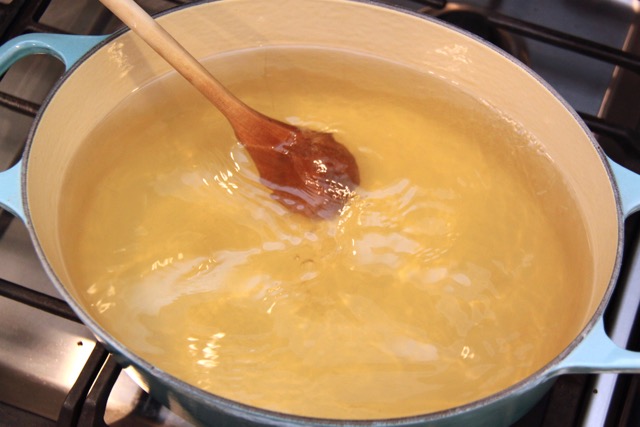 Stir well to dissolve and mix sugar. Let water return to boil then remove from heat. (About one minute)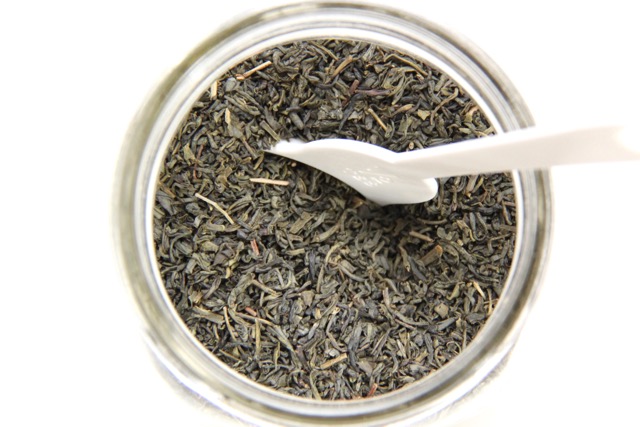 Next you can prepare your organic fair trade loose leaf black tea. We have several bags of black tea and will rotate the type we use regularly. Right now we have Darjeeling, English Breakfast, and Ceylon. You can also use Green teas such as Jasmine if no oils are added to the tea itself. A few batches ago we used Rooibos which is a Red tea but should be mixed with the black tea when making Kombucha. You can play around with what tastes you like best! Feel free to mix multiple black teas or a green and black or whatever you like! We tend to buy in bulk here instead of using individual tea bags as we make 5-6 gallons of Kombucha every week and buying in bulk will save you money!
*Do not use teas like Earl Grey that use essential oils to add flavor as it will kill or upset your scoby. Smoked teas are also not good to use because they will give you a very odd flavored Kombucha.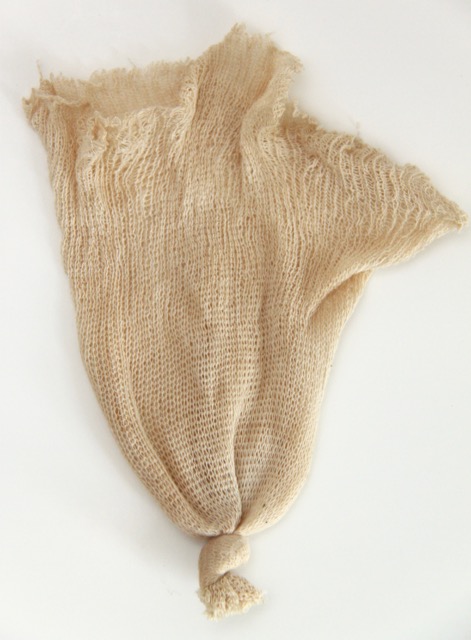 Because we use loose tea we need to make our own tea sachets. We bought a pack of cheesecloth which we re-use with each fermentation, just rinse out and clean between each use! To make the sachets, cut a large square and tie a tight not at the bottom of your cheesecloth…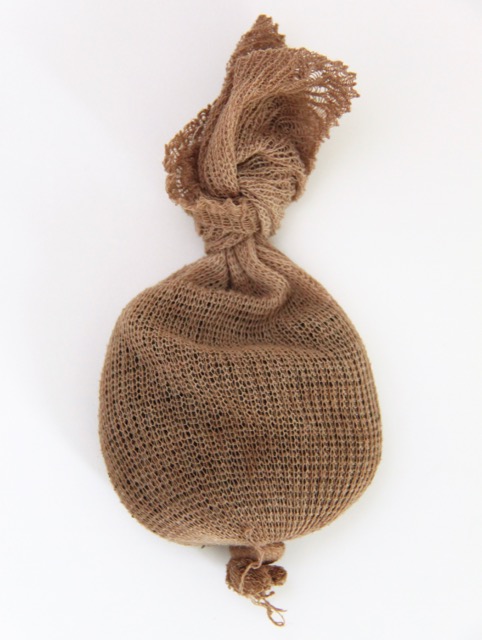 then fill with 5-6 tablespoons of loose leaf tea (per gallon), and then tie a loose knot at the very top. The bottom knot you can make tight because you will use sachet over and over. However, it doesn't take much to keep the tea leaves inside so don't make your top knot too tight or it will be really difficult to untie later. 🙂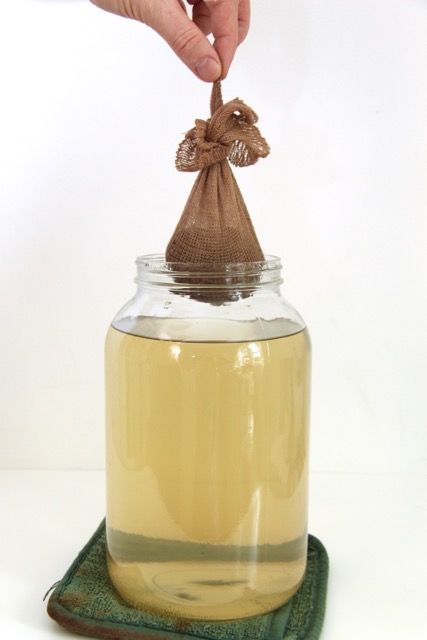 Once your water is finished boiling, pour it very carefully back into the 1 gallon glass jar and then drop the tea sachet in and let it steep for 10 minutes.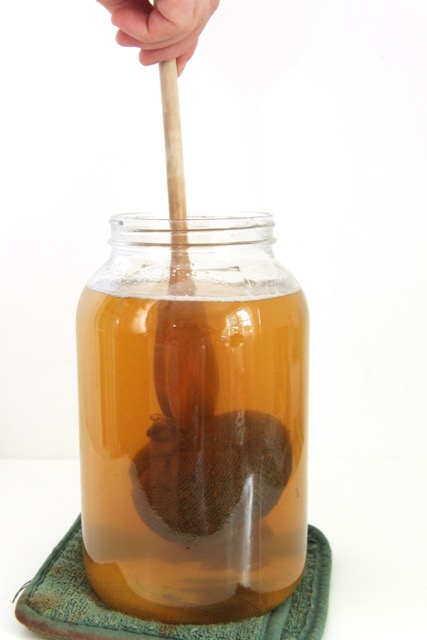 We use a wooden spoon*** Remember… NO METAL ALLOWED *** to mix it around and help with the steeping process.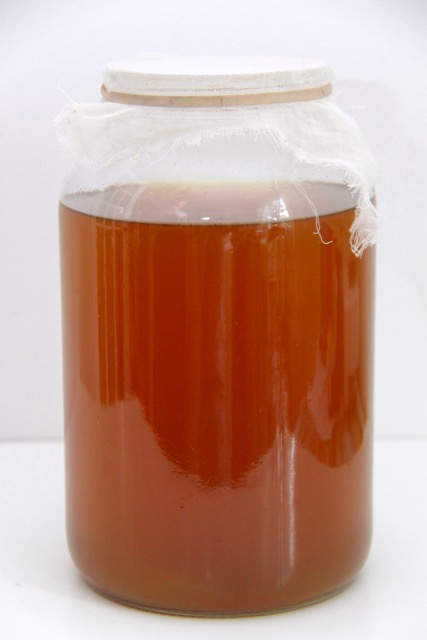 Once the tea is finished steeping, grab another square of cheesecloth and cover the opening, using a rubber band to keep it in place. Keep this on your counter overnight so that it can cool completely to room temperature. Anything warmer than room temperature will kill the scoby.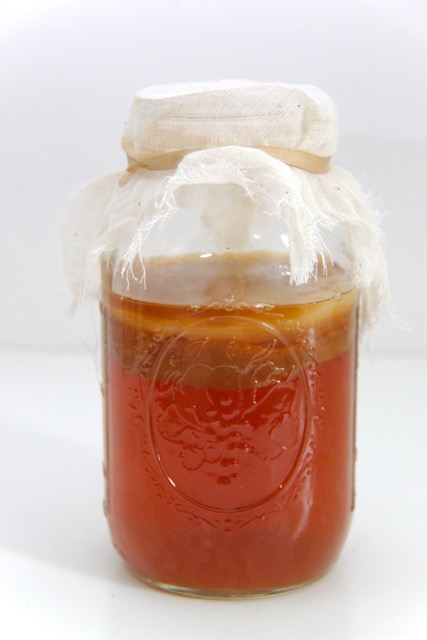 The next day you will be ready to add your scoby. We keep our scoby's in a wide mouth (narrow mouth makes it more challenging to remove the scoby later) mason jar filled with some of the tea from the last batch (the starter liquid).
*If you do not know someone that has an extra scoby you can always buy them online here!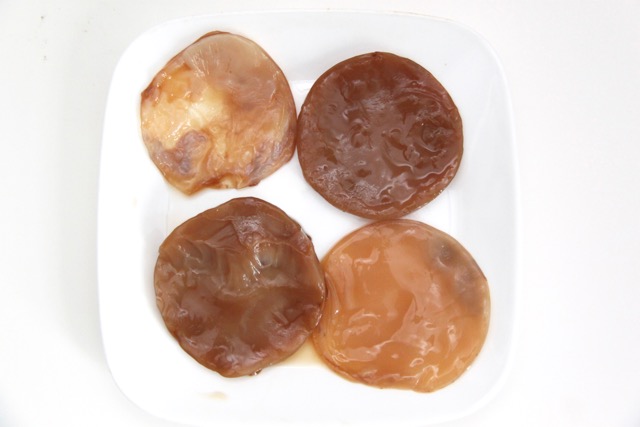 Here are a few scobys we have from different fermentations. They change in color and look over time but will continue to create Kombucha as long as they are healthy.
*The best way to tell if your scoby is healthy is if you see fizzing or bubbles in your starter liquid. 
Once your tea has cooled to room temperature you can add your scoby. Here we are using a WOODEN spoon so you can see what it looks like coming out of the started liquid.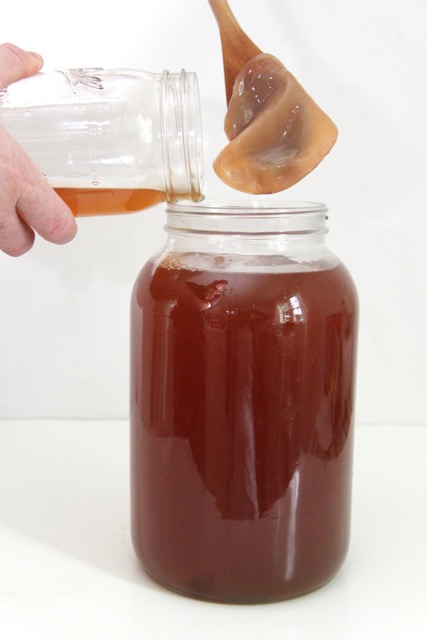 Place the scoby and the starter liquid into the gallon container (you will want some space at the top of the steeped tea-filled gallon container so that you have room to add the scoby and all of the starter liquid), cover with cheesecloth an secure with a rubber band. Keep the jar our of direct sunlight but in a warm place. We like to keep ours on top of our refrigerator. The best fermentation is around 70-78 degrees. Anything colder will stall fermentation and it will take much longer to brew your batch of Kombucha.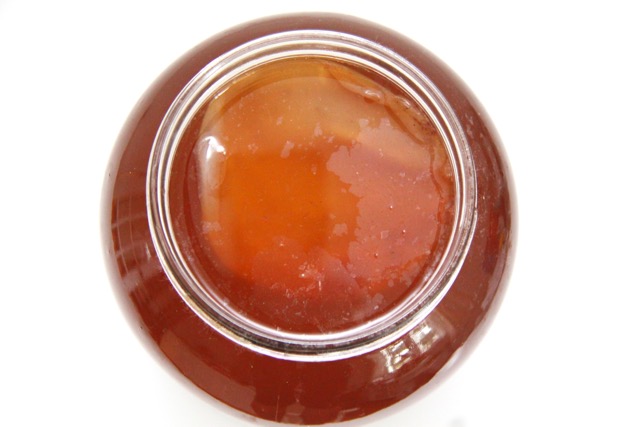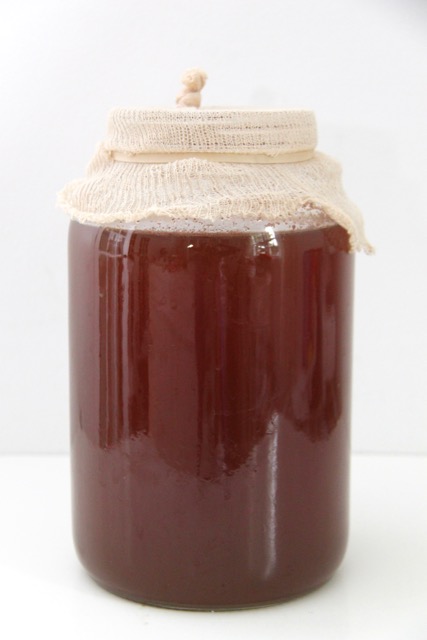 Once your scoby and starter liquid are added, fermentation will begin. This can take anywhere from 5-7 days. Warmer temperatures will take less and colder temperatures will take longer. The time will also depend on how you like the taste of your Kombucha. The longer it ferments the more vinegar-y it will taste.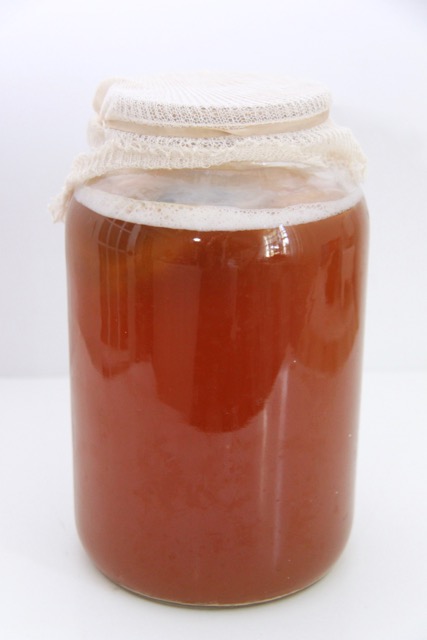 After 5-7 days, you can remove the cheesecloth and rubber band. 
As you can see you will have some bubbles or foam at the top, this shows that the scoby was healthy and working it's magic!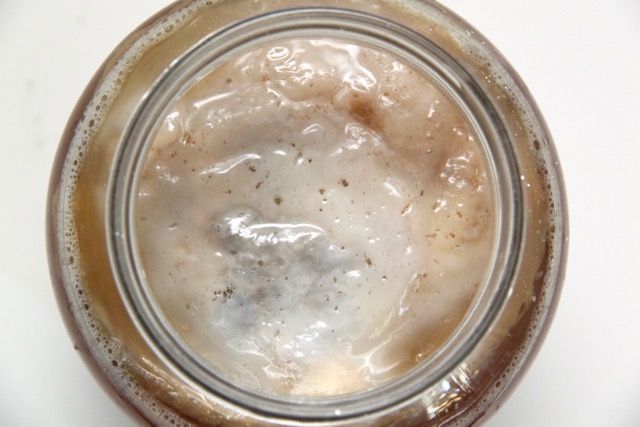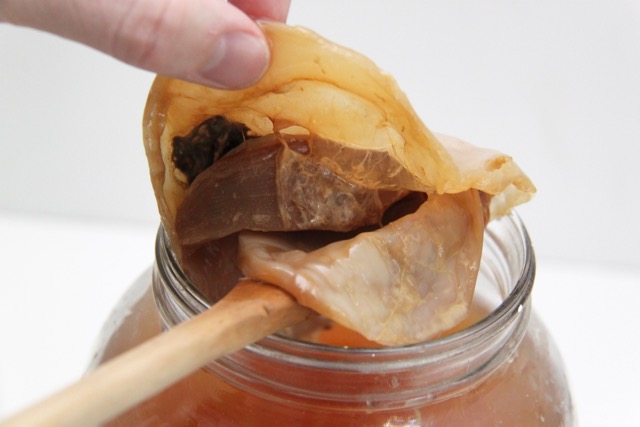 Grab your clean WOODEN spoon and scoop out your scoby. As you can see, there will be a second scoby that formed at the top of the liquid and there will be a vinegar-like scent. You can separate your scoby into two mason jars or just keep them together in one.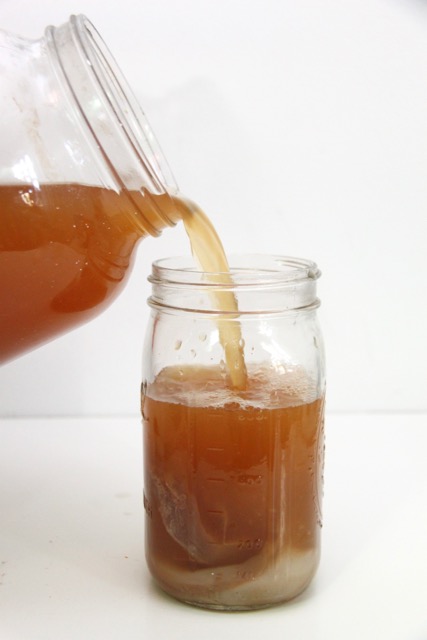 Place the scobys into a mason jar and fill the rest of the jar up with the Kombucha liquid from the gallon jar. This will be your new scoby and starter liquid for your next batch. And on and on and on…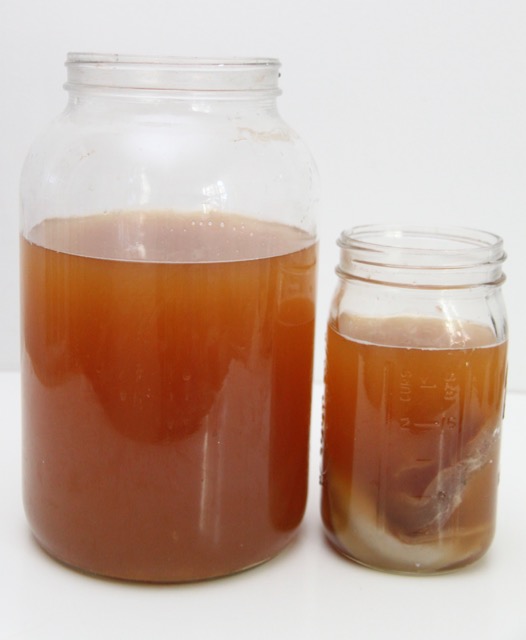 At this point your Kombucha is ready to drink, hooray!! You did it!!  The Kombucha in the gallon jar on the left side in the picture above is non-carbonated and not super fizzy, BUT is still a fully formed probiotic drink that tastes delicious!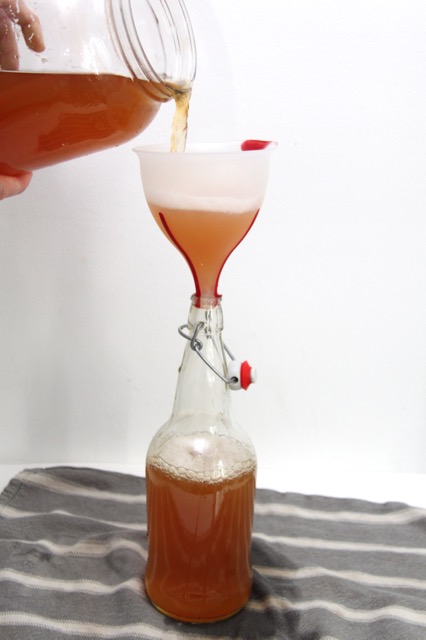 However, if you like your Kombucha fizzy, like the store bought varieties, you can bottle your Kombucha into reusable glass bottles like this one! We bought a bunch of them because, like I said earlier, we make 5-6 gallons of Kombucha at a time. 🙂 You will fill about 4 of these glass bottles per gallon.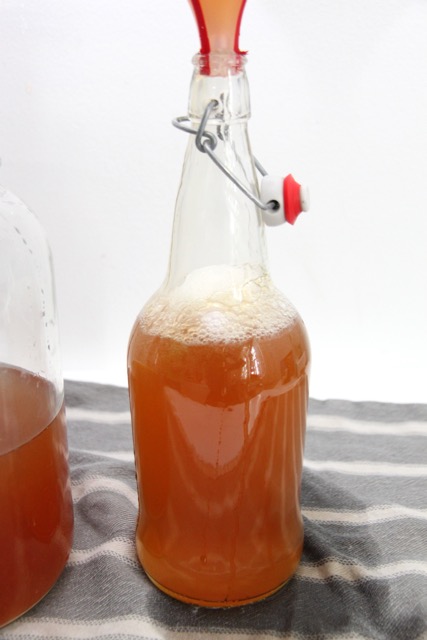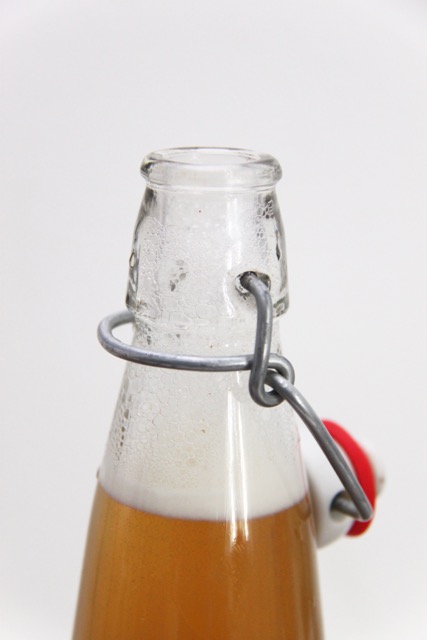 When filling these glass bottles, make sure you leave some headspace at the top for the carbonation process to continue. Leave the filled and sealed glass jars in a warm place for 1-3 days to build up that fizziness. After the 1-3 days, place them in the fridge to stop the carbonation process. Plus, we love ours nice and chilled! And then when you are ready to open be careful! If they get too carbonated they can make a big mess!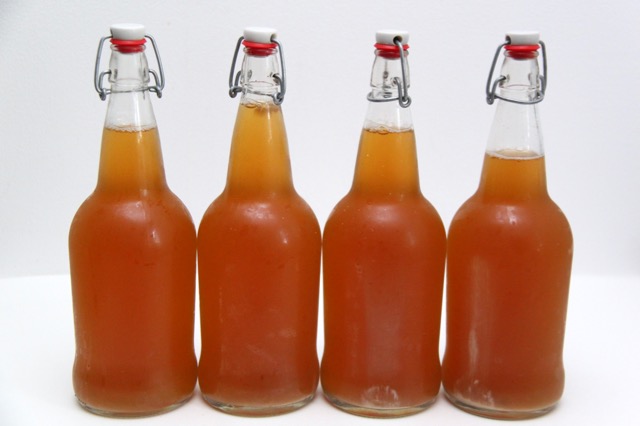 Interested in making flavored Kombucha? See my post on how to do a second fermentation so that you can add flavors like cherry, blueberry, strawberry, and ginger, etc HERE!!!
Hope this was helpful, please leave any questions you have in the comments below!
Thanks for stopping by today!
Love,
Maggie