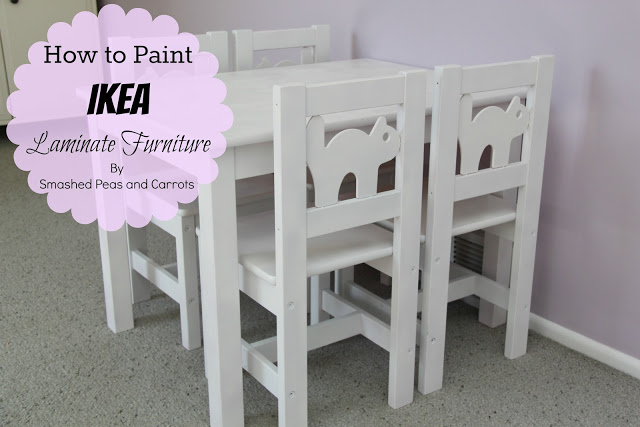 Oh yes, I did.  I painted laminate furniture.  Can I get at 'Holla' for a pretty furniture makeover!  Something old and ugly turned into something cute and keepable 🙂 And it really wasn't that scary either, promise.

So here's a peek at the old furniture look.  Yikes on the electric orange, yellow, and red!  We had originally bought this little child's table and chair set at Ikea about 5 years ago for Noah and his bright green room (more on that make-over in another post!).  I still liked the bright colors of it but I wanted it to be more simple and well, white, so I could put it to use in the girls' room (which we used to be Noah's bright green room).  The look of their new room is soft and feminine…I love it…but that is for another time, today we talk laminate make-over!

Here is a backside view of the chairs.  Aren't they cute?  I love the little squirrel cut outs.  I thought about just selling this set and buying an unfinished set but then thought, 'what the heck, why not try to paint it and see what happens!'  I'm glad I did, cause it turned out soooo awesome!  I couldn't be happier.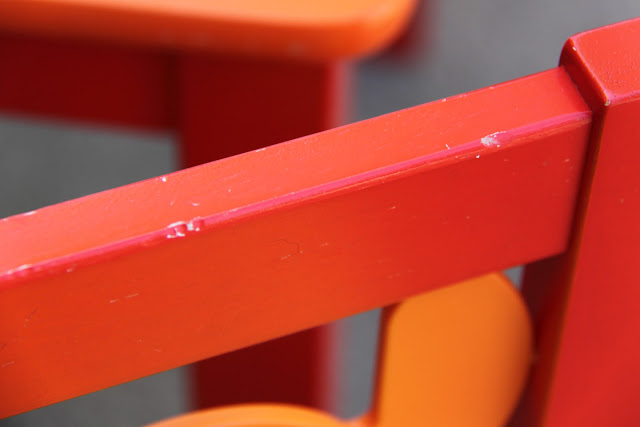 The laminate was chipping on some of the edges due to normal wear and tear.  I thought this would be a plus in my make-over as it might give the new paint some character so I didn't sand any of the chips and dings down at all.  This set was in our basement being unused for the past year so I just did a quick wipe away of dust and then a little scrub here and there of old kid goo that just comes with 5 years of toddlers living in my home.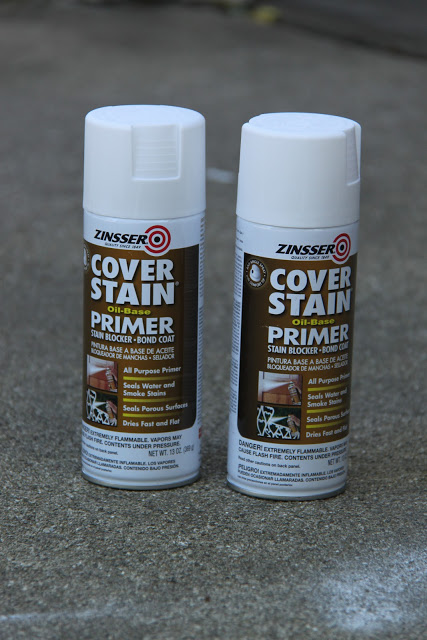 I ended up going through four complete cans of this. Zinsser Cover Stain Oil-Base Primer.  This stuff rocks…big time. It allowed me to cover that dark yet oh-so-bright orange/red and do so WITHOUT sanding any of the surfaces!  Cut out a step?  Yup, I am all over that!  I need to work quickly during Oliver's naps so I tend to choose spray paint over regular paint in a can.  I just can't deal with brushes and drips when I'm on a time constraint, I'm waaaaay to impatient.  This stuff was the perfect thing for me.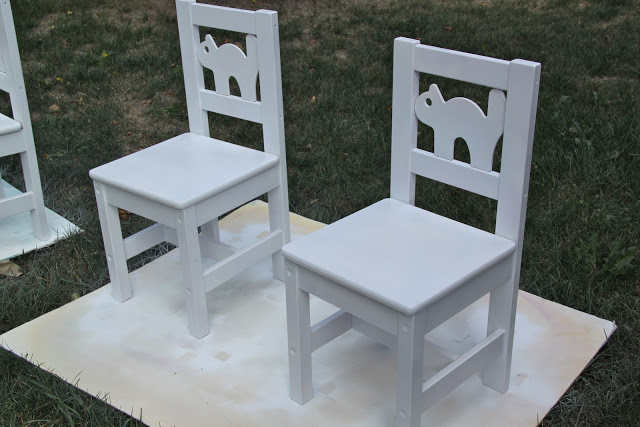 After I wiped everything down, I sprayed all the furniture completely with the Zinsser Primer.  That means no orange showing through whatsoever.  I let everything cure for 2 days just in case I had some weird peeling issues, which I didn't, yeehaw!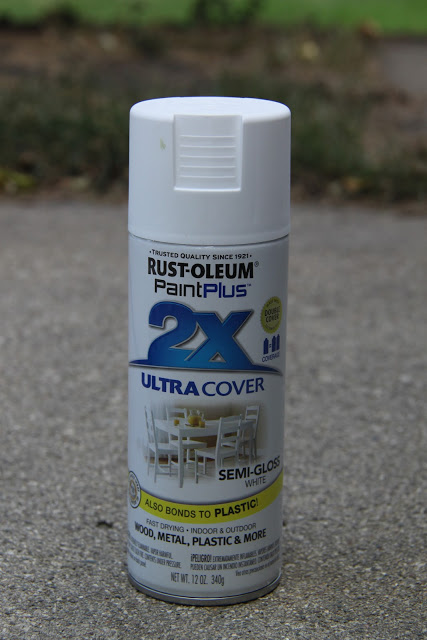 Then I used this stuff.  Rust-Oleum Paint Plus in Semi Gloss White.  I LOVE this spray paint.  It covers so dang well.  I feel like it's an endless can of spray paint with how many projects one can covers.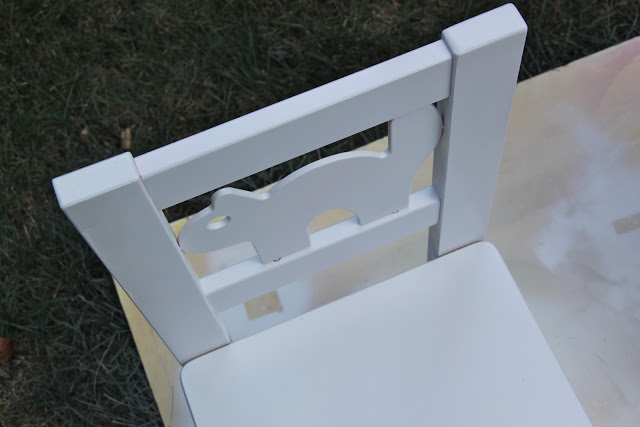 I used one, that's right ONE, can of paint to cover the entire set of furniture.  Awesome.  I gave it one coat as the coverage was so great.  You see, even those little nooks and crannies by the squirrel cut out were covered nicely.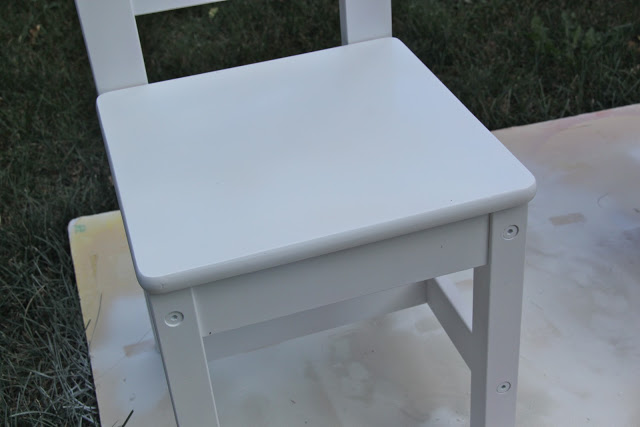 Do you see that coverage?  Love it.  PS.  Please ignore my new-to-us white grass, Christmas has come early around these parts 😉  No really, I should probably use a drop cloth but the impatient in me just has no time to get it out.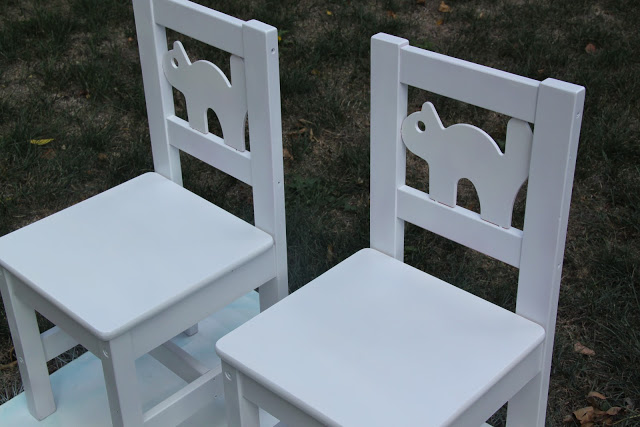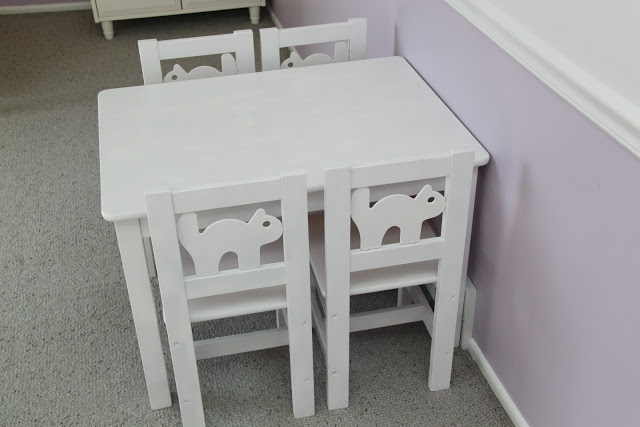 I let everything dry in my garage for a day before bringing it all inside to get the 'royal' treatment for the kids, ie. crayons, markers, chairs being tipped over and stood upon.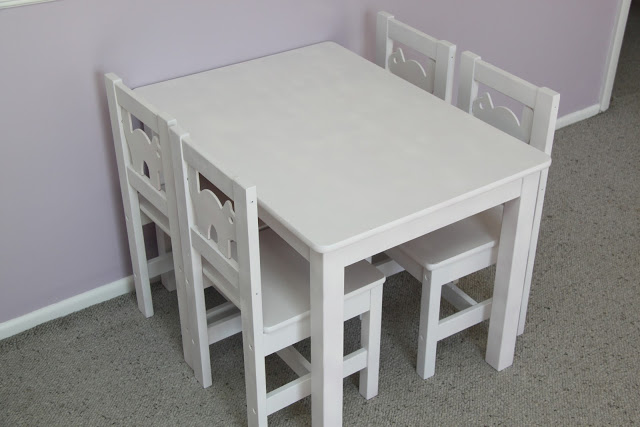 And guess what?  The paint has stood up fine!
So if you happen to have some laminate furniture in your home that you are not loving, try a little painty-paint job on it and give it a new life.  I am so lovin' this new piece in the girls' room, it totally fits the feminine style and look of their room so much better than that bright orange and I didn't have to buy another set and sell the old one to get it, yayyyy!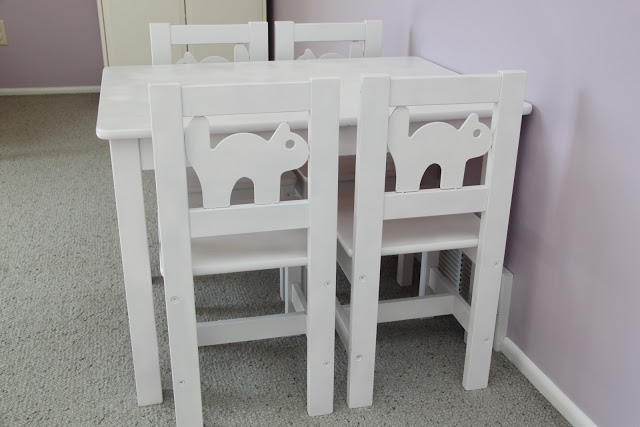 Thanks for stopping by today!
XOXO,