December is upon us which means we are at the beginning of our Christmas Book Advent again. This is such a fun tradition we do every year and I can't believe I have never talked about it here! Basically, I wrap up 25 of our favorite Christmas-y or winter themed books and each night we unwrap one and read it next to our Christmas tree. It really is that easy. If you don't have a bunch of Christmas themed books in your home, you can always check them out at the library, there are so many to choose from these days. And if you are looking for a few new books to add to your collection, here is a list of some of our favorite that we like to read each December.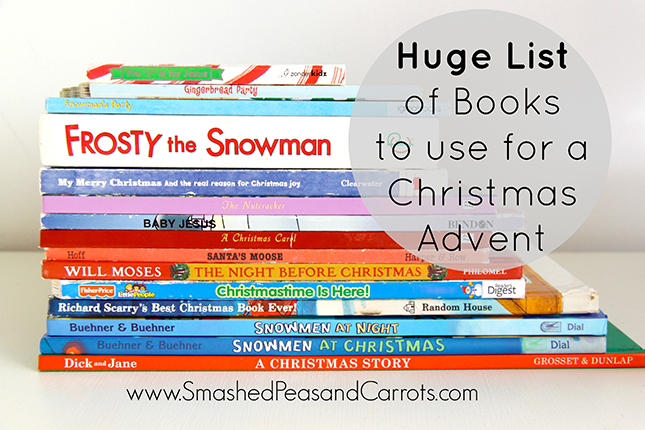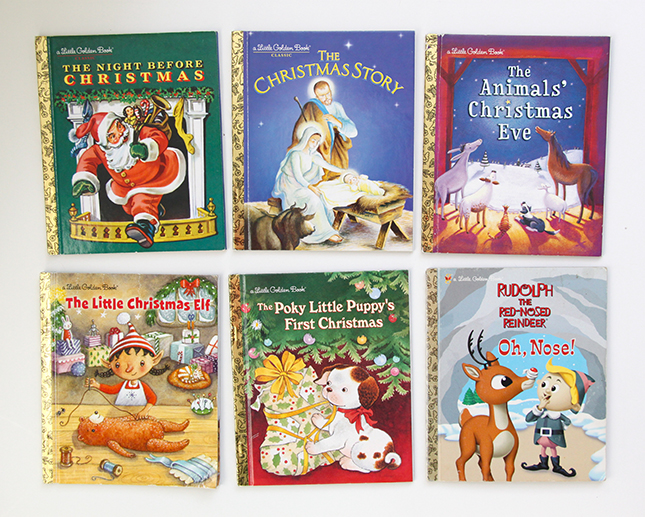 Some of our very favorite books are our Little Golden Books! They are so sweet and the pictures are always darling. A few that we really like are:
3. The Animals' Christmas Eve
5. The Poky Little Puppy's First Christmas
6. Rudolf the Red-Nosed Reindeer Oh Nose!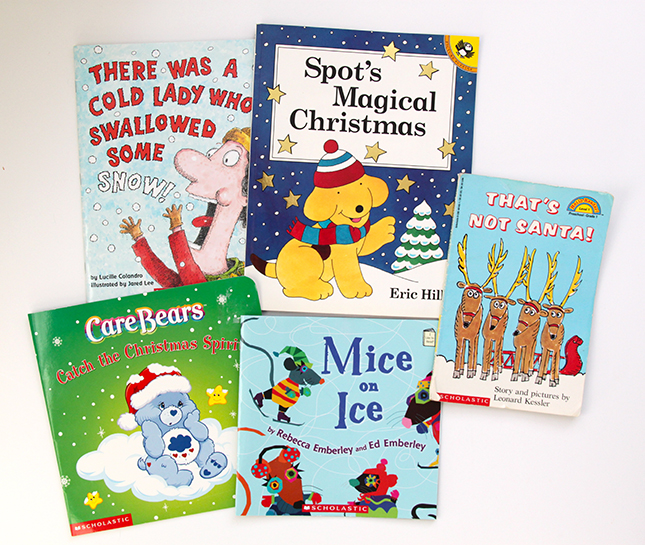 We also really like a bunch of Scholastic Christmas-themed books! As a bonus, they are great for new readers to read aloud!
7. There Was a Cold Lady Who Swallowed Some Snow! by Lucille Colondro
8. Spot's Magical Christmas by Eric Hill
9. That's Not Santa by Leonard Kessler
10. Care Bears Catch the Christmas Spirit
11. Mice on Ice by Rebecca and Ed Emberley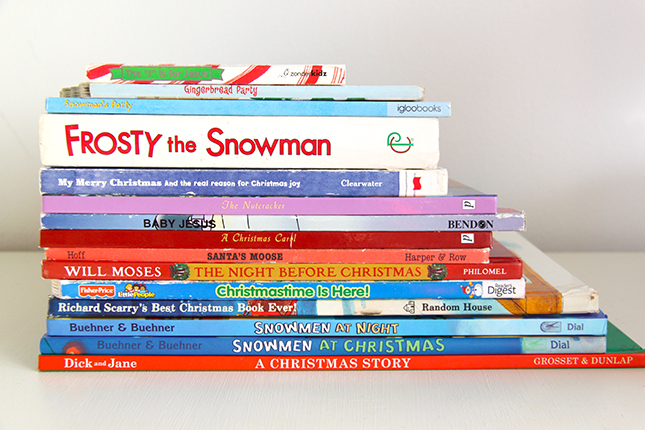 And then we have a big pile of old classic Christmas stories, some random finds from the thrift store, and some new favorites we have come to adore over the years (not all are pictured as I already had wrapped them!)
12. "J" is for Jesus, The Candy Cane Story -a Zonderkidz book
13. The Gingerbread Party -by Clever Factory, Inc
14. Snowman's Party-from Igloobooks
15. Frosty the Snowman– by Jack Rollins and Steve Nelson
16. My Merry Christmas and the real reason for Christmas joy
17. The Nutcracker
18. Baby Jesus board book
19. A Christmas Carol
20. Santa Moose by Syd Hoff
21. The Night Before Christmas by Will Moses
22. Fisher Price Little People Christmastime is Here!
23. Richard Scarry's Best Christmas Book Ever! (Mine from when I was little!!!!!)
24. Snowmen at Night-by Caralyn Buehner
25. Snowmen at Christmas-by Caralyn Beuhner
26. Dick and Jane: A Christmas Story
27. Olive the Other Reindeer -by J. Otto Seibold and Vivian Walsh
28. Mr. Willoughby's Christmas Tree -by Robert Barry
29. The Grinch That Stole Christmas -by Dr. Seuss
30. The Polar Express -by Chris Van Allsburg
31. The Jolly Christmas Postman -by Janet and Allan Ahlberg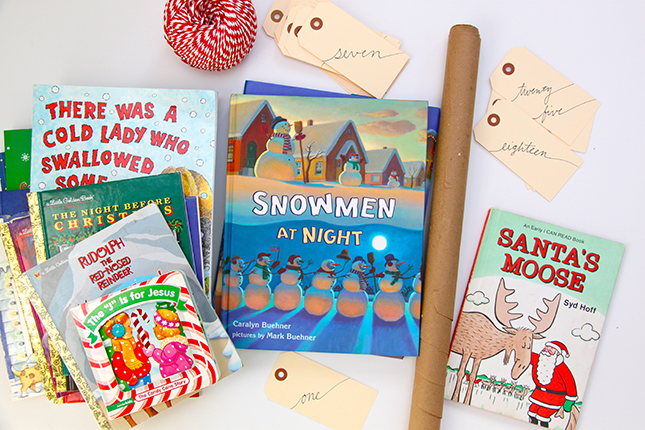 I pick out 25 and wrap them up while the kids are sleeping.
And then on December 1st and every day up til the 25th there is a new wrapped book waiting for them by the tree each morning! So fun!!!! We get to snuggle with blankets and hot chocolate while we listen to a story about this magical season!
I hope this list helps you if you are thinking about doing a Book Advent, it's never too late to get started!!! And if you already do a book advent what books are your favorite? I would love to hear about them, I am always on the look out for new ones to add to our list!
Thanks for stopping by today!
Love,
Maggie