You guys!! I have to tell you a little secret. I know it might make me look like a bad mom, buuuut I make this recipe every week. You heard me. Every. Single. Week. But hold the presses. There is a reason…it's because it is so good, so easy, and I can guarantee my children (and any children that happen to be at our house playing and staying over for dinner) will eat every bit of it up. It's seriously so good…and easy to make! Did I say that already? Plus…TACOS!!! This Instant Pot Shredded Beef Tacos recipes is a winner through and through which makes it one of our most beloved Instant Pot Recipes! You are going to love how you only need a few simple ingredients to make it too…BOOM! Awesome! (affiliate links present)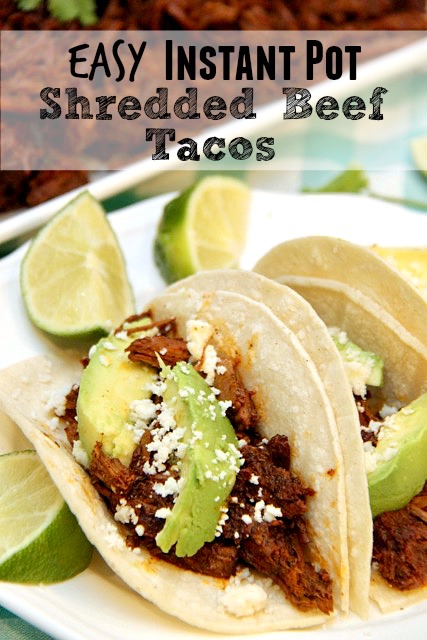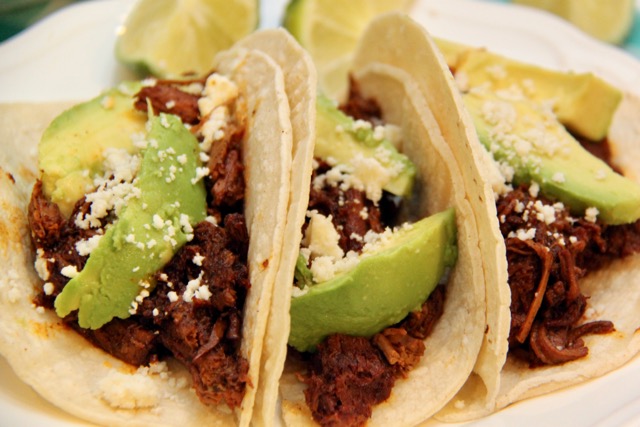 I can't believe I saved the best part for last! You only need 3 ingredients to make this Instant Pot Shredded Beef Tacos recipe!!! How awesome is that! I love recipes that don't ask a lot of me, don't you? 😉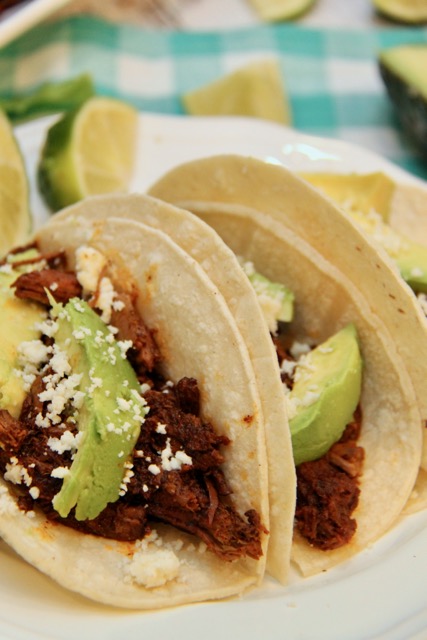 To make these Instant Pot Shredded Beef Tacos you will of course need an Instant Pot, lol! Or some other type of pressure cooker would work too. And, to me, the most important ingredient is the Taco Seasoning. I highly recommend my DIY Taco Seasoning. It is super easy to make and has nothing yucky in it! I make a quadruple batch and keep it in a big mason jar since I use it every week!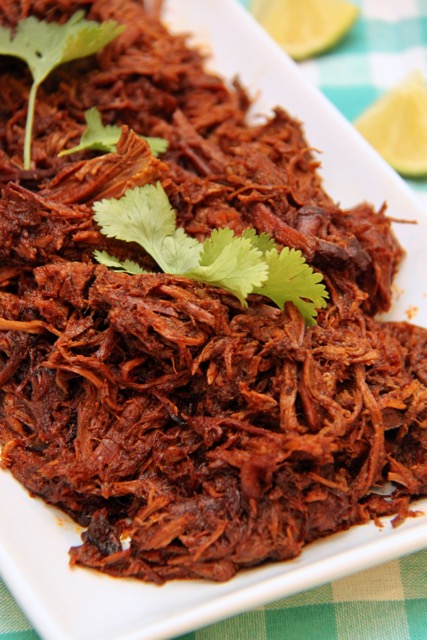 Yum!!! I mean look at that Shredded Beef!!!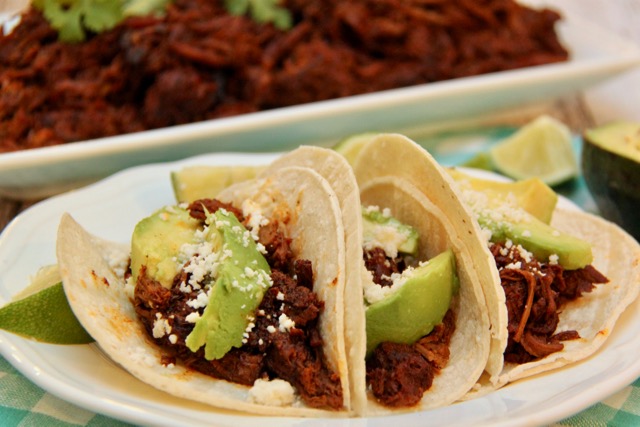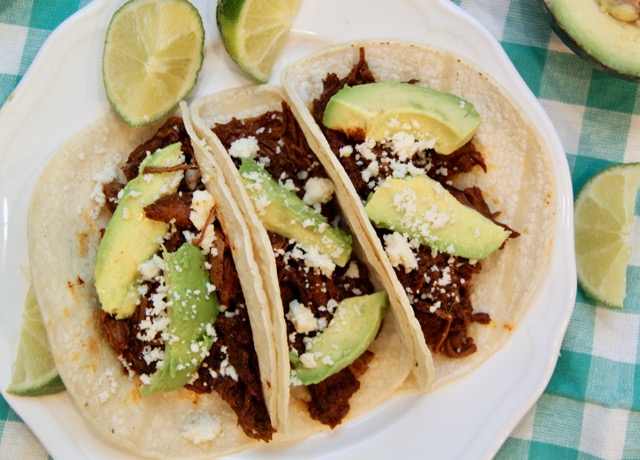 Here's the recipe, I hope you enjoy it as much as we do!!
Instant Pot Shredded Beef Tacos
Instant Pot Shredded Beef Tacos
Ingredients
2-3 lbs of chuck roast
1 8 oz can of tomato sauce
2 heaping TBSP of DIY Taco Seasoning or one Taco Seasoning Packet
Instructions
In a small bowl, mix the tomato seasoning and taco seasoning together.
Place the chuck roast in the instant pot insert.
Pour the seasoning mixture over top.
Lock the lid, close valve, and set Instant Pot to Manual.
Adjust time to 65 minutes.
When time is up, carefully unlock the valve to release the steam.
Unlock lid and shred the beef. It should be very tender!
Enjoy!!!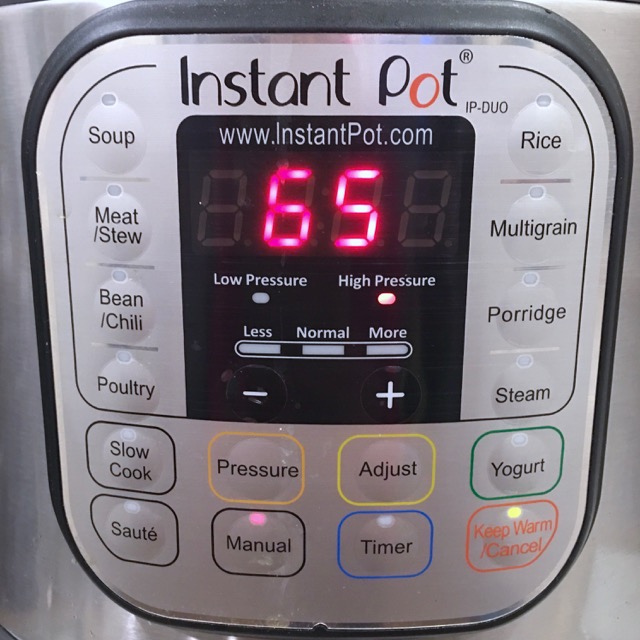 The hardest part of this whole recipe is setting the time on the Instant Pot, really!!
First, add the chuck roast, tomato sauce, and taco seasoning to the insert of the Instant Pot. Lock the lid and close the valve located on the lid. Then press the "manual" button. Next press the "+" to adjust the time to 65 minutes. Once there, just leave the Instant Pot alone and in 5 or so seconds it will start!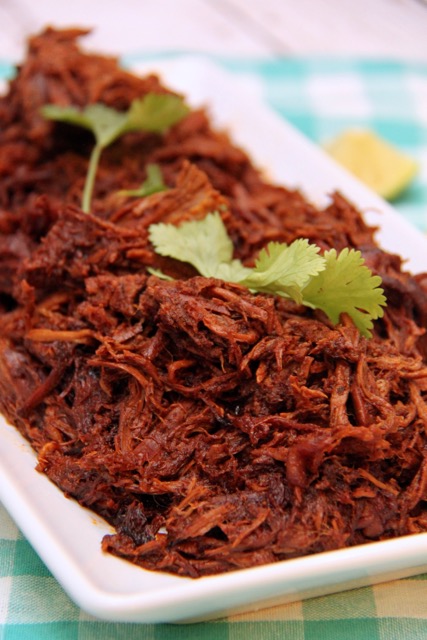 In no time at all your Instant Pot will beep to let you know it is done cooking. Go ahead and carefully release the steam valve to let out all the steam, this is called a "Quick Release". Shred the beef up with a couple forks and enjoy!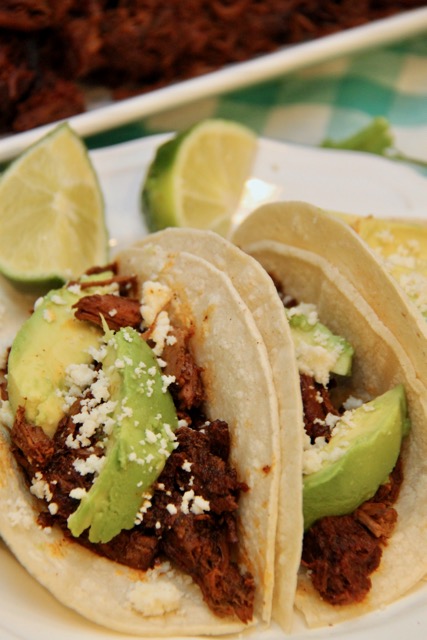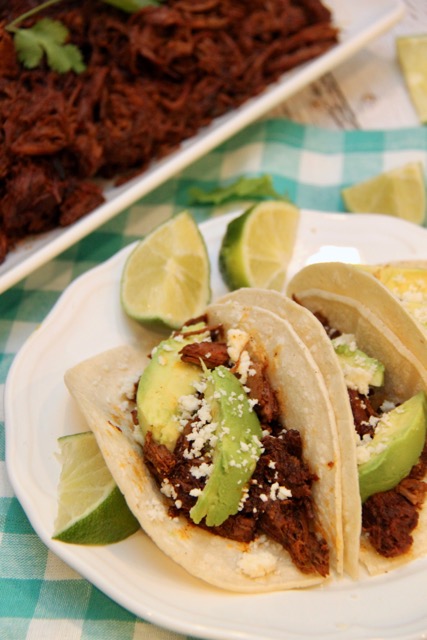 Seriously, so so good! If you don't have an Instant Pot or you have one but would like to use the Slow Cook function, you can try my Crockpot Shredded Beef Tacos recipe!
For more delicious and easy recipes please LIKE Smashed Peas and Carrots on Facebook or follow me on Instagram or Pinterest for more great ideas!
Thanks for stopping by today!
Love,
Maggie