So, little Miss Penelope started ballet last Fall.  She really loves it.  She looks forward to going to class every.single.week. and every Sunday as we are looking at the calendar and preparing for the upcoming week's schedule she asks, 'I have bah-yay 'morrow?' in her cutest little sing-songy voice.  She even has her very first recital this June set onstage at a local theater…I don't know whether to laugh or cry about that!  🙂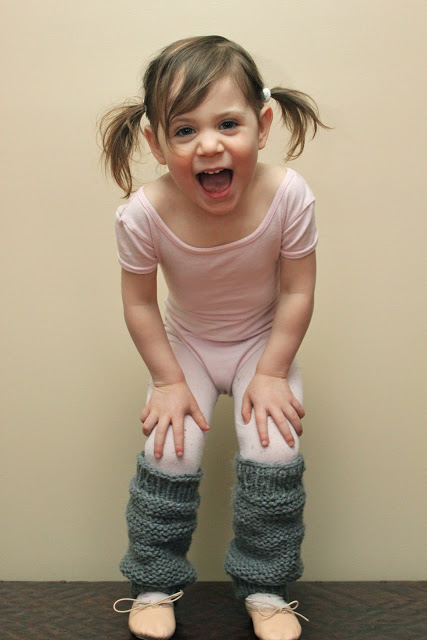 As we are slowly moving into Spring here in the midwest (painstakingly slow I might add) and the temps are hovering at a very brisk and windy 30 or 40 degrees, I thought I would knit Penelope some warm little legwarmers to wear over her tights as she goes to and from ballet class.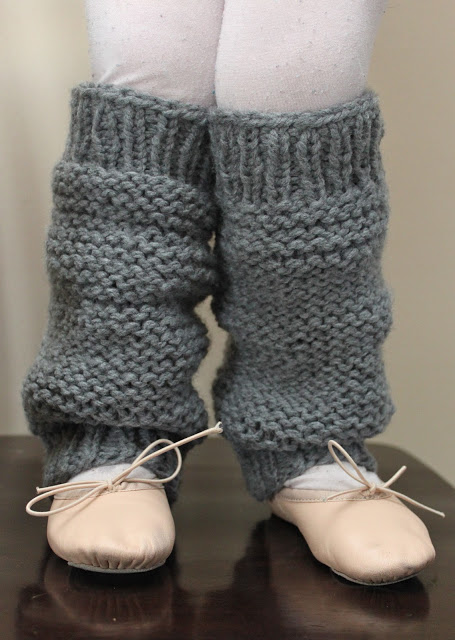 I love this legwarmer pattern I created because I really love the ribbing I decided to add to both top and bottom.  Besides giving the legwarmers a bit of contrast in the stitchwork, the ribbing adds a nice elasticity to the ends for ease in getting them on and off of her foot as well as keeping them up on her legs.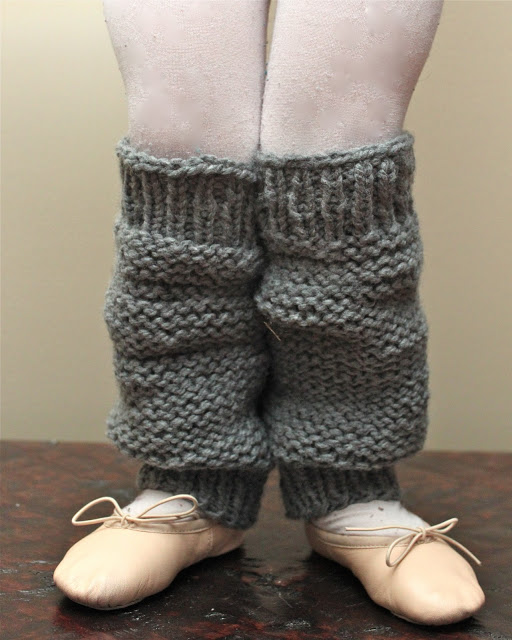 I chose Bernat Softee Chunky yarn for this project because I liked the chunky look this yarn gives without being overly thick and stiff in such a tiny legwarmer.  It really is the perfect chunky yarn for a children's knit.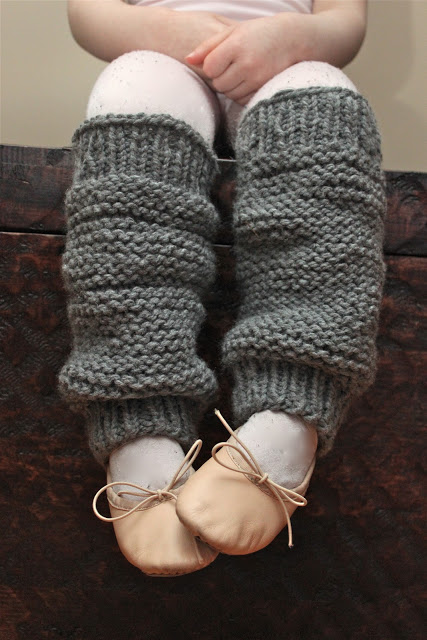 The color is True Grey…I thought it would be a good neutral color that would be wearable when she moves up to the next ballet class and they have to wear a different color leotard (which I think is going to be black).
Here's Penny's 'Marilyn Monroe' look…this girl loves to pose!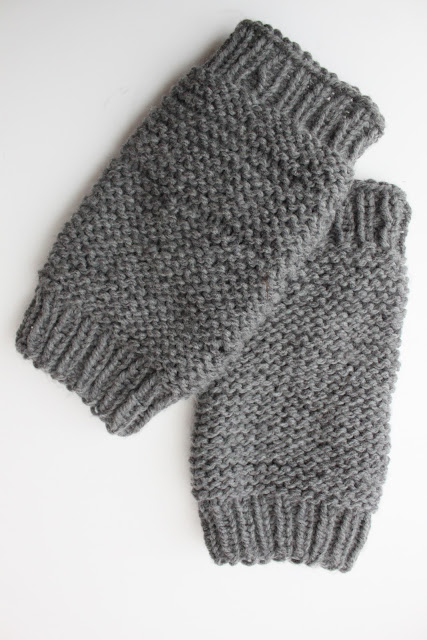 This is a fairly easy project, you need to know how to knit and purl as well as use circular knitting needles again!  Also, each legwarmer took me about 3 hours to do…not bad if you've got something good to watch on tv!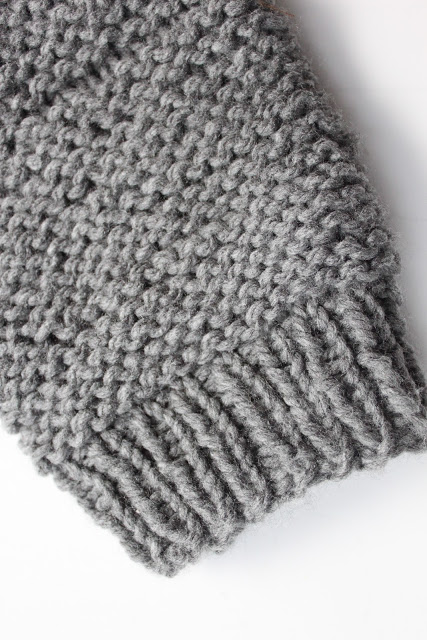 Little Girls' Knit Legwarmers 
You'll need:
16 inch US size 5 circular knitting needles
Yarn of your choice
Stitch marker
Stitch counter (not necessary but nice!)
Tapestry needle 
Scissors
Cast on 34 stitches.  
Knit 10 rows of 1 x 1 ribbing (knit one, purl one) 
Next you will knit one row and purl one row for the next 50 rows.  
The last 10 rows you will do 1 x 1 ribbing again (knit one, purl one)
Cast off loosely in knit stitch
Use your scissors to cut off an 8-10 inch tail.  Then with your tapestry needle, weave in the end of your yarn for a few stitches before cutting off your tail completely.  
Each legwarmer measure about 10 inches in length so I would say these should fit anywhere from 18 months to 4T depending on if you want to fold the tops down or not!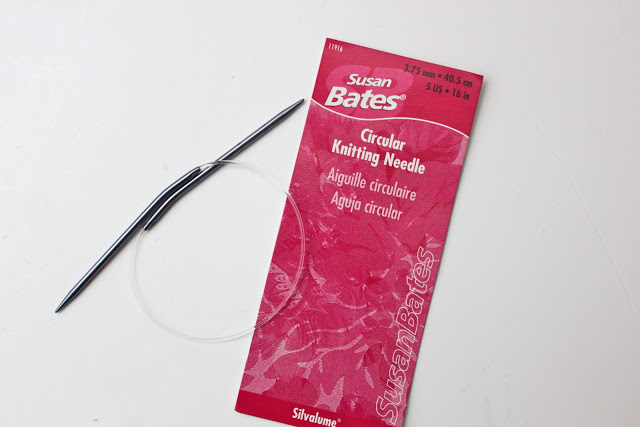 Here are what my 16 inch US size 5 circular knitting needles look like, I found mine at Michaels.  You definitely will need 16 inch needles for this as the more average 29 inch circular needles you find will be too long a cord for such a small-sized project.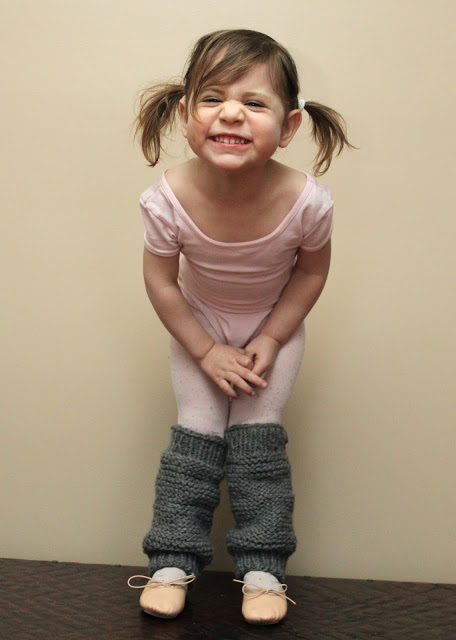 Well, I think it's safe to say that she likes them…a lot!
Time for some piqués, pliés, and arabesques 🙂
XOXO,