This is a sponsored post written by me on behalf of The Hershey Company. All opinions are 100% mine.
This is a sponsored post created with The Hershey Company
The other night as I was getting the kids ready for bed, my littles wanted to look at a few photo books I made about our previous summer adventures and our summer bucket lists from the past four years. I started to realize how much of our lives revolves around food. We love food!!! And I love that we love food…we make such wonderful memories when we make food together. It seemed so many of our best summer nights centered around the simple act of building a bonfire in our backyard and roasting marshmallows for S'Mores; which I think is one of the simplest foods we can make together. Making Memories with HERSHEY'S Milk Chocolate is such an easy way to get family together and have fun because who doesn't love chocolate and getting messy…especially when the mess stays outside!!!
If you follow me on Instagram, you have probably seen all the pictures I have shared over the years of us making and getting ready to make S'Mores! We have become a family of S'Mores connoisseurs over the years. We take making them to a whole new level. I make intense trays of assorted chocolate and crackers and we spend entire summer evenings building the "World's Best S'Mores"…which always ends up being the classic HERSHEY'S Milk Chocolate, roasted marshmallow and graham cracker combination! It's so much fun! I remember making S'Mores with my family growing up – we always made them when we went camping. Those memories will stick with me forever and I hope our summer nights building S'Mores stick with my kids forever!
During my trip to visit Meadow Lane Dairy last year, I was able to see where the simple goodness of HERSHEY'S Milk Chocolate starts: with farm fresh milk, delivered daily to their factory in Hershey, Pennsylvania from farms within 100 miles. I love using HERSHEY'S Milk Chocolate even more now. The fact that HERSHEY'S Milk Chocolate is made with a few familiar ingredients, like cocoa, sugar and farm fresh milk, with no artificial flavors is awesome. That farm fresh milk is what gives iconic HERSHEY'S Milk Chocolate the delicious, creamy taste you know and love…and makes S'Mores taste sooo good!
Making Memories with HERSHEY'S Milk Chocolate 
After reminiscing over all our summer fun, and because we love baking in our family (and you know that we love S'Mores!) I thought it would be fun to make a Skillet S'Mores Dip with Oliver before my bigger kids came home from school.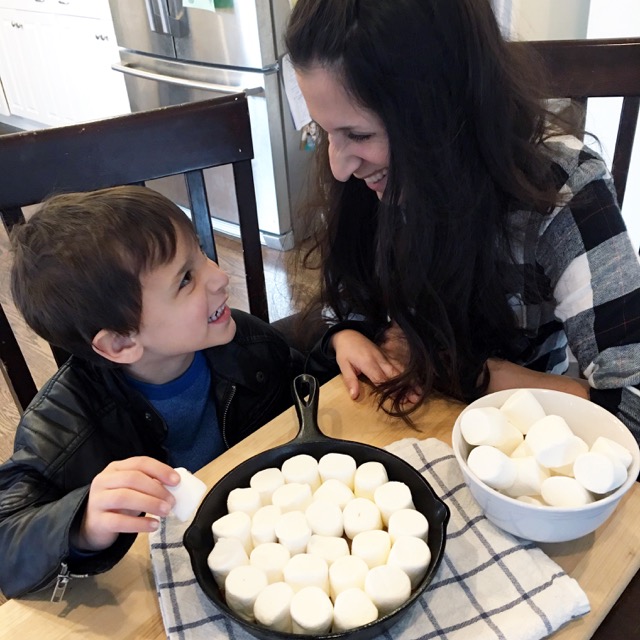 I mean look at that little face! Precious! Don't you think he was having fun?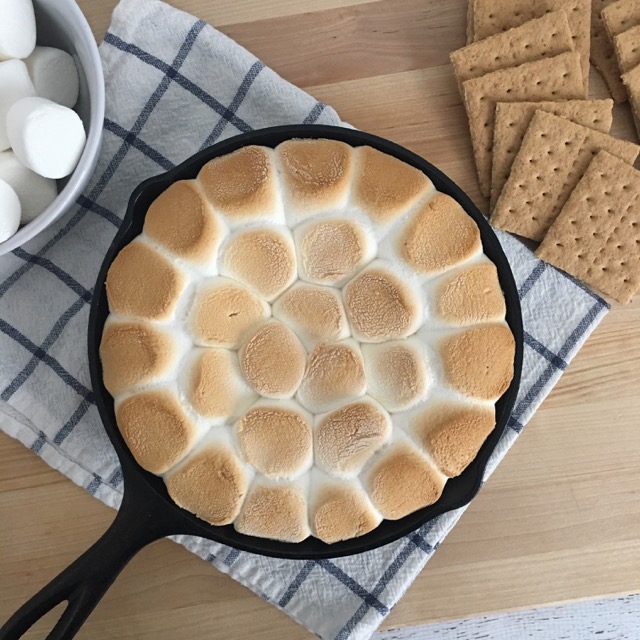 Of course his favorite part was taste testing before the school bus arrived. Warm and melty HERSHEY'S Milk Chocolate and toasty marshmallows for the win!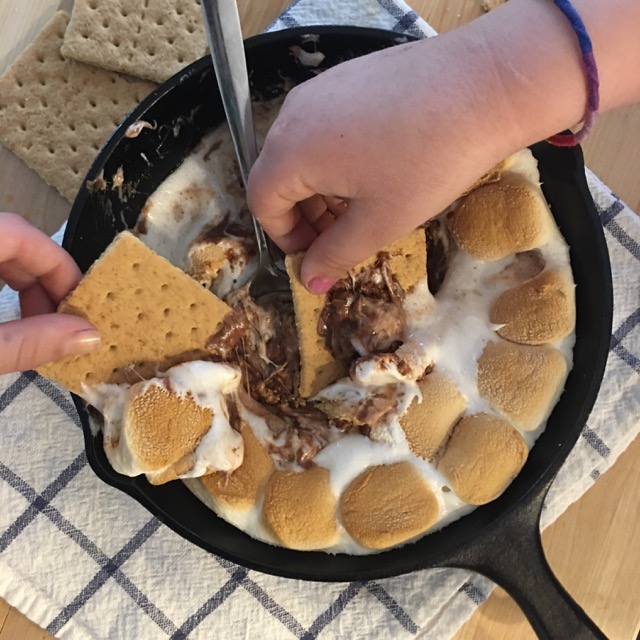 My older kids declared this one of the best after school snacks yet! Boom…memory made! 🙂
I think it is so great that Hershey uses farm fresh milk in HERSHEY'S Milk Chocolate. In fact, Hershey is one of the few large-scale chocolate makers in the U.S. to use farm fresh milk in delicious HERSHEY'S Milk Chocolate. You can visit www.FreshMilkChocolate.com to learn more about the farm fresh milk and other simple ingredients that go into HERSHEY'S Milk Chocolate. And don't forget to check out my previous blog post from my visit to Hershey, Pennsylvania!
For more easy recipes, crafts, tips and tricks please LIKE Smashed Peas and Carrots on Facebook or follow me on Instagram or Pinterest for more great ideas!
I want to thank The Hershey Company for working with me on this post. Thanks for stopping by today!
Love,
Maggie