This post brought to you by Simply Potatoes. The content and opinions expressed below are that of Smashed Peas and Carrots.
The other weekend we had ourselves a lazy Sunday morning. Ahhhh! Those do not happen often in our household as our weekends tend to be filled with a flurry of activity between the six of us. But, every once in a while we get lucky and when we do one of our favorite dishes to make to go alongside our other brunch staples… waffles, pancakes, and bacon…is this Mexican Hash Brown Casserole. It is super yummy, full of cheese, and has just the right amount of kick to it to start your day off right!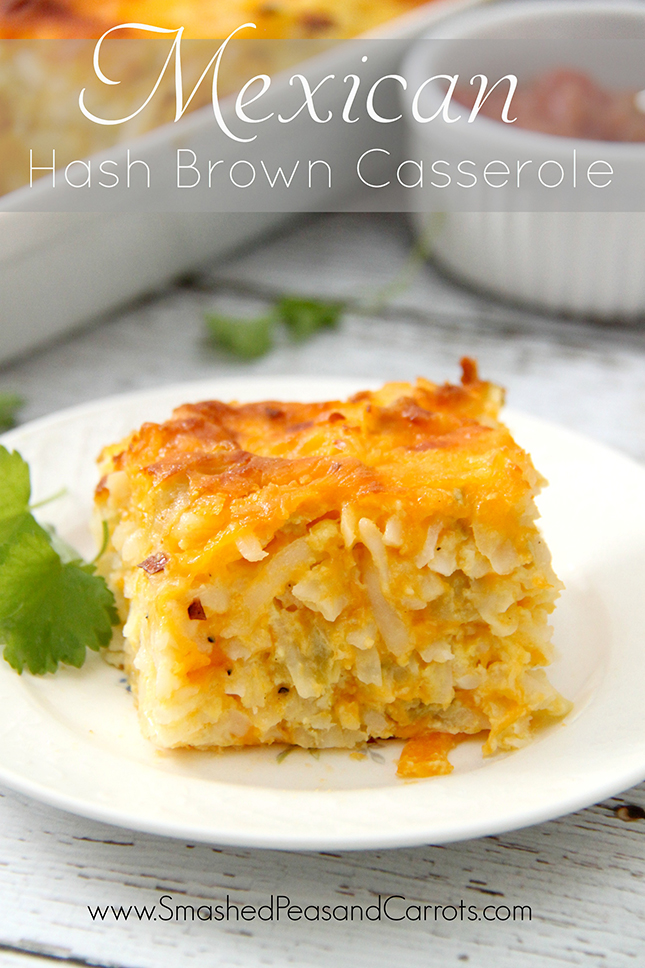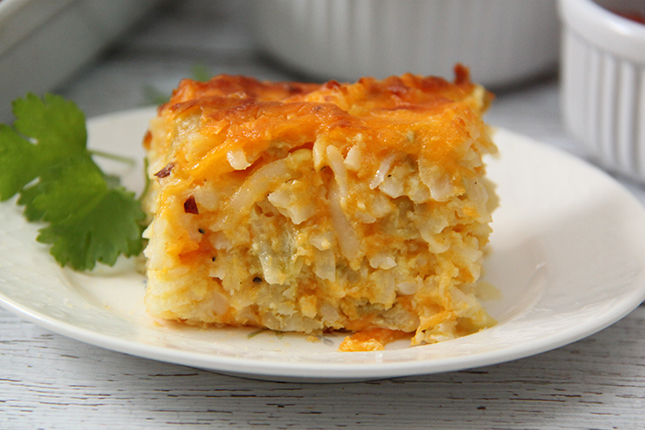 One of the things I love most about this recipe (besides how amazeballs good it tastes!) is how easily it is to put together. Like, you blink and it is basically ready to be put into the oven. Recipes like this tend to easily make my best friend list. This is the kind of recipe who's recipe card is well worn and well loved,  who everyone loves and begs for to add to their own recipe collection, and whom your friends get excited when you bring it to a potluck or brunch get together. Just. So. Good.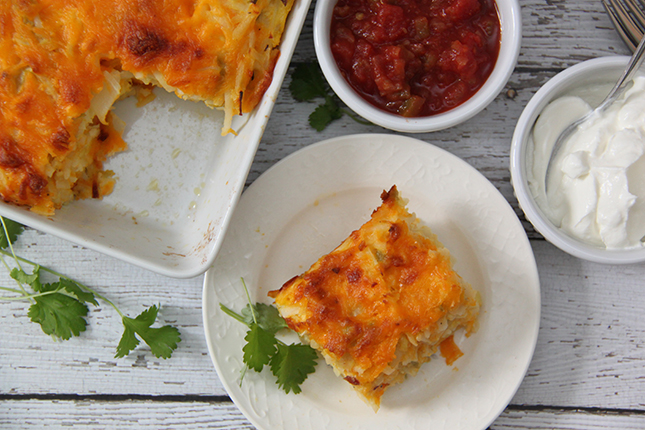 I hope you love it like we do, and by we I mean anyone who has ever come into contact with it!
Mexican Hash Brown Casserole Recipe
Recipe Type: Breakfast
Prep time: 10 mins
Cook time: 40 mins
Total time: 50 mins
Serves: 9
Ingredients
1 bag Simply Potatoes Shredded Hash Browns
1 1/2 cup shredded cheddar cheese (divided)
1 medium onion, chopped
1 (4 oz.) can green chilies
4 eggs
1 tsp salt
1 tsp pepper
Instructions
In a large mixing bowl add the shredded hash browns and 1 cup of shredded cheddar cheese and mix well.
Add in the onion, green chilies, 4 eggs, and salt and pepper and mix until well combined.
Pour mixture into a greased 8×8 inch baking dish and sprinkle with remaining 1/2 cup of shredded cheddar cheese.
Bake for 40 minutes in a 375 degree oven or until lightly browned.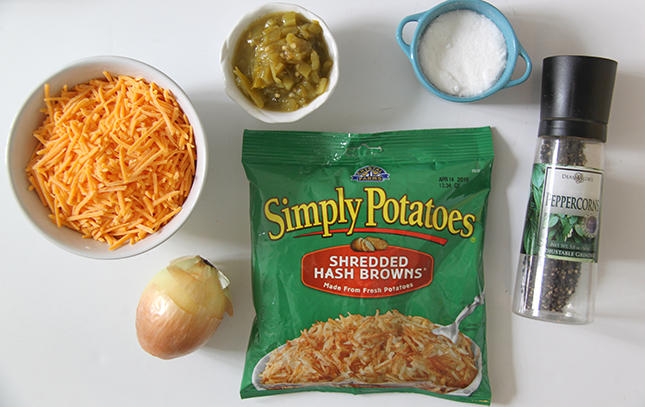 This dish could simply not be any easier to make! You need cheddar cheese, a medium onion, a can of green chilies, some eggs, salt and pepper, and my favorite kind of hash browns…Simply Potatoes Shredded Hash Browns®! I love them because they are fresh, never frozen (you can be found in the refrigerated dairy section of your local grocery store) and they are also made with real ingredients. Plus they are easy to prepare as there is no peeling or shredding required! You can't beat that!
Once you mix all your ingredients together, pour them into a greased 8 x 8 baking dish and bake in a 375 degree oven for 40 minutes.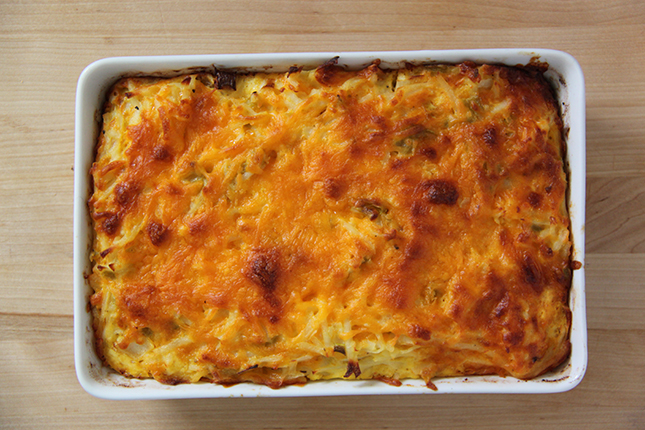 Mmmm! So darn good!!!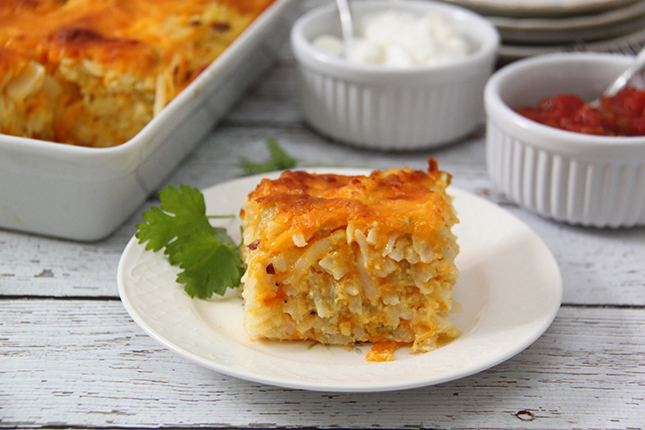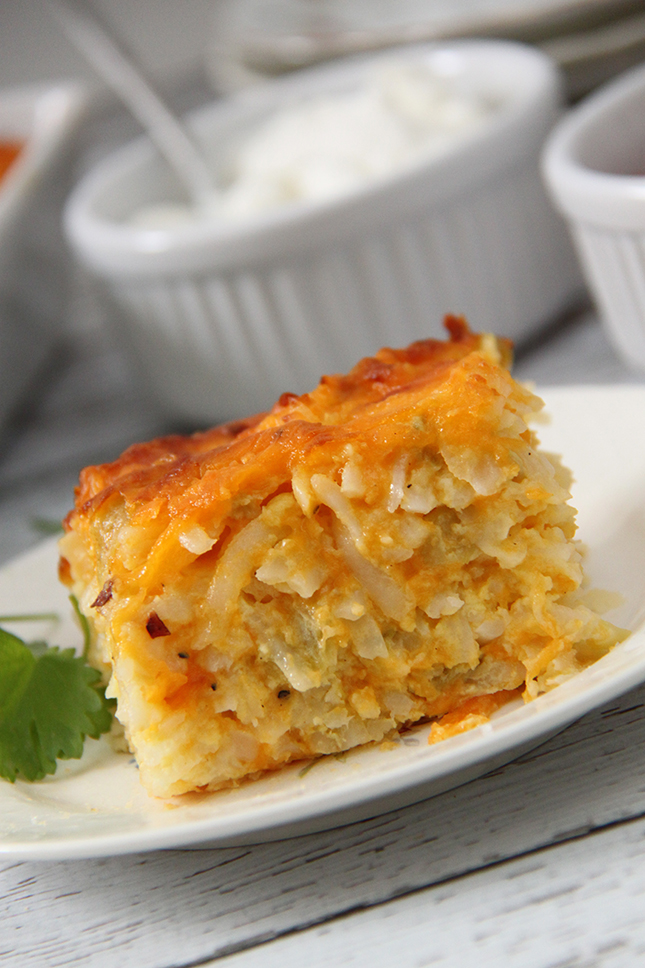 To see more recipes using Simply Potatoes, click here to head to the Simply Potatoes Breakfast Lovers.
You can also follow Simply Potatoes on Pinterest!
And if you'd like to win a month's supply of Simply Potatoes coupons each good for any ONE Simply Potatoes product* just comment below telling me, "What is your favorite brunch breakfast recipe?"
*Giveaway ends Sunday March 22, 2015 and is only open to U.S. residents
Good luck!
Maggie