You guys!! Have I ever told you how much we love Mo Willems and his smart and creative books? You might remember the fun Pigeon Party we did here just for reference! 😉 We love him so much in our home that every time we go to the library we have at least one of his books in our pile. Who can say no to those silly pictures and that clever word bubble story telling? Not me!!! Well, he has a new book out…his last in the Elephant and Piggie series…called, The Thank You Book.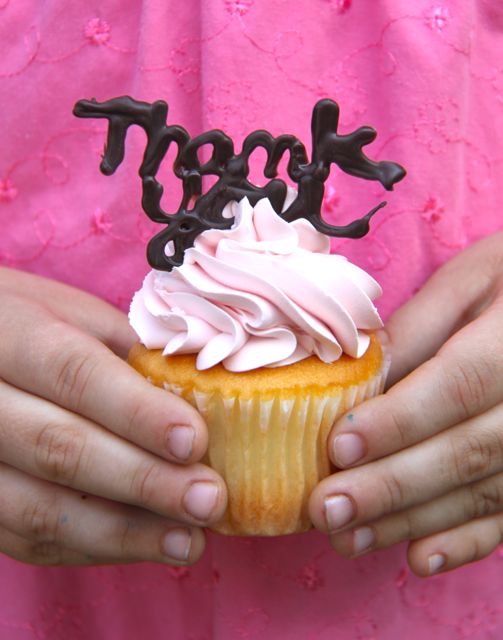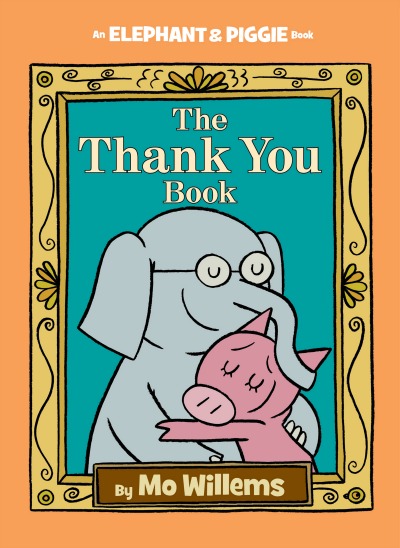 The Thank You Book hit stores May 3, 2016 and, just like all his books, it is wonderful! Here is a little about the book for all you Mo Willems fans:
Gerald is careful. Piggie is not.

Piggie cannot help smiling. Gerald can.

Gerald worries so that Piggie does not have to.

Gerald and Piggie are best friends.

In The Thank You Book!, Piggie wants to thank EVERYONE. But Gerald is worried Piggie will forget someone . . . someone important.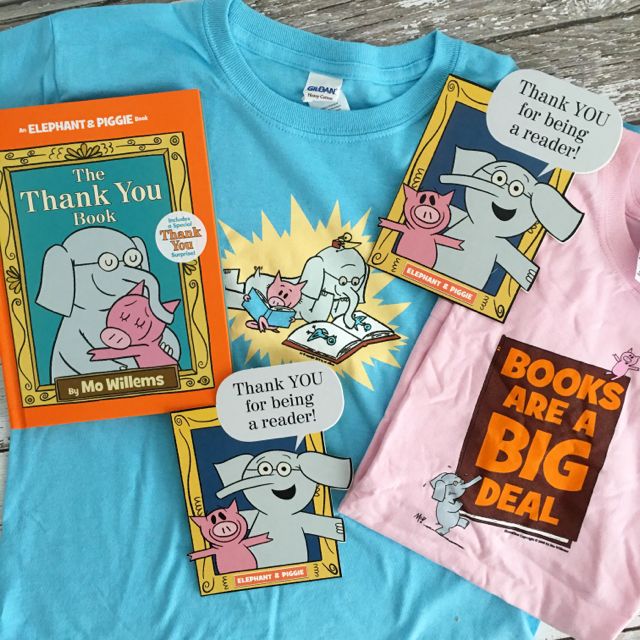 I was lucky enough to be asked by Disney Books to be a Mo Willems ambassador and share all the wonderful things that Mo Willems is up to now that this series is ending and of course I had to say yes! May is #Thankorama month and my "Mo Mail" included a copy of this newest book as well as the most adorable shirts, a game, stickers, and so much more!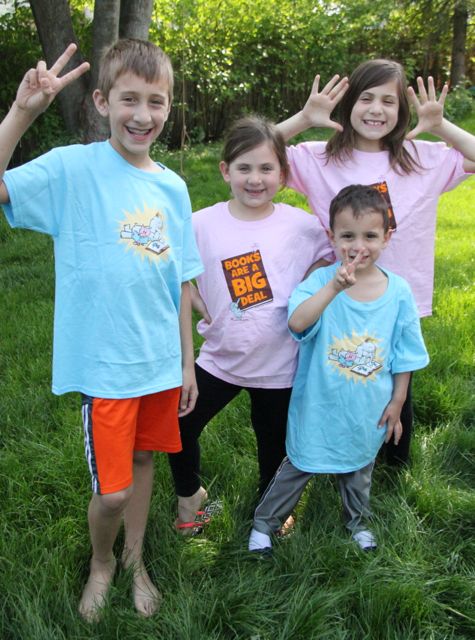 You can see my kids are just a little bit excited about all of it! 😉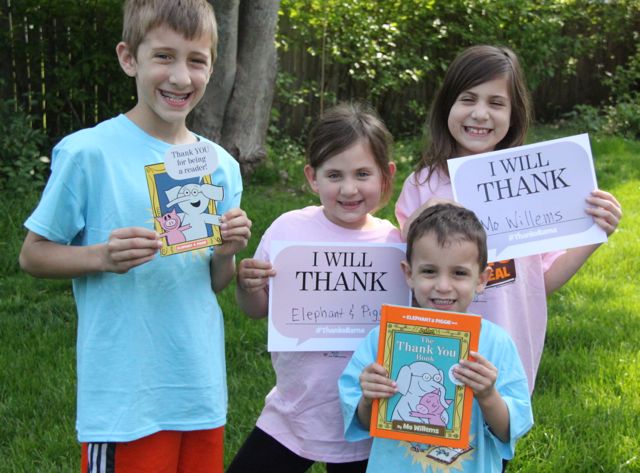 There were also these fun speech bubbles included in our package where we could Thank anyone we wanted. As you can see my kids reaaaaallly like Mo Willems and the Elephant and Piggie series!
You can download your own speech bubbles below to say your own Thank You:
*Take a picture with your speech bubble and share it on social media using the hashtag #Thankorama!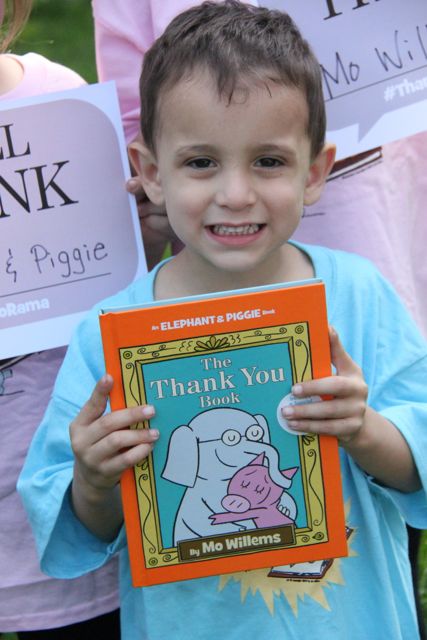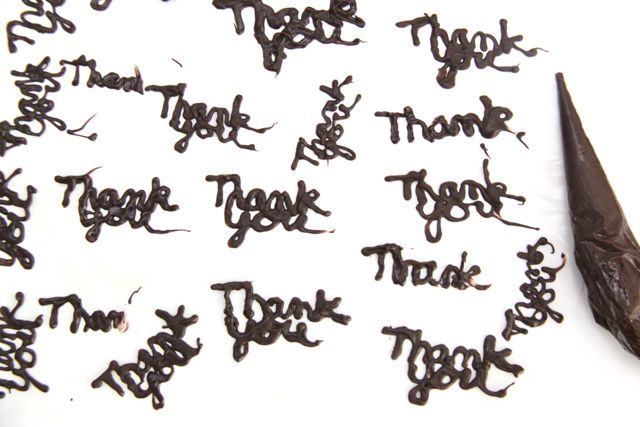 In the spirit of the book, we decided it would be fun to thank some of the fabulous people in our lives by giving them 'Thank You' cupcakes!
I bought melting chocolate and placed it in a microwave-safe bowl, microwaved on high for 1 minute and stirred it all up until melted. Then I placed the melted chocolate in a food safe plastic bag, clipped off a corner and helped my littles pipe out the words 'thank you' onto a sheet of waxed paper. It was hard work getting the words just right but after more than a few tries we got a couple good ones! No worries…the not so good ones became little treats for us so all was well in the end! 😉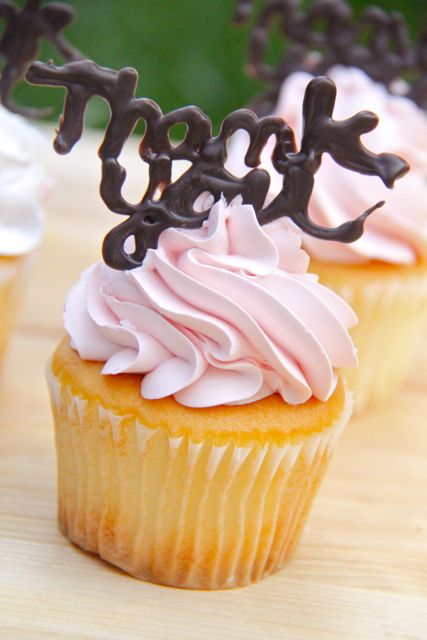 Once the chocolate cooled, we carefully peeled the words off the waxed paper and gently placed them on top of frosted cupcakes!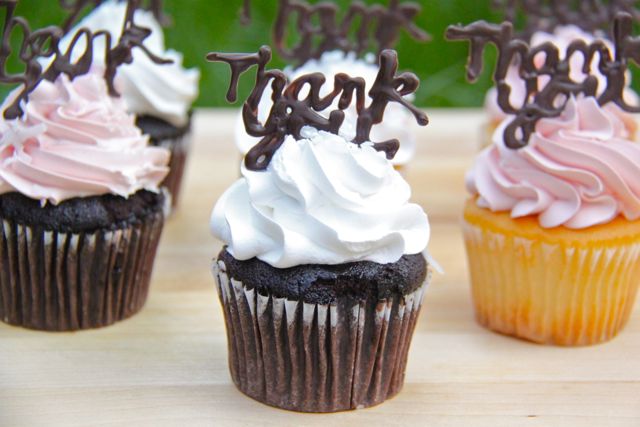 Seriously too cute!!!

This was such a fun way to jazz up an ordinary cupcake and even better that they helped us say 'Thank You' to a few people in our lives that are always there for us in one way or another! After we had delivered our cupcakes I thought how fun this would be to bring to our local police or fire station…oh the possibilities of who we could thank are endless!
I hope you get a chance to thank someone in your life with cupcakes too!!! It just can't be beat!
——————————————————————–
You can visit Thankorama.com and follow everything #Thankorama here:
Follow @DisneyHyperion on Twitter
Follow @DisneyBooks on Instagram
Follow @The_Pigeon on Twitter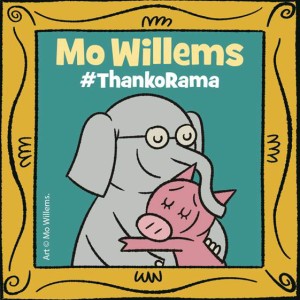 and now for the GIVEAWAY!!!
One lucky reader will win a #ThankoRama Prize Pack which will include:
Copy of The Thank You Book
Elephant & Piggie event kit & standee
2 Elephant & Piggie tshirts
A few ways you can enter are:
Leave a comment below telling me "who would you say thank you to right now!"
Follow Smashed Peas and Carrots on Instagram here and come back and leave a comment letting me know you did!
Follow Smashed Peas on Twitter here and come back and leave a comment letting me know you did!
Giveaway ends 5/26/16 at 11:59 pm cst.
Open to US addresses only. Prizing provided by Disney-Hyperion.
Good Luck!!
xo,
Maggie
*I partnered with @disneybooks for this post, all ideas are my own though!