Oh my friends, how I triple heart today's post. Which by the way, is brought to you by the lovely ladies over at SimpleSimonandCo. They asked me if I'd like to participate in their Ugly Duckling Pattern Series where they ask bloggers to take an ugly, old pattern and modernize it making it something you'd actually want to wear…or sew for that matter! As you know my love for all things vintage I, of course, said yes. I have a ridiculous amount of vintage patterns, I just can't help buying every single one I come into contact with, it's a sickness I tell ya. Now, y'all know I have an affinity for children's clothing. So how could I not makeover a children's garment? Here is the one I chose for today's challenge…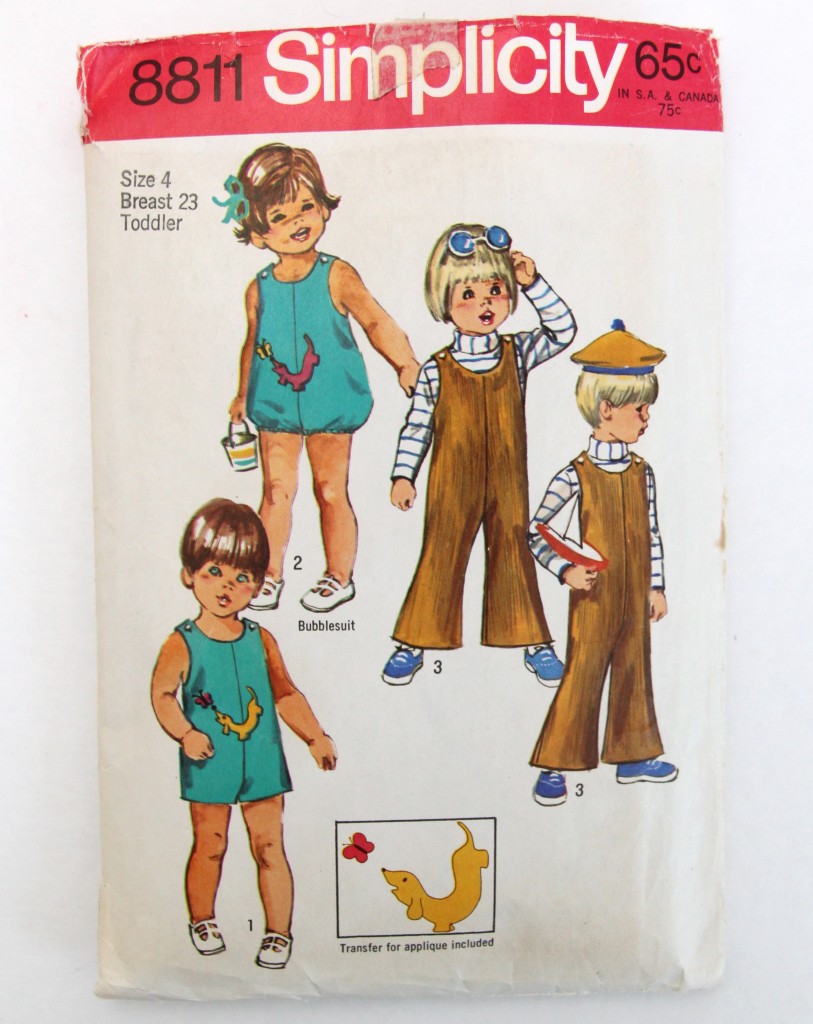 At first glance the pictures on this pattern just crack me up. That weird "u"-shaped daschund chasing a butterfly appliqué? That odd looking seam running down the front of a solid color pair of overalls? That too small hat…with a pom! But then, as I studied the actual pattern, it seemed so endearing to me. A sweet bubble romper for a little girl…I could so see that on my Eloise. Wearing it to church with a pair of cuffed lacy socks and white mary janes.
And this is what I made from that ugly old pattern…

I love modern clothing with vintage flair and this is exactly what this bubble romper I created is to me. The bones of this romper are timeless and sweet so I kept the basic design of this pattern. But now, paired with modern fabrics (So Happy Together in White from Riley Blake Designs) and big, bold patch pockets accented with vintage lace and white ric rac the skin of this romper is updated for today's little girl, hooray!

Eloise was In. love.
If it was only 20 degrees warmer in Chicago she could actually wear it outside….soon let's hope!
She loved the big pockets on the front. Room for her treasures, what more could a girl ask for?
I love covered buttons and chose to make use accents flowers from this fabric to make two different versions so they each stand out a bit. 
She is such a ham.
And how sad am I that she will probably be out of romper age after this summer, wah! Why do they have to get bigger and grow up?
And there you go. Taking an ugly, old vintage pattern an modernizing (that is soooo a word) it into something fit for a princess of the year 2014!
Make sure to check out the rest of the series that runs for another week over at SimpleSimonandCo here, there are some pretty hilarious patterns being made over that you will for sure want to check out!
Thanks for stopping by today!
Love,
Maggie