Ok
, so we have more sweet baked goods in the house, this pregnant momma is
Happy!
My children have been sleeping and sleeping and sleeping, taking a nice long nap just for me and what is a girl to do with all that free time? Why, make sticky buns of course. Ooey, gooey sticky buns are just heavenly for breakfast or an afternoon treat…we'll see if they make it to Saturday breakfast tomorrow 🙂
This recipe is super
easy
…the ingredient list is small and baking time is quick. Which means, you can make them often.
Hmmm
, maybe that's not such a good thing!?! These buns are sticky, small and super sweet, basically you will eat lots of them and then your teeth will wish you hadn't. But, so good they are that I must share the recipe with you all.
Yup, that's you guys..
.you can thank me later 😉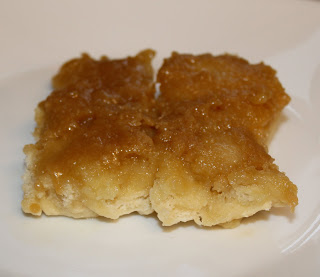 Seriously, need I say more?
Oh My Heaven Sticky Buns
Ingredients
1 loaf (1 pound) frozen bread dough, thawed (or you can make your own bread dough, it's really easy, pinky swear!!!)
1 cup vanilla ice cream, melted (I like to use the low-fat double-churned ice cream)
½ cup butter, melted
½ cup white sugar
½ cup brown sugar
Instructions
Thaw bread loaf in a greased bread pan and cover with plastic wrap that has been greased to prevent sticking.
Once, bread has doubled in size, or puffs out nicely over the top of the pan it's ready to go!
Mix the ice cream, butter, and both sugars together and pour into a greased 9x13x2 inch baking dish.
Pull the thawed bread loaf into 30 or so pieces and drop into the ice cream mixture. Bake in oven at 375 degrees for 20-22 minutes or until bread is starting to turn golden brown.
Cool for 5 minutes and then invert onto a serving platter.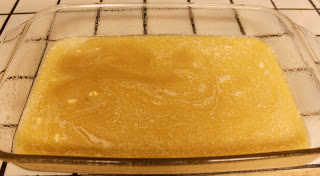 Pour the ice cream mixture into your greased 13x9x2 inch baking dish, like so!
Drop your thawed bread dough pieces into the mixture, like so!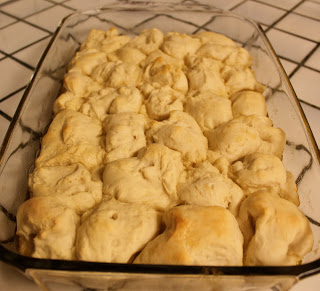 Bake until the bread pieces are just turning golden brown…
Mmmm
, looks good doesn't it!?!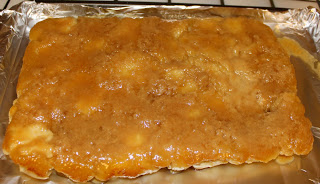 Flip out and
ooh
and
ahh
over the sticky goodness!
**I flip mine out onto a rimmed cookie sheet lined with aluminum foil to cut down clean-up!**