On the first day of school every year, I let my kids pick out what they want for breakfast that morning. I know first day jitters are a real thing and want to make sure that they are feeling calm and relaxed from the minute they get up. 🙂 This year my 3 oldest decided that they wanted me to make cinnamon rolls for them. Umm, how could I not! These Ooey Gooey Cinnamon Rolls are always a favorite in our house so of course they would be good comfort food for them! I decided to make them the day before and figured since I was going to make them why not make a double batch and pass them out to a few friends as a sort of "Good Luck on the First Day of School" treat!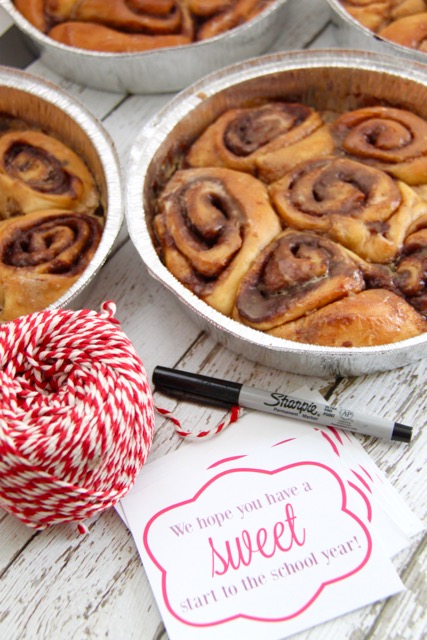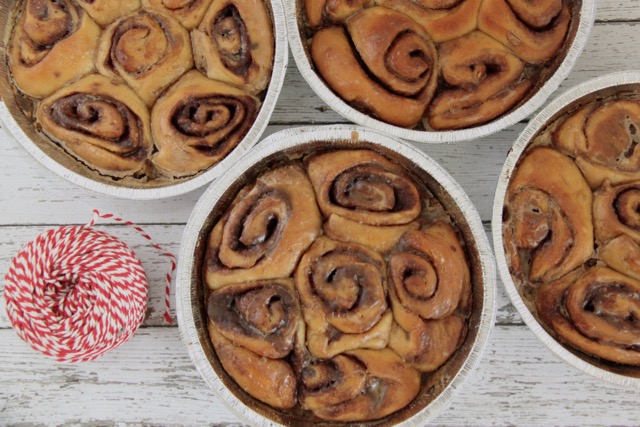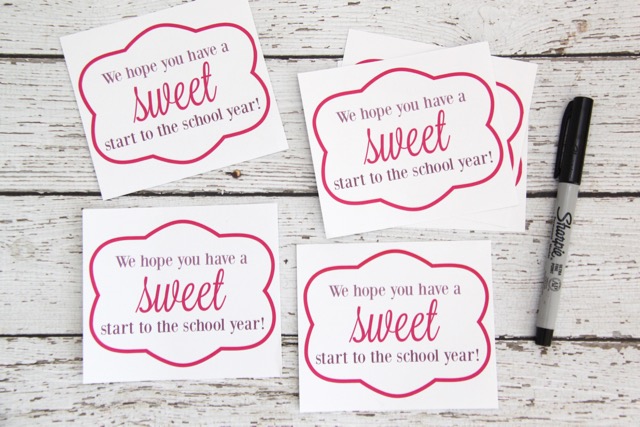 I created a fun little printable to attach to the cinnamon roll pans…just a sweet little note for each family. And in case you have not started school yet this year, I thought I would share it here with you!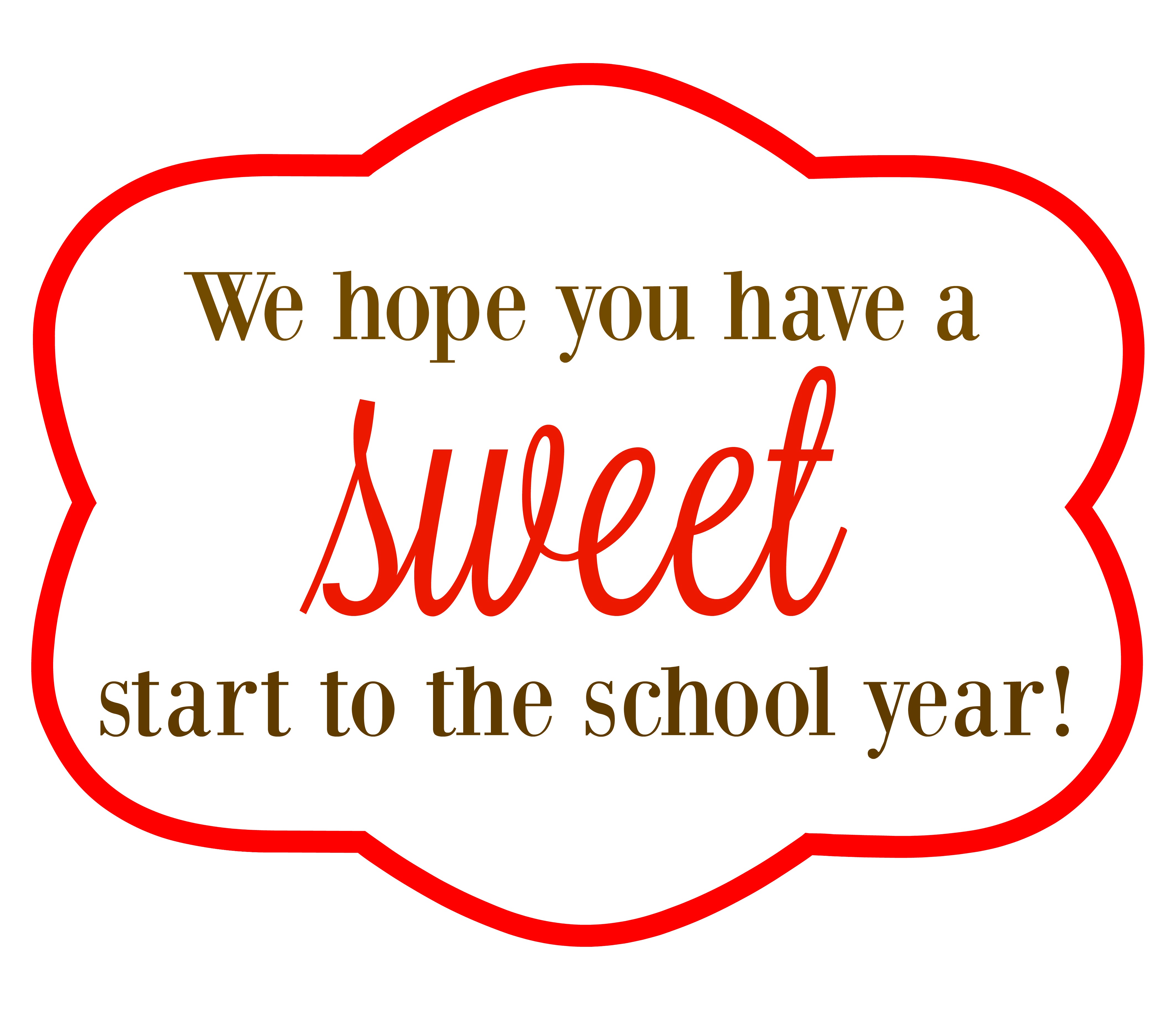 If you just need one tag, you can click on the image above and resize via your computer's word program. Otherwise, if you need more than one, I put together this printable document with 6 tags here: Sweet School Year Printable
Just print onto white card stock, cut apart with scissors or my favorite paper cutter here, hole punch, and attach with twine or a ribbon to your cinnamon roll pan!
And now for our favorite Ooey Gooey Cinnamon Roll recipe! I hope you enjoy it!!

Ooey Gooey Cinnamon Rolls
Ingredients
Roll Dough
1 package active dry yeast (.25 oz)
1 cup warm milk
½ cup evaporated cane sugar
⅓ cup butter, softened
2 eggs
4 cups all-purpose flour
1 tsp salt
Filling
1 cup brown sugar
3 tbsp cinnamon
⅓ butter, melted
Icing
3 cups powdered sugar
1 tsp maple flavoring
¼ cup milk
⅛ cup melted butter
⅛ cup brewed coffee
pinch salt
Instructions
In a small bowl, warm milk too lukewarm temperature, sprinkle yeast over top and let sit for one minute.
Pour milk and yeast in bowl of an electric mixer, add sugar, butter, eggs, flour, and salt and mix well.
Knead the dough into a ball (should not be sticky so you may need to add a bit of flour to dust hands and ball of dough with) and place back into bowl.
Let dough rise, covered, in a warm place for one hour. It should double in size.
Take dough out of bowl and place on a lightly floured surface, roll dough into a 16 x 20 inch rectangle so that dough is about ¼ inch thick.
Make filling by combining cinnamon and brown sugar together in a small bowl.
Heat oven to 375 degrees.
Pour melted butter over top of dough, sprinkle the cinnamon mixture over top.
Working from one long edge, carefully roll the dough.
Cut the dough into 1 inch thick slices and place in a lightly greased pan.
Cover the pan of cinnamon rolls and let rise again for about 20 minutes in a warm place (I usually set them on top of the warming oven!)
Then bake 10-15 minutes or until golden brown.
While rolls are backing make the icing by combining all icing ingredients together and whisking together.
When rolls are done, pour icing over top liberally.
Enjoy!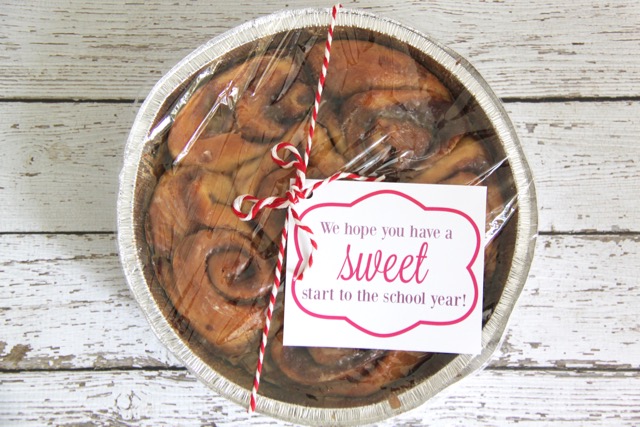 We love these rolls and usually eat them within a day or two at most but if you don't have as many hungry bellies to eat them all, you can always freeze them. When we do freeze them, I make the recipe exactly as is including the adding the icing. I place each pan in a ziplock bag once cooled and freeze just like that! To reheat, just pull them out and back at a lesser temp…usually 250 degrees for us, and cook for about 8-10 minutes! And you could definitely use powdered sugar icing or even a cream cheese frosting with these rolls but my family is partial to the Pioneer Woman's maple icing…sooo good!
Hope you enjoy these rolls!!!
Love,
Maggie