You guys!!! I cannot believe I have yet to share this recipe with you! It is one of our favorite better-for-you cookie recipes and for a while I was making it at least once a week. But then I got annoyed because I always made a double batch in hopes of having them around for the whole week and then everyone would eat all of them that day, humph. I guess it's a good problem to have, especially when you can get your kids to eat healthier treats, but still. I digress. These Paleo Flourless Chocolate Cookies are the bomb.com because they taste like chocolatey heaven which is why they will always be one of my kids favorite Paleo Recipes. If you want a sweet treat but don't want all the white flour, gluten, dairy or what have you, well, this is YOUR cookie! (affiliate links present)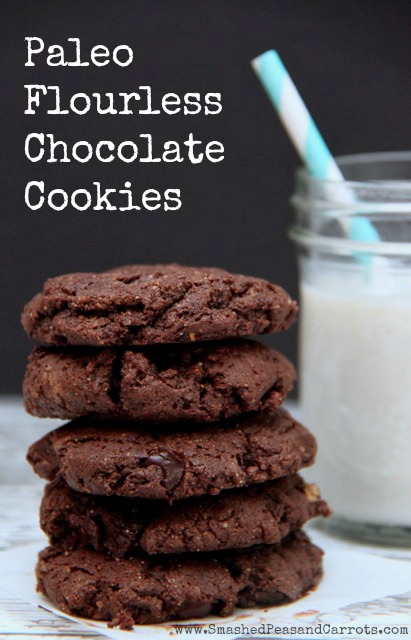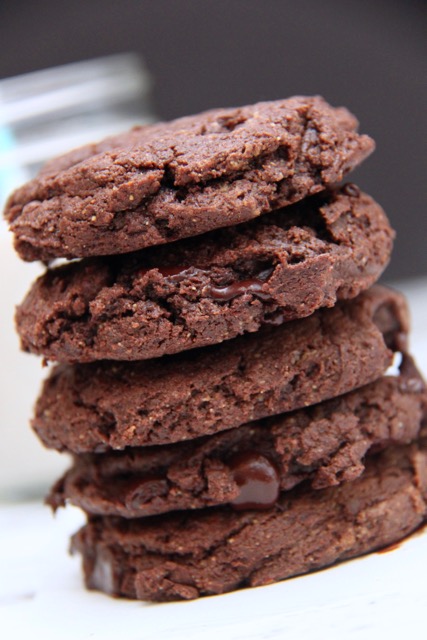 I mean, look at these babies! They are fudgy and chewy and oh-so-chocolatey. They really cannot be beat! If you are looking for some other good Paleo recipes, you may want to try this Grain-Free Paleo Breakfast Cookie Recipe or this Paleo Mug Cake Recipe, both are very good!!!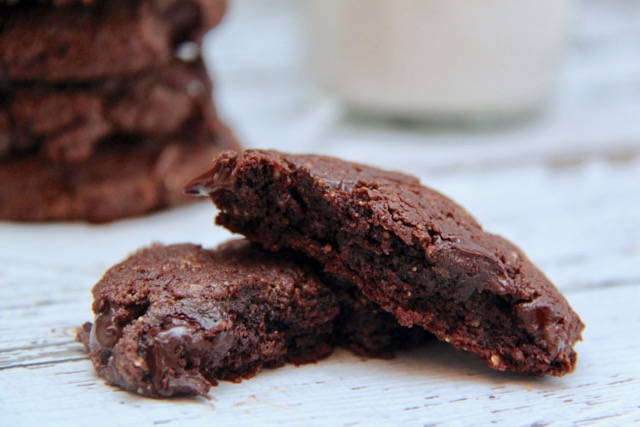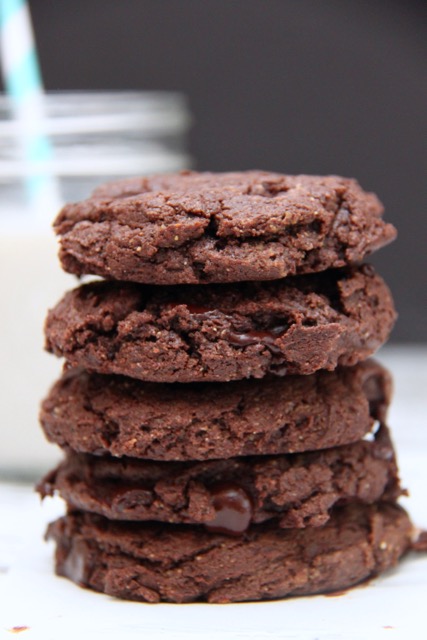 Paleo Flourless Chocolate Cookies
To make these, I mix everything up in my kitchen aid mixer. It makes mixing up thicker cookie batters a breeze! And PS. have you seen the new Aqua Sky color? WANT!!! It is soooo pretty and puts my boring white one to shame!
Okay, here's the recipe, I hope you love it as much as we do!

Paleo Flourless Chocolate Cookies
Instructions
Mix the almond butter, cocoa powder, coconut sugar, eggs, vanilla, baking soda, and salt together in the bowl of an electric mixer until well incorporated.
Add in the chocolate chips and mix well.
Using a 1-inch cookie scoop, drop onto a parchment lined baking sheet.
Using the bottom of a mason jar, flatten each cookie scoop to about ½ inch thickness.
Bake at 350 degrees for 7-8 minutes.
Let cool completely on a baking rack before moving or cookies may fall apart!
Enjoy!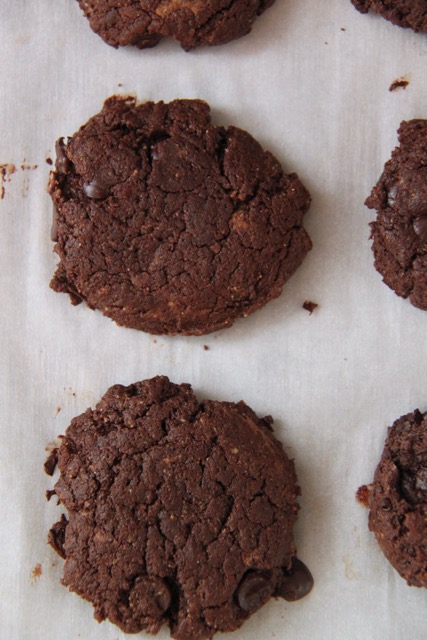 This
Paleo Flourless Chocolate Cookies 
recipe couldn't be easier, just dump everything expect the chocolate chips into the bowl of an electric mixer and mix until well combined. Then add in the chips, mix well. and drop by the one-inch scoop onto a parchment lined baking sheet. I flatten the cookies down with the bottom of a mason jar, because they won't flatten on their own as there is not butter or oil in them.
Then bake at 350 degrees for about 7 or 8 minutes. Let them cool completely before you pick one up though as they can fall apart…and which isn't half bad because, as you know, moms always get to eat the bad looking cookies, lol!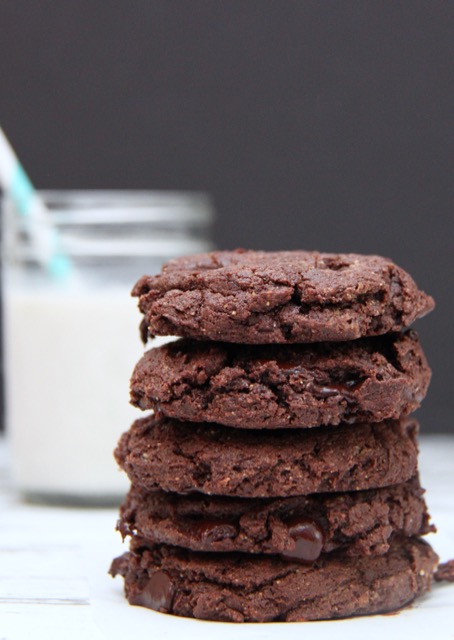 I think that simple nut butters work best, like almond, peanut, cashew (or possibly even sunflower although I haven't tried that one yet!) Just roasted nuts and some salt as the ingredients, nothing more! We happen to really like Trader Joes' Almond Butter best! And the best dairy free, gluten free, soy free chocolate chips we have found are from the Enjoy Life brand, we just love them!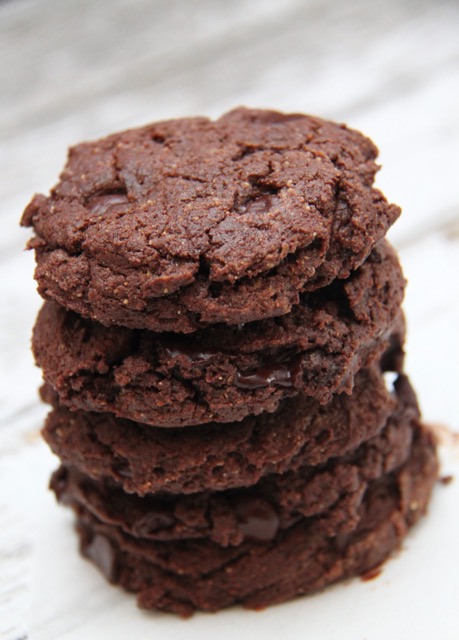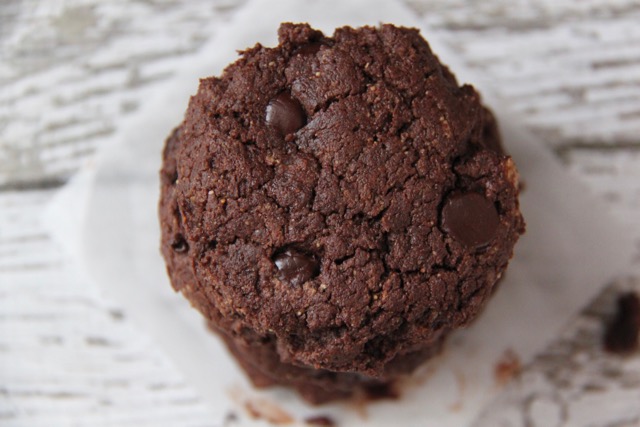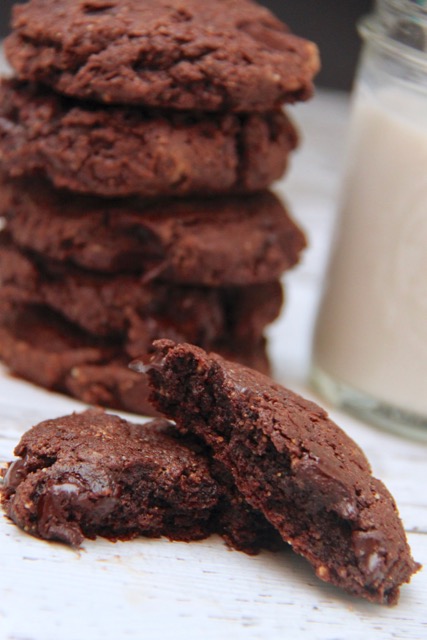 Man, I just love a good fudge and chewy cookie!
For more easy recipes, crafts, tips and tricks please LIKE Smashed Peas and Carrots on Facebook or follow me on Instagram or Pinterest for more great ideas!
Thanks for stopping by today!
Love,
Maggie