Paleo Peanut Butter Eggs are an easy and healthier version of that old favorite Easter treat, the Reese's Peanut Butter Egg! This Paleo friendly, gluten free, and dairy free version is a definite must make recipe.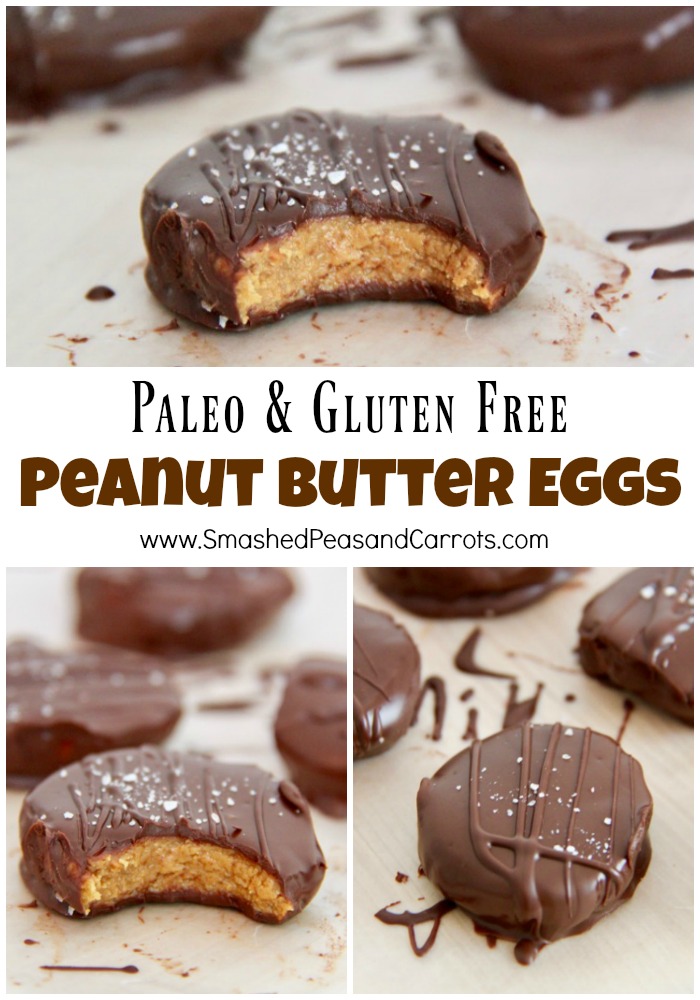 If you love eating sweets like those yummy Reese's Peanut Butter Eggs that you can find in every store these days but are trying to watch what you eat, then you need these Paleo Peanut Butter Eggs in your life! They are the perfect treat for anyone with a sweet tooth who is looking to reduce sugar and they are gluten and dairy free to boot! You still get that yummy chocolate outer shell and a creamy and sweet peanut butter filling that will give you all the heart eyes…sooooo good! It's one of our favorite Paleo Recipes we make in our house and totally kid approved! (affiliate links present)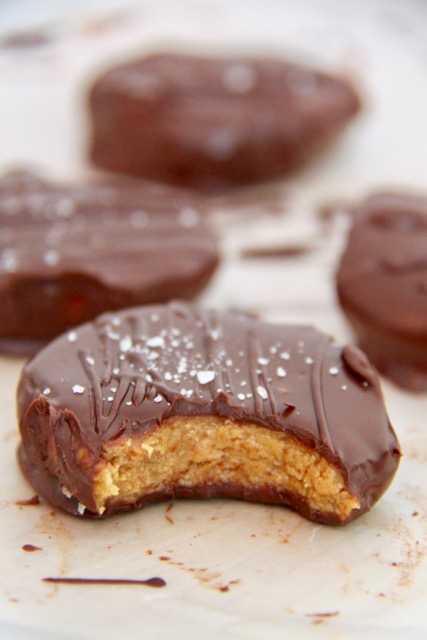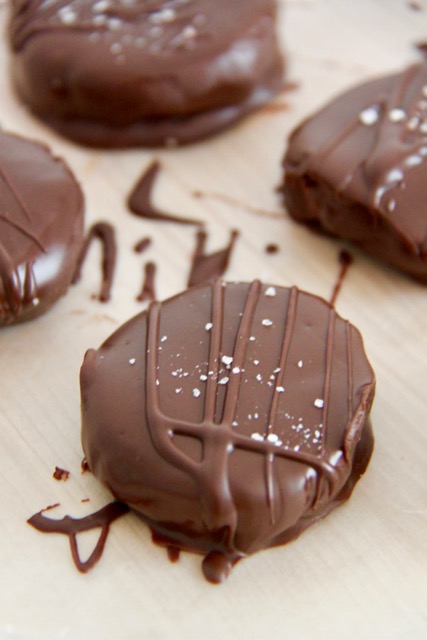 A few quick notes on making these real quick! 🙂
Use only natural peanut butter (or almond butter if you are Paleo!), the kind with just peanuts and salt…and that natural layer of oil that you need to mix in!
The amount of coconut flour you need is very dependent on the brand of peanut butter you buy. You may need more than a couple of tablespoons depending on how runny your peanut butter is. Trader Joe's peanut butter tends to be very runny!
You do not need to add the coconut oil to the chocolate but I find that it helps to thin it out which makes for easier dipping and it also helps it set better.
Placing these peanut butter eggs into your fridge or freezer for a few minutes after dipping will help them set super quick as the coconut oil solidifies quickly at a cold temperature!
Paleo Peanut Butter Eggs
I hope your family enjoys these as much as we do!

Paleo Peanut Butter Eggs
Ingredients
1 cup natural peanut butter (just peanuts and salt) or other nut butter (almond, cashew, etc if Paleo)
1-2 tbspcoconut flour
1 tbsp maple syrup or honey
1tsp coconut oil
coarse himalayan sea salt, optional
Instructions
In a medium sized bowl, mix together the peanut butter, coconut flour, and maple syrup (or honey) until well combined.
Scoop our 1-2 tbsp sized portions of the mixture and roll into a ball and place on a waxed paper lined baking sheet
Flatten each ball with the back of a spoon and shape into an egg or circle if desired.
Place baking sheet into the freezer for about 30 minutes.
In a small bowl, add chocolate and coconut oil and microwave for about 1 minute.
Stir together until chocolate is completely melted.
Using a fork, dip peanut butter eggs into the chocolate and set back onto waxed paper to dry.
Sprinkle with sea salt if desired.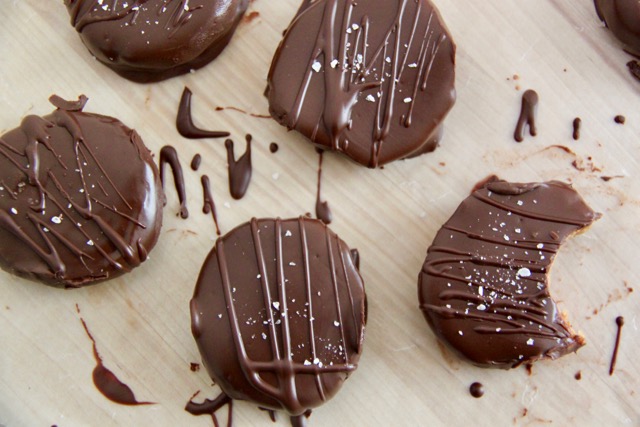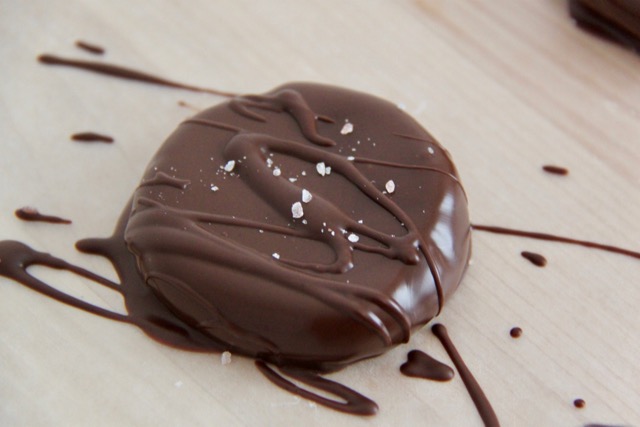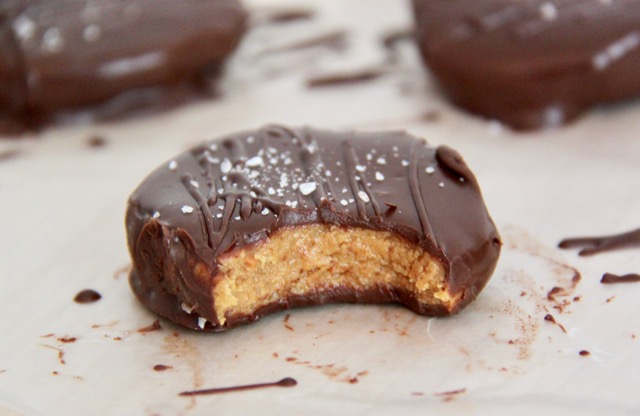 You seriously cannot beat a health sweet treat that is paleo friendly as well as gluten and dairy free!
I love that I can make these with only five simple ingredients! If you happen to have some himalayan sea salt on hand, try adding a sprinkle on top! Deelish!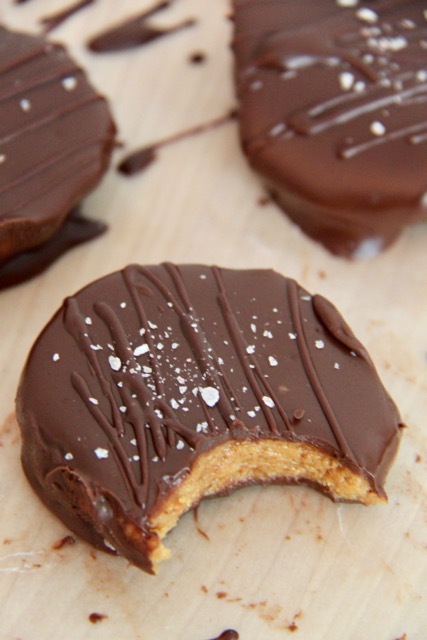 If you are looking for more great Paleo recipes try these kid-approved and super delicious recipes!
For more easy recipes, crafts, tips and tricks please LIKE Smashed Peas and Carrots on Facebook or follow me on Instagram or Pinterest for more great ideas!
Thanks for stopping by today!
Love,
Maggie