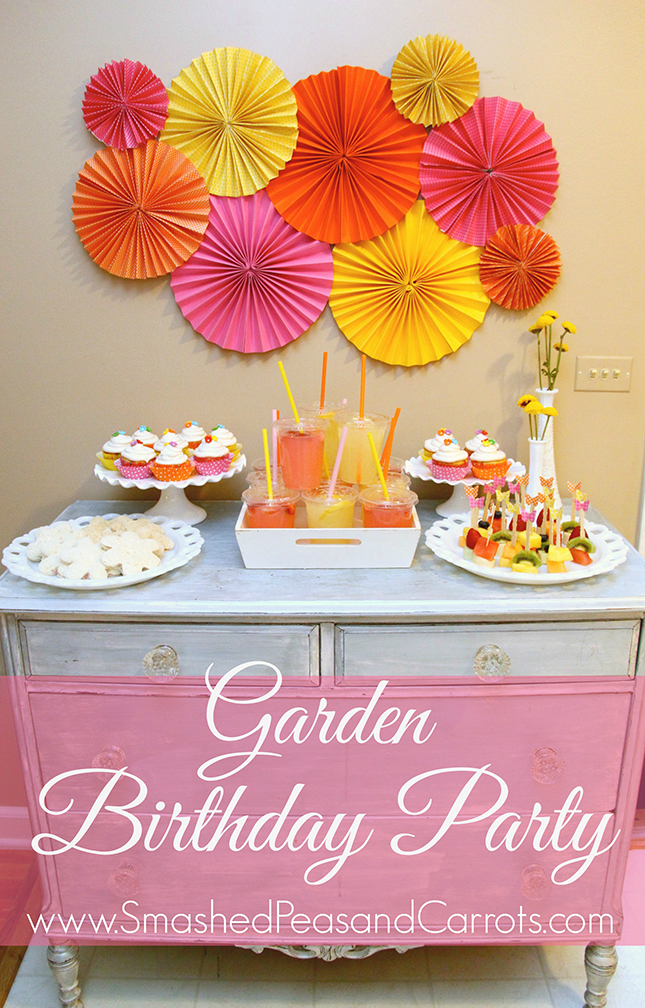 I am so excited to share today's post with you, it's all about the fabulous Garden Party we threw for our little Penelope's 6th birthday for her and her adorable friends right before school started. It also happens to be a part of the Party on a Dime Balloon Time Charity Challenge where they asked eight party planning bloggers to throw a party on a budget using only $100, a Balloon Time helium tank, and any items borrowed or donated. The winner will receive $5000 from the Worthington Foundation for their charity of choice. The charity I chose to party for is World Vision, a charity that is near and dear to my heart for all the amazing good they do for children, their families, and their communities worldwide. You can read more about them here.
Vote for my Garden Party on the Party on a Dime Charity Challenge Facebook page HERE!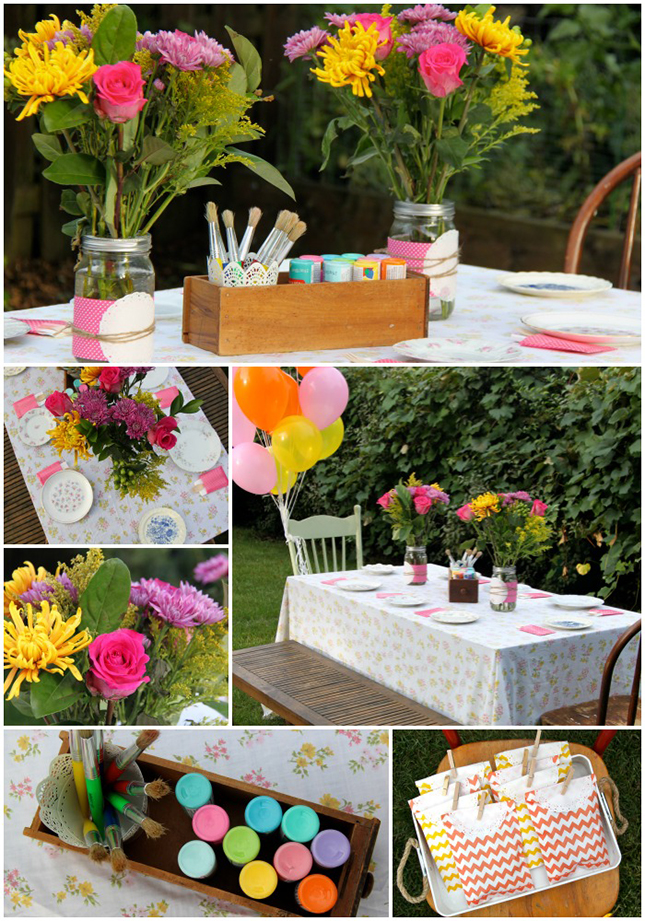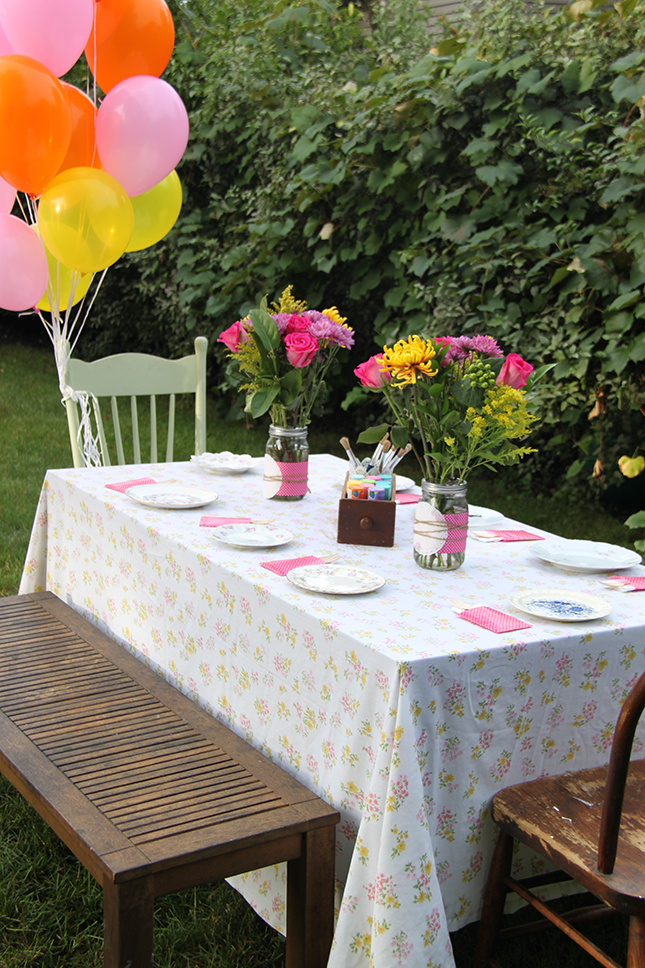 Since Penelope's birthday is in August and our girl just loves all things girly and being outside we decided that we just had to throw a Garden-style birthday party. We went with the bright fun colors of pink, yellow, and orange, used lots of colorful flowers, and decorated with pretty vintage floral goodies like a vintage sheet for a tablecloth, my stash of vintage china plates, and my collection of vintage milk glass serveware for all our party food!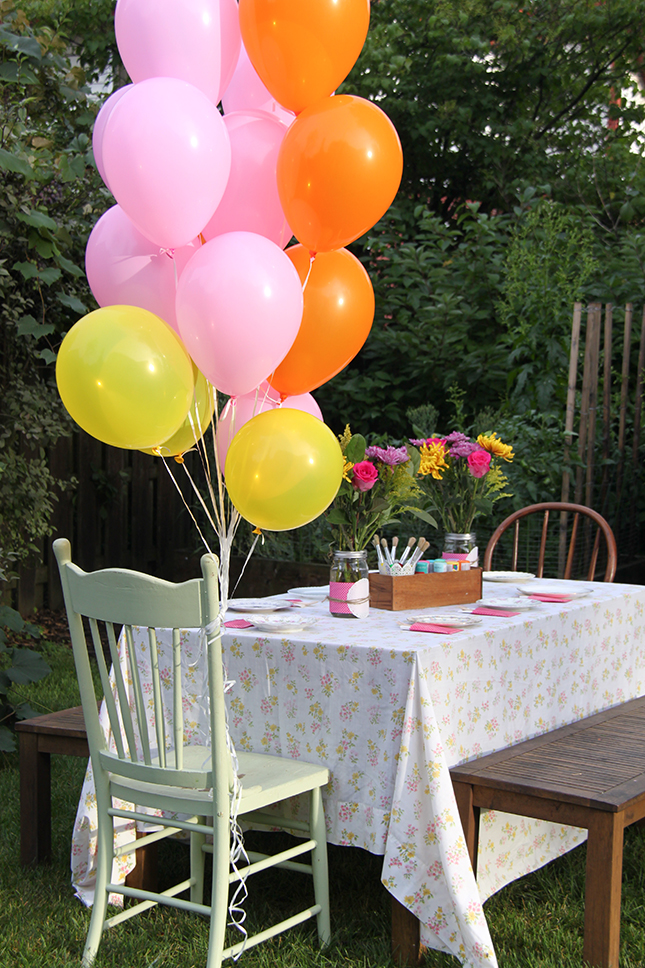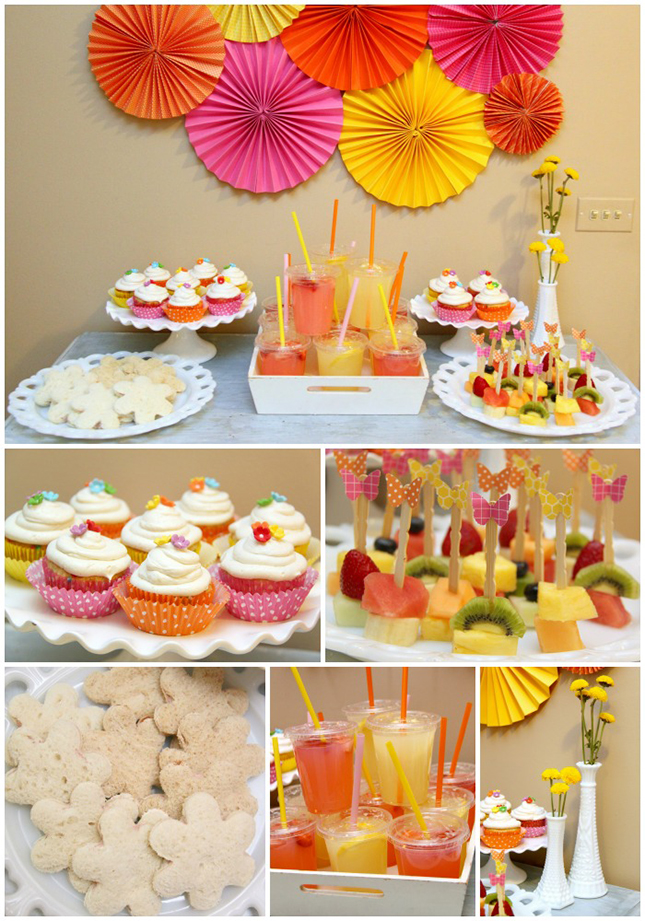 We used a vintage dresser to serve the food and I added some pretty bright yellow flowers in milk glass vases to keep with our garden theme. I used scrapbook paper I had on hand to make a whole bunch of paper rosettes for a wall hanging, I love when I just happen to have exactly what I need for a party already in my stash!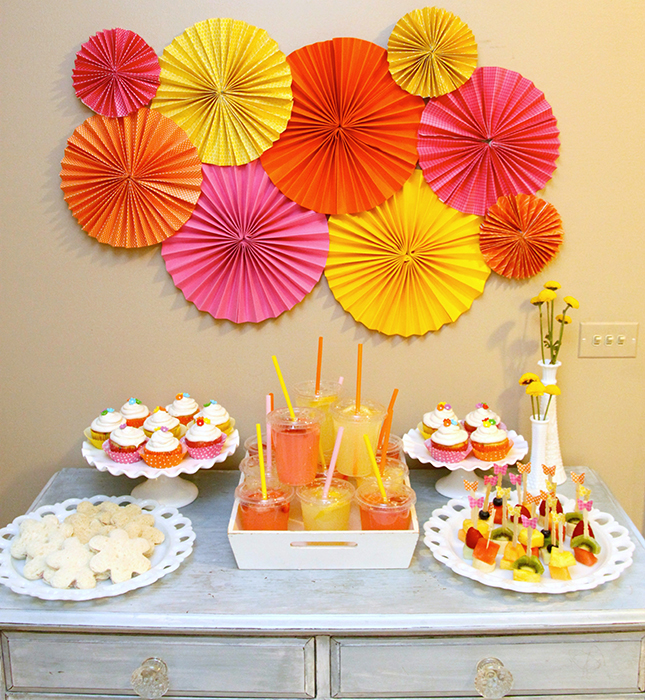 We offered all our tiny guests their choice of pink lemonade with strawberries or regular lemonade with lemon slices served in small plastic cups with pink, yellow or orange straws I bought for a party last year. (You can find the cups/caps here and the straws are from Ikea). I also offered strawberry cream cheese flower-shaped sandwiches with their choice of either white or wheat bread and we had cupcakes for dessert with the teeniest little flower candies on top.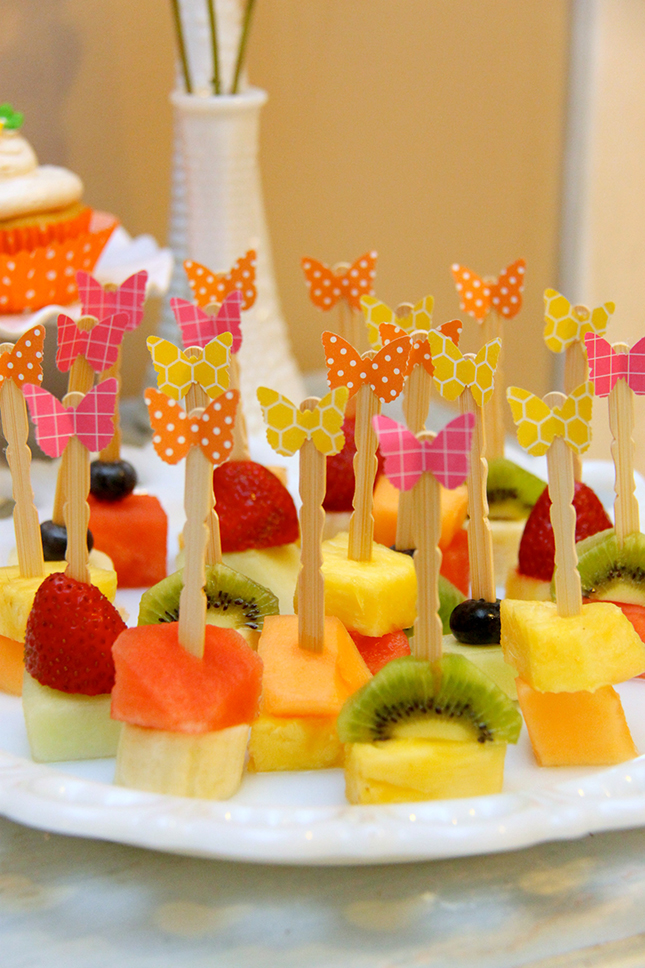 I also cut up pieces of fresh fruit and skewered them with wooden picks adorned with little butterflies I punched out of the scrapbook paper scraps and hot glued to the tops. The girls looooved these! They were gone in 0.5 seconds, I think there is something about cute presentation and easy to eat finger food that gets kids every time!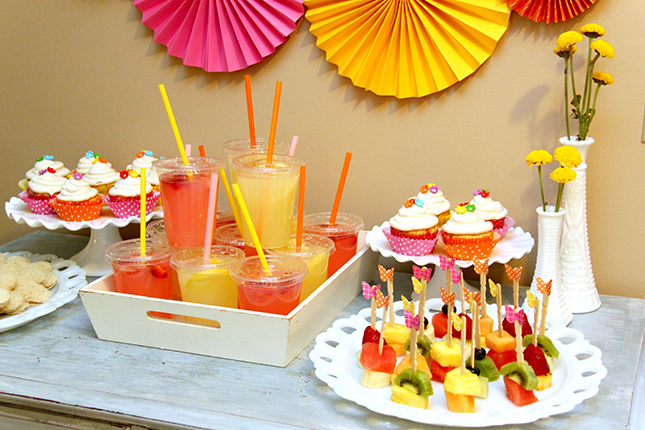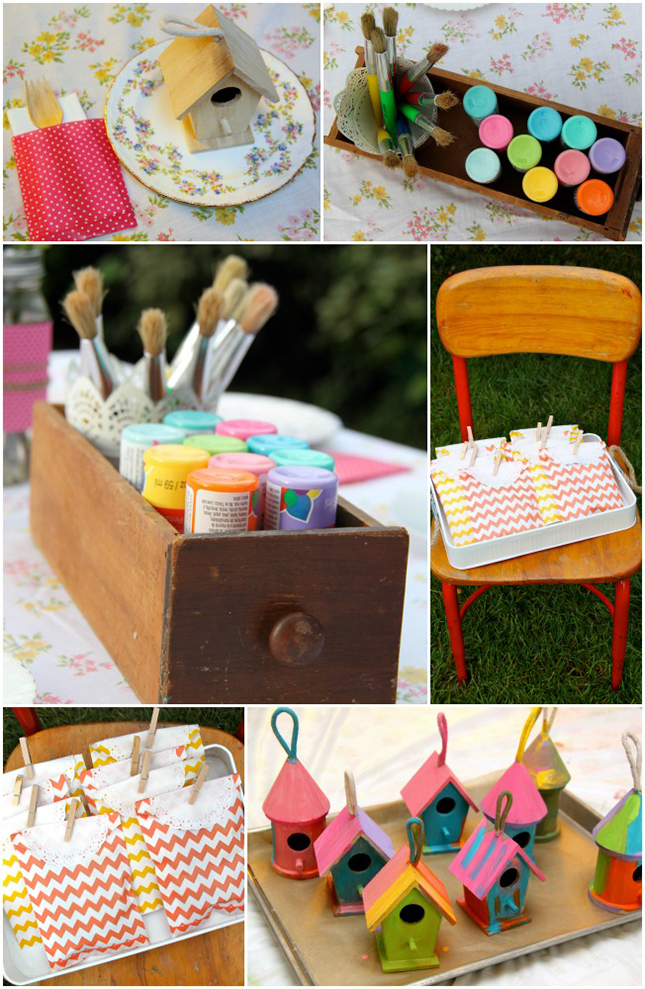 For our party activity the girls painted little birdhouses (which I bought at Michaels for a dollar a piece plus 20% off my entire purchase with a coupon!) and took them home as a party gift along with a little bag of birdseed to place inside. We also baked and decorated flower shaped cookies before the party started and each girl took one home too. You can see a picture of them before they were packaged up on my Instagram here.
We laid out a vintage sheet for a tablecloth and decorated the table with mason jars filled with fresh flowers from our yard and from a few friends' yards too! We set the table with my mismatched vintage china plates and each guest had a small pink paper bag next to their plate with a napkin and a wooden fork. I placed a vintage wooden drawer filled with paintbrushes and paints in the middle of the table for our birdhouse craft.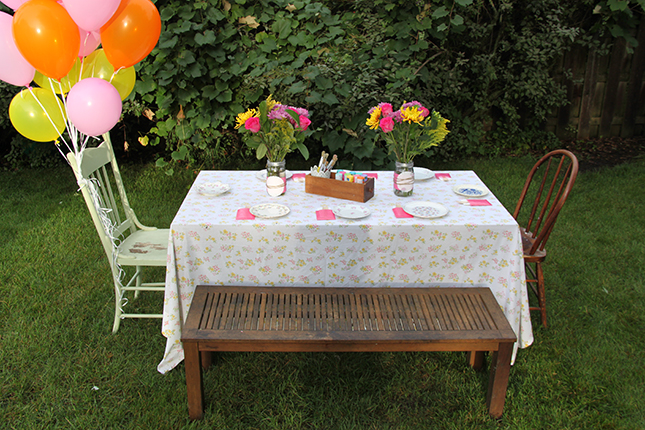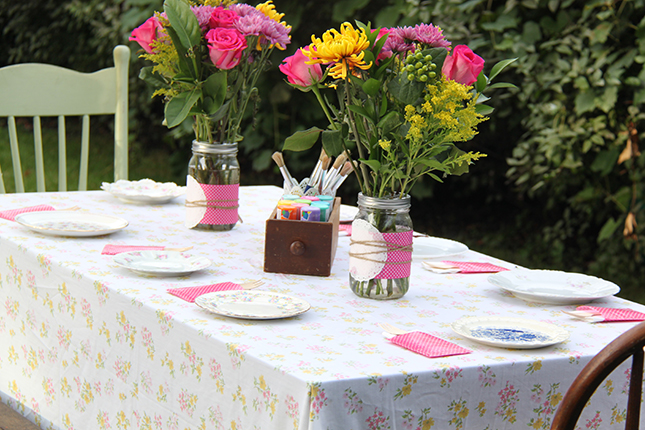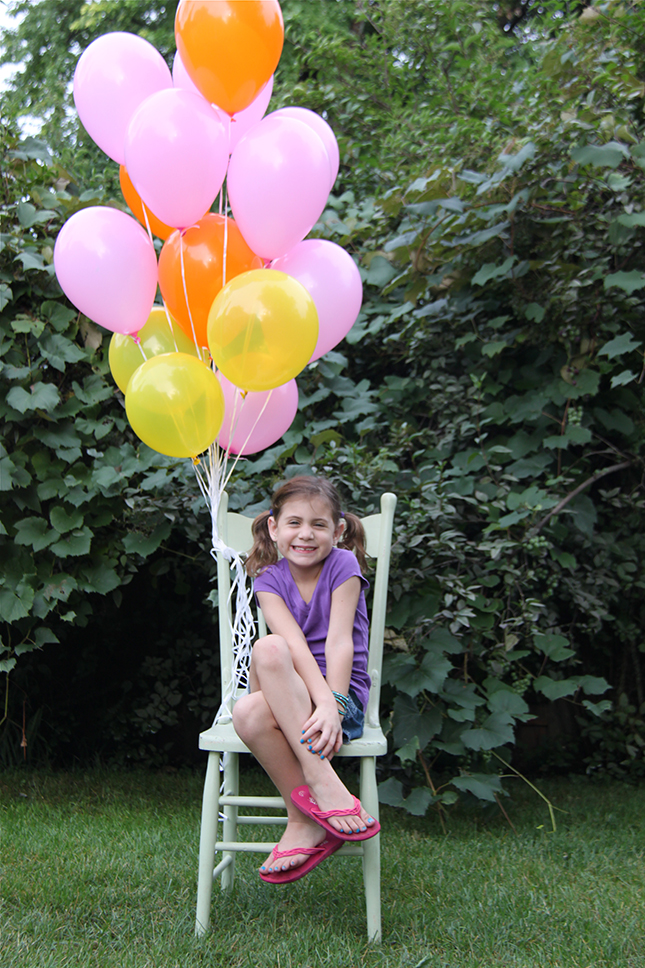 Penelope absolutely adored her party. She was so excited to help decorate and get the house and our backyard ready and was over the moon when her friends started arriving. We had lots of sweet girly giggles and funny stories the entire party. Can I just say how precious 6 year old girls are? Gahhh! Too cute!!! I am just so happy that she has made some pretty darn wonderful friends at school, what a good feeling in this momma's heart!
I hope you enjoyed Penelope's 6th Birthday Garden Party and it inspires you to throw a party on a budget! I think the majority of the money I spent was on the food, if you can believe it!
And please, if you have a moment go over to the Party on a Dime Charity Challenge Facebook page HERE and vote for me so I can raise $5000 for WorldVision, I would truly appreciate it from the bottom of my heart!!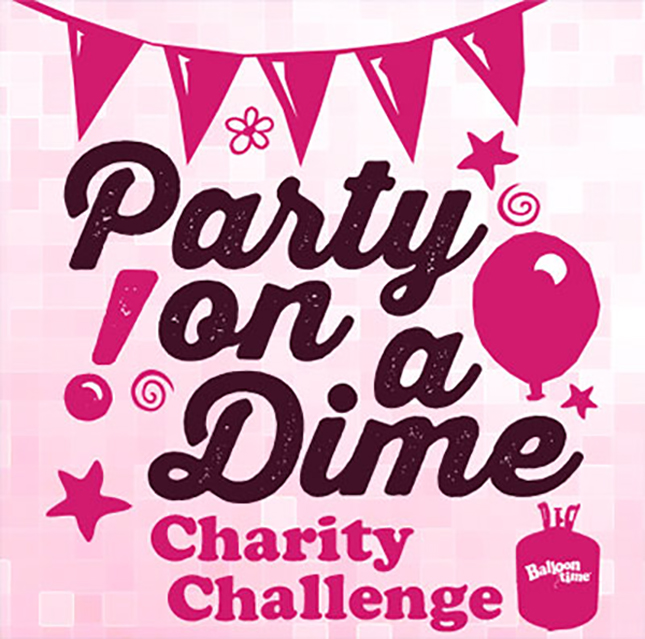 Thanks friends!!!
Love,
Maggie