This is a sponsored post written by me on behalf of The Hershey Company. All opinions are 100% mine.
I love holiday traditions and cookie baking is a definite must in our family every year. During our annual cookie baking extravaganza over the weekend, we had so much fun decorating each these crazy adorable Hershey's Kisses Peanut Butter Reindeer Cookies, it really was fun for the whole family! If you are looking for a tasty and fun recipe to add to your baking list and create a new tradition with this holiday season, may I recommend our adorable recipe!  They are seriously too cute for words!! For this recipe we put a twist on the Peanut Butter Blossom cookie recipe by tuning it into Santa's reindeer…there's Blitzen and Comet and Cupid and Vixen…oh my, the whole crew plus more can be made (and eaten) in no time!!! 🙂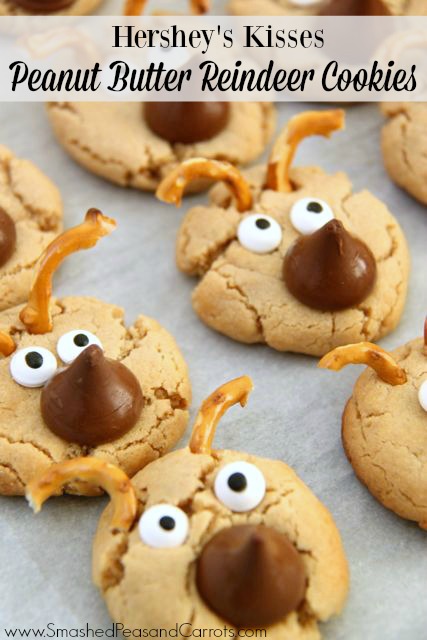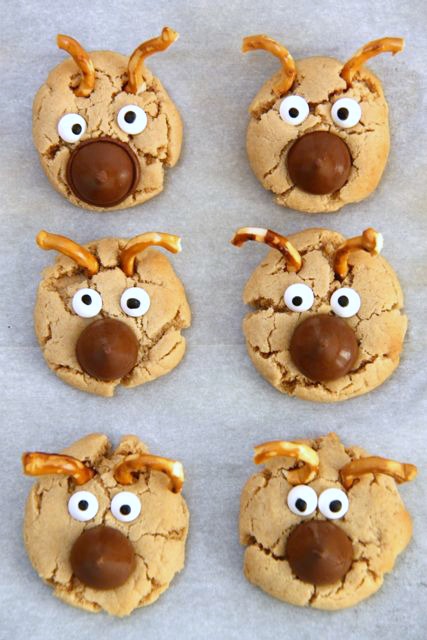 Pretzel antlers, candy decoration eyes, and a Hershey's Kisses Milk Chocolate noses equal the most precious reindeers I ever did see!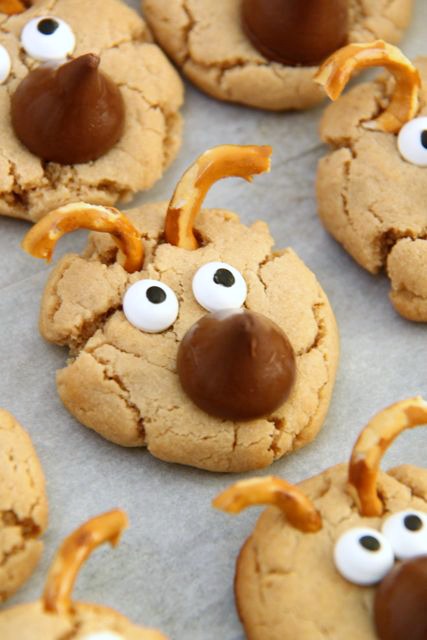 I hope you and your family enjoy making this recipe as much as we do!!!
Hershey's Kisses Peanut Butter Reindeer Cookies
Ingredients
30 Hershey's Kisses Milk Chocolates
½ cup shortening
¾ cup creamy peanut butter
⅓ cup granulated sugar
⅓ cup packed brown sugar
1 egg
2 Tbsp milk
1 tsp vanilla
1½ cup all-purpose flour
1 tsp baking soda
½ tsp salt
60 candy eye decorations
pretzel twists, broken into pieces
Instructions
In the bowl of an electric mixer, beat together the shortening and peanut butter until well blended.
Add in ⅓ cup granulated sugar and ⅓ cup brown sugar and beat until fluffy.
Add egg, milk and vanilla and beat well.
Add in flour, baking soda and salt and then gradually beat into peanut butter.
Roll dough into 1.5-2 inch balls and place on a parchment lined baking sheet.
Bake at 375 degrees for 8-10 minutes or until light brown.
Let cook on a wire rack.
While cooling, press the Hershey's Kisses Milk Chocolates near the bottom ⅓ of the cookie to look like a reindeer nose.
Then, press two candy eye decorations above the chocolate and then two pieces of broken pretzel near the top of the cookie to look like antlers.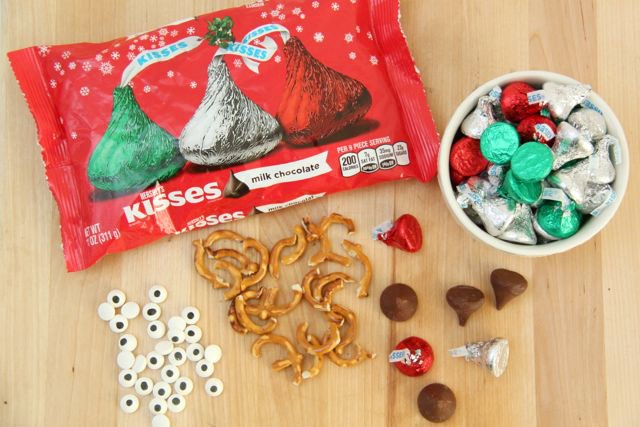 The decorations…my kids favorite part of cookie baking!!! For every piece that they add to a cookie, they get to eat a piece…isn't that how you do it too? LOL!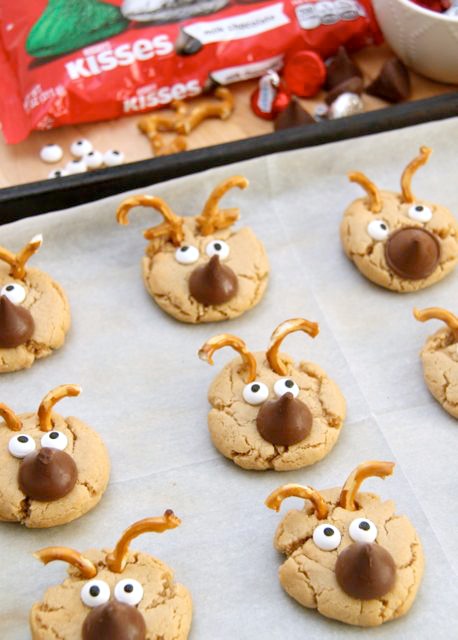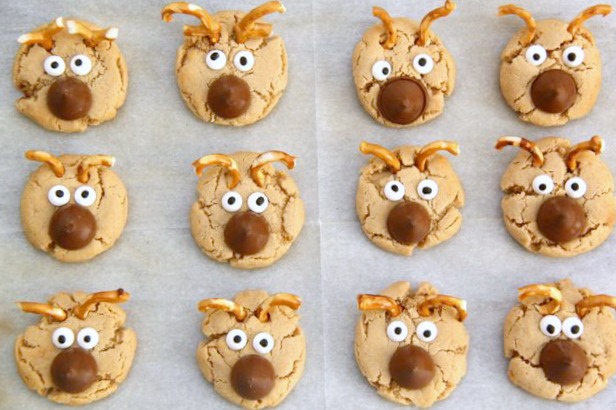 Once your cookies are baked and are cooling you can start decorating each of your reindeer to have their own personalities! They are almost too cute to eat…almost!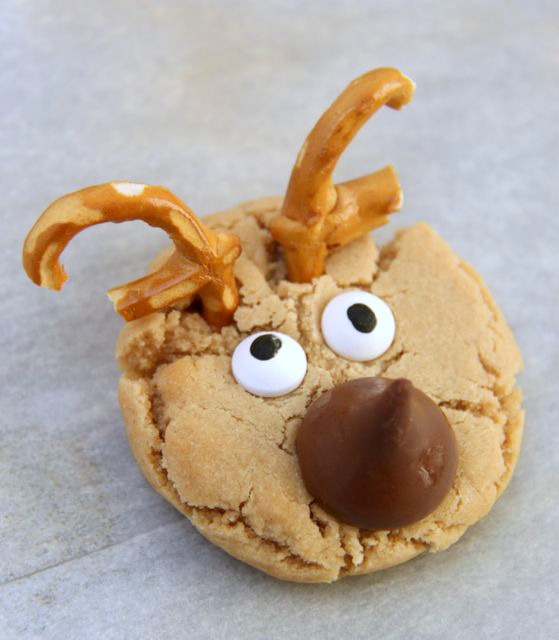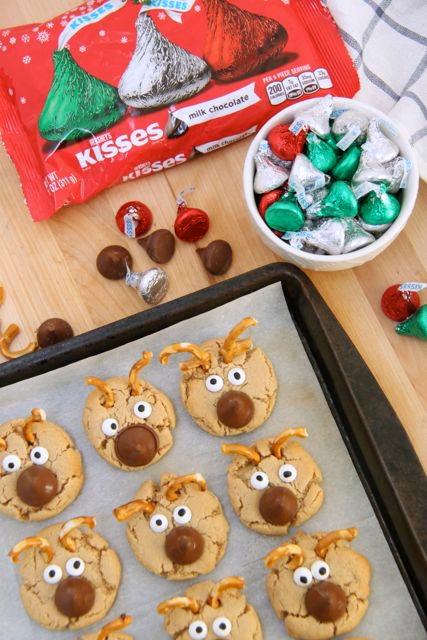 I truly hope these cookies make it onto your holiday baking list, they are so much fun to make together as a family.
The holidays are the sweetest time of the year, and Hershey's wide variety of baking products – from classic ingredients like Hershey's Chocolate Chips and Hershey's Cocoa Powder to iconic Hershey's Kisses – will delight everyone at your table this holiday season. Hershey's products make it fun, tasty and easy to create new family traditions and create sweet holiday memories together.
Learn more about all the Hershey's products at the The Hershey Company
Thanks for stopping by today!
Love,
Maggie